Commentary
Ward looks sharp in cutting up Kessler
Originally Published:
November 23, 2009
By
Dan Rafael
| ESPN.com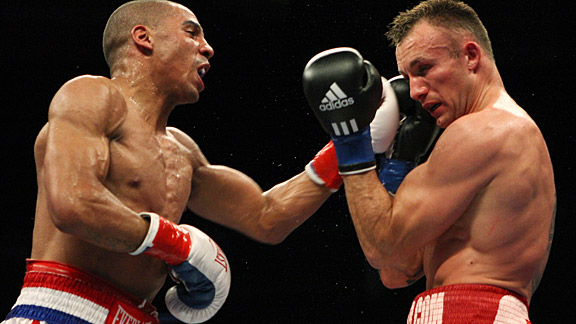 Jed Jacobsohn/Getty ImagesAndre Ward, left, moved to the front of the line at super middleweight by chopping down Mikkel Kessler.

A roundup of the past week's notable boxing results from around the world:

Saturday at Oakland, Calif. -- Super Six World Boxing Classic
Super middleweight
Andre Ward Tech. Dec. 11 Mikkel Kessler
Wins a super middleweight title
Scores: 98-92 (twice), 97-93

Records: Ward, 21-0, 13 KOs; Kessler, 42-2, 32 KOs

Rafael's remark: Score one for the Americans and one for Ward, a big underdog who fought a masterpiece and achieved his goal of winning a world title against the No. 1 fighter in the 168-pound division. And he did it in extremely impressive fashion in front of a hometown crowd of 10,277 to turn the Super Six tournament on its ear. Showtime's six-man modified round-robin tournament opened on Oct. 17 with Europeans Arthur Abraham, who knocked out Jermain Taylor, and titlist Carl Froch, who won a split decision against Andre Dirrell, winning the first two fights. It looked like Group Stage 1 would be a European sweep with Kessler, 30, of Denmark, who had been installed as a 3-to-1 co-favorite (along with Abraham) by oddsmaker Danny Sheridan to win the tournament, going up against Ward. But Ward, 25, completely took Kessler apart with stunning ease in the first world title bout in Oakland since 1967, when Hall of Famer Curtis Cokes stopped Charlie Shipes in the eighth round to retain the welterweight title.
Ward certainly has a flair for the dramatic. He had been in a similar situation in 2004, when he was he came through as the last American standing in the Athens Olympic Games and won the light heavyweight gold medal. Ward joined such American gold medalists as Oscar De La Hoya, Sugar Ray Leonard, Muhammad Ali, George Foreman, Michael and Leon Spinks and David Reid to win Olympic gold and a pro championship.
Against Kessler, Ward displayed confidence, speed and a tremendous jab, which he worked to the head and body very nicely. Kessler was flat and just never seemed to get into any rhythm or land anything remotely damaging. Ward, who did an excellent job dominating on the inside and the outside, hurt Kessler late in the fourth round and bruised him under the right eye. He opened a bad cut over Kessler's left eye in the eighth round. An accidental head butt opened a cut over Kessler's right eye in the 10th round, which is what caused referee Jack Reiss to stop the bout at 1 minute, 42 seconds of the 11th round and send it to the scorecards for a technical decision. Although Kessler complained about the head butts and refereeing, the fact is that Ward simply kicked his butt. Frankly, Ward should be upset that the fight was stopped for the technical decision because he looked like he was on his way to scoring a knockout, which would have given him an extra point under the tournament rules.
As it is, Ward earned two points for the win to tie Froch for second place. Abraham leads with three points because he knocked out Taylor. Kessler, Taylor and Dirrell all have zero points heading into Group Stage 2, which starts in January with Abraham facing Dirrell in the United States. Ward is slated to face Taylor, although there is speculation that Taylor will drop out of the tournament. Kessler is slated to challenge Froch for his belt in Europe, although that fight could be slightly delayed from March because of the cuts Kessler suffered.
All in all, a great performance from Ward and easily the standout performance of the first batch of fights in the tournament.
Saturday at Kiel, Germany
Cruiserweight
Zsolt Erdei W12 Giacobbe Fragomeni
Wins a cruiserweight title
Scores: 115-113 (twice), 114-114

Records: Erdei, 31-0, 17 KOs; Fragomeni, 26-2-1, 10 KOs

Rafael's remark: For the past six years, Hungary's Erdei, 35, held a light heavyweight belt and defended it 11 times, albeit against mostly woeful competition. When the opportunity to move up in weight and challenge for a cruiserweight title against Italy's Fragomeni, 40, presented itself, Erdei went for it, and it proved to be a smart move. In a pretty entertaining fight, Erdei -- who had been ill with flu-like symptoms last week -- used his speed advantage and technical skills to outbox Fragomeni, a brawler whose only previous loss came via ninth-round TKO to future cruiserweight and heavyweight titlist David Haye in a 2006 European championship fight. Although Fragomeni had a big size advantage -- weighing 195 pounds to Erdei's 178 for a fight with a 200-pound maximum -- it did him no good. In fact, it was Erdei who dished out more punishment, including a pair of right hands to the chin in the eighth round that hurt Fragomeni. Fragomeni, however, continued to press forward and hurt Erdei in the final round, seemingly having him out on his feet briefly near the end of the fight. Fragomeni, who claimed a vacant title from Rudolf Kraj in October 2008, made just one successful defense in May when he battled to a draw with former titlist Krzysztof Wlodarczyk before being dethroned by Erdei.
Super middleweight
Dimitri Sartison TKO5 Stjepan Bozic
Wins a vacant super middleweight title
Records: Sartison, 26-1, 17 KOs; Bozic, 23-4, 14 KOs

Rafael's remark: Congratulations. This is the weekend's biggest joke of a so-called title fight thanks to the out-of-control WBA. Across the ocean in Oakland, Calif., Andre Ward won the alphabet organization's 168-pound title from Mikkel Kessler. But, never satisfied with just one titleholder per division, the WBA elevated Kessler to so-called "super champion" status before the bout and made the vacant "regular" title available for this fight. Never mind that Kessler was active, was coming off a mandatory defense and wasn't a unified titleholder, the usual excuse the WBA makes for opening a second title in the same division. And don't forget that Kessler's camp was unhappy about the designation of "super champion." The WBA does what it wants, and most fighters and promoters are stupid enough to go along with it. So here we had Sartison, 29, born in Kazakhstan but living in Germany, allowed to fight for the vacant belt -- even though Kessler mowed him down in the 12th round of a butt-kicking in June 2008 for the then-vacant title. And Bozic, 35, of Croatia, like Sartison, had absolutely nothing on his résumé to warrant a world title shot. The whole thing is absolutely disgusting. As for the fight, Sartison picked up the crap belt when referee Jose Ignacio Martinez stopped it after the fifth round on advice of the ringside doctor because Bozic's left eye was swollen shut.
Junior lightweight
Vitali Tajbert W12 Humberto Mauro Gutierrez
Wins an interim junior lightweight title
Scores: 116-112 (twice), 116-113
Records: Tajbert, 19-1, 6 KOs; Gutierrez, 26-2-1, 19 KOs

Rafael's remark: Tajbert, 27, who was born in Kazakhstan but grew up in Germany and won a 2004 Olympic bronze medal representing Germany, claimed an interim title with a competitive decision against Mexico's Gutierrez. The belt Tajbert won likely will be upgraded to the WBC's full title because Humberto Soto, who currently holds it, is moving up to lightweight Dec. 19 and unlikely to return to 130 pounds. In essence, this fight was for the soon-to-be-vacated title, and Tajbert got the job done after a slow start. Gutierrez used his height and reach advantages to keep the quicker Tajbert off-balance early as Gutierrez scored with his left hand from his southpaw stance. In the second round, Gutierrez suffered a cut from an accidental head clash. By the middle rounds, Tajbert had gained control of the fight, although he suffered a cut in the seventh round. By the late rounds, it was all Tajbert. Gutierrez, just 21, had claimed a vacant interim belt in August with a tough majority decision win in Mexico against Sergey Gulyakevich, but held it for a mere three months.
Saturday at Rama, Ontario
Bantamweight
Marvin Sonsona D12 Alejandro Hernandez
Scores: 115-113 Sonsona, 115-113 Hernandez, 114-114
Records: Sonsona, 14-0-1, 12 KOs; Hernandez, 22-7-2, 11 KOs

Rafael's remark: In September, Sonsona, the exciting 19-year-old from the Philippines, announced his arrival on the world stage with a stirring points victory against vastly more experienced titleholder Jose "Carita" Lopez to win a junior bantamweight belt. But making a quick return for his first title defense, Sonsona was a big disappointment. First, he failed to make weight, coming in at 117½ pounds for the 115-pound fight. So Sonsona lost his title at the scale, meaning only the 23-year-old Hernandez, who made weight, was eligible to win the vacant belt. Then Sonsona struggled to a draw in the action fight, meaning the title remains vacant. Sonsona, who is still growing according to his handlers, likely will skip the 118-pound bantamweight division and campaign in the 122-pound junior featherweight class, where he is supposed to debut in his next fight, which is scheduled for Feb. 20 in Manila. Against Hernandez, Sonsona started quickly (in part because Hernandez had trouble with the traction on his shoes), but couldn't maintain the energy level, and Hernandez steadily worked his way back into the fight. Hernandez closed strong to pull even in a fight that was fought at a very brisk and entertaining pace. The draw was absolutely legitimate. This was a very close fight with both guys having their moments throughout the back-and-forth bout. It was the second unsuccessful try for a world title for Hernandez, who lost a unanimous decision to flyweight titlist Omar Narvaez in September 2008.
Featherweight
Steve Molitor W8 Jose Saez
Scores: 79-73, 78-73, 78-74
Records: Molitor, 31-1, 12 KOs; Saez, 17-9-4, 8 KOs

Rafael's remark: Molitor, known as "The Canadian Kid," was on the top of the world last year. He was an undefeated junior featherweight titleholder drawing big crowds to his home base at Casino Rama in Ontario. That was until he met Celestino Caballero in a unification fight and was drilled in the fourth round. Molitor, 31, has been on the comeback trail this year and won his third in a row to remain in position for another title shot in 2010, given that one of his wins in 2009 was in a junior featherweight title eliminator. But Molitor sure had a scare in this one. He was controlling the fight and outboxing Argentina's Saez, 34, as he was expected to do, when he walked into a left hand in the fifth round and went down. Molitor regrouped, went into a bit of survival mode and was able to stay away from Saez enough to claim the decision (which his hometown fans booed) to keep his hopes for a second title shot alive.
Saturday at Sunchales, Argentina
Junior welterweight
Marcos Maidana KO3 William Gonzalez
Retains an interim junior welterweight title
Records: Maidana, 27-1, 26 KOs; Gonzalez, 22-6-1, 7 KOs

Rafael's remark: In February, Argentina's powerful Maidana, 26, dropped a debatable split decision to then-junior welterweight titlist Andreas Kotelnik. But Maidana bounced back to stop heralded prospect Victor Ortiz in the sixth round on HBO to claim a vacant interim belt in a tremendous action fight. Making his return, Maidana went home for his first defense against Gonzalez, a safe opponent on paper who turned out to be just that. It was an exciting fight while it lasted, mainly because Maidana went right at him and Gonzalez was able to take a million hard shots, at least for a little while. They traded toe-to-toe throughout the second round, but Maidana was just warming up. He was all over a wilting Gonzalez in the third, landing hard shots with both hands. It was quite amazing that Gonzalez stayed up as long as he did, because he took an inordinate number of clean blows. But finally Maidana was teeing off on him against the ropes when he landed a sweeping left to the body and a spent Gonzalez dropped to his knees, where he took the full count. Gonzalez, 27, of Panama, lost for the third time in his past four bouts and for the fourth time in his past six bouts. As interim titlist, Maidana is next in line to face the winner of the Dec. 5 fight between full titleholder Amir Khan and Dmitriy Salita, although there is talk of an HBO fight in early 2010 against Devon Alexander, who holds another version of the 140-pound title. Whatever Maidana does, he expressed interest in returning to the U.S. for his next fight.
Saturday at Chiapas, Mexico
Junior flyweight
Rodel Mayol TKO2 Edgar Sosa
Wins a junior flyweight title
Records: Mayol, 26-4-1, 20 KOs; Sosa, 37-6, 21 KOs

Rafael's remark: Mayol had been 0-3-1 in four previous attempts at winning a world title at strawweight and junior flyweight, but in his fourth opportunity, the Manny Pacquiao-promoted Filipino got his title. However, Mayol's best punch, it seems, is with his head. For the third consecutive fight, Mayol's head-butting has been an issue. In June, he wound up with a six-round technical draw challenging junior flyweight champ Ivan Calderon when head butts opened a cut on Calderon's forehead and the fight was stopped. In the rematch in September, the same thing happened in the seventh round and Mayol, 28, lost a technical decision. Getting a third consecutive title shot against Mexico's Sosa, 30, Mayol badly hurt Sosa with an unintentional head butt that knocked him to the mat. Sosa, who was cut and woozy after the butt, went down in the second round from punches, and the referee called it off moments later during Mayol's ensuing attack. Sosa, who was a very busy titleholder with 10 successful defenses since winning his belt in April 2007, has to have a beef with this outcome because the head butt certainly was a major factor. Sosa had talked about vacating his title and moving up in weight following what he expected to be a win against Mayol. Given the circumstances, perhaps we'll see a rematch. One word of advice to Mayol: Keep your head to yourself.
Saturday at Merida, Mexico
Junior flyweight
Giovani Segura KO1 Sonny Boy Jaro
Retains a junior flyweight title
Records: Segura, 22-1-1, 18 KOs; Jaro, 30-7-5, 19 KOs

Rafael's remark: Well, that was fun while it lasted, wasn't it? For a fight that lasted barely more than a minute, it was packed with action. Segura and Jaro came out winging at the opening bell and never stopped until Segura dropped Jaro with a crippling left to the body in the TV Azteca main event. Jaro, who had landed some nice right hands, winced throughout the count as he tried to get up. But he was simply paralyzed with pain. Segura, 27, who was born in Mexico but lives in Southern California, made his second successful defense of the belt he won in March in his blazing rematch with Cesar Canchila. His first was supposed to come against the Philippines' Jaro, 27, in July. However, Jaro had visa problems and was replaced on short notice. Segura, who is never in a bad fight, ended up knocking out Juanito Rubillar, another Filipino, in the sixth round instead before the fight with Jaro was rescheduled.
Saturday at Tunica, Miss.
Junior middleweight
Shawn Porter TKO4 Jerome Ellis
Records: Porter, 11-0, 9 KOs; Ellis, 12-10-2, 10 KOs

Rafael's remark: Porter had a standout amateur career, winning a 2007 National Golden Gloves title and serving as alternate on the 2008 U.S. Olympic team. Since turning pro 13 months ago, he's been rolling through his opponents under the watchful guidance of promoter Prizefight. The 22-year-old from Cleveland also gained valuable experience in the lead-up to this fight because he was one of the main sparring partners for Manny Pacquiao throughout his training camp in the Philippines (and later Los Angeles) as Pacquiao prepared for his Nov. 14 knockout of Miguel Cotto. Against Ellis, Porter was by far the faster fighter and peppered him with both hands. Although Ellis, 31, of the Bahamas, landed some decent shots when Porter would get lazy on defense, Porter was in control of the fight. Ellis suffered a cut over his left eye in the fourth round from an accidental head butt, and at the end of the round the fight was stopped in the corner to give Porter the TKO victory.
Saturday at Buenos Aires
Lightweight
Jorge Barrios TKO5 Michael Lozada
Records: Barrios, 49-4-1, 35 KOs; Lozada, 33-6-1, 26 KOs

Rafael's remark: Barrios, a former junior lightweight titlist, moved up in weight this year and won his second in a row in his new division. He was hammering Lozada in the fourth and fifth rounds before Lozada's corner threw in the towel in the fifth. Barrios, 33, who was fighting at home, won his second in a row since a gruesome 11th-round knockout loss to Rocky Juarez 13 months ago in which Barrios suffered a disgusting cut through the side of his cheek in an HBO fight. With a couple of wins since that loss, look for Golden Boy to get Barrios back into a more meaningful fight in 2010. Mexico's Lozada, 26 -- a former world title challenger who was knocked out in one round by Edwin Valero challenging for a junior lightweight belt in 2007 -- saw his four-bout winning streak end.
Friday at Johannesburg
Flyweight
Moruti Mthalane W12 Julio Cesar Miranda
Wins a vacant flyweight title
Scores: 118-111, 117-111 (twice)
Records: Mthalane, 25-2, 16 KOs; Miranda, 30-5-1, 23 KOs

Rafael's remark: The first time South Africa's Mthalane, 27, fought for a world title was in Las Vegas in November 2008. Mthalane put up a very good fight against then-flyweight titlist Nonito Donaire, but Mthalane was stopped in the sixth round because of a cut on his eyelid. When Donaire vacated his belt to move up in weight earlier this year, Mthalane, who had rebounded with one victory, got the opportunity to fight for the vacant belt against Mexico's Miranda, 29, who had knocked out former titlist Erick Ortiz in the first round of a title eliminator. Fighting at home, the quicker Mthalane outboxed Miranda in the give-and-take fight to claim the wide decision. Miranda had some moments late in the fight when he rocked Mthalane, but he couldn't do enough damage to get him off his feet. Miranda dropped to 0-2 in title bouts. He lost a wide unanimous decision to Pongsaklek Wonjongkam in Thailand in April for an interim belt.
Friday at Kissimmee, Fla.
Junior featherweight
Wilfredo Vazquez Jr. TKO7 Genaro "Poblanito" Garcia
Records: Vazquez Jr., 17-0-1, 14 KOs; Garcia, 36-8, 20 KOs

Rafael's remark: Vazquez looks like he's really been improving over the past few fights, and he turned in perhaps his most impressive performance against Mexico's Garcia, 32, a three-time world title challenger. Promoter Tuto Zabala Jr. has done a nice job of bringing Vazquez along and maybe, just maybe, he has a future contender on his hands. Vazquez, 25, of Puerto Rico, certainly has the bloodlines, as his father, Wilfredo Vazquez Sr., was a three-division world titleholder from bantamweight to featherweight. Vazquez took it to Garcia from the outset of the Telemundo-televised main event, using his youthful energy, accurate punching and pressure to make it look pretty easy. He dropped Garcia twice in the seventh, first with an unrelenting series of blows, including right hand after right hand. He was credited with another knockdown later in the round when the ropes held Garcia up after he had absorbed more hard blows. During the follow-up attack it was clear Garcia was done, and the fight was called off. Nice win for the kid. For Garcia, who owns a knockout win against former bantamweight and junior featherweight champ Rafael Marquez, he's now lost four of five. However, three came in world title bouts -- a competitive decision loss to bantamweight titlist Hozumi Hasegawa, a seventh-round TKO loss to Luis Perez for a vacant bantamweight title and a 12th-round TKO loss to Toshiaki Nishioka for a junior featherweight title in January.
Friday at Philadelphia
Junior featherweight
Teon Kennedy TKO10 Francisco Rodriguez
Records: Kennedy, 14-0-1, 6 KOs; Rodriguez, 14-3, 8 KOs

Rafael's remark: Hall of Fame promoter Russell Peltz praised this fight as perhaps the best fight in the history of Philadelphia's Blue Horizon. Sadly, the kind of action this fight produced cost Rodriguez, 25, a Chicago resident born in Mexico, his life. Philadelphia prospect Kennedy, 23, who was coming off the lone blemish on his record, a 10-round majority decision draw with Lante Addy in September, came close to ending the fight in the first round. He staggered Rodriguez with about 30 seconds left in the round and referee Benjy Esteves Jr. called a standing eight-count, a mistake because there is no standing eight-count allowed under Pennsylvania rules. Rodriguez, who owned a 2003 amateur victory against Kennedy, worked his way back into the fight and Peltz, who promotes Kennedy, thought it was even after seven rounds of the fast-paced fight. Kennedy came on in the eighth round and a tiring Rodriguez went down twice in the 10th round, although both were ruled slips by Esteves. Then Kennedy attacked him again and Esteves called it off at 1:53. Rodriguez sat in his corner after the fight and eventually collapsed. He was taken out of the ring on a stretcher and rushed into brain surgery at Hahnemann University Hospital. He made it through the surgery, but died on Sunday night, leaving behind a wife and a wife and 5-month-old daughter.
Dan Rafael is the boxing writer for ESPN.com.
Boxing
2013 BWAA Nat Fleischer Award winner for excellence in boxing journalism
ESPN.com boxing writer since 2005
Five years at USA Today
EDITORS' PICKS
Golovkin gained followers after his KO over Rubio.
Scorecard »

Gennady Golovkin stopped Marco Antonio Rubio.
Twitter »

Nicholas Walters stops Nonito Donaire in Round 6.
Dan Rafael »