Commentary
Maidana KOs Cayo with ease
Originally Published:
March 29, 2010
By
Dan Rafael
| ESPN.com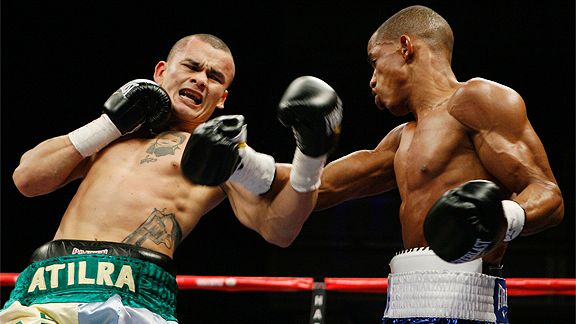 Tom Hogan/Hoganphotos/Golden Boy Promotions Marcos Maidana, left, brought the power in spades against Victor Cayo.

A roundup of the past week's notable boxing results from around the world:

Saturday at Detroit
Super Six World Boxing Classic: Group Stage 2
Super middleweight
Andre Dirrell W-DQ11 Arthur Abraham
Records: Dirrell, 19-1, 13 KOs; Abraham, 31-1, 25 KOs

Rafael's remark: Conventional wisdom said the fight would go one of two ways: Either Dirrell -- the underdog who was taller, faster and more skillful -- would outbox Abraham, or the murderous punching Abraham would knock out Dirrell late, as he had done to so many previous foes. Who would have figured we'd see both things happen?
In the opening match of the second round of Showtime's revolutionary Super Six round-robin tournament, Flint, Mich., native Dirrell fought on home turf for only the second time in his career. He fought brilliantly against the German and dominated virtually the entire fight.
Although Abraham was reluctant to throw many punches, as is typical, Dirrell stayed busy, connected with both hands and boxed circles around him in an entertaining bout. It was not one of the usual hold-and-run fights we've gotten so used to with Dirrell, who lost his Super Six opener to Carl Froch because he held and ran too much.
The 2004 U.S. Olympic bronze medalist dropped Abraham in the fourth round with a flush left hand, making the former middleweight titlist taste the canvas for the first time. He opened a cut over Abraham's right eye in the seventh round and should have been credited with a knockdown at the end of the round when he knocked Abraham into the ropes, but referee Laurence Cole, who had a shaky night, didn't rule it a knockdown.
Dirrell continued to hammer Abraham, whose eye was in bad shape, in the ninth. But in the 10th round, Abraham looked as if he might turn it around when he scored a clean knockdown on a right hand. Yet Cole completely blew it when he called it a slip. Nonetheless, Dirrell, 26, was in total command in the 11th round until he slipped on the wet canvas in one of the corners and went down. Although Dirrell was clearly down on one knee, Abraham smashed him with a right hand to the temple. The punch badly hurt Dirrell, who fell over and was out cold, forcing Cole to disqualify Abraham for a blatant foul.
It was a disappointing ending to Dirrell's unexpectedly dominant performance. Abraham, 30, claimed he didn't do it on purpose, and maybe he didn't, but it was a brutal shot while Dirrell was clearly down. Cole may have missed some other calls in this fight, but he was spot-on with the DQ.
Abraham promoter Sauerland Event said it will protest the ruling. Good luck. There is no chance the result will be changed. Dirrell, meanwhile, came around and got to his feet, but he was incoherent and didn't realize what had happened, even after his team explained it to him. He attempted a brief interview with Showtime, but it was quickly terminated when it was obvious he needed medical attention. Dirrell was eventually taken to the hospital, where he spent a few hours for tests and observation before he was released, according to promoter Gary Shaw.
At the time of the disqualification, Dirrell was way ahead on all three scorecards (98-91 and 97-92 twice). With the win, Dirrell picked up two points to tie Andre Ward and Froch for second place in the tournament, although each of them has his Group Stage 2 bouts upcoming (Froch against Mikkel Kessler on April 24 and Ward against Allan Green on June 19). Abraham leads with three points. The top four advance to the semifinals. One thing is clear: Dirrell, if he can recover from the heinous foul, will be a force to be reckoned with before this thing is over.
Saturday at Las Vegas
Junior welterweight
Marcos Maidana KO6 Victor Cayo
Retains an interim junior welterweight title
Records: Maidana, 28-1, 27 KOs; Cayo, 24-1, 16 KOs

Rafael's remark: There's a reason the handlers of titleholder Amir Khan -- Golden Boy and trainer Freddie Roach -- want no part of Maidana, even though as an interim titleholder, he is the mandatory challenger for Khan. The Khan camp went to great lengths to avoid the mandatory by making some bogus deal to keep him away from the money-generating Khan for some time while allowing him to keep his belt. The whole thing was disingenuous to have them both keep belts without fighting each other, but the terrible WBA approved, which was no big surprise.
If you want to know why the Khan camp is petrified to match the chinny Khan with the monster-punching Maidana, his knockout of Cayo should illustrate why. Argentina's Maidana, 26, is a no-frills guy, but he's superaggressive and rarely gives his opponent a chance to breathe. He came to the United States during the summer of 2009 and made top prospect Victor Ortiz quit in the sixth round of their slugfest, then returned to Argentina for a title defense in November before returning to HBO to face the Dominican Republic's talented Cayo, 25, who may have been too over his head too soon against Maidana.
Cayo is awkward and fast and may eventually develop into a topflight contender, but it didn't happen against Maidana. Although Cayo had his moments and did a nice job outboxing Maidana in spots, he couldn't hold him off. Maidana cracked Cayo with a left hand a split second after the bell ended the second round, and he went down. Maidana clearly didn't hit him after the bell on purpose, and there was no penalty.
In the sixth round, Maidana ended matters, although not with a punch to the chin as you figured probably would happen if he scored the knockout. Instead, Maidana sunk a right hand to the pit of Cayo's cut, and Cayo went down. Although he got to all fours, referee Joe Cortez counted him out at 1 minute, 38 seconds.
If HBO has its way, Maidana's next opponent will be unified titleholder Devon Alexander in the summer. That would be a very interesting fight. But there are so many possibilities in the deep 140-pound division that there are lots of fights for Maidana -- except one with Khan for the time being, because his side knows that would be a bad matchup for the British star.
Welterweight
Joan Guzman W12 Ali Funeka
Scores: 116-111, 114-113 Guzman, 114-113 Funeka
Records: Guzman, 30-0-1, 17 KOs; Funeka, 30-3-3, 25 KOs

Rafael's remark: Guzman is a disgrace to boxing. So he got the close split decision against the hard-luck Funeka, but what did it mean? Guzman cheated yet again, and his management, his Golden Boy promoters or any athletic commission should not be allowed to sign him to a fight below the welterweight division. Furthermore, he ought to be banned from HBO and Showtime after showing up at Friday's weigh-in at 144 pounds. The weight wouldn't be a problem if he were in a welterweight title bout. But it's a huge issue when you're supposed to weigh 135 pounds and fight for a vacant lightweight belt. Doing that once can be forgiven. But Guzman has pulled the unacceptable stunt twice in recent fights. Enough is enough, especially when he usually makes crappy fights anyway. When will somebody just say no to this guy?
In late 2008, Guzman was supposed to challenge then-lightweight titlist Nate Campbell on Showtime but Guzman weighed 138½ pounds and refused to go through with a nontitle bout even though Campbell was willing. In November, Guzman, 33, of the Dominican Republic, faced Funeka, 32, on HBO and the South African kicked Guzman's butt all night for what should have been a lopsided win, but two judges ruled it an incomprehensible draw. So Guzman got an undeserved rematch, HBO bought the utterly unnecessary fight (albeit as a substitute when another bout fell out) and Guzman eked out the close win in a bout for which he had a massive advantage because. Funeka had again drained down to 135 pounds while Guzman didn't and came in much heavier.
Funeka gave the former junior featherweight and junior lightweight titlist a bloody nose in the sixth round, but Guzman responded with a chopping right hand behind the ear that dropped Funeka. The South African was unable to get his jab rolling as he had in the first fight, and Guzman was able to move and box enough to come away with the decision.
Despite losing to a heavier man, Funeka may be the best lightweight in the world, even though he is officially 0-2-1 in his last three bouts. Of course, both defeats came against opponents who didn't make 135 pounds.
Guzman was fined 25 percent of his $125,000 purse, half of which ($15,625) went to the Nevada commission and half to Funeka, who also got a little bit more in a side deal from Guzman for agreeing to go through with the fight. He wasn't going to refuse the fight after a long training camp and a tremendous need for the payday. Hopefully, Funeka gets some more paydays and Guzman doesn't.
Super middleweight
Daniel Jacobs TKO1 Jose Rodriguez Berrio
Records: Jacobs, 19-0, 16 KOs; Berrio, 12-5-1, 6 KOs

Rafael's remark: Nursing a hand injury, Jacobs, the 2009 ESPN.com prospect of the year, had been out of action since August. He made his ring return a quick one. The Brooklyn, N.Y., native blew away Rodriguez Berrio, 34, of Colombia, handing him his fourth loss in a row. Jacobs dropped him twice, including just before the end of the round. Although Rodriguez Berrio made it to his feet, referee Jay Nady stopped the bout between rounds on the advice of the ringside doctor. Assuming his hand is OK, Jacobs ought to be back in short order. But instead of going on the May 1 Shane Mosley-Floyd Mayweather HBO PPV undercard, it is more likely he will be added to the May 15 Amir Khan-Paulie Malignaggi undercard in New York, which Golden Boy realizes makes more sense.
Saturday at Monterrey, Mexico
Welterweight
Erik Morales W12 Jose Alfaro
Scores: 117-111, 116-112 (twice)
Records: Morales, 49-6, 34 KOs; Alfaro, 23-6, 20 KOs

Rafael's remark: The last time we saw Morales, the former three-division champ and one of the greatest fighters in Mexican history, was 2½ years ago. He moved up to lightweight and challenged David Diaz for a belt. Morales lost the decision and, after losing his fourth fight in a row and fifth fight in his last six, announced his retirement after a career filled with brutal slugfests. Retirements in boxing, however, mean little and Morales, 33, emerged from his sabbatical by moving up two divisions to welterweight to face Nicaragua's Alfaro, 26, a former lightweight titlist who also was moving up in weight.
Morales looked pudgy and slow (he was never all that fast) in his new division and didn't look particularly good, but, like so many of his past fights, it was an old fashioned slugfest in which they swapped a ton of punches in an entertaining battle. In his heyday, Morales would have cut down Alfaro with ease. Not so anymore, but he did more than enough for the decision and kept alive his hope of a welterweight title shot.
Morales still has designs on becoming the first Mexican to win titles in four divisions. He failed against Diaz before his retirement. Now he's back, but after struggling at times with a mediocre opponent in Alfaro, another title, especially at welterweight seems more wishful thinking than a real possibility. The same goes for Morales' desire for a fourth fight with Manny Pacquiao, whom he beat in their first bout in 2005 but who knocked him out in their two subsequent fights.
Light heavyweight
Chris Henry KO1 Hugo Hernan Garay
Title eliminator
Records: Henry, 25-2, 20 KOs; Garay, 32-5, 17 KOs

Rafael's remark: Houston's Henry, 29, has had problems outside the ring, but he put it together to blow out former titleholder Garay, 29, in 2 minutes, 20 seconds. The victory earned Henry, who stopped the Argentine with a right hand, a mandatory shot at titleholder Beibut Shumenov. Garay, who lost his second consecutive bout, hadn't fought since losing his belt to Gabriel Campillo via majority decision in June. Henry notched his second straight win since dropping a split decision to Yusaf Mack 13 months ago.
Saturday at Hamburg, Germany
Featherweight
Yuriorkis Gamboa W12 Jonathan Victor Barros
Retains a featherweight title
Scores: 118-109 (twice), 116-111
Records: Gamboa, 18-0, 15 KOs; Barros, 28-1-1, 16 KOs

Rafael's remark: Gamboa is usually an explosive, offensive fighter. He didn't fight the rugged Barros in that style but still cruised to a dominant decision to retain his belt for the third time.
The Cuban 2004 Olympic gold medalist had defected to Germany and turned pro there in 2007. In fact, he fought four of his first five pro bouts there. With co-promoter Ahmet Íner launching a new series on a German television network, Gamboa, now based in Miami, returned to his old turf to give the debut show a little something special.
Gamboa, 28, was way faster and more powerful than Barros, but he seemed to give his Argentine challenger a bit too much respect. Although he was winning easily, Gamboa never truly pressed the action like we're used to seeing him do. His best moment came in the eighth round, when Gamboa put together a flurry, including a right hand to the body, that knocked Barros down. Had Gamboa pressed the issue, it appeared as though he could have gotten a knockout eventually, but he seemed content to go the route and play out the rounds.
Barros, 26, was fighting outside Argentina for only the second time and outside of South America for the first time. He has a good chin and tried, but he was outclassed.
Gamboa may have the WBA's featherweight title, but it's as bogus as they come. Chris John, the longtime titleholder, is called a "super champion," which is simply the WBA's underhanded way of exacting multiple sanction fees for so-called title fights in a division that already has a titlist. Don't let anyone tell you it's anything other than a scam.
Gamboa is staying busy. He fought on HBO in January, faced Barros and is due back on HBO on July 17 or July 24 in the U.S. Co-promoter Top Rank wants to match him with junior featherweight titlist Celestino Caballero, who is moving up for an April 10 HBO fight. If Caballero wins, that's the fight being discussed for July.
Heavyweight
Juan Carlos Gomez KO3 Alex Mazikin
Records: Gomez, 45-2, 36 KOs; Mazikin, 13-5-2, 3 KOs

Rafael's remark: Gomez, a Cuban defector based in Germany and a former cruiserweight titlist who has fought as a heavyweight since 2001, got a title shot against Ukraine's Vitali Klitschko in March 2009. The fight did not go well for Gomez, who was thrashed en route to a ninth-round knockout loss. Making his return to the ring against a far less accomplished Ukrainian fighter, Gomez routed Mazikin, 35, who dropped to 0-3-1 in his past four bouts. Gomez dropped him four times with body shots, twice in the first round and twice more in the third for the win.
Saturday at Rama, Ontario
Junior featherweight
Steve Molitor W12 Takalani Ndlovu
Wins a vacant junior featherweight title
Scores: 117-111, 116-112, 115-113
Records: Molitor, 32-1, 12 KOs; Ndlovu, 30-6, 18 KOs

Rafael's remark: In July 2007, Molitor, 29, made his first title defense against South Africa's Ndlovu, 32, and stopped him in the ninth round. They met in a rematch for that same belt, which had become vacant after Celestino Caballero (who knocked out Molitor in the fourth round to win it in a November 2008 unification fight) vacated and moved up in weight. Molitor, riding a three-fight winning streak to get himself back into a title bout, couldn't get the knockout in the rematch and wasn't nearly as dominant as in their first meeting, but he still did enough to claim the competitive decision and vacant title in front of his crowd at Casino Rama, where he fought for the 10th consecutive time. Molitor started very slowly and cautiously in what was a fairly boring fight but did enough to take later rounds and win the decision to reclaim his old belt.
Saturday at Acapulco, Mexico
Junior flyweight
Ulises Solis TKO5 Bert Batawang
Title eliminator
Records: Solis, 30-2-2, 21 KOs; Batawang, 45-15-3, 37 KOs

Rafael's remark: In December 2007, Mexico's Solis stopped the Philippines' Batawang in the ninth round of a junior flyweight title defense. Three fights later, Solis lost that title to Brian Viloria via 11th-round knockout in April 2009. Solis, 28, rebounded with a victory to set up the rematch with Batawang in an eliminator to get a title shot at Carlos Tamara, who dethroned Viloria in January. In the rematch, which headlined "Top Rank Live," Solis took Batawang out even quicker with a good performance in an action fight. Solis took over in the fourth round, when he cracked Batawang in the nose and dropped him to his butt with 50 seconds left. It was a big round for Solis, who continued to lay a beating on him, particularly to the body, in the fifth round. After the round, Batawang, 38, had enough and retired on his stool as he lost for the second time in three fights (both by stoppage).
Flyweight
Giovanni Segura TKO4 Ronald Ramos
Records: Segura, 24-1-1, 20 KOs; Ramos, 28-8-3, 14 KOs

Rafael's remark: Segura, a Mexico native living in Southern California, returned to his birth country for his second bout in a row and had another easy night. The junior flyweight titlist had defended his title with a third-round knockout of Walter Tello on Feb. 20. Returning to action just five weeks later, Segura rolled over Colombia's Ramos, 33, in a nontitle bout. Segura was in control all the way, battering Ramos until ending it in the fourth. Segura, one of the biggest punchers pound-for-pound in the world, dropped Ramos with a right hand to the body midway through the fourth round and punished him for the remainder of the frame. After the round, Ramos, who entered the bout on a 9-0-2 run, quit on his stool. It was Segura's fifth win in a row (all coming via knockout) since his lone defeat in 2008, a decision to Cesar Canchila that was avenged via fourth-round knockout in March 2009 to start his new winning streak.
Saturday at Tokyo
Flyweight
Pongsaklek Wonjongkam W12 Koki Kameda
Wins flyweight world title
Scores: 116-112, 115-112, 114-114
Records: Wonjongkam, 75-3-1, 39 KOs; Kameda, 22-1, 14 KOs

Rafael's remark: Thailand hero Wonjongkam, 32, turned back the clock and looked terrific as he easily outpointed Japan's 23-year-old Kameda for an upset to claim flyweight supremacy. Wonjongkam, who held an interim title and was Kameda's mandatory challenger, won not only an alphabet title but also the vacant Ring magazine title, emblematic of the real champion in the division.
Wonjongkam had held a title from 2001 to 2007, making 17 defenses before losing it to Japan's Daisuke Naito, whom he had already beaten three times before losing the belt in their fourth meeting. Kameda, a former junior flyweight titleholder, dethroned his countryman in November and was facing fellow southpaw Wonjongkam in his first defense.
Despite not being as fast as Kameda, Wonjongkam, who put his punches together well, was in control all the way, despite the questionable 114-114 scorecard. Unfortunately, like all WBC title bouts in Japan, this one used open scoring, so the judges' scorecards were announced after the fourth and eighth rounds. An accidental head butt opened a cut over Kameda's right eye in the fifth round, and it resulted in another horrible WBC rule being used -- the one that says in the event of a butt, the uncut fighter is deducted a point. It turned out not to matter, as Wonjongkam took the decision and probably sealed his eventual election to the International Boxing Hall of Fame.
Strawweight
Oleydong Sithsamerchai W12 Yasutaka Kuroki
Retains a strawweight title
Scores: 114-113, 114-112, 113-112
Records: Sithsamerchai, 34-0, 12 KOs; Kuroki, 23-4-1, 15 KOs

Rafael's remark: Sithsamerchai, 24, of Thailand, had a tough time but hung on to his 105-pound title in his fifth defense. Kuroki, of Japan, was the aggressor against the more defensive-minded Sithsamerchai, who had opened a lead by banking early rounds. But from the eighth round on, Kuroki came on very strong. Sithsamerchai was docked a point for clinching in the 10th round and went down in the 11th when Kuroki caught him with a combination. Kuroki also was buzzed by the titleholder in the 12th round with a left hand. Kuroki, 28, saw his 18-fight unbeaten streak (17-0-1) come to an end.
Friday at East London, South Africa
Strawweight
Nkosinathi Joyi W12 Raul Garcia
Wins a strawweight title
Scores: 119-109 (twice), 118-110
Records: Joyi, 21-0, 15 KOs; Garcia, 27-1-1, 16 KOs

Rafael's remark: Joyi, the mandatory challenger, earned the title shot when he outpointed former titleholder Florante Condes (who had lost the title to Garcia) in a June eliminator. South African promoter Branco Milenkovic, who handles countryman Joyi, won the purse bid, giving him the right to stage the bout in his country. So Joyi was comfortable at home, a move that turned out to be worth Milenkovic's money, as Joyi dominated Mexico's Garcia, 27, en route to the title victory.
Garcia, making his ill-fated fifth title defense, was fighting outside Mexico for the first time. After the licking he took, he may not to want to leave his country again. Joyi's speed and punching power had Garcia on his heels and in trouble from the outset. According to South African media reports, Joyi rocked Garcia in the second round and inflicted a cut over his right eye in the fifth round while cruising to the lopsided victory.
Friday at Dagenham, England
Welterweight
Matthew Hatton W12 Gianluca Branco
Wins vacant European welterweight title
Scores: 117-111, 116-112, 115-113
Records: Hatton, 39-4-2, 15 KOs; Branco, 43-3-1, 22 KOs

Rafael's remark: In easily the most notable victory of his career and in one of his best performances, Hatton, the 28-year-old younger brother of former junior welterweight champ Ricky Hatton, captured the European 147-pound title with a solid victory over Branco, 39.
The Italian saw his seven-fight winning streak come to an end. He hadn't lost since Miguel Cotto stopped him in the eighth-round of a junior welterweight title defense in 2006. His only other career defeat was a 2004 decision to the late Arturo Gatti. Hatton did a nice job outboxing the slower, older Branco, the former European junior welterweight champion. Hatton is a usually a straight-ahead brawler, but he found some technique and put it to good use against Branco. Hatton fought a disciplined fight, bruised Branco's right eye, jabbed well and touched him enough to pile up points for the clear victory.
Thursday at Los Angeles
Junior featherweight
Abner Mares KO5 Felipe Almanza
Records: Mares, 20-0, 13 KOs; Almanza, 17-16-4, 8 KOs

Rafael's remark: Anyone who is a Mares supporter can now exhale. He's through to his bantamweight title shot after disposing of Almanza in easy fashion and coming out of the bout without any injuries or cuts. Mares, a 2004 Mexican Olympian living in the Los Angeles area, and his team took a risk by taking a tune-up fight, but it felt he needed some rounds before facing the very tough Yonnhy Perez for a 118-pound title, a bout that will be on Showtime as the televised undercard for the fourth fight between Israel Vazquez and Rafael Marquez.
Mares, 24, hadn't fought since August, but he headlined on Golden Boy's "Fight Night Club." He worked over Almanza all night until the Colombian just fell apart in the fifth after taking a series of shots from Mares, including a nasty right uppercut to the chin with 37 seconds left in the round. Almanza, 34, slumped to his knees, and referee Raul Caiz immediately called it off as Almanza's corner was also signaling for the end of the fight.
Dan Rafael is the boxing writer for ESPN.com.
Boxing
2013 BWAA Nat Fleischer Award winner for excellence in boxing journalism
ESPN.com boxing writer since 2005
Five years at USA Today
EDITORS' PICKS
Carl Frampton dominates, stops Chris Avalos.
Dan Rafael »

Tyson Fury stops Christian Hammer in eight rounds.
ESPN UK »

The WBA ordered a rematch between Ward and Froch.
Dan Rafael »
MOST SENT STORIES ON ESPN.COM