Commentary
Berto shakes off rust with Quintana KO
Originally Published:
April 12, 2010
By
Dan Rafael
| ESPN.com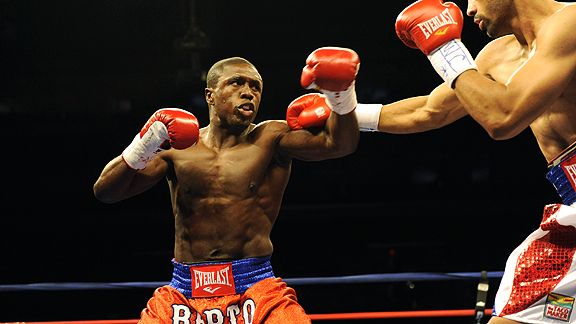 Doug Murray/Icon SMIA determined Andre Berto wasn't about to let a biceps injury come between himself and a win.

A roundup of the past week's notable boxing results from around the world:

Saturday at Sunrise, Fla.
Welterweight
Andre Berto TKO8 Carlos Quintana
Retains a welterweight title
Records: Berto, 26-0, 20 KOs; Quintana, 27-3, 21 KOs

Rafael's remark: Considering everything Berto has been through in recent months coupled with an 11-month layoff, he looked pretty good against Quintana, whose awkward style can sometimes be difficult to deal with. First, to Berto's situation, which has been well-documented: He was training to fight Shane Mosley in a Jan. 30 welterweight unification bout. Just a couple of weeks before the biggest fight of his career, a massive earthquake devastated Haiti, the Caribbean island nation where his parents are from and where he has many family members and close ties. Eight members of his family were killed and, with his anguished family dealing with so much, Berto pulled out of the Mosley fight and went with his brother, Cleveland, on a weeklong relief mission to the island, where he was right in the middle of the post-quake chaos doing whatever he could do to help.
When it was finally time to get back into the ring, Puerto Rico's Quintana, 33, a former titleholder who owns the only pro victory against pound-for-pound entrant Paul Williams (as well as a first-round knockout loss in their rematch) got the call. Quintana figured to give Berto a solid fight because of his tricky style and did for a few rounds. Berto, 26, was clearly rusty from his time off and it showed. Quintana appeared to score a knockdown in the first round with a punch high on the head, but referee Tommy Kimmons ruled that it was a slip. Quintana continued to look good in the second round and it looked like we might be in store for an upset. But Berto, who said he injured his left bicep either in the first or second round, showed heart and sucked it up in his fourth defense. Quintana was the third southpaw in a row Berto faced, so that didn't seem to give him too many problems, and by the third round Berto was starting to catch him with straight right hands. Kimmons took a point from Quintana in the third round for rabbit punching, but it wasn't going to make a difference, because Berto was gunning for the knockout.
Eventually, he got it -- and in style. Clearly ahead on the cards, despite the sloppy start, Berto, from nearby Winter Haven, Fla., went after Quintana in the eighth round and knocked him all over the ring. Quintana was trying to hold or get away, but could do neither, and with Kimmons looking in closely and about to stop the fight at any moment, Berto hammered him with a straight right hand along the ropes. Quintana's head snapped back like a rubber band being launched off a finger tip, and Kimmons jumped in to stop the fight. Quintana didn't complain and Berto had himself a very solid knockout against a quality opponent. You could just see the rust coming off him round by round, and by the end, he was in a rhythm that was interrupted only by Quintana's attempts to tie him up.
Berto dedicated the card to his devastated homeland, dubbing it "Fighting for Haiti," and promised to donate a percentage of the gate receipts to his Berto Dynasty Foundation, which has been helping with Haitian relief. Unfortunately, the card was a commercial bomb. The BankAtlantic Center, home to the NHL's Florida Panthers, is huge and barely 3,000 or so showed up, many because of free tickets. What a shame, because it was a good card for a good cause.
Lou DiBella, Berto's promoter, promised there would not be another 11-month layoff for his young titleholder. Berto wants to get a big fight with one of the big three in the division: Mosley, Manny Pacquiao or Floyd Mayweather. Mosley and Mayweather do battle on May 1. Pacquiao may fight the winner or Antonio Margarito in the fall. It could leave Berto without that huge fight, so they will have to go to Plan B. But Berto just needs to be active, and hope his left bicep isn't too badly injured so he can get back to work in a few months.
Featherweight
Celestino Caballero W12 Daud Yordan
Scores: 120-107, 119-108, 118-1008
Records: Caballero, 34-2, 23 KOs; Yordan, 25-1, 19 KOs

Rafael's remark: Caballero may have looked too good for his own good. Unable to get any significant fights at 122 pounds, the 33-year-old junior featherweight titleholder from Panama moved up to the 126-pound featherweight division in search of bigger business. He had made eight title defenses after winning his belt in 2006 (and unifying two belts in 2008) but couldn't lure top dogs in the division into the ring. He chased after titleholder Juan Manuel Lopez for ages only to see Lopez move up in weight and win a belt. So Caballero followed him up in weight.
When the HBO undercard fight between light heavyweight titlist Tavoris Cloud and Glen Johnson was called off because of Cloud's supposed injury and subsequent signing with promoter Don King, promoter Lou DiBella put this interesting match together. Caballero wound up dominating in an excellent performance while Indonesia's Yordan showed enormous courage in taking an absolute shellacking but making it to the final bell in a fight his corner should have probably stopped after about the ninth round. Yordan, 22, was relatively untested, although he had looked good for the first round and a half against Robert Guerrero in an HBO fight in March 2009. But that fight ended in the second round after an accidental head butt cut Guerrero, who elected not to continue, making it a no contest. Against Caballero, all Yordan could do was take massive punishment while occasionally landing single hard lefts and rights to at least catch Caballero's attention. But Caballero was like a man on a mission. He never stropped throwing punches and landed almost at will. Whether it was his solid and quick jab, a brutal body assault or nasty right uppercuts, Caballero laid a beating on Yordan.
At 5-foot-11 and with such an enormous punch output, Caballero will be a handful for anyone. Check out the CompuBox stats -- Caballero landed 325 of 1,248 punches (26 percent) while Yordan barely threw as many as Caballero landed, going 105 of 379 (28 percent). Caballero's punch output was the third-most thrown in a featherweight fight tracked by CompuBox, which has tracked fights for 25 years.
Before the fight, there had been talk that if Caballero beat Yordan, he would be at the top of the list to challenge featherweight titlist Yuriorkis Gamboa on an HBO card being planned for July 24. However, after the performance Caballero turned in, Gamboa's handlers may have second thoughts when it comes to making the fight. Don't be shocked if it doesn't happen. Caballero couldn't get big names to fight him at junior featherweight. He may have more of the same trouble at featherweight because he's really good, really risky to fight and doesn't bring a lot of economic muscle to the table.
Welterweight
Antwone Smith KO3 Franklin Gonzalez
Records: Smith, 18-1, 9 KOs; Gonzalez, 13-5, 9 KOs).

Rafael's remark: Miami's Smith, 23, pulled a string of upsets over the past couple of years to turn himself from an opponent into a prospect. Smith continued his impressive run with a blistering body-shot knockout against the Dominican Republic's Gonzalez, who lost for the third time in four fights. It wasn't that Smith beat a top opponent that was impressive, it was how he did it. Smith dominated the first two rounds and then authored one of the most painful-looking knockouts you'll ever see. If he hadn't been wearing boxing gloves, you'd swear he pulled out a knife and stuck it through Gonzalez's rib cage. That's how brutal of a body shot he landed. Gonzalez was wide open when Smith just absolutely ripped him with a full-leverage left hook. Gonzalez went down in agony and when he grunted in pain it was audible at ringside. Referee Tommy Kimmons could have counted to 100, at least. Gonzalez stayed down for several minutes while being attended to by ringside personnel. It was about as long as you will ever see a fighter stay down after being knocked out with a body shot. He is probably still short of breath today.
It was an important win for Smith, who is under consideration to fight on HBO on June 5 in the opening television fight under the Yuri Foreman-Miguel Cotto junior middleweight title fight at Yankee Stadium. The being discussed is Smith against Philadelphia prospect Mike Jones, who first needs to win his bout on Saturday in Atlantic City, N.J., on the Kelly Pavlik-Sergio Martinez undercard. HBO has approved two fights -- Jones against Smith or Jones against Carlos Luis Abregu. Whichever one the promoters can make in a timely fashion is probably the one we'll see. Smith at did his part, which is to win and do so decisively.
Saturday at Las Vegas
Heavyweight
Evander Holyfield TKO8 Francois Botha
Records: Holyfield, 43-10-2, 28 KOs; Botha, 47-5-3, 28 KOs

Rafael's remark: Fifteen years ago this fight would have meant something. Today, it was just a pathetic disgrace that never should have been sanctioned between two guys who should have long ago left the ring. What's in the water in Las Vegas anyway? First the Nevada commission approved the seniors tour horror show between Bernard Hopkins and Roy Jones two weeks ago. Now, it's the 47-year-old Holyfield facing the 41-year-old Botha in a pointless fight there was no demand for, as evidenced by the woeful turnout of 3,127 at the Thomas & Mack Center, a huge arena where Holyfield, the former four-time heavyweight champ fighting in Las Vegas for the first time since James Toney knocked him out in 2003, fought some of his most significant fights. This was not one of them. Instead, this was a sad sight as the main event on a horrendous pay-per-view card that looked as though it was produced by a high school audio/visual club. The bloated Botha easily dominated an inactive and old-looking Holyfield for the first five rounds. But, as he has done so many times before, South Africa's Botha faded in short order. After handling Holyfield with right hands and body shots, Botha slowed dramatically as Holyfield came on in the sixth round. By the eighth, Botha was gassed and Holyfield mounted his best offense of the fight, dropping him with a short right hand near the ropes. Botha made it to his feet, but Holyfield let whatever he had left hang out. He put together a good flurry that included a solid right hand and as Botha sagged into a corner, referee Russell Mora finally ended the freak show with 55 seconds left in the round. Botha now owns the inglorious achievement of being knocked out in all of his losses by the biggest names the era: Holyfield, Wladimir Klitschko (2002), Lennox Lewis (2001), Mike Tyson (1999) and Michael Moorer (1996). Holyfield ended a two-fight losing skid (although his last fight, a title bout against Nikolai Valuev in December 2008, was a robbery) and now wants a fight with either Wladimir or Vitali Klitschko for their titles. If that happens, the person responsible for approving such a heinous mismatch should be spit on.
Saturday at Rancho Mirage, Calif.
Welterweight
David Estrada TKO8 Orlando Lora
Records: Estrada, 24-6, 15 KOs; Lora, 25-1-1, 18 KOs

Rafael's remark: Mexico's Lora, 29, entered the ESPN2 main event with a glossy record built against stiffs, so Estrada, a real fighter, was his first real test. Lora failed and failed miserably as Estrada laid a butt whuppin' on him from the opening bell until the ringside doctor mercifully recommended that referee Raul Caiz Jr. to stop the thrashing after the eighth round. Although Estrada, 31, of Chicago, has lost to the elite opponents he had faced, such as Shane Mosley, Andre Berto and Kermit Cintron, he came in with way more experience than Lora and it showed. Estrada couldn't miss with his right hand and also hammered Lora to the body. He opened a cut over Lora's left eye with an accidental head butt in the fourth round and dished out a brutal pounding Lora may never forget. Estrada has his eyes on two fights: a rematch with Luis Carlos Abregu, who won a split decision against him in December 2008, or a rematch with Berto, who stopped him in the 11th round of a very tough fight in 2007.
Saturday at Las Vegas
Welterweight
Mark Melligen W10 Norberto Gonzalez
Scores: 100-90 (three times)
Records: Melligen, 18-2, 13 KOs; Gonzalez, 18-2, 12 KOs

Rafael's remark: In a surprisingly one-sided fight, Melligen, 24 of the Philippines, rolled past Mexico's Gonzalez, 28, with ease in the "Top Rank Live" main event. Melligen, a good prospect who has was lauded by Floyd Mayweather Jr. for the quality sparring he gave him before his fight last fall against Juan Manuel Marquez, was aggressive and busy against the more tentative Gonzalez. Melligen won his second in a row since suffering his lone defeat, which came under some tough circumstances. In November, Michel Rosales defeated him via 10-round split decision, but Melligen has reasonable excuse for his lackluster performance in that bout. Earlier on the card, his buddy, Z Gorres, had collapsed after a win and was rushed to the hospital for brain surgery, understandably throwing him off his game. Gorres survived and Melligen seems to have regained his footing as a quality prospect.
In three notable undercard bouts: Las Vegas lightweight Diego Magdaleno (15-0, 3 KOs) outboxed Denver's Manny Perez (14-6-1, 2 KOs) to win a unanimous decision, 100-90, 99-91, 97-93; Washington D.C. junior welterweight Lamont Peterson (28-1, 14 KOs), in his first bout since losing a lopsided decision challenging Timothy Bradley Jr. for his title in December, handed Detroit's Damian Fuller (30-7-1, 14 KOs) his third loss in a row via seventh-round knockout; and heralded Top Rank junior welterweight prospect Jose Benavidez (4-0, 4 KOs), 17, dropped Canada's Scott Paul (5-5-1) in the first round and stopped him at 1:30 of the second round.
Friday at London
Heavyweight
Audley Harrison KO12 Michael Sprott
Wins vacant European heavyweight title
Records: Harrison, 27-4, 20 KOs; Sprott, 32-15, 17 KOs

Rafael's remark: Harrison, the 2000 British Olympic super heavyweight gold medalist, was a dud as a professional and what was left of his career took a huge nosedive in February 2007. That is when Sprott put him to sleep with a gargantuan one-punch knockout in the third round. Harrison had pretty much been off the radar since until meeting his British countryman in a rematch. Harrison was not looking good in the sequel against Sprott, 35, who had lost four of his six fights since the huge knockout of Harrison in their first fight but was soundly outpointing him through most of the rematch. Another loss to Sprott would have effectively ended any prayer of a big fight for the 38-year-old Harrison and perhaps sent him into retirement. But then Harrison rescued his career and claimed the European title with massive punch. It wasn't as big of a shot as Sprott cracked him with in their first bout, but Harrison landed the out-of-nowhere left hand 65 seconds into the final round and knocked Sprott out for the big comeback. Harrison said he injured his shoulder in the fight and that he knew he needed a knockout in the final round to salvage the fight. Congrats to him for digging down and getting it. As European champ, Harrison will get himself a bigger fight. It's up to him to see how far he can take it. He's always been blessed with terrific physical attributes, but sometimes lacked the heart for the fight. He didn't against Sprott and it showed.
Dan Rafael is the boxing writer for ESPN.com.
Boxing
2013 BWAA Nat Fleischer Award winner for excellence in boxing journalism
ESPN.com boxing writer since 2005
Five years at USA Today
SPONSORED HEADLINES
MORE BOXING HEADLINES
MOST SENT STORIES ON ESPN.COM
EDITORS' PICKS
Felix Verdejo is ESPN.com 2014 prospect of the year.
Dan Rafael »

Coyle's 11th round against Brizuela is the best of 2014.
Brian Campbell »

Klitschko could face Jennings next April in New York.
Rankings »