Commentary
'Viking Warrior' out to right the ship
Updated:
April 22, 2010, 2:17 PM ET
By
Dan Rafael
| ESPN.com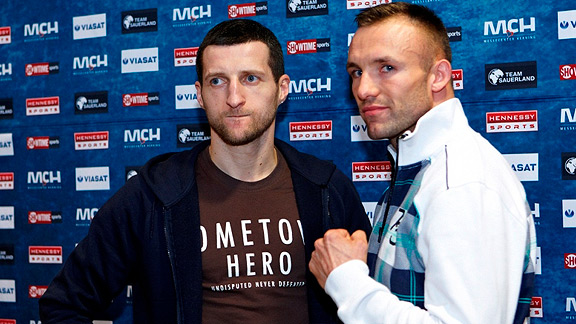 Courtesy of Tony BrochnerCarl Froch, left, brings his perfect record and an unrelenting attack into the ring against Mikkel Kessler.
When the Super Six World Boxing Classic was announced last summer, Mikkel Kessler was immediately tabbed as the favorite to win the six-man round-robin super middleweight tournament.
It made sense. Denmark's "Viking Warrior" was by far the most accomplished fighter in the field. He was a reigning two-time 168-pound titleholder with several quality victories on his record and just one loss, a 2007 decision to Joe Calzaghe, perhaps the best super middleweight in the history of the division, in Calzaghe's native Wales.
That was then.
This is now.
Here we are in Group Stage 2 -- a third of the way through the tournament -- and Kessler has lost his title, has no points and is in serious danger of not making it to the semifinals.
Sho's woes
The Iceland volcano made super middleweight titlist Carl Froch's trip to Denmark for his Super Six fight with Mikkel Kessler on Saturday quite an adventure, but at least he and his team made it. The same can't be said for most of the crew from Showtime, which will televise the bout (9 p.m. ET/PT, same-day tape).
Because of the massive flight cancellations caused by the volcanic ash that hovers over Europe, Showtime was only able to get a skeleton crew to Denmark. The crew from the network's "Fight Camp 360°: Inside the Super Six World Boxing Classic" arrived Wednesday to capture the week's behind the scenes activities for a future episode of the series.
However, several others key production people couldn't make it, so broadcasters Gus Johnson, Al Bernstein and Antonio Tarver will have to call the action off a monitor at a New York studio, Showtime spokesperson Annie Van Tornhout told ESPN.com.
"ShoBox" analyst Steve Farhood is the lone on-air person for Showtime scheduled to be at the fight, where he'll handle interviews. Farhood was pressed into service on short notice because of the volcano. He was scheduled on a Wednesday night flight from New York to Paris before taking a second flight to Copenhagen followed by a third flight to Herning.
Despite the logistical nightmare, "we will have the fight on the air, that's for sure," said Showtime spokesman Chris DeBlasio, one of the few to make it to Europe. "The bottom line is we're going to be televising the fight. It's been challenging, but we will meet the challenge." -- Dan Rafael
"It's nice not to be the favorite in this tournament," Kessler said. "I'm like a young warrior again. And I'm super hungry again. I'm very hungry. I'm back and I'm very sharp at this time. I made my mistake and I just want to get back up and show all my boxing fans from around the world that I am the best super middleweight in the world."
Fighting in his hometown of Oakland, Andre Ward handed Kessler a lopsided 11th-round technical decision loss in their tournament opener in November. Ward dominated Kessler before an accidental head-butt opened a bad cut over Kessler's eye, causing the fight to be stopped and sent to the scorecards.
"I had a very bad night in the office against Ward, but champions bounce back even stronger," Kessler said. "I did that once after the Calzaghe fight and I will do it again."
He'll have his chance as he bids to get on the Super Six board when he challenges titleholder Carl Froch of England on Saturday (Showtime, 9 p.m. ET/PT, same-day tape) at the MCH Arena in Herning, Denmark.
"It's a big opportunity to be fighting for a world title again," Kessler said. "You know, I had to go back to boxing school after my last fight. I'm so happy to be in this tournament with another chance to show all my boxing fans that I am the best.
"I learned from my mistakes after the Ward fight. I learned I made mistakes outside the ring. I had to pick my sparring partners better three or four weeks out of the fight. I just feel I'm better than ever now. I'm ready to fight this fight. I really can't wait."
Kessler (42-2, 32 KOs), who fired longtime trainer Ricard Olsen in the wake of the defeat and replaced him with assistant Jimmy Montoya, knows that defeating Froch -- a Group Stage 1 split decision winner against Andre Dirrell -- will give him another title and keep alive his chances of making it to the semifinals.
"I have had a great preparation and I am ready," Kessler said. "It was not the real Mikkel Kessler in the ring against Andre Ward. I have learned my lesson. In life, you have to bounce back from defeats. You have to get back up. That is what I am about to do. This fight means everything to me. There is a lot of pressure but that is no problem. I need a win. And I will get a win -- I will get the first three points in the Super Six tournament."
Froch believes he may be getting a Kessler with sagging confidence after the upset loss to Ward, but remains a bit wary of him.
Super Six Scoreboard
Standings for Showtime's Super Six World Boxing Classic. The second of three Group Stage 2 bouts takes place Saturday with the Froch-Kessler in Herning, Denmark. Fighters are awarded three points for a knockout win, two points for a decision win, one point for a draw and no points for a loss. The top four fighters advance to the semifinals following Group Stage 3:
| Record | Fighter | Points |
| --- | --- | --- |
| 1-1 | Arthur Abraham | 3 |
| 1-1 | Andre Dirrell | 2 |
| 1-0 | Carl Froch | 2 |
| 1-0 | Andre Ward | 2 |
| 0-1 | Mikkel Kessler | 0 |
| 0-0 | Allan Green | 0 |
"Obviously, there's an opening there to try and take advantage, but there's the wounded fox syndrome where an animal's been wounded and is bleeding. He's going to come out fighting," Froch said. "You've got to realize Mikkel Kessler's got absolutely nothing to lose now."
Kessler, however, said he is quite confident, especially because he will be fighting at home, where he is a major star and has never lost.
"Never in my life have I lost a fight in Denmark," said Kessler, whose handlers at Sauerland Event are touting the bout as the biggest ever to take place in Denmark. "My home fans give me the extra 5 percent I need to defeat Froch. I will knock him out. It will be the real 'Viking Warrior' in the ring."
Kessler, 31, has the stats on his side. In the first four bouts of the Super Six, the hometown fighter has won each time.
In Group Stage 1, Froch (26-0, 20 KOs) was at home in Nottingham, England, where he eked out a split decision to retain his belt against Dirrell; Germany's Arthur Abraham knocked out Jermain Taylor in the 12th round in Berlin, after which Taylor dropped out of the tournament and was replaced by alternate Allan Green; and Ward defeated Kessler in Oakland.
In the Group Stage 2 opener, Dirrell, who is from Flint, Mich., dominated Abraham in Detroit en route to an 11th-round disqualification victory last month.
Froch, however, said he is not concerned about being on the road because of his past success. In April 2009, in his first title defense and final bout before the tournament began, he came to the United States and rallied to knock out Taylor with 14 seconds left in the fight.
"I really don't need the fan support," Froch said. "It's obviously a great feeling to have people follow you all around the world to watch you fight, but at the end of the day when the bell goes you don't hear too much anyway. You're just so concentrated on your opponent. If the crowd is cheering against me that is fine. The Danes that I have met have been great so I'm not expecting any kind of animosity at all."
Froch, 32, said he is also not concerned about judging that might favor the hometown fighter.
"I don't feel like I need the knockout," he said. "I don't need to look for the knockout. I'm a big puncher. If the knockout comes it comes, but I don't feel like I need a knockout to win. I don't go into any fight expecting to have to knock someone out."
Said Mick Hennessy, Froch's promoter, "He has won on the road before and he will do it again on Saturday."
Although Froch hoped to have many of his British supporters follow him by taking the short flight to Denmark, he is unlikely to have many fans on hand because of the volcano in Iceland that spewed a massive amount of ash that hovers over much of Europe. The ash presented a danger to planes, focring airports across the continent to close for several days. Flight schedules are still a mess and Froch's trip was an adventure.
Instead of flying on a commercial flight Saturday, he didn't arrive in Denmark until Wednesday after taking a private jet.
"Saturday's planned trip had to be cancelled due to the volcano erupting," Froch said upon his arrival in Herning. "The flight was OK but the landing was the roughest ever and me and [trainer] Rob [McCracken] have been arguing over who was the most worried. I am here now and ready to defend my title in style.
"I am here to knock Mikkel Kessler out. I am here to take care of business, knock Mikkel out and take my belt back home."
Kessler is also predicting a knockout.
"I am in great shape," he said. "I am glad Carl made it here in good time so that I can knock him out. I have worked very hard with Jimmy Montoya. I am faster, better and stronger than ever. Saturday will be the biggest fight of my life and believe me, I am ready."
Dan Rafael is the boxing writer for ESPN.com.
Boxing
2013 BWAA Nat Fleischer Award winner for excellence in boxing journalism
ESPN.com boxing writer since 2005
Five years at USA Today
SPONSORED HEADLINES
MORE BOXING HEADLINES
MOST SENT STORIES ON ESPN.COM
EDITORS' PICKS
Best of ESPN's "Friday Night Fights" in 2014.
Watch

Klitschko's fifth-round KO of Pulev is best of the year.
Dan Rafael »

Felix Verdejo is ESPN.com 2014 prospect of the year.
Dan Rafael »