Commentary
Adamek uses skills to outbox Arreola
Originally Published:
April 26, 2010
By
Dan Rafael
| ESPN.com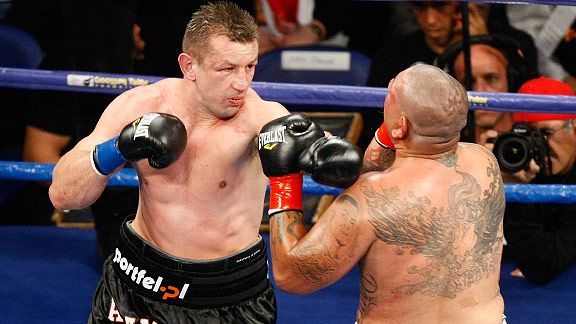 Craig Bennett/FightWireImagesTomasz Adamek put his jab to good use by keeping Cris Arreola at bay for 12 frustrating rounds.

A roundup of the past week's notable boxing results from around the world:

Saturday at Herning, Denmark -- Super Six World Boxing Classic
Super middleweight
Mikkel Kessler W12 Carl Froch
Wins a super middleweight title
Scores: 117-111, 116-112, 115-113
Records: Kessler, 43-2, 32 KOs; Froch, 26-1, 20 KOs

Rafael's remark: This is why we adore Showtime's Super Six tournament: Any of the six participants can win any fight, and they're all bunched up with five fights down and four to go before the semifinals are set following the round-robin portion of the tournament.
Fighting at home in Denmark, where he had never lost a fight, Kessler, 31, came into the bout looking to restore himself and in desperate need of points to keep his hopes of advancing to the semifinals alive. He had lost his slice of the 168-pound title in an 11-round technical decision upset to Andre Ward in their Group Stage 1 fight in Ward's native Oakland. After the fight, Kessler fired trainer Ricard Olsen and replaced him with longtime assistant Jimmy Montoya, and it seemed to do the trick. England's Froch, meanwhile, had retained his belt on home turf in the opening round by eking out a split decision against Andre Dirrell. So what would happen in this one? Many expected Froch to win, but Kessler made hometown fighters 5-0 in the tournament by winning the terrific and highly competitive fight.
It was close all the way and turned out to be the most exciting fight in the tournament so far. The fight started out with a controlled pace as they fought at a high skill level and traded rounds back and forth, each landing hard right hands throughout. By the last few rounds, it was a raging slugfest, which was topped off by a fabulous 11th round and a rock-'em sock-'em round of the year candidate in the 12th.
Froch, 32, bloodied Kessler's nose in the fourth round. Kessler was rocked with a right hand in the eighth round and cut on his nose. In the 10th, Froch tore open a bad cut over Kessler's left eye, which was in a similar place as the cut he suffered against Ward. Kessler opened a cut over Froch's left eye in the 12th round and they traded with abandon throughout the blazing round, both sensing that the fight might still be on the table. In the end, Kessler got the nod, although 117-111 was way too wide. Nonetheless, Kessler began his third reign with a super middleweight title and will next face Allan Green in Group Stage 3 in the fall. Froch, classy in defeat, will move on to a tough third fight with Arthur Abraham in a bout slated for Aug. 21.
With Kessler picking up two points, the standings are tight. Abraham leads the field with three points (courtesy of his knockout of Jermain Taylor in the opening round). Kessler, Froch, Dirrell and Ward each have two points (although Ward has fought only once so far) and Green, who replaced Taylor, has no points heading into a June 19 fight with Ward. The top four advance to the semifinals. Whatever happens in the rest of the tournament, it's been an awful lot of fun so far.
Saturday at Ontario, Calif.
Heavyweight
Tomasz Adamek W12 Cristobal Arreola
Scores: 117-111, 115-113, 114-114
Records: Adamek, 41-1, 27 KOs; Arreola, 28-2, 25 KOs

Rafael's remark: Adamek, who always makes excellent fights, was a formidable light heavyweight titleholder and then the legitimate cruiserweight world champion. He has skills, good power and a great chin. But how would that translate when the popular Polish fighter (now based in Jersey City, N.J.) moved up to fight much bigger men? In his first two heavyweight fights, Adamek defeated lesser opponents, knocking out faded countryman Andrew Golota in the fourth round in October in Poland's biggest fight ever, followed by a decision win against Jason Estrada in February. But Arreola, of Riverside, Calif., was a better grade of opponent then those guys and most viewed Adamek as the underdog, especially with the fight taking place on Arreola's turf. Despite facing a 33½-pound weight disadvantage, Adamek (217 pounds to Arreola's 250½ ) showed that good skills, a great game plan and a big heart can overcome whatever physical disadvantages a fighter might have.
Adamek proved that he indeed belongs among the top heavyweight contenders with an excellent performance. As the fight unfolded in a manner similar to last week's Sergio Martinez-Kelly Pavlik middleweight championship fight -- in which Martinez pulled the mild upset -- Adamek dominated the early rounds before Arreola come back in the middle rounds only to see Adamek turn the tide again by closing very strong to take the decision. It wasn't as wide a fight as the 117-111 scorecard, nor did Arreola deserve the 114-114 draw, but Adamek clearly won the fight and affirmed his status as a top-10 heavyweight. He stood up to Arreola's best punches, avoided many others, threw combinations and frustrated Arreola with his movement. The fight couldn't have gone better for Adamek. By the end of the fight, Arreola's left eye was swelling, he was cut on the bridge of his nose and out of answers, especially after a left-hand injury late in the fight severely hampered his ability to punch with it.
Credit goes to Arreola for giving Adamek credit after the fight during his, shall we say, "colorful" postfight interview on HBO, and not complaining about the decision. Where he goes from here is up in the air. His best win remains a fourth-round knockout of faded former contender Jameel McCline in April 2009, which isn't saying all that much. Now Arreola is 1-2 in his past three bouts. In being utterly dominated en route to a 10th-round TKO loss challenging titlist Vitali Klitschko in September, Arreola proved he can't hang with the best big men. And in losing a clear decision to Adamek, he showed he can't do much with the speedy smaller guys either, especially when he's never in tip-top condition. The one win in those past three was a December knockout of undersized Brian Minto, who never stood a chance in the first place.
For Adamek, there are interesting options. Perhaps he can get an eventual fight with either Wladimir Klitschko or Vitali. Those would be huge fights in Europe. There is also David Haye, a titleholder who was the cruiserweight champ before he moved up in weight and Adamek claimed the throne. If talks between Haye and Wladimir Klitschko don't produce a fight, Haye-Adamek would be a very exciting match and a good option for both men, since they are about the same size. It's a fight that Adamek promoter Kathy Duva of Main Events said she would like to make. It's a fight we'd love to see in the event Haye doesn't face a Klitschko brother.
Junior middleweight
Alfredo "Perro" Angulo TKO11 Joel "Love Child" Julio
Retains an interim junior middleweight title

Records: Angulo, 18-1, 15 KOs; Julio, 35-4, 31 KOs

Rafael's remark: Good win and sweet knockout for Angulo, a crowd-pleaser who walked down Colombia's Julio, 25, until ending his night with a flush right hand to the face. Although Julio beat the count, referee Raul Caiz Sr. didn't like what he saw and called it off at 1 minute, 39 seconds of the 11th round, although it was a bit of a weak stoppage. Before the TKO, it had been a highly competitive fight. The 25-year-old Julio, the 2005 ESPN.com prospect of the year, used his better speed and skills to keep Angulo off-balance during the first half of the fight before he started to lose a little steam. Mexico's Angulo, 27, didn't seem to get flustered. He just continued to march forward. That's how Angulo fights, and it's effective. While Julio, who appeared to be in tremendous condition, peppered him with combinations, he never really sat down on his punches to hit him the way he did in amassing all the knockouts he rung up. Angulo eventually slowed Julio down some, and whenever he stood still Angulo nailed him. By the 11th, the wheels were coming off for Julio, and he was wide-open when Angulo, who held a slim lead on the scorecards, drilled him with the right hand. HBO's Max Kellerman was dead-on when he compared the fight to Antonio Margarito's knockout win against Miguel Cotto. In that fight, Cotto was winning, but Margarito was like a freight train picking up steam coming down a mountain. As the fight wore on, it looked as if it was just a matter of time until the train ran Cotto over. That's pretty much what happened in Angulo-Julio. For Angulo, he retained his silly interim belt in his first defense after dusting club fighter Harry Joe Yorgey to claim the vacant strap via a vicious third-round knockout in November. Angulo, who was fined $15,000 for being almost two hours late for Friday's weigh-in, has won three in a row since a competitive decision loss to Kermit Cintron in May 2009. Promoter Gary Shaw told ESPN.com after the fight that he would love to match Angulo with Cotto, should Cotto defeat titlist Yuri Foreman on June 5. Wouldn't that be a great fight? For Julio, the loss probably cements his status as a steppingstone opponent. After showing so much promise, he has been unable to get over the hump. He's dropped three of his past four bouts and has lost all four times he has stepped up in competition, to Carlos Quintana, titleholder Sergei Dzinziruk, James Kirkland and now Angulo. He'll always be the "Love Child," but it doesn't look as if he'll ever be a champion.
Saturday at Ciudad Obregon, Mexico
Bantamweight
Jorge Arce KO7 Cecilio Santos
Records: Arce, 54-6-1, 41 KOs; Santos, 24-14-3, 14 KOs

Rafael's remark: In January, Arce, one of Mexico's most popular fighters, claimed a seven-round technical decision against Angky Angkota to win a vacant junior bantamweight title. But Arce, also a former junior flyweight titlist, has designs on conquering the bantamweight division. So he took this nontitle bout on "Top Rank Live" against Santos in preparation for a fight against interim bantamweight titlist Eric Morel, which will be featured on Top Rank's June 26 "Latin Fury" pay-per-view card in San Antonio that will feature Julio Cesar Chavez Jr. against John Duddy in the main event. Arce, 30 (but an old 30), did not look particularly good, but Santos usually loses to the good opponents he faces, and this was no different. Arce finally came on in the seventh round and put together a flurry of punches, including a fight-finishing left to the body that knocked Santos, 31, also of Mexico, down to his knees for the count. Arce did suffer a cut over his right eye in the fight, but said it would not hamper his preparation for the fight with Morel. Santos, a former four-time title challenger between bantamweight and junior bantamweight, dropped to 2-7-1 in his past 10 bouts with all but one of the defeats in that terrible run coming via knockout.
Saturday at Hamburg, Germany
Light heavyweight
Jürgen Brähmer TKO5 Mariano Nicolas Plotinsky
Retains a light heavyweight title
Records: Brähmer, 36-2, 29 KOs; Plotinsky, 16-4, 8 KOs

Rafael's remark: Germany's Brähmer, 31, had an easy time in his second title defense as he pounded the daylights out of Argentina's Plotinsky, 35. Brähmer ran roughshod over him from the start of the fight. He dropped him in the first round and hammered on him, with little coming back until referee Paul Thomas stopped the bout at 2 minutes, 36 seconds of the fifth round. There was not one big shot or a knockdown that caused Thomas to step in. Instead, he had just seen enough of Brähmer laying a beating on Plotinsky, who showed great heart but saw his five-fight winning streak (which included a notable 11th-round knockout of Thomas Ulrich in March 2009) come to an end.
Friday at Coventry, England
Junior featherweight
Rendall Munroe TKO9 Victor Terrazas
Title eliminator
Records: Munroe, 21-1, 9 KOs; Terrazas, 25-2-1, 13 KOs

Rafael's remark: European champion Munroe, 29, of England, has been on a nice roll recently -- including two decisions against Kiko Martinez and a points win against Simone Maludrottu -- to set up this final eliminator against Mexico's Terrazas, 27. Munroe, a southpaw, didn't wait to hear the scorecards, however, taking Terrazas out with a solid left to the body at 57 seconds of the ninth round. He had banged away at Terrazas, forcing him into a corner, and then fired several shots. He sank one of them, that left hand, into the body and Terrazas went down to a knee in obvious distress. To his credit, he beat the count, but referee John Keane called it off. Now Munroe can look forward to a mandatory title shot against the winner of the April 30 fight between titleholder Toshiaki Nishioka of Japan and the Philippines' Balweg Bangoyan. Terrazas, who almost wasn't able to make it to England because of the Iceland volcano that disrupted worldwide air travel, suffered his first defeat since being stopped in the second round of his pro debut in 2003.
Thursday at Panama City
Junior flyweight
Luis Concepcion TKO4 Eric Ortiz
Retains an interim junior flyweight title
Records: Concepcion, 20-1, 15 KOs; Ortiz, 32-10-3, 21 KOs

Rafael's remark: The way these guys were trading from the start, it seemed unlikely the fight would go the distance. It was a pretty good scrap until Concepcion -- fighting in his hometown and defending his interim belt for the second time -- suddenly landed a stiff straight right hand that rocked Ortiz. It was the beginning of the end. Ortiz was backpedaling and Concepcion, 24, started clipping him with his a series of hard shots, sending him into the ropes for what could have been ruled a knockdown since it was the ropes that held him up. Ortiz tried to rally but Concepcion would have none of it. He landed about five more shots, including a right hand that staggered Ortiz, and referee Enrique Portocarrero stopped it at 2 minutes, 5 seconds. Mexico's Ortiz, 32, a former junior flyweight titlist, didn't complain about the stoppage. He has now lost two of his past three. Concepcion is an exciting fighter, but his title is one of a litany of pointless WBA interim belts. Japan's Daiki Kameda, who is active and uninjured, holds the actual title.
Thursday at Los Angeles
Super middleweight
Enrique Ornelas KO4 Julius Fogle
Records: Ornelas, 30-6, 20 KOs; Fogle, 15-4, 10 KOs

Rafael's remark: Last time out, Ornelas got his butt kicked over 12 lopsided rounds by Bernard Hopkins in a near-shutout decision Dec. 2. Making his return, Ornelas, 29, originally from Mexico and living in La Habra, Calif., was matched softly on Golden Boy's "Fight Night Club" series. So it's no surprise that he took out North Carolina's Fogle, 38, who dropped to 0-4 with a no-contest in his five bouts, including three by knockout. How in the world was this allowed to be a televised main event given Fogle's recent results? Sure, "Fight Night Club" is a low-budget show, but come on. After a lethargic start, Ornelas unleashed a left hook to drop Fogle for the count at 1 minute, 12 seconds of the fourth round of a scheduled eight-rounder.
Dan Rafael is the boxing writer for ESPN.com.
Boxing
2013 BWAA Nat Fleischer Award winner for excellence in boxing journalism
ESPN.com boxing writer since 2005
Five years at USA Today
SPONSORED HEADLINES
MORE BOXING HEADLINES
MOST SENT STORIES ON ESPN.COM