Commentary
Calderon wilts under Segura's pressure
Originally Published:
August 30, 2010
By
Dan Rafael
| ESPN.com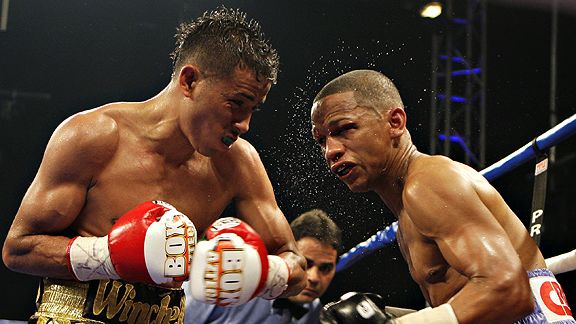 AP Photo/Andres LeightonGiovani Segura, left, overcame a slow start to stop Ivan Calderon in the later rounds.

A roundup of the past week's notable boxing results from around the world:

Saturday at Guaynabo, Puerto Rico
Junior flyweight
Giovani Segura KO8 Ivan "Iron Boy" Calderon
Unifies junior flyweight titles
Records: Segura, 25-1-1, 21 KOs; Calderon, 34-1-1, 6 KOs

Rafael's remark: It took a while, but at long last we have a honest-to-goodness fight of the year candidate. That this fight is a candidate is a surprise, because Calderon, although one of the best technical boxers of the generation, typically does not make enthralling fights. He's about boxing your ears off in a methodical, sometimes boring, way. Segura is the exact opposite. The Mexico native living in Bell Gardens, Calif., is a straight brawler. His style won out as he made Calderon fight his kind of fight, which made it an all-action fight and a gem to watch.
Segura won the Integrated Sports pay-per-view main event in Calderon's hometown in a rare 108-pound unification match, the first since Rosendo Alvarez and Victor Burgos battled to a draw in their 2003 unification bout in Atlantic City, N.J. Calderon, already recognized as the division's lineal champion, was making the seventh defense of his alphabet belt. Segura was making the fourth defense of his version of the title.
Although Calderon put his smooth skills to work early by making Segura miss wildly, he is 35, and his legs have been fading gradually in the past few years. Segura, meanwhile, is 28 and has way less wear and tear on his body.
Segura was simply relentless. He pressured Calderon throughout the fight until he simply could take it no more. Calderon did his best to try to keep away and made Segura miss a lot, but Segura also landed a lot. He landed on Calderon's arms, body and head. You name it: If there was an opening, Segura was pounding it and doing it at a blistering pace. By the heated fourth round, when Segura was all over Calderon, it seemed it was going to be a matter of time until he finally wore him down.
In his younger days, Calderon would be able to box, move and avoid being cornered by the bigger, stronger man. No such luck against Segura, who was 4 inches taller and whose swarming style was overwhelming. Segura threw so many punches and made Calderon fight at such a fast pace that it was exhausting just to watch. He also wobbled Calderon several times. Although Calderon also landed his fair share of shots, he is not a big puncher at all, and the defensively deficient Segura simply walked through the blows.
Entering the eighth round, Calderon's eyes were swelling. After Segura, who was ahead on two of the three scorecards, pinned him into a corner, Calderon had nearly had enough. Segura's onslaught included head shots and body shots as Calderon began to wilt. Finally, a left hand to the liver area body bent Calderon in half and forced him to take a knee. Down with one arm resting on his knee, his other arm resting on the ring rope and his head down, Calderon took the full count from referee Jose Rivera without making an attempt to get to his feet. He was done at 1 minute, 34 seconds of the eighth round, and so was a thrilling, high-stakes fight.
Calderon, a 2000 Olympian and the longtime strawweight champion before moving up in weight and claiming the junior flyweight title, had defeated an assortment of Mexican fighters throughout the years in fashioning an 18-0-1 record in world title fights before running into Segura, who had vowed revenge for his countrymen in one of boxing's greatest rivalries, Puerto Rico versus Mexico.
Bantamweight
McJoe Arroyo W6 Sigfredo Medina
Scores: 60-54 (three times)
Records: Arroyo, 5-0, 2 KOs; Medina, 3-2, 2 KOs

Rafael's remark: Like his twin brother McWilliams Arroyo, McJoe represented Puerto Rico in the 2008 Summer Olympics in Beijing. But although McJoe Arroyo, 24, does not seem to pack the punch of his brother, he is considered a slightly better prospect because he has remained unbeaten while his brother was upset in June. Against Medina, who was fighting for the first time in 10 months, Arroyo rolled to the lopsided win as he swept all six rounds on each scorecard.
Flyweight
McWilliams Arroyo W6 Jovanne Fuentes
Records: Arroyo, 4-1, 3 KOs; Fuentes, 2-1, 1 KO

Rafael's remark: Arroyo, who represented Puerto Rico in the 2008 Summer Olympics in Beijing and was the 2009 world amateur champion, is the 24-year-old twin brother of fellow pro McJoe Arroyo. But unlike McJoe, McWilliams suffered a surprising upset loss to Takashi Okada in an action-packed four-rounder in New York in June. Returning from that stunning defeat, Arroyo outclassed fellow Puerto Rican Fuentes, who was fighting for only the third time since turning pro 11 months ago. Arroyo swept every round for the easy win.
Saturday at Buenos Aires
Junior welterweight
Marcos Maidana W12 DeMarcus "Chop Chop" Corley
Retains an interim junior welterweight title
Scores: 117-110, 116-110, 115-112

Records: Maidana, 29-1, 27 KOs; Corley, 37-14-1, 22 KOs

Rafael's remark: What was supposed to be an easy win for Maidana against a faded former titleholder in Corley instead turned into an epic struggle in front his hometown fans. Maidana is lucky to have escaped with the win in a fight in which the scores do not really indicate just how close and competitive it was. If you are an Amir Khan fan, Maidana's performance should have you licking your chops for Khan to meet his mandatory challenger in a possible Dec. 11 fight.
Maidana, 27, was making the third defense of a vacant interim trinket that he won when he made Victor Ortiz quit in the sixth round last summer. With his management issues behind him, Maidana wanted to get in a hometown defense before returning to the United States for a big fight later in the year. Corley, 36, of Washington, D.C., seemed to fit the bill. He has a good name, is a former titleholder and is not nearly the fighter he once was. He came into the fight having lost two of his past three but having scored a nice win over Damian Fuller in July.
As usual, Corley was in tremendous condition. Maidana looked a little soft and nearly paid the price, as Corley gave him everything he could possibly handle in a highly entertaining match. Maidana unleashed his right hand often and rocked Corley in the third round, the same frame in which an accidental head butt opened a cut over Maidana's right eye. In the sixth round, Maidana had Corley in some trouble and looking to hold on after landing several hard shots.
As much as Maidana was landing, Corley was standing his ground until the seventh round. That was when Maidana trapped him against the ropes and landed a nasty flush right hand on the chin. Corley slumped forward to grab on to him and then fell to all fours. He survived the knockdown and eventually rallied in a big way during the final few rounds of the fight. Maidana, clearly tiring, got tagged with some flush left hands that did damage in the 10th and 11th rounds. They finished strong, slugging it out toe-to-toe in the final 30 seconds of the 12th round. In the end, Maidana got the decision, but he did not look like the monster he has in recent fights. He'll need to be in better shape to have a strong chance to beat Khan. And what can you say about Corley? Good dude, good fighter, an honest effort fight in and fight out, but came up a little short. Top guys might beat him, but they'll have to work for that win every time.
Saturday at Montreal
Junior welterweight
Hank Lundy W10 Omri Lowther
Scores: 100-90 (twice), 98-92
Records: Lundy, 19-1-1, 10 KOs; Lowther, 14-2, 10 KOs

Rafael's remark: On July 9, Lundy headlined "Friday Night Fights" on ESPN2. He talked a lot of smack about opponent John Molina, whom he called stupid. After dominating most of the fight, Lundy got dropped hard in the eighth round and then stopped in 11th round as Molina made a big comeback in a fight in which he was being outclassed.
It was perhaps a humbling experience for Philadelphia's Lundy, 26, although probably not because Lundy did little other than complain about the stoppage, which had been on point. But looking to rebound as quickly as possible, Lundy took the fight with Atlanta-born, Ontario-based Lowther on just three days' notice, came to his turf and shut him down in fairly easy fashion as the "Friday Night Fights" season closed with a special Saturday edition. Lundy was quicker than Lowther and hit him almost at will. Lowther, 26, didn't go down, though, because Lundy, despite his nickname of "Hammerin'," is no puncher. But he is a skillful boxer, has good defense and put his technical ability to good use against an opponent who just could not cope with his movement and speed.
The card had been a nightmare to put together. In its original incarnation, the main event was supposed to feature former junior welterweight titlist Juan Urango against Julio Diaz. Then, Montreal top prospect David Lemieux was supposed to headline with 2008 U.S. Olympian Demetrius Andrade on the undercard. When Lemieux was injured, he dropped out. Andrade did as well. That left promoter Yvon Michel to put together Lowther against Edner Cherry on short notice. Then, just a few days after Cherry had taken the fight, he fell out because of a visa problem. In came Lundy, who gave up 20 percent of his purse because he was a pound over the 139-pound contract weight and refused to lose it, to save the show and get his career back on track.
Saturday at Atlantic City, N.J.
Heavyweight
Chazz Witherspoon TKO7 Livin Castillo
Records: Witherspoon, 27-2, 19 KOs; Castillo, 16-9, 10 KOs

Rafael's remark: Witherspoon, 28, got a lot of hype earlier in his career because of his famous last name: He's a cousin of former two-time heavyweight titleholder Tim Witherspoon. But that did not help him in the ring when he stepped up in competition for the first time and was soundly beaten by Cristobal Arreola in June 2008. Witherspoon rebounded with three wins in a row, then faced top-10 contender Tony Thompson and was stopped in nine rounds in December.
Making his comeback nine months later, Witherspoon faced the less-than-fearsome Castillo, 34, who lost for fourth time in his past five fights, all by stoppage. In fact, Castillo, who lives in Atlantic City, has been stopped in eight of his nine losses, so it came as no surprise that Witherspoon was able to take him out. It took Witherspoon several rounds to get warmed up, as he approached Castillo somewhat cautiously while the Ecuador native put a lot of those early rounds in the bank. But as Castillo began to tire, Witherspoon slowly picked up his offense. Finally, he dropped Castillo in the seventh with a barrage of blows. The fight continued, but Witherspoon continued to impose himself, battering Castillo around until referee Earl Brown stopped it at 2 minutes, 21 seconds. Surprisingly, Castillo was ahead on all three scorecards -- 59-55 and 58-56 (twice) -- at the time of the stoppage. Witherspoon can beat the second- and third-tier guys all day long, even if it's a struggle sometimes, but when he steps up in class, it's a different story.
Also on the card, the first promoted by Atlantic City-based Spartan Fight Promotions, Isiah Seldon (2-0, 1 KO) scored a first-round knockout of Jason Johns (0-3). Seldon, a super middleweight from Atlantic City, is the son of former heavyweight titlist Bruce Seldon.
Friday at Rosario, Argentina
Junior welterweight
Lucas Matthysse TKO1 Rogelio Castaneda Jr.
Records: Matthysse, 27-0, 25 KOs; Castaneda Jr., 26-16-3, 8 KOs

Rafael's remark: Argentina's Matthysse, 27, is the younger brother of onetime welterweight prospect Walter Matthysse and looks to be the better of the two. He certainly had an easy time with Mexico's Castaneda, 33, a journeyman who has faced a number of quality opponents such as Lamont Peterson and Demetrius Hopkins, and always has lost. Still, Castaneda has usually been pretty good at going rounds with opponents. Not on this night. Matthysse, who obviously has heavy hands, blew him out in the main event of Telefutura's "Solo Boxeo Tecate." He dropped Castaneda with a left hook midway through the opening round and it was basically over. Castaneda's legs were unsteady, and he went down again under another assault. Once again, he soldiered on, but when he went down for a third time under pressure again, the fight was called off. The fight was rematch of a September 2008 bout that was declared a no-contest in the third round because Castaneda was cut by an accidental head butt and unable to continue.
Welterweight
Sebastian Lujan TKO7 Emilio Julio
Records: Lujan, 34-5-2, 22 KOs; Julio, 16-8-1, 8 KOs

Rafael's remark: Argentina's Lujan, 30, will always be remembered for one of the most grotesque ring injuries you will ever see when, in a 2005 welterweight title fight against Antonio Margarito on ESPN2, he nearly had his ear torn off the side of his head, which forced the fight to be stopped in the 10th round. Lujan then went on to fight Sergei Dzinziruk for a junior middleweight belt in 2006 and lost a decision, but he has been on a nice run since his last defeat in 2007. A physical fighter, Lujan won his eighth fight in a row and re-emerged as a contender at 147 pounds as he took care of the Colombian Julio, 31, with few problems. Lujan worked the head and body and had Julio ready to go down in the fifth round. But Julio did his best to hang on and was docked a point for excessive holding. Lujan continued to batter him in the sixth round, and Julio wanted no more, staying on the stool just after the bell had rung to begin the seventh round.
Thursday at Los Angeles
Junior lightweight
Ronny Rios KO4 Leivi Brea
Records: Rios, 12-0, 6 KOs; Brea, 17-9-3, 9 KOs

Rafael's remark: Just 20, Rios, of Santa Ana, Calif., is the kind of young fighter for whom Golden Boy Promotions created its "Fight Night Club" series -- a prospect who needs seasoning and can be built into an attraction with consistent performances in front of a crowd from his home region. A top amateur, Rios was a national amateur champion who lost to a future 2008 Olympian at the Olympic trials. As a pro, Rios is being moved slowly but surely. Despite Brea's lackluster record, he was most certainly a step up in competition for Rios, who passed the test impressively. Relying heavily on his jab and a relentless body attack, Rios wore down Brea, a 33-year-old Dominican. A borderline low blow in the third round cost Rios a point from referee Jose Cobian. But the penalty did not deter him. He kept banging away, dropping Brea twice in the fourth round on body blows to finish him.
Middleweight
Bastie Samir TKO1 Jacob Alvarez
Records: Samir, 4-0, 4 KOs; Alvarez, 0-2

Rafael's remark: Samir, 24, represented his native Ghana in the 2008 Olympics and looked like a pro prospect with his aggressive style. He turned pro in late 2008 with manager Cameron Dunkin and a co-promotional deal with Top Rank and TKO Boxing. He quickly won his first three fights. But then he returned to Ghana to visit and wound up being unable to return to the United States for 16 months because of visa problems. Finally, the issues were resolved a couple of months ago, and he returned to the U.S. to train in Las Vegas, where he is now based. Top Rank gave him his release, as did financially troubled TKO, and Dunkin took him to Golden Boy, which has signed him and put him on a "Fight Night Club" undercard. Samir wasted no time taking out Alvarez, of Victor Valley, Calif. No surprise. After a bit of back-and-forth in the first half of the round, Samir picked up and simply overpowered Alvarez with a barrage of shots, including a powerful right hand that dropped him to a knee and forced referee Raul Caiz Sr. to call it off with 23 seconds left in the round.
Dan Rafael is the boxing writer for ESPN.com. Follow him on Twitter @danrafaelespn.
Boxing
2013 BWAA Nat Fleischer Award winner for excellence in boxing journalism
ESPN.com boxing writer since 2005
Five years at USA Today
SPONSORED HEADLINES
MORE BOXING HEADLINES
MOST SENT STORIES ON ESPN.COM