Commentary
Klitschko punishes outgunned Briggs
Originally Published:
October 18, 2010
By
Dan Rafael
| ESPN.com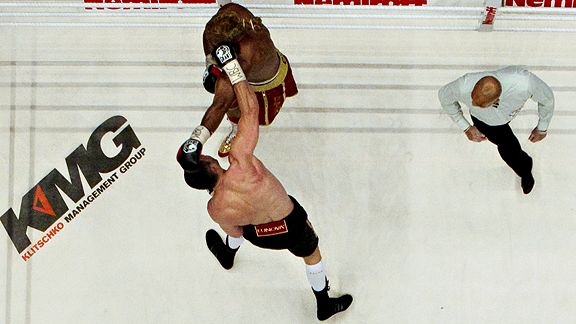 AP Photo/Gero BreloerThere wasn't a single right hand that Shannon Briggs couldn't block with his head.

A roundup of the past week's notable boxing results from around the world:

Saturday at Hamburg, Germany
Heavyweight
Vitali Klitschko W12 Shannon Briggs
Retains a heavyweight title
Scores: 120-107 (twice), 120-105
Records: Klitschko, 41-2, 38 KOs; Briggs, 51-6-1, 45 KOs

Rafael's remark: Briggs, the former two-time titleholder, had done nothing in years to warrant this title shot, but because the heavyweight division is so weak on credible contenders, and because Briggs has a name, he got the fight. He might regret it after the absolutely massive beating he took. Klitschko, with the highest knockout percentage in heavyweight championship history, laid gargantuan punishment on Briggs for the entire fight, but Briggs never went down. He showed a big heart and absolutely nothing else. Klitschko pummeled him repeatedly with flush right hands, many of them the chopping variety to the side of the head and behind the ear. Punch after punch, Briggs, 38, of New York, just sopped it all up in a frightening display. Klitschko, 39, fought a flawless fight and seemed on the verge of a knockout several times, including in the seventh round when he buckled Briggs with a right hand near the end of the round. But the bell saved him and referee Ian John Lewis showed no interest in stopping it.
The pounding got worse in the eighth when the fight seemed to move from sporting event to simple and unnecessary public violence. Klitschko kept pounding away trying to get Briggs to go down, but he wouldn't, and Briggs' trainers (Herman Caicedo and Eddie Mustafa Muhammad) and Lewis showed a lot of bravery by letting the beating continue. In the end, Briggs made it to the final bell, but at what cost? He wound up in the hospital with a broken left orbital bone, a broken nose and a badly torn left biceps (for which he will need surgery). And who knows what other damage was done that won't present itself until later in Briggs' life? If Briggs was written off before the fight by most, he's now finished. He barely threw punches and took an inordinate amount of punishment.
Klitschko just rolled in making his fifth title defense since reclaiming his old belt with a stoppage of Samuel Peter in October 2008, when Klitschko came out of a nearly four-year retirement prompted by various injuries. Klitschko has barely lost a round since launching his comeback, although he probably has sore hands today after Briggs' face hit them so often. There has been talk of Klitschko coming back to the United States in 2011 for a fight with top contender (and former light heavyweight and cruiserweight champ) Tomasz Adamek, but Klitschko also has a mandatory defense due against the winner of the Odlanier Solis-Ray Austin eliminator, which is tentatively scheduled for Dec. 17. The way Klitschko is fighting these days, he could probably fight Adamek, Solis and Austin all in the same night and have no problem. His only competition would be a fight with Wladimir Klitschko, his fellow heavyweight champion and younger brother, but they have said repeatedly that they will never fight.
On the undercard, cruiserweight contender Ola Afolabi (15-2-3, 6 KOs), who recently signed with K2 Promotions, the company owned by the Klitschko brothers, scored a 10-round decision against Sandro Siproshvili (24-7, 11 KOs), 27, of the Czech Republic. England's Afolabi, who won on scores of 100-90, 98-92 and 97-93, had not fought in 10 months since losing a decision to titlist Marco Huck. Afolabi is expected to return Dec. 11 on the undercard of Wladimir Klitschko's defense against Dereck Chisora.
Saturday at Kissimmee, Fla.
Junior featherweight
Wilfredo Vazquez Jr. TKO11 Ivan "Choko" Hernandez
Retains a junior featherweight title
Records: Vazquez Jr., 20-0-1, 17 KOs; Hernandez, 28-5-1, 17 KOs

Rafael's remark: Vazquez did not turn in the sort of lights-out performance he had hoped for in this Integrated Sports pay-per-view main event, but it was nonetheless a solid performance and a workmanlike effort as he got rid of Hernandez in his second 122-pound title defense in an entertaining fight. Vazquez, 26, of Puerto Rico, is the son of the former three-division titleholder with the same name. Vazquez Sr. is also his son's trainer and brought him from a kid with a dream and zero amateur fights to a world title, which Junior won in February. That fight against Marvin Sonsona and his first defense against Zsolt Bedak in May were in Puerto Rico. For his second defense, Vazquez returned to Kissimmee, the Orlando suburb where he made his professional debut in 2006 and fought 13 of his first 20 fights on promoter Tuto Zabala Jr.'s regular Telemundo cards. Hernandez, 27, of Mexico, is a former junior bantamweight titlist who had lost his two previous junior featherweight title shots by knockout, to Israel Vazquez in 2006 and Toshiaki Nishioka last October. But he's experienced, had won two fights in a row since the loss to Nishioka, and put up a game effort. He had a lot of success in the first half of the fight, partly because Vazquez often slipped in his new shoes. Finally, Zabala, who works in the corner, put tape around the shoes between the fourth and fifth rounds, which did the trick. Vazquez was able to keep his legs under himself and began wearing down Hernandez, who possibly suffered a broken nose (based on the deep red-colored blood that was flowing in the second half of the fight). Finally, in the 11th round, with Vazquez unloading punches against Hernandez, who was basically defenseless and not punching back, referee Telis Asimenios rightly stopped the fight 50 seconds into the round. Good win for a rising potential star.
Saturday at Monterrey, Mexico
Flyweight
Julio Cesar Miranda TKO2 Michael Arango
Retains a flyweight title
Records: Miranda, 34-5-1, 27 KOs; Arango, 31-10-3, 25 KOs

Rafael's remark: After longtime flyweight titlist Omar Narvaez moved up to junior bantamweight, Mexico's Miranda, 30, knocked out Richie Mepranum in the fifth round to win the vacant belt in June in his third try for a title. Pongsaklek Wonjongkam had outpointed him in an April 2009 interim title bout, and Moruti Mthalane did the same for a vacant belt in November. Miranda stopped Ronald Ramos in the eighth round of his first defense on Sept. 4 and returned in short order to plow through Arango, 31, of Colombia, in his second defense. Arango, who dropped to 2-3 in his last five bouts, stood little chance of winning. Sure enough, Miranda confirmed it with the early knockout in the "Top Rank Live" main event. They went right after each other at the opening bell, swinging away, to the delight of the crowd. In the second round, Miranda tagged Arango with a solid right hand on the jaw that wobbled him and sent him staggering into the ropes. Miranda followed with two left hands, neither of which seemed to land flush, and referee Russell Mora jumped in to stop the fight at 1 minute, 30 seconds. It was a poor stoppage. Miranda had been hit solidly only once and was still on his feet early in the fight. Gotta question that one. Arango sure did, complaining about it as soon as it happened.
Featherweight
Roberto Marroquin W6 Rafael Cerrillo
Scores: 60-54 (three times)
Records: Marroquin, 16-0, 12 KOs; Cerrillo, 4-5, 4 KOs

Rafael's remark: Marroquin is one of Top Rank's premier prospects. The 21-year-old from Dallas stayed busy with his fifth fight of the year, easily outboxing and outpunching Cerrillo for the shutout decision. Marroquin got in good work, displayed a variety of punches and generally did as he pleased. He will be back on a much bigger stage on Nov. 13, when he returns to his hometown to fight on the undercard of the Manny Pacquiao-Antonio Margarito show at Cowboys Stadium, where he also fought on Pacquiao's undercard in March. Cerrillo, of Mexico, lost his third fight in a row.
Saturday at Chekhov, Russia
Heavyweight
Alexander Povetkin KO5 Teke Oruh
Records: Povetkin, 20-0, 15 KOs; Oruh, 14-3-1, 6 KOs

Rafael's remark: On Sept. 11, Povetkin was supposed to challenge heavyweight champ Wladimir Klitschko in a long-overdue mandatory defense. Povetkin was due to make in excess of $2 million based on the purse bid that had been held. However, Teddy Atlas, Povetkin's trainer (and ESPN's ringside analyst for "Friday Night Fights") convinced him to withdraw from the fight just before the press conference that would kick off the promotion because he did not think that Povetkin, the 2004 Russian Olympic gold medalist, was ready for that kind of fight yet. Atlas, who has now been with Povetkin, 31, for three fights, wants to keep him busy while preparing him for an eventual title fight. So without the support of Sauerland Event, Povetkin's German promoter, Povetkin took this fight in his native Russia and stopped Nigerian-born, Las Vegas-based Oruh, 32. Povetkin was in total control when he connected with a flush overhand right and knocked Oruh out in the center of the ring with three seconds left in the fifth round. Povetkin was supposed to come right back to fight in Germany on Oct. 31 on the Sebastian Sylvester-Mahir Oral middleweight title bout undercard. However, according to Chris Meyer of Sauerland Event, Povetkin will not be ready to come back so quickly and likely will not be on the card.
Friday at Montreal
Super middleweight
Lucian Bute TKO9 Jesse Brinkley
Retains a super middleweight title
Records: Bute, 27-0, 22 KOs; Brinkley, 35-6, 22 KOs

Rafael's remark: Left out of the Super Six World Boxing Classic, Montreal's beloved Bute couldn't care less. The 30-year-old southpaw just keeps racking up dominant wins, scoring knockouts, packing the Bell Centre and making good money. He did it again against Brinkley, the hard-working former "Contender" participant who came into the bout on a nine-fight winning streak, having earned the mandatory title shot with an upset (and lopsided) decision against Curtis Stevens in January. But fighting Stevens and fighting Bute are totally different ballgames.
Bute set the stage when he clearly hurt Brinkley, 33, of Yerington, Nev., with a body shot in the first round. Bute landed another hard left to the body in the fifth round, dropping Brinkley with the shot to the gut. In fact, whenever Bute landed to the body, he seemed to hurt Brinkley. Bute continued to soften up Brinkley with body shots, forcing him to drop his hands to protect himself. In the eighth, Brinkley, who was bleeding from a cut over his left eye, went down from an uppercut to the chin, barely making it out of the round. In the ninth, a left uppercut to the chin dropped Brinkley to his knees before he rolled over onto his back, and referee Sam Williams called it off. It was a dominant and expected victory for Bute, who is a tremendous body puncher and wields one of the best uppercuts in the business. Brinkley was often on the wrong side of both weapons as Bute made his sixth defense since winning the title in October 2007.
If former middleweight champ Kelly Pavlik wins his fight against Brian Vera on Nov. 13, a showdown between Bute and Pavlik is very possible next year. The camps have had serious discussions, and it's a fight HBO would love to buy that would be lucrative for both sides. Further down the road, if light heavyweight champ Jean Pascal retains his title on Dec. 18 against Bernard Hopkins, a Pascal-Bute fight looms as the biggest fight in Canadian history. Cha-ching.
Light heavyweight
Adrian Diaconu W10 Omar Sheika
Scores: 98-91, 98-92, 97-92
Records: Diaconu, 27-2, 15 KOs; Sheika, 30-10, 21 KOs

Rafael's remark: Like super middleweight titlist Lucian Bute, who won in the main event, Diaconu, 32, is a native of Romania who adopted Montreal as his hometown. In June 2009, he lost his light heavyweight belt in a unanimous decision to Jean Pascal, a Haitian who also adopted Montreal as his hometown. Then he lost the rematch to Pascal in December and had been on the shelf since, partly because of subsequent hand and elbow surgery. Making his return, Diaconu faced Sheika, a one-time top super middleweight contender and former title challenger who is way past his prime after absorbing terrible punishment over the years. But Sheika always comes to fight and still packs a punch, which he showed in the second round. He landed a hard right hand over a lazy Diaconu jab and dropped him with 30 seconds left in the round. Diaconu brushed it off and rallied to dominate most of the rest of the fight. He opened a cut over Sheika's right eye in the third round and simply beat him to the punch the rest of the way to set himself up for another run at a title. Sheika, 33, of Paterson, N.J., dropped to 4-4 in his last eight, with each loss coming against a notable opponent: Diaconu, Roy Jones Jr., and former super middleweight titleholders Markus Beyer and Jeff Lacy. Sheika said afterward he plans to retire.
Friday at Miami, Okla.
Heavyweight
Antonio Tarver W10 Nagy Aguilera
Scores: 98-92 (three times)
Records: Tarver, 28-6, 19 KOs; Aguilera, 16-5, 11 KOs

Rafael's remark: Tarver was perhaps the best light heavyweight of the past decade, during which he won various alphabet belts, the legitimate title and shocked the world in 2004 with his second-round knockout of Roy Jones Jr. (when that still meant something). In fact, Tarver took two of three fights from Jones and faced the cream of the crop in the division. But that was then and this is now. He is a month shy of turning 42, was coming off losses in his last two fights to Chad Dawson on lopsided decisions, had not fought in 17 months and, in moving up two weight classes, was a soft 221 pounds -- a whopping 46 more than in his last fight. In other words, his desire to eventually win a heavyweight title has just about everything working against him. If there are any positives in Tarver's quest, they are that he is a relatively fresh fighter for a 41-year-old and obviously still has the outstanding skills that made him one of America's most decorated amateurs in history. There's also the fact that the heavyweight landscape, particularly in the United States, is horrible.
So it was against that backdrop that Tarver began his quest against Aguilera, a hard-punching 24-year-old from the Dominican Republic who lives in Newburgh, N.Y. The quicker, more agile Tarver certainly won the fight and did so with ease, outboxing the often-inactive Aguilera. But to be blunt, it was a horrible fight -- and if it's any indication of how Tarver is going to box as a heavyweight, no thanks. But we can cut Tarver a little bit of slack for the pedestrian performance because he was coming off a long layoff and apparently injured his left shoulder in the fourth round, which is hard to deal with as a southpaw. Tarver said he was happy with his performance, even if nobody else was. Although he landed some solid shots on Aguilera, Tarver did not appear to hurt him. There's a big difference between having power at light heavyweight and having it at heavyweight. Aguilera, whose claim to fame is a first-round knockout of former heavyweight titlist Oleg Maskaev in December, lost for the third time in his last four fights.
Welterweight
Shawn Porter TKO9 Hector Munoz
Records: Porter, 17-0, 13 KOs; Munoz, 18-4-1, 11 KOs

Rafael's remark: Porter, who turns 23 on Oct. 27, gave himself an early birthday present with a bloody victory against Munoz. Porter was an elite amateur, winning a 2007 National Golden Gloves title and serving as a 2008 U.S. Olympic alternate. He turned pro at 165 pounds and then settled in as a junior middleweight. But Porter, of Cleveland, was seemingly undersized for the 154-pound division, so he dropped down to the 147-pound welterweight class in July and against Munoz was in his second welterweight fight in a row.
Porter does not seem to pack a big punch, despite his high knockout percentage. However, he dominated Munoz, who showed a big heart and little else. While Munoz moved forward looking to brawl without the slightest regard for lateral movement or head movement, Porter, who gained a measure of fame for giving Manny Pacquiao good work in sparring, picked him apart. He used a versatile attack, speed and accurate combination punching to dominate. It turned into a bloodbath when an accidental head-butt opened a cut near Munoz's right temple in the fifth round. The blood flowed like water coming from a faucet. Another accidental butt opened another cut on the left side of Munoz's head in the seventh round, the blood flowing freely. There was another butt in the ninth round and, you guessed it, more blood. Besides the butts, which were unintentional, Porter hammered Munoz time and again. Referee Gary Ritter certainly could have stopped the fight at any time after about the sixth round, but it went until Munoz's corner finally threw in the towel at 2 minutes, 5 seconds of the ninth round in a bout scheduled for 10. Munoz, 32, of Albuquerque, N.M., dropped his third in a row, all by knockout.
Friday at Indio, Calif.
Junior lightweight
Eloy Perez W10 Dominic Salcido
Scores: 96-94 (twice), 95-95
Records: Perez, 19-0-2, 5 KOs; Salcido, 18-3, 9 KOs

Rafael's remark: Perez, 23, of Salinas, Calif., was the favorite and the fighter being groomed for bigger things by Golden Boy Promotions. Salcido, 26, of Rialto, Calif., figured to provide Perez with a decent enough test, but nothing too scary. Turned out that Perez had a very tough time in eking out a majority decision in a very close and, frankly, boring fight in the main event of Telefutura's "Solo Boxeo Tecate." Salcido started off well and closed fairly well, but Perez, the crowd favorite, was shading the close rounds in the middle of the fight to emerge with the win. Perez actually looked bored at times, as if he was going through the motions and fighting only in spots. If he does that against a better opponent, he will be in big trouble. Salcido, once a highly regarded prospect, has not been the same since 2004 U.S. Olympian Vicente Escobedo knocked him out in the sixth round in 2008. Including that fight, Salcido is 2-3 in his last five bouts.
Junior welterweight
Frankie Gomez W6 Ramon Montano
Scores: 60-54 (twice), 58-56
Records: Gomez, 7-0, 6 KOs; Montano, 17-8-2, 2 KOs

Rafael's remark: Gomez, of East Los Angeles, turned pro in April to much fanfare. Just 18, he was a standout amateur, winning a silver medal at the 2009 world amateur championships and a U.S. national title. As a pro, he had scored six consecutive knockouts inside three rounds. His handlers at Golden Boy Promotions wanted to extend him a bit, which is where Montano came in. The 28-year-old journeyman from Mexico is not a puncher at all, but he has a great chin (never stopped in his eight defeats), has faced good competition and is well-known as a sparring partner for a number of top fighters. He would likely provide Gomez with exactly the kind of experience Golden Boy wants him to get. He did just that, and Gomez aced his test. Montana landed some decent body shots, which Gomez did not seem to like, but that was about it. Gomez dished out his best and Montano, as expected, took all the shots, despite being rocked several times. He was still standing at the final bell, although he did not win any rounds in what was a great learning experience for Gomez, who has a bright future.
Heavyweight
Deontay Wilder TKO4 Harold Sconiers
Records: Wilder, 13-0, 13 KOs; Sconiers, 17-21-2, 11 KOs

Rafael's remark: Despite Sconiers' woeful record, he represented a major step up in competition for the very raw Wilder, 24, of Tuscaloosa, Ala. The 2008 U.S. Olympic bronze medalist has been fed one stiff after another as his handlers have padded his record while giving him much-needed experience after a short amateur career. But Sconiers was on a whole different level than Wilder's past opponents, having faced a slew of notable foes in his career, including Razor Ruddock, Ray Austin, Clifford Etienne, DaVarryl Williamson, Maurice Harris and others. Three fights ago, Sconiers even upset Andre Purlette with a third-round knockout. Wilder had his hands full in this fight. Although Wilder dropped Sconiers four times and ultimately got the knockout at 1 minute, 9 seconds of the fourth round in the scheduled six-rounder, Sconiers put a major scare into him. In the second round, Sconiers knocked him down (and nearly out) with an uppercut and continued to batter him until the bell saved him and ended the round. Wilder eventually got himself together and finished Sconiers, but not without his flaws all hanging out.
Several other Golden Boy prospects were also on the card. Brandywine, Md., heavyweight Seth Mitchell (19-0-1, 13 KOs), 28 -- a former Michigan State linebacker and perhaps the best American heavyweight prospect -- dropped Derrick Brown (13-6-3, 11 KOs) three times for a first-round knockout. Bantamweight Randy Caballero (5-0, 4 KOs), 19, of Coachella, Calif., was pushed the distance for the first time in a 40-36 (three times) shutout decision against Mexico's Missael Nunez (4-10-2, 0 KOs). Paramount, Calif., featherweight Charles Huerta (15-1, 9 KOs), 24, knocked out Felipe Cordova (10-2, 4 KOs) of Brownsville, Texas, in the first round.
Dan Rafael is the boxing writer for ESPN.com. Follow him on Twitter @danrafaelespn.
Boxing
2013 BWAA Nat Fleischer Award winner for excellence in boxing journalism
ESPN.com boxing writer since 2005
Five years at USA Today
EDITORS' PICKS
Thurman excited about headlining first PBC show.
Brian Campbell »

Provodnikov, Matthysse set to settle their differences.
Rankings »

Moonves, Roach and a restaurant waiter play key roles.
Dan Rafael »
MOST SENT STORIES ON ESPN.COM