Commentary
Nishioka proves worth against Munroe
Originally Published:
October 18, 2010
By
Dan Rafael
| ESPN.com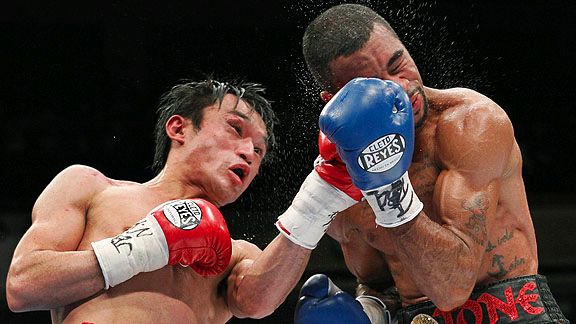 AP Photo/Shizuo KambayashiToshiaki Nishioka, left, earned his 14th straight win by outboxing Rendall Munroe.

A roundup of the past week's notable boxing results from around the world:

Sunday at Tokyo
Junior featherweight
Toshiaki Nishioka W12 Rendall Munroe
Retains a junior featherweight title
Scores: 119-109 (three times)
Records: Nishioka, 37-4-3, 23 KOs; Munroe, 21-2, 9 KOs

Rafael's remark: Japan's Nishioka, 34, is beginning to piece together an impressive title reign, which includes dominant knockout wins against former bantamweight titlist Jhonny Gonzalez and former junior bantamweight titlist Ivan "Choko" Hernandez, and now a lopsided decision win in an excellent performance against Munroe, a legitimate contender. Nishioka had won his previous four title defenses by knockout. In his fifth defense, he did not get one against fellow southpaw Munroe, the mandatory challenger. However, Nishioka claimed the wide decision in an entertaining fight.
Munroe, 30, of England, was competitive early, despite the wide scores, but Nishioka eventually took over the fight and dished out quite a bit of punishment in the later rounds. He was faster than Munroe, outboxing him when he had to and also outpunching him, including an excellent body attack that hurt Munroe in the seventh and 10th rounds, in particular. Nishioka's left hand to the body with 30 seconds left in the 10th round badly hurt Munroe, whose knees buckled. He barely kept himself on his feet. It was obvious Munroe was headed for a loss as the fight wore on, especially because the WBC's horrible open scoring rule was being used, so everyone knew Nishioka was ahead after the fourth round (40-36, 40-36 and 39-37) and eighth round (79-73 three times), which is when the scores are announced. Nishioka closed the fight with a strong final four rounds, and he opened a cut under Munroe's left eye to make sure there was no Munroe comeback, much to the disappointment of the several hundred Munroe fans who made the trip from England for the fight.
Munroe, who had arrived in Japan 11 days before the fight, so there could be no complaints about making an adjustment to the time change, was a worthy challenger. He's good and may eventually go on to win a title, just not against Nishioka. The former European champion had scored wins against solid contenders Kiko Martinez and Simone Maludrottu and a knockout of Victor Terrazas in April to earn the title shot and a trip to Japan. But Nishioka has been on a great run. Since a decision loss to Veeraphol Sahaprom in their third bantamweight title bout in 2004 (the first two were draws), Nishioka has won 14 fights in a row.
Junior flyweight
Roman Gonzalez TKO2 Francisco Rosas
Wins a vacant interim junior flyweight title

Records: Gonzalez, 27-0, 23 KOs; Rosas, 21-8-2, 12 KOs

Rafael's remark: In 2008, Nicaragua's Gonzalez, 23, a protégé of the late, great Alexis Arguello, won a strawweight belt in Japan by defeating Yutaka Niida. After three defenses (one of which was in Japan) and two nontitle bouts, Gonzalez vacated his title, having outgrown the 105-pound division. Gonzalez was supposed to move up to junior flyweight and challenge Juan Carlos Reveco, the WBA's so-called "regular" titlist. However, Reveco withdrew because of a medical problem. Rosas replaced him and the fight was turned into an interim title bout, which, this being the WBA, should come as no surprise. When Gonzalez had his strawweight title, he defended it against Mexico's Rosas, 30, in Mexico with a majority decision in February 2009. The rematch was nowhere near as competitive; Gonzalez crushed him. The heavy-handed Gonzalez easily won the first round and then blitzed Rosas in the second round with three knockdowns to win the fight. First it was a series of punches, including a flush uppercut, that dropped Rosas to his knees with two minutes left in the round. Another flurry, including hard body shots, dropped Rosas to his backside a few seconds later. Moments later, a left uppercut dropped him again and referee Takeshi Shimakawa called it off at 1 minute, 38 seconds. Gonzalez is one of the more exciting fighters in the smaller divisions. His fluid punching and excellent power make him great to watch. Rosas dropped to 1-3 in his past four bouts, a run that began with his first loss to Gonzalez.
Lightweight
Jorge Linares TKO4 Jesus Chavez
Records: Linares, 30-1, 19 KOs; Chavez, 44-8, 30 KOs

Rafael's remark: Linares, 25, had one of the most heralded rising starts in boxing in recent years. He had won a featherweight belt in 2007 and then moved up to junior lightweight, where he claimed another title in 2008. But in his first fight after signing with Golden Boy, Linares, a native of Venezuela who lives in Japan, suffered a first-round knockout loss to Juan Carlos Salgado in a massive upset in October 2009. Golden Boy is bringing him back slowly, but surely. He won two comeback fights, one against Rocky Juarez in July, before being matched with Chavez, a former junior lightweight and lightweight titlist who is way past his prime. Linares was far too sharp, fast and powerful for Chavez, a Mexico native living in Austin, Texas, whose turbulent career has been in a free fall; he lost his fourth fight in a row. Granted, each loss has come against a notable opponent -- Michael Katsidis, David Diaz, Humberto Soto and now Linares -- but Chavez, 37, has been on the decline for years. The only suspense against Linares seemed to be how long could Chavez last. The answer was not that long as Linares outclassed him all the way. At the end of the fourth round, Chavez quit on his stool, citing a left shoulder injury. Retirement figures to beckon (or at least should) while Linares is ready for another title shot. Linares says he would like a rematch with Salgado but more likely will wind up with something even more significant now that Salgado has been relieved of the title he won against Linares. Don't be surprised to see Linares back in the United States and fighting on one of Golden Boy's HBO cards in 2011.
Saturday at San Martin Texmelucan, Mexico
Strawweight
Sammy Gutierrez TKO3 Luis Carrillo

Wins a vacant interim strawweight title
Records: Gutierrez, 26-5-2, 17 KOs; Carrillo, 10-2-1, 9 KOs

Rafael's remark: Mexico's Gutierrez, 24, extended his winning streak to five, having not lost since dropping a majority decision challenging Raul Garcia for his strawweight belt in August 2009. Facing Colombia's Carrillo, 21, for an interim belt, Gutierrez got the job done in a fast and furious fight. Gutierrez applied relentless pressure on Carrillo during the fight and knocked him around under a hail of punches. Finally, in the third round, Gutierrez knocked him down. Although Carrillo got to his feet and the fight continued, he was in bad shape. Gutierrez stepped on the gas again and clobbered him with a few more shots, and referee Roberto Ramirez stepped in to call it off at 1 minute, 23 seconds. Carrillo's three-fight winning streak came to an end. With the win, Gutierrez picked up one of the WBA's interim belts. This one is particularly bizarre, which is saying a lot. The organization's 105-pound titlist, Roman Gonzalez, vacated the belt to move up to junior flyweight, where, not surprisingly, he won the organization's interim 108-pound title. (Are there ever enough interim titles?) In other words, the WBA approved an interim strawweight title in a division in which there is no titleholder. Kwanthai Sithmorseng and Pigmy Kokietgym, both of Thailand, are supposed to meet for the vacant belt on Nov. 5. Does it make any sense to have an interim belt in this situation, much less to fill it before the vacancy for the actual title has been filled?
Friday at San Diego
Lightweight
Mercito Gesta TKO2 Ivan Valle
Records: Gesta, 20-0-1, 10 KOs; Valle, 28-10-3, 24 KOs

Rafael's remark: Gesta, a 23-year-old from the Philippines who now lives in San Diego, has been fighting regularly in the United States since 2007 and is emerging as one of the more exciting prospects in boxing. Headlining on Telefutura's "Solo Boxeo Tecate," Gesta blew out Valle, 30, of Mexico, an experienced veteran. Gesta, so much quicker and accurate with his punches, dropped Valle twice (first on a right hook and then on a flurry) in the opening round, and it was only a matter of time until Gesta finished him. Valle was in rough shape when he went back to his corner after being badly shaken just before the end of the round and he would not last much longer. Gesta staggered Valle again early in the second round, and referee Pat Russell called it off 26 seconds into the round when Valle's corner called for the fight to be stopped. Gesta certainly lived up to his nickname of "No Mercy." Valle dropped to 3-6-2 in his past 11 fights, including losses to future titleholder Juan Carlos Salgado, the junior lightweight titlist, and future junior lightweight and lightweight titleholder Humberto Soto. Looking forward to seeing Gesta step up in competition.
Featherweight
Michael Franco W8 Adolfo Landeros
Scores: 80-72, 79-73, 78-74
Records: Franco, 17-0, 11 KOs; Landeros, 20-16-1, 9 KOs

Rafael's remark: Franco, 23, of Riverside, Calif., had not fought since scoring an eighth-round knockout of former strawweight titlist Kermin Guardia 11 months ago. He was supposed to fight Landeros in August, but an injury kept him out of action. Franco finally returned and easily outpointed Landeros, 30, of Mexico. This one was over when the contract was signed since all Landeros does these days is lose; he dropped his sixth fight in a row and eighth fight in his past nine. Considering the layoff, Franco was fairly sharp and on the attack for most of the fight.
Friday at Miami
Welterweight
Jesus Pabon TKO8 Genaro Trazancos
Records: Pabon, 16-1, 10 KOs; Trazancos, 22-13-1, 13 KOs

Rafael's remark: Pabon was originally slated to face power-punching and two-time lightweight title challenger Antonio Pitalua in the Telemundo main event, but visa issues knocked Pitalua out of the bout. So in came Trazancos on short notice for what was a far less intriguing fight. However, it turned out to be a decent scrap, even if the outcome was highly predictable. With a nice right hand midway through the second round, Trazancos dropped Pabon to his backside against the ropes for a little drama. Pabon, a 30-year-old southpaw from Puerto Rico, was up quickly and seemed OK. That he went down was not a total shock. In his last fight in August, he visited the deck four times in an eighth-round knockout win against Ernesto Zepeda. This time, Pabon turned the tables in the fifth round, dropping Trazancos with a short right uppercut that finished a combination. Trazancos was slow to get up and barely made it out of the round. In the final seconds of the eighth, Pabon stunned Trazancos with a right hand and poured on about eight follow-up shots until referee Samuel Burgos jumped in to stop the fight with two seconds left in the round. Pabon won his sixth fight in a row. Trazancos, 36, a native of Mexico living in Fort Myers, Fla., lost his third fight in a row (each by knockout). He also fell to 2-10 in his past 12 fights dating to 2003, including defeats against such notable opponents as Steven Luevano, the late Edwin Valero and Roman Martinez, all of whom won world titles.
Junior flyweight
Israel Vazquez D4 Janiel Rivera
Scores: 38-38 (twice), 39-37 Rivera
Records: Vazquez, 0-0-1; Rivera, 1-0-1, 0 KOs

Rafael's remark: Junior featherweight titlist Wilfredo Vazquez Jr. is not the only fighting son of former three-division titlist Wilfredo Vazquez Sr. Israel Vazquez, his 23-year-old son, made his pro debut one week after his debut was supposed to take place on his brother's undercard but called off when an opponent could not be found. So Vazquez got a little TV time at the end of the Telemundo card and underwhelmed as he fought to a spirited majority draw with fellow Puerto Rican Rivera, 19. Pretty good fight. It will be interesting to see if Vazquez can develop like his brother, who did not look all that great early in his career either until eventually turning the corner.
Dan Rafael is the boxing writer for ESPN.com. Follow him on Twitter @danrafaelespn.
Boxing
2013 BWAA Nat Fleischer Award winner for excellence in boxing journalism
ESPN.com boxing writer since 2005
Five years at USA Today
MOST SENT STORIES ON ESPN.COM