Commentary
Sylvester cruises past outgunned Oral
Originally Published:
November 1, 2010
By
Dan Rafael
| ESPN.com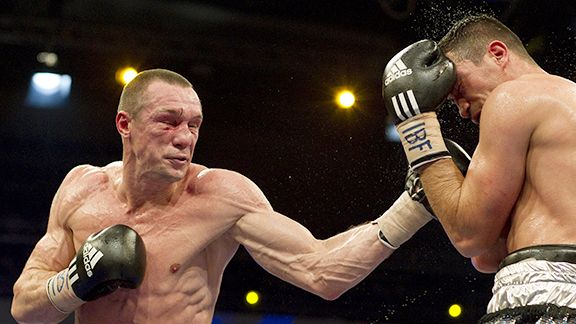 AP Photo/Gero BreloerSebastian Sylvester, left, bounced back from a shaky performance in June to maul Mahir Oral.

A roundup of the past week's notable boxing results from around the world:

Sunday at Sydney, Australia
Middleweight
Daniel Geale TKO12 Roman Karmazin
Title eliminator
Records: Geale, 24-1, 15 KOs; Karmazin, 40-4-2, 26 KOs

Rafael's remark: Former junior middleweight titlist Karmazin, 37, a native of Russia based in Los Angeles, fought to a split draw with middleweight titlist Sebastian Sylvester in Germany in June. Karmazin hoped for an immediate rematch, but the best he could get was the opportunity to fight an eliminator with the winner getting a shot at Sylvester. So Karmazin went to Geale's turf in Australia for the opportunity. But Geale, 29 and in his prime, was too much for the old warhorse. He was in command most of the way against Karmazin, who got cut under his eye by an accidental head butt in the sixth round of the fast-paced fight. Going into the final round, Geale had leads of eight, seven and three points on the scorecards, but he made those scores unnecessary when a flurry of punches hurt Karmazin and convinced American referee Pat Russell to stop the fight with 30 seconds left. Most likely, Geale will have to go to Germany for his shot at the belt held by Sylvester, who held on to it with a successful defense on Saturday. Geale won his third fight in a row since a controversial split decision loss to countryman Anthony Mundine in May 2009.
Lightweight
Leonardo Zappavinga TKO1 Ji Hoon Kim
Title eliminator

Records: Zappavinga, 25-0, 17 KOs; Kim, 21-7, 18 KOs

Rafael's remark: On paper, this figured to be an exciting fight, but Australia's Zappavinga -- known to most as Lenny Z -- did not allow that to happen. Instead, he blew away South Korea's Kim in 1 minute, 41 seconds, dropping him three times in an authoritative destruction. The win makes Zappavinga, recognizable because of his Kostya Tszyu-like ponytail -- the mandatory challenger for 135-pound titlist Miguel Vazquez of Mexico. Kim, 23, who has appeared multiple times on ESPN2's "Friday Night Fights," was coming off a lopsided decision loss to Vazquez in a battle for the vacant belt in August. For whatever reason, he was allowed to fight in an eliminator in his next fight and Zappavinga, 23, had his way with him. There were still two minutes left in the round when Zappavinga dropped him hard with a combination. Kim popped up very quickly and was a bit wobbly, but the fight resumed and moments later a monstrous right hand to the side of the head knocked Kim sideways and down for the second time. Again, he popped up but was clearly still dazed. Zappavinga went right at him and battered him with approximately 10 unanswered blows until referee Wayne Kelly jumped in to stop the fight. Zappavinga, a four-time national amateur champion in Australia, sure looked a lot better than he did when he fought on Showtime's "ShoBox" in March and escaped with a debatable decision against Fernando Angulo.
Saturday at Rostock, Germany
Middleweight
Sebastian Sylvester W12 Mahir Oral
Retains a middleweight title
Scores: 119-106, 117-107 (twice)
Records: Sylvester, 34-3-1, 16 KOs; Oral, 28-3-2, 11 KOs

Rafael's remark: Germany's Sylvester, 30, turned in a dominant, three-knockdown performance against Oral, his countryman, to retain his belt for the third time. Sylvester's performance was far better than in his last defense in June, when he was held to a draw by former junior middleweight titlist Roman Karmazin. Oral, 30, was getting his second title opportunity. In June 2009, he challenged then-titlist Arthur Abraham and was stopped in the 10th round. Although Sylvester could not stop him, he came pretty close. After the first few rounds were competitive, Sylvester took over, despite suffering a cut over his right eye as the result of an accidental head butt. In the fourth round, Sylvester rocked Oral and pounded him for a good portion of the round. In the eighth, ninth and 11th rounds, Sylvester dropped Oral courtesy of a brutal body attack. Somehow Oral survived each time and afterward gave Sylvester credit. "His body shots really killed me," Oral said. "I am very tall for a middleweight so I am quite open to body shots. He fought very well and deserved to win. I am obviously very, very disappointed." The day after the fight, Sylvester learned who his next mandatory challenger would be: Daniel Geale, who stopped Karmazin in the 12th round of their title eliminator.
Heavyweight
Kubrat Pulev W8 Dominick Guinn
Scores: 80-72 (twice), 79-73
Records: Pulev, 9-0, 5 KOs; Guinn, 33-7-1, 22 KOs

Rafael's remark: Pulev, 29, of Bulgaria, had a long and productive amateur career, although he just missed making the 2004 Athens Olympics and was upset in his first bout in the 2008 Beijing Olympics. He turned pro in 2009 after the world amateur championships and is being moved quite quickly. There's really no need to wait given his amateur pedigree. In his fifth pro fight in January, he knocked out experienced former world title challenger Matt Skelton in the fifth round. Matched with another veteran former contender in Guinn, Pulev easily routed him in the near shutout. Guinn, 35, of Hot Springs, Ark., was once one of the top American contenders, but never reached his potential after his own standout amateur career. He saw his five-fight winning streak end.
Saturday at Cartagena, Colombia
Strawweight
Raul Garcia W12 Luis De La Rosa
Wins a vacant interim strawweight title
Scores: 114-113 (twice) Garcia, 115-112 De La Rosa
Records: Garcia, 29-1-1, 17 KOs; De La Rosa, 14-1-1, 8 KOs

Rafael's remark: Garcia, 28, of Mexico, made four defenses of an alphabet strawweight belt before losing it to South Africa's Nkosinathi Joyi on a lopsided decision in South Africa in March. After a comeback win in September, Garcia was going to get a shot at titlist Donnie Nietes. However, when Nietes suffered a cut, the WBO approved Garcia to face Colombia's De La Rosa for an interim belt in the main event of the "Top Rank Live" card being put on in conjunction with its annual convention. Garcia prevailed on a split decision in a very tough fight, physical fight against a seemingly bigger puncher. Neither fighter could really establish control as they traded back and forth, especially in the excellent 11th round. Just when it looked like Garcia might take over at various points in the fight, De La Rosa would came back and vice versa. Garcia, a slicker fighter and a southpaw, was rocked several times, but was able to keep himself together and use his boxing skills to win enough rounds to claim the tight decision. Nietes will be obligated to face Garcia upon his return.
Junior flyweight
Jesus Geles W12 Omar Soto
Wins a vacant interim junior flyweight title
Scores: 115-113 (twice), 114-1114
Records: Geles, 11-1-1, 5 KOs; Soto, 15-6-1, 6 KOs

Rafael's remark: When titlist Ramon Garcia suffered an injury he withdrew from a defense against Colombia's Geles on the "Top Rank Live" card at the WBO's annual convention. So Puerto Rico's Soto, 28, was brought in on short notice and the bout was sanctioned for an interim belt. Garcia used to have that interim belt but was, for reasons that remain unclear, elevated recently to the full WBO titlist when Giovanni Segura (who had won the WBO belt, along with the real belt -- the Ring title -- when he knocked out Ivan "Iron Boy" Calderon in August) was stripped. So with Garcia on the sideline, Geles and Soto turned in a competitive and fan-friendly fight. An accidental head butt in the second round opened a cut over Soto's left eye. After it was examined by the ringside doctor, Geles and Soto resumed their slugfest. There were a lot of close rounds and a lot of wild swings that landed and missed. In the end, the scores reflected the close nature of the fight that could have gone either way, but ultimately went to the hometown fighter. Soto, now 3-5 in his last eight fights, dropped to 0-3 in world title bouts. Juan Palacios knocked him out in the 10th round in a 2008 interim strawweight title bout and Edgar Sosa knocked him out in the sixth round of a junior flyweight title bout in 2009. If the WBO follows its rules, Garcia will have to face Geles upon his return to action.
Saturday at Atlantic City, N.J.
Featherweight
Jorge Diaz W10 Emmanuel Lucero
Scores: 99-92 (twice), 96-94
Records: Diaz, 15-0, 9 KOs; Lucero, 24-6-1, 14 KOs

Rafael's remark: On paper, Lucero did not seem like he would pose too much danger to Diaz, a 23-year-old prospect from New Brunswick, N.J. But despite two of the lopsided scores, Lucero gave him a very tough fight. Pat Lynch, Diaz's manager, admitted he was a bit concerned as the fight at Bally's Hotel and Casino wore on. "Lucero gave him everything he could handle and it got a little scary in there, especially in the eighth round," Lynch said. "But this was a big step up for Jorge." Diaz and Lucero battled through a crowd-pleasing fight, but Diaz was gassed late in the fight and had to survive some tough spots in the final few rounds, including absorbing some hard body shots in the ninth round. Lucero pounded his body to take away some of Diaz's energy, but Diaz willed his way to the end. Lucero, a native of Mexico living in Scranton, Pa., was once a rising contender. He was 21-0-1 before Manny Pacquiao blew him out in the third round of a junior featherweight title bout in 2003. From the Pacquiao fight until the loss to Diaz, Lucero, who turns 32 next week, is 3-6, but he was inactive during a three-year layoff from 2007 until returning in August.
Junior middleweight
Glen Tapia W6 Quinton Whitaker
scores: 59-55 (three times)
Records: Tapia, 8-0, 6 KOs; Whitaker, 7-8, 5 KOs

Rafael's remark: Just 20, Tapia, of Passaic, N.J., is a quality prospect who had spent the past month serving as one of Manny Pacquiao's chief sparring partners in his training camp in the Philippines. He had only been home for about a week and was a little sluggish going into the fight with Whitaker, according to manager Pat Lynch. But Tapia still cruised to the decision win despite suffering a broken jaw in the third round. Lynch said it was a "small fracture" after Tapia had his jaw wired shut on Sunday. Lynch said Tapia will be able to return to training in about four weeks, but that he would not fight again until early next year. After Tapia suffered the injury, he stepped up his offense and was close to stopping Whitaker, 30, of San Antonio, in the final round. When Tapia returns, the finishing touches should have been put on a four-year promotional contract that Lynch is finalizing with Top Rank to co-promote Tapia with Pound-For-Pound Promotions, the company run by John Lynch, Pat's brother. Top Rank, which has a close relationship with Lynch, has been using many of his fighters on its cards. But when Top Rank chief Bob Arum was at Pacquiao's training camp and watched Tapia spar with the pound-for-pound king he was so impressed he wanted to get him on paper, so that's what they are doing. As a reward for the good training camp in the Philippines and the victory, Tapia is headed to Dallas in two weeks as a guest of Pacquiao.
Saturday at Rama, Ontario
Cruiserweight
Troy Ross W10 Carl "Kojak" Handy
Scores: 100-90 (twice), 99-91
Records: Ross, 24-2, 16 KOs; Handy, 24-8-2, 15 KOs

Rafael's remark: Ross won the final season of "The Contender" reality series in February 2009 and parlayed that success into a shot at a vacant world title. The two-time Canadian Olympian faced Steve Cunningham for a belt in Germany in June and appeared on his way to a victory. Ross, 35, of Toronto, had knocked Cunningham down in the fourth round and seemed in control. However, he suffered a severe cut under his eye later in the round and the fight was stopped due to the injury in the fifth round. It was a bad cut and a bitter disappointment for Ross, who made his return against Handy, 35, an experienced veteran journeyman from New Orleans who lives Montreal and had won five fights in a row coming into the bout. Ross, who has sparred with Handy, was in fantastic shape for the fight. One of his sparring partners to get him ready was former heavyweight contender Donovan "Razor" Ruddock, who is contemplating a comeback. Handy was durable and put up a good fight, but Ross was utterly dominant, doing as he pleased for virtually the entire fight. Handy clipped him with a few decent shots, but this was all Ross, who took it to him from the opening bell. Ross was overpowering Handy on the inside with brutal body shots and uppercuts. That continued for much of the fight. Ross would often trap Handy on the ropes and pound away. To Handy's credit, he went the distance in a decent fight, despite the lopsided scores. It was a nice homecoming for Ross, who had not fought in his home province since 2005. Ross could return on the undercard of the Jean Pascal-Bernard Hopkins light heavyweight championship fight in Quebec City on Dec. 18. Ross deserves another title shot after that.
Friday at Montreal
Middleweight
David Lemieux KO1 Hector Camacho Jr.
Records: Lemieux, 24-0, 23 KOs; Camacho Jr., 52-4-1, 28 KOs

Rafael's remark: Lemieux looks like a superstar in the making, especially after this awesome knockout performance against Camacho, the son of the former champion with the same name. Lemieux, 21, is the most promising prospect in Canada and he has already begun to draw good crowds when he fights in his hometown of Montreal. A three-time Canadian national amateur champion, he has been tearing apart his opponents as promoter Yvon Michel and trainer Russ Anber gradually step up his competition. Clearly, the kid has punching power to go with his charisma. Only 32-fight veteran Jason Naugler has taken Lemieux the distance, lasting 10 rounds in a shutout loss in February. Other than that, nobody has been able to take Lemieux past the fifth round. Over his past three fights, Lemieux has looked particularly good while facing solid opponents. In April, Lemieux crushed Walid Smichet (who had gone seven rounds with Peter Manfredo Jr. and gone the 10-round distance with John Duddy) in the second round. In June, Lemieux dusted Elvin Ayala in the first round, and Ayala had made it into the 12th round in a middleweight title fight against Arthur Abraham in 2008. Camacho, 32, of New York, had been stopped only once previously, an eighth-round knockout against Andrey Tsurkan in 2006. Camacho, who was riding a nine-fight winning streak, has a reputation for having a good chin and for being able to dance and move when he might be in some trouble. But Lemieux did not allow that. He simply blasted him out just as the first round was ending. Lemieux wobbled Camacho with a left hand to the top of the head and had him holding on in short order. A few moments later, Lemieux had Camacho backing up toward the ropes when he unloaded a right hand that creamed him in the face. In a knockout of the year candidate, Camacho went down to a knee and fell backward, seemingly in slow motion. He was gone and referee Michael Griffin stopped the fight. Thank goodness for ESPN3.com, which carried the fight live in the United States. If you did not see the knockout, go to ESPN3.com and find it on demand. It's worth it. Can't wait to see Lemieux back in the ring, hopefully on "Friday Night Fights" multiple times next season.
Friday at Charlotte, N.C.
Heavyweight
Kevin Johnson KO4 Charles Davis
Records: Johnson, 23-1-1, 10 KOs; Davis, 19-21-2, 4 KOs).

Rafael's remark: The last time Johnson was in the ring he was stinking out the joint doing absolutely nothing other than trying to survive against heavyweight titlist Vitali Klitschko in December. He lost every round and did not appear to ever try to do anything but make it to the final bell. The promising contender pretty much ruined his career because following the abysmal lack of effort, he was essentially unwelcome on the television networks. Returning to fight a journeyman on a club show for what probably amounted to gas money, Johnson, 31, of Atlanta, tried to pick up the pieces as he stopped Davis. According to Star Boxing, Johnson's promoter, he dominated Davis, 39, of Tucson, before dropping him in the third round and knocking him out in the fourth. Davis lost his fourth in a row.
Thursday at Los Angeles
Featherweight
Gary Russell Jr. W6 Guadalupe De Leon
Scores: 60-54 (three times)
Records: Russell Jr., 13-0, 9 KOs; De Leon, 8-12, 4 KOs

Rafael's remark: Russell, 22, of Capitol Heights, Md., is an elite prospect and just might have the fastest hands in boxing. In 2008, he was on the U.S. Olympic team but never fought in Beijing because he passed out on the eve of his first bout making weight and was disqualified from the tournament. But as a pro, he's a featherweight instead of a bantamweight. He has looked outstanding in recent fights and was riding a seven-fight knockout streak. Although he did not stop De Leon, 31, of Mission, Texas, he easily outboxed him in a shutout decision in the main event of Golden Boy's "Fight Night Club" card. Russell's speed was an obvious factor and he hurt De Leon in the third round with a right hand. Russell could move quickly up the rankings and it would not be a shock to see him in a title bout sometime late next year. De Leon lost his third in a row and dropped to 1-10 in his past 11, but he was not stopped in those defeats, probably a reason he was brought in to face a young prospect who needs professional rounds as he moves up the ladder.
Dan Rafael is the boxing writer for ESPN.com. Follow him on Twitter @danrafaelespn.
Boxing
2013 BWAA Nat Fleischer Award winner for excellence in boxing journalism
ESPN.com boxing writer since 2005
Five years at USA Today
SPONSORED HEADLINES
MORE BOXING HEADLINES
MOST SENT STORIES ON ESPN.COM