Commentary
Bradley-Alexander fight is a dud
Updated:
January 31, 2011, 5:59 PM ET
By
Dan Rafael
| ESPN.com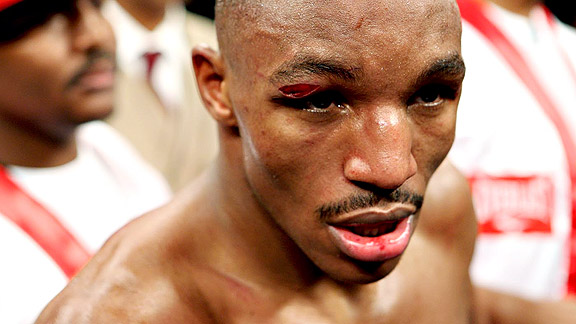 David Martin WarrAfraid of a little blood? Devon Alexander showed little heart in relinquishing his title to Timothy Bradley.

A roundup of the past week's notable boxing results from around the world:

Saturday At Pontiac, Mich.
Junior welterweight
Timothy Bradley Jr. Tech. Dec. 10 Devon Alexander
Unified two junior welterweight titles
Scores: 98-93, 97-93, 96-95
Records: Bradley (27-0, 11 KOs); Alexander (21-1, 13 KOs)

Rafael's remark: Talk about a disappointment. Bradley-Alexander, the first unification fight between two undefeated American titleholders in 24 years and only the third ever, was supposed to launch the winner, and maybe even the loser, to stardom, if it had been a great fight. Instead, it was a giant dud.
The fight, fought before a crowd of 6,247 at the Silverdome, was competitive all the way with several very close, hard-to-score rounds. But the fight was not pleasing to watch. It was messy and never found a flow, and it ended in ugly fashion after yet another head-butt badly rattled Alexander. He had already been cut over the right eye (needed four stitches) by Bradley in the third round from a head clash. They banged and bumped heads throughout the fight, something that has become all too common in Bradley's fights because he is usually shorter than his opponents and has a tendency to lead with his skull. Then came another head collision in the 10th round, this one opening a cut over Alexander's left eye (two more stitches). Alexander did not react well to this one. He complained of a burning sensation as the ringside doctor examined him. Ultimately, he submitted, passively allowing referee Frank Garza and Dr. Peter Samet to end the fight.
St. Louis' Alexander is only 23 years old and maybe he will still mature, but the way the fight ended left a bad taste all around. As much hype as the fight received and as much hope as there was for a memorable battle, watching a fighter essentially quit in the biggest bout of his life is disappointing. Of course, Alexander was hurt by the head-butt. Nobody disputes that. However, the greatest boxers are the ones who find a way to overcome those difficult moments. Alexander didn't.
Bradley, meanwhile, continued to get the job done. He's a physical specimen who does not seem to do anything outstanding, but does everything well. The 27-year-old from Palm Springs, Calif., landed enough right hands and applied enough pressure to negate Alexander's right jab and outstanding uppercut to unify 140-pound titles for the second time in his career. The first time he unified a title, he was stripped. By beating Alexander, he regained that belt and solidified his hold on the No. 1 spot in the deep division. Since there is virtually zero chance that HBO will exercise its option for a rematch, Bradley will move on, perhaps to a July unification bout with England's Amir Khan. That's a big fight and the one that appears most likely, if Khan comes through an April 16 interim bout. There was some talk after the fight about Alexander facing Marcos Maidana, who lost to Khan in December, in a de facto consolation fight of the unofficial tournament going on in the division.
All in all, it was wonderful to see Bradley-Alexander get made, which was no easy task. HBO deserves credit for standing behind it. The fighters deserve credit for accepting such a tough opponent (even though they both made their first million-dollar paydays for it), and promoters Gary Shaw and Don King deserve credit for their willingness to work with each other. And how about a tip of the cap to the folks at the Silverdome, who are looking to re-establish their dormant building as a venue that can attract events of all kinds. They put up a site fee of about $600,000 to lure the fight, which obviously had no local nexus. But they busted their butts and put on a first-class event. It's just a shame it did not live up to the hype.
Junior welterweight
Vernon Paris W8 Emanuel Augustus
Scores: 77-72 (twice), 76-73
Records: Paris (24-0, 14 KOs); Augustus (38-34-6, 20 KOs)

Rafael's remark: If this is the way it is going to end for Augustus, who said before the fight that he was considering retirement, it was probably appropriate that it happened this way -- in a fight that he took on about two weeks' notice and fought well in. He entertained the crowd but lost a highly questionable decision in his opponent's hometown. All you need to know about this one is that Paris, 23, is from Detroit and the hometown fans were booing the decision that went against Augustus, 36, of Brownsville, Texas. Augustus has been a fan favorite for many years and been involved in many exciting fights. His 2001 decision loss to Micky Ward on ESPN2 was the fight of the year. Against Paris, Augustus used his veteran ways to outfox, outpunch and outslick the youngster, who must have gotten every benefit of the doubt on the scorecards. Augustus threw a lot of punches, seemed to have Paris off-balance quite a bit and had the crowd roaring when he started dancing to the arena music between rounds and later when he put on his signature "drunken master" moves during a couple of rounds. He's a showman for sure. He seemed to be fighting two opponents, Paris and referee Gerard Ritter, who was abysmal. He warned Augustus for fouls that never happened and docked him for a nonexistent punch on the break in the sixth round. He later penalized both fighters for holding in the seventh round, as he seemed to lose all control of the bout. In the end, Paris got the decision and Augustus suffered his fifth loss in a row and perhaps fought for the last time (although who wants to bet we see him again?).
Heavyweight
Bermane Stiverne KO2 Kertson Manswell
Records: Stiverne (20-1-1, 19 KOs); Manswell (19-1, 15 KOs)

Rafael's remark: When Stiverne turned pro in 2005, he looked like a serious heavyweight prospect. But he never seemed to develop beyond small undercard fights against no-name opponents. Then, Stiverne, who was born in Haiti and grew up in Canada, suffered a fourth-round knockout loss to journeyman Demetrice King in 2007 and was forgotten about by many. A 2009 draw with another journeyman, Charles Davis, sure didn't help him regain any luster. But one thing about Stiverne has remained through all the ups and downs: He is a tremendous puncher. Manswell, 34, of Trinidad and Tobago, found that out up close when Stiverne annihilated him. In the second round, Stiverne knocked him down very hard with a left-right combination. Manswell was quite unsteady when he got up, and referee Gerard White, who had a bad night all around, surprisingly allowed the fight to continue. It only did for a few more seconds because Stiverne, who looked in better condition than he has in awhile, unloaded several more punches that knocked Manswell down again and White was finally moved in to stop the bout.
Welterweight
Allen Conyers W10 James De La Rosa
Scores: 95-92
Records: Conyers (12-4, 9 KOs); De La Rosa (20-1, 12 KOs)

Rafael's remark: De La Rosa, 23, of San Benito, Texas, was a highly regarded prospect in some quarters, despite long stretches of inactivity. He had not fought since October 2009 and fought just twice in 2008. Finally getting back in the ring, he was supposed to face veteran Germaine Sanders, who dropped out on short notice and was replaced by New Yorker Conyers, 34. Conyers has faced some good opponents (James Kirkland, Delvin Rodriguez and Said Ouali, for example) but has usually lost when he has stepped up in class. This was supposed to be a fight for De La Rosa to shine in. Instead, he got beaten and battered in a very surprising upset. Conyers, whose chin has often betrayed him, took the shots from De La Rosa and won a clear decision with a very determined effort. Frankly, he made De La Rosa look like an amateur. Conyers hurt De La Rosa numerous times and scored three knockdowns, in the second, sixth and eighth rounds. Whatever hype there was surrounding De La Rosa, it should be gone now.
Welterweight
Kendall Holt KO1 Lenin Arroyo
Records: Holt (26-4, 14 KOs); Arroyo (20-15-1, 4 KOs)

Rafael's remark: Whatever anyone may think about the former junior welterweight titlist, one thing is certain: Holt is a brutal puncher with the left hand. Just ask Miami's Arroyo, who crumbled with the first big shot in the opening round, eating a left hook and crashing to the canvas so hard that referee Ron Cunningham did not bother to finish the count. Holt, 29, of Peterson, N.J., knew the fight was over because as soon as Arroyo, 31, hit the deck, Holt turned his back on his fallen opponent and began to shimmy and shake for the crowd. Arroyo suffered his eighth loss in a row (and fourth knockout loss in a row), so it was no surprise that Holt destroyed him. This was not the kind of win to get overly excited about. But for Holt it was a good way to get back in the groove after two consecutive defeats -- his title loss to main event winner Bradley in April 2009 followed by an upset sixth-round knockout to Kaizer Mabuza in a title eliminator. Although Holt was 143 pounds to fight Arroyo, he hopes to campaign at junior welterweight. He wants to fight five times in 2011 and ultimately regain a belt in the deep 140-pound division.
Welterweight
Julio Diaz TKO8 Pavel Miranda
Records: Diaz (38-6, 27 KOs); Miranda (16-7-1, 8 KOs)

Rafael's remark: In 2009, Diaz, 31, of Coachella, Calif., looked like he had come to the end of his career. The former two-time lightweight belt-holder got knocked out by Rolando Reyes in the fifth round in an upset and then lost a clear decision to Victor Cayo. After a 10-month layoff, Diaz decided to continue his career and returned to defeat fringe contender Herman Ngoudjo last May. Now he has won two fights in a row after a strong performance against Miranda, who was not a particularly tough opponent. Diaz looked pretty good. He was rolling along in a one-sided, albeit entertaining, fight when he finally broke through to score two knockdowns in the eighth round before the fight was stopped. Diaz threw combinations and looked in excellent condition. Another win or two and Diaz being back in a fight of note would not be surprising. Miranda, 23, of Mexico, lost his third fight in a row and dropped to 1-1-6 in his last eight bouts.
Saturday at Culiacan, Mexico
Middleweight
Julio Cesar Chavez Jr. W10 Billy Lyell
Scores: 99-92, 98-92, 96-94
Records: Chavez (42-0-1, 30 KOs); Lyell (22-9, 4 KOs)

Rafael's remark: Few outside of Mexico take Chavez, 24, all that seriously, but they sure love him in Mexico. He drew about 12,000 fans to a soccer stadium in his hometown, where he had not fought since 2006. The son of the legend only fought once last year, a decision against John Duddy, and pulled out of a December pay-per-view headline fight because of supposed illness. If Chavez, who has been matched extremely soft for most of his career, is to be taken seriously, 2011 figures to be an important year for him. He got off to a decent start by dominating Lyell, 26, of Youngstown, Ohio. He's a hard-working fighter best known for handing Duddy his first loss in upset fashion in 2009 and being stopped in the 10th round of a middleweight title bout by Sebastian Sylvester in Germany in January 2010. Chavez did not stop Lyell, but he did roll to the decision in dominant fashion in the season premiere of Fox Deportes' "Top Rank Live," although he did not look particularly good. Chavez just had too much strength for Lyell, who he cut over the left eye and steadily pounded around the ring. Despite a resume as thin as tissue paper, Chavez, who beat Lyell in his second fight since hooking up with trainer Freddie Roach, is likely to get a title shot. A couple of weeks ago, the WBC stripped lineal champion Sergio Martinez, elevated Sebastian Zbik from interim titleholder to full titlist and cleared the way for Chavez to challenge Zbik, who probably will travel to Mexico for a defense in May.
Saturday at Brakpan, South Africa
Strawweight
Nkosinathi Joyi No Contest 3 Katsunari Takayama
Retains a strawweight title
Records: Joyi (21-0, 15 KOs); Takayama (24-4, 10 KOs)

Rafael's remark: South Africa's Joyi, 28, claimed a belt in boxing's smallest division when he unanimously outpointed Mexico's Raul Garcia in South Africa last March. Joyi had to face former titleholder Takayama, 27, of Japan, in a mandatory defense. Joyi started off well but the fight was short-circuited in the third round, when an accidental clash of heads caused a cut along Takayama's hairline. Referee Deon Dwarte ruled he was unable to continue. Because four rounds had not been completed, they could not go to the scorecards and the fight was ruled a no contest.
Also on the card, New York-based Argenis Mendez (18-1, 9 KOs), 24, of the Dominican Republic outpointed former titleholder Cassius Baloyi (37-6-1, 19 KOs), 36, of South Africa in a junior lightweight title elimination bout. Mendez scored a first-round knockdown and won 117-110 (twice) and 117-111 on the scorecards to become the mandatory challenger for titleholder Mzonke Fana of South Africa. Baloyi lost his second fight in a row and for the third time in his last four.
Friday at Temecula, Calif.
Heavyweight
Cristobal Arreola TKO1 Joey Abell
Records: Arreola (30-2, 26 KOs); Abell (27-5, 26 KOs)

Rafael's remark: Arreola's biggest impediment to being a serious contender has been himself, because he has not taken his training and conditioning seriously. He got a title shot against Vitali Klitschko in 2009 and was routed before the fight was stopped after the 10th round. Two fights later, Arreola was in poor condition when he lost a decision to Tomasz Adamek in April 2010. Now Arreola has won two in a row after the quick and easy stoppage of Abell. To get ready for the fight, Arreola, 29, of Riverside, Calif., hired trainer Ronnie Shields. Arreola, with longtime trainer Henry Ramirez now the assistant trainer, left his hometown to train at Shields' gym in Houston. The result was an Arreola who came in at 249 pounds, the lightest he has weighed for a fight since June 2008 (although it was only a pound less than he weighed for the Adamek fight).
Headlining on ESPN2's "Friday Night Fights," Arreola blew out Abell, 29, of Champlin, Minn., whose record has been built against extremely weak opposition. When Arreola finally unleashed a right hand, he landed it on Abell's jaw, sent him into the ropes and snapped his head back. Arreola unloaded several more shots in the flurry before referee Tony Crebs jumped into stop the fight at 2 minutes, 18 seconds. It was a slightly premature stoppage, although Abell did not figure to last much longer anyway. After, Arreola planted a kiss on Abell's cheek. Do you think Arreola would have liked it if Klitschko shown him up by kissing him on the cheek after beating the crap out of him?
Junior welterweight
Josesito Lopez TKO7 Michael Dallas Jr.
Records: Lopez (29-3, 17 KOs); Dallas (17-1-1, 7 KOs)

Rafael's remark: In the most notable victory of his career, Lopez, 26, of Riverside, Calif., pulled the mild upset by handing Dallas, 24, of Bakersfield, Calif., his first loss. Dallas came into the fight as a prospect on the rise. To win, he was going to have to use his better boxing skills and speed. For Lopez to win, he was going to have pressure Dallas, take him out of his rhythm and rough him up. Lopez was able to do that, and Dallas could not take the heat. Lopez suffered a nasty cut over his right eye because of an accidental head-butt in the first round but shook it off took. He was slowly breaking Dallas down until finally hammering him with a hard left hook in the seventh round. Out on his feet, Dallas fell into the ropes and Lopez caught him with a few more shots before referee Raul Caiz Jr. jumped in to stop it at 1 minutes, 47 seconds. Lopez won his seventh fight in a row and looks like he has come a long way from his last loss, a decision to Edgar Santana in April 2008.
Super middleweight
Shawn Estrada KO1 Jon Schmidt
Records: Estrada (11-0, 10 KOs); Schmidt (10-2, 6 KOs)

Rafael's remark: This was embarrassing. Schmidt, 30, a club fighter from Minneapolis, was utterly outclassed as Estrada, 25, of East Los Angeles, absolutely destroyed him. Estrada, a 2008 U.S. Olympian, scored three knockdowns and barely broke a sweat, needing 1 minute, 48 seconds to take him out. He dropped Schmidt less than 10 seconds into the fight and never stopped hammering him. He scored two more knockdowns, the final one coming on a short right hand that sent Schmidt to the canvas face first as referee Caiz called off the mismatch.
Friday at San Diego
Featherweight
Gary Russell Tech. Dec. 7 Feider Viloria
Scores: 70-62 (twice), 69-63
Records: Russell (14-0, 9 KOs); Viloria (23-8-1, 16 KOs)

Rafael's remark: Russell, 22, of Capitol Heights, Md., was a 2008 U.S. Olympian and is an elite prospect. He has a deep amateur background and has exceptional hand speed, which he put to good use as he easily outboxed Viloria, 27, of Colombia, on Telefutura's "Solo Boxeo Tecate." Russell, a southpaw, dropped Viloria in the fifth round with a left hand and was cruising before an accidental head-butt opened a cut over Viloria's right eye. He was unable to continue and referee Jerry Cantu stopped the fight at 50 seconds of the seventh round and sent the fight to the scorecards for a technical decision, which Russell won via near-shutout. Viloria lost his second fight in a row and dropped to 2-6 in his last eight, with most of the defeats coming against quality opponents such as Takahiro Ao and Roman Martinez in a junior lightweight title bout. Russell is moving quickly. It would not be a surprise to see him facing top contenders before the end of the year.
In the main event, featherweight Raul Hirales Jr. (12-0-1, 7KOs) was penalized two points for low blows by referee Pat Russell and won a split decision against Charles Huerta (16-2, 9 KOs), 24, of Paramount, Calif., whose status as a prospect continues to slide. Hirales, 27, of Mexico, won 78-73 and 77-74 on two scorecards, while one judge had it 77-74 for Huerta.
Dan Rafael is the boxing writer for ESPN.com. Follow him on Twitter @danrafaelespn.
Boxing
2013 BWAA Nat Fleischer Award winner for excellence in boxing journalism
ESPN.com boxing writer since 2005
Five years at USA Today
EDITORS' PICKS
Brook defended his title with a demolition of Dan.
ESPN UK »

Russell focused on Gonzalez's featherweight title.
Dan Rafael »

WBC made Kovalev the mandatory for Stevenson.
Dan Rafael »
MOST SENT STORIES ON ESPN.COM