Commentary
Mexico's Tomas Rojas gets job done
Updated:
February 7, 2011, 11:17 AM ET
By
Dan Rafael
| ESPN.com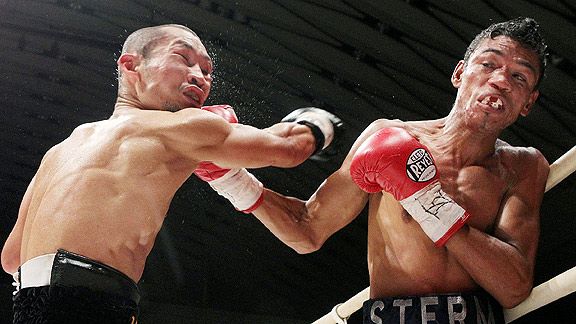 Jiji Press/AFP/Getty ImagesMexican champ Tomas Rojas, right, kept challenger Nobuo Nashiro on the outside to retain his junior bantamweight title.

A roundup of the past week's notable boxing results from around the world:

Saturday At Osaka, Japan
Junior bantamweight
Tomas Rojas W12 Nobuo Nashiro
Retains a junior bantamweight title
Scores: 116-113, 116-111, 114-113
Records: Rojas (35-12-1, 23 KOs); Nashiro (14-3-1, 9 KOs)

Rafael's remark: In December 2009, Rojas, a 29-year-old Mexican southpaw, got knocked hard in the second round challenging then-junior bantamweight champ Vic Darchinyan. Darchinyan eventually moved up in weight and Rojas got another opportunity to fight for a vacant belt and outpointed Kohei Kono in Japan in September. Making his first defense, Rojas returned to Japan and outpointed Nashiro, 29, a former two-time junior bantamweight titlist, in a competitive fight. Rojas, with a three-inch height advantage, stayed on the outside and tried to jab and move while the more aggressive Nashiro tried to work his way inside. Because the WBC's open scoring system was in use (it is used in Japan, but not in the United States), the scores were announced after the fourth and eighth rounds, so everyone knew that Rojas was up 39-37 (twice) and 38-38 after the fourth round and 78-76, 78-73 and 76-75 after the eighth. The system makes keeping up the suspense a challenge, and perhaps, because Rojas knew he was ahead, he tried to box and move even more than he had been in order to sit on his lead. I'm no fan of open scoring. In the eighth round, another one of the WBC's rules was invoked when an accidental head butt opened a cut on Rojas' nose. The rule says that in the event that an accidental head butt cuts one fighter, the uncut fighter loses a point. I'm no fan of this WBC rule, either. Fortunately, the deduction did not affect the outcome of the fight, which Rojas won because of his ability to keep Nashiro on the outside.
Saturday at Maywood, Calif.
Super middleweight
Dyah Ali Davis D10 Francisco Sierra
Scores: 98-92 Davis, 95-95 (twice)
Records: Davis (18-2-1, 9 KOs); Sierra (23-3-1, 21 KOs)

Rafael's remark: Just add this one to the even increasing and never ending list of questionable decisions that plague boxing. Davis, the son of 1976 U.S. Olympic gold medalist Howard Davis Jr., deserved to win the fight, so much so that announcer Raul Marquez, working the "Top Rank Live" telecast for Fox Deportes, said he was shocked by the outcome. That is probably because Davis, 29, of Coconut Creek, Fla., outhustled and outboxed Sierra, 23, of Mexico, throughout the fight. He seemed to open a huge lead even though Sierra perhaps won the last couple of rounds of a ho-hum fight. Still, how did one of the judges score it 8-2 in rounds for Sierra? Since being knocked out in the first round by Edison Miranda in the first round in October 2009, Sierra had won three in a row (including a memorable beat-down of Donovan George on ESPN2 in October) until facing Davis. He should have been handed another loss. Davis was coming off an eight-round decision loss to Aaron Pryor Jr. in November.
Saturday at Guadalajara, Mexico
Junior middleweight
Austin Trout W12 Rigoberto Alvarez
Scores: 119-108 (three times)
Wins a vacant junior middleweight title
Records: Trout (22-0, 13 KOs); Alvarez (26-3, 19 KOs)

Rafael's remark: Trout, 25, of Las Cruces, N.M., is a fine prospect but had fought nobody of consequence when he was made the mandatory challenger for a WBA belt. He had not even fought since November 2009. Nonetheless, Trout went to Mexico to face Alvarez, 33, the older brother of 2010 ESPN.com Prospect of the Year Saul "Canelo" Alvarez, with a belt at stake. Rigoberto Alvarez had won an interim belt in October by claiming a split decision against Japan's Nobuhiro Ishida. The WBA vacated its full title and "elevated" Miguel Cotto, who won the title against Yuri Foreman in June, to "super" titleholder, clearing the way for Alvarez and Trout to meet for the bogus paper trinket. Sanctioning organization decisions aside, Trout did what he was supposed to do. He fought on hostile turf and cruised to a lopsided decision in the clear victory. Trout was a better technician, younger and faster than Alvarez, who had no answers for his assortment of punches. Alvarez could do little more than follow him around and look for a desperation punch while Trout mixed up his offense and befuddled his opponent.
Friday at Fort Worth, Texas
Super middleweight
Brian Vera W10 Sergio Mora
Scores: 96-94 (twice) Vera, 96-94 Mora
Records: Vera (18-5, 11 KOs) ; Mora (22-2-2, 6 KOs)

Rafael's remark: In September, Mora fought to a 12-round draw with former three-division champion Shane Mosley in a horrible fight, mainly because Mora refused to engage and ran and held. He has rarely made good fights, one of the reasons he has drawn such heavy criticism throughout his career since winning the first season of "The Contender" reality series. But Mora, 30, of Los Angeles, also became the first fighter from the series to win a world title when he outpointed the late Vernon Forrest for a junior middleweight belt in 2008 before losing it to Forrest in a rematch three months later.
Making his return from the draw with Mosley, Mora went to Vera's hometown and fought with a more crowd-pleasing style in the ESPN2 "Friday Night Fights" main event. It did not help him as he lost the upset split decision to Vera, 29, who participated in the 2007 edition of "The Contender" but was best known for his come-from-behind seventh-round knockout of highly touted Andy Lee in 2008. Mora came into the fight with a new trainer. He split with Dean Campos, who had trained him since he was 15, in favor of former heavyweight contender Jeremy Williams, who was part of "The Contender" first-season cast. Vera was the aggressor, plowing forward (no surprise) throughout the fight while Mora, still somewhat defense-oriented, counter-punched and tried to steal rounds with flurries here and there. It did not work as Vera took the tight decision, mainly because he outworked Mora. Mora, who was cut over his left eye by a punch in the sixth round and over the right eye by an accidental head butt in the seventh round, tried to pick up the pace down the stretch, but it was too little, too late.
At least it was a more entertaining fight than Mora is usually in, which could help him get fights in the future. For Vera, he once again lived up to his spoiler reputation. He previously had also upset Lee and Sebastien Demers via third-round knockout in Demers' hometown of Montreal in June. Vera was supposed to face Kelly Pavlik in November on the Manny Pacquiao-Antonio Margarito undercard, but Pavlik pulled out and wound up in alcohol rehab. Now that Pavlik is ticketed for a return on the May 7 Pacquiao-Mosley undercard, perhaps Vera will get the call again -- but don't count on it after the performance he put on against Mora.
Junior middleweight
Charles Hatley D8 Chris Chatman
Scores: 75-75 (twice), 77-73 Hatley
Records: Hatley (14-0-1, 11 KOs); Chatman (9-1-1, 4 KOs)

Rafael's remark: Hatley, 24, of Dallas, was a 2007 U.S. amateur national champion and 2008 U.S. Olympic team alternate. As a pro, he has been considered a prospect with excellent power. But Chatman, 26, of San Diego, did a good job of playing spoiler after taking the fight on two weeks' notice. Chatman, whose only loss came via six-round decision to 2008 U.S. Olympian Demetrius Andrade, looked like he might suffer a second defeat quickly when Hatley dropped him in the first round and was on the verge of a stoppage. Chatman was hurt several times in the round, but somehow survived and eventually fought his way back into the fight. In the eighth round, it was Chatman on the offensive as he dropped Hatley face first with a left hand. Hatley was in trouble, but hung on for the final minute of a good fight.
Also on the undercard, 22-year-old junior bantamweight Luis Yanez (4-0-1, 0 KOs), a 2008 U.S. Olympian from Dallas, fought to a six-round draw with San Antonio's Joseph Rios (8-5-2, 3 KOs) in a rematch. One judge scored it 59-55 for Yanez, one had it 58-56 for Rios and the third had it 57-57. Yanez won a six-round decision against Rios in June 2009.
Friday at Santa Ynez, Calif.
Featherweight
Luis Franco W10 Leonilo Miranda
Scores: 97-93, 96-94 Franco, 97-94 Miranda
Records: Franco (9-0, 5 KOs); Miranda (26-3, 25 KOs)

Rafael's remark: Franco had only eight pro fights coming into this "ShoBox" main event on Showtime while Miranda had 29. But Franco, a 2004 Cuban Olympian, still had the experience edge because he had a whopping 400 or so amateur bouts while Miranda had just two. Franco's handlers are pushing him quickly in the pro ranks because of all that amateur experience. They are shooting for a world title opportunity within a year or so. But they may be pushing him a little too fast after this rough, tough fight.
Although Franco, 29, pulled out the split decision against Miranda, a hard-punching southpaw from Mexico, it was a very difficult (and crowd pleasing) fight. Franco, who defected in June 2009 and turned pro a month later, and Miranda, 28, were supposed to fight in December, but a visa issue prevented Miranda from coming to the United States. He got Franco's attention in the opening round when he landed a couple of hard left hands. Later in the round, he landed a clean left hand to the chin and Franco went down, although referee Marco Rosales incredibly ruled it a slip. Terrible call. Franco came back strongly over the next few rounds before the all-action fifth round in which they fought toe-to-toe for most of the round. Both men were clearly hurt, but Franco seemed to get the worst of it. Miranda is a much heavier puncher than Franco, who is more of a boxer and mistakenly stood in front of him. In the end, both guys gave a great effort but Franco, who had never been beyond eight rounds before, was rewarded on two scorecards for his slicker boxing although it certainly could have gone either way or been a draw. The fight figures to be a good learning experience for Franco, who clearly has talent but has more to work on (particularly on defense) before he should be pushed into a world title bout.
Cruiserweight
Lateef Kayode W10 Nick Iannuzzi
Scores: 98-91, 97-92, 95-94
Records: Kayode (16-0, 14 KOs); Iannuzzi (16-2, 9 KOs)

Rafael's remark: It might be time for Kayode, a powerful prospect with eye-catching power, and his team to take a little bit of a step back after this very difficult struggle in a fight most figured Kayode would win easily. Instead, Kayode, 27, of Nigeria and living in Los Angeles, had the toughest fight of his career as his 14-fight knockout streak came to an end. Not only did that end, but Kayode, trained by Freddie Roach, was lucky to escape with a victory. The 98-91 scorecard turned in by Steve Morrow is an embarrassment and the 97-92 card from Ralph McKnight was not much better. Iannuzzi, 34, of Tampa, was determined as could be and frustrated Kayode throughout the fight with his movement. In an extraordinarily weak call, referee Raul Caiz Jr. took a point away from Iannuzzi for a punch just after the bell ending the fight (but still in the heat of the battle), which was thrown in response to a shot after the bell Kayode threw.
Obviously, Kayode needs to polish his game rather than depend entirely on his punching power. Iannuzzi, fighting outside of Florida for the first time and outside of Tampa for only the second time, did a good job on defense to avoid Kayode's big punches while firing off jabs and combinations. While Kayode showed he still has a lot to learn, this was the kind of fight that he probably learned quite a bit from. That is exactly what Roach thought afterward, saying: "We had a little trouble with his style. It's a learning experience. Lateef blocked a lot of the shots and I think he landed the harder ones. It's a good learning experience fighting a guy like this and it will help him in the long run. We don't expect the knockouts, when they come it's a bonus."
Friday at Lares, Puerto Rico
Lightweight
Mike Perez KO8 Marcos Herrera
Records: Perez (12-0-1, 6 KOs); Herrera (6-4-1, 2 KOs)

Rafael's remark: Perez, 21, is from Newark, N.J., but fought in his father's hometown, where he was warmly received by the fans who cheered him throughout his spirited victory against Herrera, 21, of Denver. Perez, a Golden Boy-promoted prospect, was never in any trouble in the main event of Telefutura's "Solo Boxeo Tecate," but he took a few shots and it was a good fight to watch. With Bernard Hopkins watching from ringside, Perez worked Herrera to the head and body throughout the fight and closed the show in impressive style. In the eighth round (of a scheduled eight-rounder), Perez staggered Herrera with a flush right hand to the jaw. During the follow-up attack, he landed two more hard right hands that sent Herrera reeling into the ropes. Perez landed more than a dozen blows during the finishing sequence that ended when referee Ramon Pena jumped in to stop it at 1 minute, 36 seconds.
Dan Rafael is the boxing writer for ESPN.com. Follow him on Twitter @danrafaelespn.
Boxing
2013 BWAA Nat Fleischer Award winner for excellence in boxing journalism
ESPN.com boxing writer since 2005
Five years at USA Today
SPONSORED HEADLINES
MORE BOXING HEADLINES
MOST SENT STORIES ON ESPN.COM
EDITORS' PICKS
Hamed deserves his place in the Hall of Fame.
Dan Rafael »

Golden Boy promotes rival cards on Dec. 13 in Las Vegas.
Blog »

At 49, Hopkins a slight favorite over Kovalev in media poll.
Blog »