Commentary
Abraham wins odd; Barrera TKOs Arias
Updated:
February 14, 2011, 1:51 PM ET
By
Dan Rafael
| ESPN.com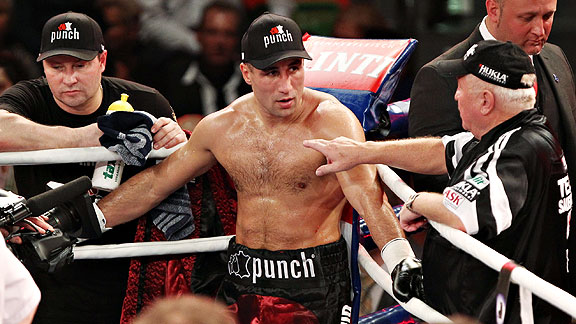 Boris Streubel/Getty ImagesA win is a win, but that doesn't mean Arthur Abraham or his fans went home happy.

A roundup of the past week's notable boxing results from around the world:

Saturday at Guadalajara, Mexico
Junior welterweight
Marco Antonio Barrera TKO2 Jose Arias
Records: Barrera, 67-7, 44 KOs; Arias, 15-2, 9 KOs

Rafael's remark: Barrera was a champion in three weight classes (junior lightweight, featherweight and junior featherweight), engaged in some of the most memorable battles of the past 15 years and is one of Mexico's greatest fighters. Obviously, he will eventually be a first-ballot Hall of Famer. But since losing back-to-back fights in 2007 to Juan Manuel Marquez followed by a second lopsided loss to Manny Pacquiao, Barrera, 37, has been in a slow fade from boxing, although he is now 4-1 since those defeats. (The four wins have come against weak opposition, while the defeat was a one-sided and bloody fifth-round technical decision to Amir Khan in a 2009 lightweight bout.)
Fighting for the first time in eight months, and headlining a "Top Rank Live" card in a fight announced barely a week before it took place, Barrera blew past Arias for his second consecutive victory. Barrera is slower now and looks out of place as a junior welterweight, but he can beat guys like Arias, 43, a native of the Dominican Republic from Providence, R.I., all day long.
Barrera dominated Arias, who did not fight from late 1999 until returning in mid-2010. He dropped Arias with a whipping left-right combination 30 seconds into the fight. In the second round, Barrera put together a four-punch combination that turned Arias around and floored him for the second time. Barrera was patient going after him again, but when he connected, he badly wobbled Arias. And when he did it again during a flurry that had Arias all over the place, referee Jesus Salcedo stepped in to stop it at 2 minutes, 29 seconds.
When Barrera signed with Mexican promoter Fernando Beltran and Top Rank last year (after years as their adversary during his epic trilogy with Erik Morales), there was a lot of talk about a possible lightweight title bout between Humberto Soto and Barrera. However, it hasn't come to pass, and Soto is going in another direction. But Barrera would still like to become the first Mexican to win a title in four weight classes. With his name and the stable of lightweights that Beltran and Top Rank promote, it would not be a surprise to see him get that shot before the end of the year.
Saturday at Mülheim, Germany
Cruiserweight
Yoan Pablo Hernandez TKO7 Steve Herelius
Wins an interim cruiserweight title
Records: Hernandez, 24-1, 13 KOs; Herelius, 21-2-1, 12 KOs

Rafael's remark: Hernandez was a star Cuban amateur and a 2004 Olympian before he eventually defected to Germany, where he has fought for his entire professional career. In December, Hernandez, 26, crushed Ali Ismailov in the first round in an elimination bout to set up this shot at an interim title, which figures to eventually be elevated to a full title, given the chronic inactivity of titleholder Guillermo Jones.
Hernandez picked his shots and used his long jab and movement to keep France's Herelius, 34, off balance, and was doing quite well. In the fourth round, Herelius injured his left foot, coming up hobbling when he took an awkward step. It seemed like the fight might end with Herelius on his stool after the round because of the foot injury but, after a delay, it was clear that he wanted to continue and he showed heart by keeping the fight going. Whether it was the injury that hampered him or Hernandez's superiority, Herelius was in trouble in the seventh round when Hernandez tagged him with a left hand and knocked him down. His nose bloody, Herelius beat the count and continued, but Hernandez was soon all over him and knocked him down with another left hand and referee Steve Smoger called it off at 1 minute, 19 seconds. If Sauerland Event -- which promotes Hernandez and some other top cruiserweights -- moves ahead with the Super Six-style tournament it has been talking about, Hernandez will be one of the entrants. Herelius, whose only previous loss came as a heavyweight, was making the first defense of the interim belt he won via an impressive 11th-round knockout of Firat Arslan in July.
Cruiserweight
Steve Cunningham W12 Enad Licina
Retains a cruiserweight title
Scores: 118-110, 117-111, 115-113
Records: Cunningham, 24-2, 12 KOs; Licina, 19-3, 10 KOs

Rafael's remark: Philadelphia's Cunningham, 34, and Licina, 31, the mandatory challenger born in Serbia and based in Germany, were supposed to meet Jan. 22 on the undercard of middleweight titlist Sebastian Sylvester's defense against Mehdi Bouadla. However, when Sylvester came down with a viral infection a week before the fight, the card was called off. Cunningham-Licina was rescheduled for the next card put on by promoter Sauerland Event. So after a three-week delay they met, and Cunningham, who won a vacant title in June, successfully retained it in his first defense. Licina was competitive, especially in the early rounds, but Cunningham, a more polished and skillful fighter, did enough to take control and hold him off. He was busy with his jab and solid with a body attack in victory.
Super middleweight
Arthur Abraham TKO2 Stjepan Bozic
Records: Abraham, 32-2, 26 KOs; Bozic, 24-6, 15 KOs

Rafael's remark: When the Super Six World Boxing Classic began, Abraham, the former middleweight titlist with wrecking-ball power, was the second favorite to win it all behind Mikkel Kessler. Abraham began the tournament well, too, drilling Jermain Taylor in the 12th round of their opening bout in October 2009. But since then, it has been all downhill for Germany's Abraham, who turns 31 on Feb. 20. In his second bout of the tournament, Abraham was being dominated and was trailing by wide margins on all three scorecards against Andre Dirrell in the 11th round. When Dirrell slipped to the canvas, Abraham hit him with a brutal and illegal punch while he was down and was disqualified. In his Group Stage 3 fight against Carl Froch for a vacant super middleweight belt, Abraham looked like a lost puppy. He barely threw any punches and lost by virtual shutout decision in a performance even worse than the one he turned in against Dirrell. With a semifinal bout looming in May against titleholder and tournament leader Andre Ward, Abraham elected to take a tuneup bout to see if he could get himself together. Facing Slovenia's Bozic, 36, Abraham did not have much time to do anything, however. Abraham was busy for a change and had easily won the first round, but in the second round, Bozic landed a left hand on Abraham's elbow and seemed to damage his hand. He dropped to a knee in apparent pain and when it was clear he would not go on, referee Daniel Van de Wiele called it off at 1 minute, 1 second. Bozic lost for the second time in three bouts.
Saturday at Buenos Aires
Junior bantamweight
Omar Narvaez W12 Victor Zaleta
Retains a junior bantamweight title,
Scores: 120-107 (twice), 119-108
Records: Narvaez, 33-0-2, 19 KOs; Zaleta, 17-2, 9 KOs

Rafael's remark: Argentina's Narvaez, 35, made 16 flyweight title defenses from 2002 to 2009 before moving up in weight and winning a vacant junior bantamweight title in May 2010 when he easily outpointed Everth Briceņo. Making his first defense of his new belt, Narvaez rolled past Mexico's Zaleta, 26, winning the near-shutout and ending his 11-fight winning streak dating to 2008. Narvaez is a skilled fighter with good defense and enough offense to keep his opponents honest. Zaleta, who lost a point for a low blow in the sixth round, could do very little as Narvaez outboxed him with aplomb.
Also on the card, interim strawweight titlist Sammy Gutierrez (27-5-2, 18 KOs) of Mexico stopped the Philippines' Renan Trongco (8-3, 5 KOs), a woefully underqualified title challenger who had boxed in only one fight scheduled for even 10 rounds before this scheduled 12-rounder. But what do you expect from the laughable WBA, which sanctioned it? Before facing Gutierrez, the combined record of Trongco's opponents was 4-15-3. That qualified him to fight for a title? Absolutely pathetic. Although Trongco scored a first-round knockdown, Gutierrez eventually stopped him in the sixth.
Friday at Montreal
Welterweight
Antonin Decarie W10 Shamone Alvarez
Scores: 99-89, 98-90, 97-91
Records: Decarie, 25-1, 7 KOs; Alvarez, 21-4, 12 KOs

Rafael's remark: Decarie turned in a strong performance in the ESPN2 "Friday Night Fights" main event as he routed Alvarez. The 28-year-old Decarie, who was fighting in his hometown, has fine boxing skills, which he put to good use against Alvarez, 34, of Atlantic City, N.J., who lost his second fight in a row and third in his last four. Despite the rough patch, Alvarez is an experienced fighter who has faced some good opponents (former titlist Joshua Clottey and Delvin Rodriguez), so Decarie winning as easily as he did counts as a quality victory. Decarie had challenged Souleymane M'Baye for an interim belt in France last May and lost a unanimous decision. Now Decarie has won two in a row and is on track for a bigger fight. He dropped Alvarez, a southpaw, to his backside in the fifth round with a flush right hand and was credited with another knockdown in the eighth round when he landed another right hand that caused Alvarez, who suffered a cut over his left eye, to touch his glove to the canvas for an official knockdown.
Welterweight
Jo Jo Dan Tech. Dec. Rd. 6 Steve Forbes
Scores: 58-56 (three times)
Records: Dan, 28-1, 25 KOs; Forbes, 35-9, 11 KOs

Rafael's remark: Dan, 29, a native of Romania now living in Montreal, traveled to Turkey in June 2010 to face hometown favorite Selcuk Aydin for an interim belt and lost a controversial split decision. Now, Dan has won two fights in a row, both at home, since that disputed loss. On this night, he was facing Detroit's Forbes, 33, a former junior lightweight titlist who has been boxing quality opponents for years, but has not done all that well as he dropped to 3-6 in his past nine (including losses to Oscar De La Hoya and welterweight titlist Andre Berto). This one was turning into an ugly fight when Forbes lunged at Dan in the sixth round and their heads smacked together. Forbes suffered a horrible crescent-shaped gash over his left eye, causing the fight to be stopped and sent to the scorecards for a technical decision in an unsatisfying fight. Forbes, by the way, was .14 pounds over the 147-pound contract limit and was fined 20 percent of his purse by the Montreal commission.
Friday at Atlantic City, N.J.
Junior featherweight
Rico Ramos W10 Alejandro Valdez
Scores: 98-92, 97-93 (twice)
Records: Ramos, 19-0, 10 KOs; Valdez, 24-5-2, 18 KOs

Rafael's remark: Ramos, 23, of Pico Rivera in Southern California, was a standout amateur and is widely regarded as one of boxing's top prospects. He has been moved well by promoter Dan Goossen and manager Al Haymon and was coming off an eye-catching second-round knockout of battle-tested veteran Heriberto Ruiz in November. (Ruiz lasted until the sixth against Valdez in 2007.) Based on Ramos' rankings by the alphabet organizations, he is not that far away from a title opportunity. In reality, he needs a little more seasoning, although he clearly outpointed Mexico's pesky Valdez, 27. Valdez is a very experienced fighter and former world title challenger. In 2008, then-bantamweight titlist Hozumi Hasegawa stopped him in the second round. In December 2009, Nehomar Cermeņo knocked him out in the 11th round in an interim bantamweight title bout. The most notable performance of Valdez's career came in September 2009, when he met bantamweight titleholder Fernando Montiel in a wild nontitle bout during which both were knocked down. The fight was ruled a technical draw in the third round because of a cut Montiel had suffered. The referee ruled it came from an accidental head clash, although television replays showed that it was clearly caused by a Valdez punch.
Although it was not the most enthralling fight, Ramos did what he needed to do as he went past eight rounds for the first time. Ramos landed cleaner punches, used his speed advantage and outboxed Valdez to beat the most notable opponent of his career in the main event of Showtime's "ShoBox: The New Generation." Their styles did not mesh all that well, perhaps because Valdez is a southpaw, so it was a bit of an awkward fight. But they did produce some good action in the 10th round, although Ramos wound up bleeding from a cut over his left eye caused by an accidental head clash early in the final round.
Super middleweight
Don George TKO1 Cornelius White
Records: George, 21-1-1, 18 KOs; White, 16-1, 15 KOs

Rafael's remark: In his most recent fight, in July, Chicago's George, 26, was brutalized in a seventh-round technical-decision loss to Francisco Sierra on ESPN2. It was a bad, bad loss in which George took massive amounts of punishment so severe it was unclear if he would ever be the same. Making his comeback, he was matched with White, a 29-year-old from Houston who had a glossy record against a series of weak opponents. So could underdog George rebound, or could he expose White's record as nothing more than padding? We got the answer and we got it quickly. It took George just 2 minutes, 2 seconds to pummel White into three knockdowns before referee Randy Neumann to call off the one-sided fight. George took control of the fight when he dropped White with a pinpoint right hand to the head. White beat the count, but never recovered from the shot. He was in bad shape and the end was obviously near even though the fight continued. After George smacked him around the ring and scored two more knockdowns, Neumann called it off. George has to have gained a measure of renewed confidence after the crushing victory, while White's loss goes to show that a padded record means nothing when you face an opponent who can punch back.
Heavyweight
Eddie Chambers W12 Derric Rossy
Title eliminator
Scores: 120-107, 117-110, 115-112
Records: Chambers, 36-2, 18 KOs; Rossy, 25-3, 14 KOs

Rafael's remark: Almost four years ago to the day of this rematch, Chambers stopped Rossy in the seventh round. Meeting in a rematch -- this time in an eliminator that would move the winner a step closer to a mandatory shot against heavyweight champ Wladimir Klitschko -- Chambers, 28, of Philadelphia, went the distance in his victory. (By the way, this is a joke of an eliminator because neither guy remotely deserves a title shot at this point. Chambers is barely a top-10 heavyweight; Ross belongs nowhere near the top 10.) Chambers had a mandatory shot at Klitschko. He was coming back from a brutally one-sided loss and absolutely crushing 12th-round knockout by Klitschko in a title shot in March 2010. If Chambers winds up facing Klitschko again, the result probably will be the same, if not quicker. At 208 pounds, Chambers simply is not physically equipped to handle Klitschko. Chambers knocked down the 30-year-old Rossy -- a former college football player from Medford, N.Y. -- with a right hand in the sixth round and cruised to the decision win, even though he would have preferred another knockout win.
Also on the undercard, welterweight Ricardo Williams Jr. (17-2, 10 KOs) -- a 2000 U.S. Olympic silver medalist and one of the biggest busts in recent boxing history -- stopped John Brown (24-19-2, 11 KOs) in the sixth of the scheduled six-rounder. Williams, who served time in prison for conspiracy to distribute cocaine, was fighting for the first time in 10 months and just the seventh time since 2005, when his legal problems began. He dropped Brown, 42, a former junior lightweight title challenger from Atlantic City, twice in the sixth round. Brown is ridiculously past his best days. He is 1-11-2 in his past 14 fights, with only one victory since 2001.
Friday at Kobe, Japan
Strawweight
Kazuto Ioka TKO5 Oleydong Sithsamerchai
Wins a strawweight title
Records: Ioka, 7-0, 5 KOs; Sithsamerchai, 35-1-1, 14 KOs

Rafael's remark: Thailand's Sithsamerchai, 25, had held a slice of the 105-pound title since November 2007 and made six defenses (with five nontitle fights mixed in). But he was little match for 21-year-old Japanese challenger Ioka, who stunningly knocked him out to win a world title in just his seventh professional bout, a record for a Japanese fighter. The aggressive Ioka dropped Sithsamerchai with a left hook in the second round and was in control of the fight when he unloaded a left hand to Sithsamerchai's gut in the fifth round. He went down and was clearly in agony as he wriggled on his back before referee Bruce McTavish waived it off without completing the count at 1 minute, 7 seconds. Ioka knew he was ahead (40-35, 38-27 on two cards and down 38-37 on the third) going into what would be turn out to be the final round because the WBC's awful open scoring system was being used. After the loss, Sithsamerchai said he would move up in weight. Ioka was overjoyed to win the belt against a titleholder from Thailand as his uncle, Hiroki Ioka, who held the same belt from 1987 to 1988, lost it to a fighter from Thailand.
Friday at Vacaville, Calif.
Super middleweight
Peter "Kid Chocolate" Quillin TKO4 Dennis Sharpe
Records: Quillin, 23-0, 17 KOs; Sharpe, 17-6-3, 5 KOs

Rafael's remark: Quillin, 27, of New York, has been hampered by injuries that caused him to sit idle for all of 2009 and fight just twice in 2010. But now Quillin, still a quality prospect, is apparently healthy, newly signed with Golden Boy Promotions and looking forward to a busy and productive 2011. He got it started with an easy win against Sharpe, an overmatched opponent who had very little chance to beat him in the main event of Telefutura's "Solo Boxeo Tecate." Quillin beat up on the game Sharpe, but he couldn't take the heat. While Quillin was battering with him with unanswered blows, including a brutal, head-snapping uppercut, referee Marcos Rosales intervened at 1 minute, 54 seconds of the fourth round to end the destruction. Sharpe, of Jersey City, N.J., who turns 36 next month, lost his sixth consecutive fight, although they have all come against notable opponents, including Andy Lee, Giovanni Lorenzo, Ronald Hearns, Pawel Wolak and James McGirt Jr.
Dan Rafael is the boxing writer for ESPN.com. Follow him on Twitter @danrafaelespn.
Boxing
2013 BWAA Nat Fleischer Award winner for excellence in boxing journalism
ESPN.com boxing writer since 2005
Five years at USA Today
SPONSORED HEADLINES
MORE BOXING HEADLINES
MOST SENT STORIES ON ESPN.COM