Commentary
Montiel, Donaire battle for supremacy
Updated:
February 18, 2011, 4:35 PM ET
By
Dan Rafael
| ESPN.com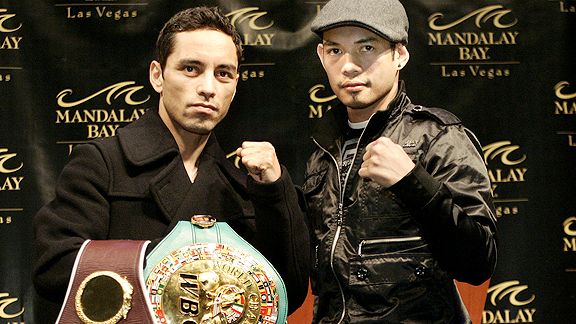 Chris Farina/Top RankManny Pacquiao has dashed the hopes of many Mexican fighters. Can his countrymate Nonito Donaire do the same to Fernando Montiel, one of Mexico's finest, on Saturday?
LAS VEGAS -- The fight poster that adorns the light boxes throughout Mandalay Bay advertises the much-anticipated showdown between unified bantamweight titleholder Fernando Montiel and top-10 pound-for-pound fighter Nonito Donaire. Near the top, above their photos and under the words "World Championship," the poster reads, in big, bold letters: "Mexico vs. The Philippines."
Besides crowning the top bantamweight in the world, the fight at the Mandalay Bay Events Center on Saturday night (HBO, 9:45 ET/PT) is all about nationalistic pride in the latest installment of a growing rivalry between the boxing-mad countries.
"This fight between Nonito Donaire and Fernando Montiel -- everybody who follows boxing knows it will be a great fight, but the interesting thing for me about this fight [is] the countries where these fighters come from, the Philippines and Mexico," Top Rank promoter Bob Arum said. "There is almost frenzy about this fight. I was informed that in the Philippines there are two one-hour [television] specials promoting the fight, and they are expecting a huge audience on Sunday morning, which is their time equivalent of when the fight will be aired.
"In Mexico, there is tremendous anticipation and great media coverage. It is my hope that the enthusiasm that is coming from the Philippines and Mexico permeates in the United States, that people that follow boxing and casual sports fans watch this fight on HBO because it truly will be a great fight for the sport of boxing."
In the co-feature, Philadelphia welterweight Mike Jones (23-0, 18 KOs) meets Mexico's Jesus Soto-Karass (24-5-3, 16 KOs) in a rematch of Jones' majority decision win on Nov. 13 on the pay-per-view undercard of the Manny Pacquiao-Antonio Margarito fight at Cowboys Stadium in Arlington, Texas.
One of boxing's greatest rivalries has been Mexico-Puerto Rico, which has produced numerous classics in recent decades. But the Mexico-Philippines rivalry is newer. It has its roots in pound-for-pound king Manny Pacquiao's rise to the top of the sport over the past several years.
Although there have been recent title matches between Filipinos and Mexicans -- the Philippines' Gerry Penalosa against Jhonny Gonzalez and Daniel Ponce De Leon, for example -- it has been Pacquiao who has rolled over one Mexican after another, leading many to dub him "The Mexecutioner."
Just look at the list of Mexicans and Mexican-Americans whom Pacquiao has beaten, mostly in utterly dominant fashion: Antonio Margarito, Oscar De La Hoya, David Diaz, Marco Antonio Barrera (twice), Jorge Solis, Oscar Larios and Hector Velazquez. And Pacquiao is also 1-0-1 against Juan Manuel Marquez and 2-1 against Erik Morales.
Montiel is well-aware of Pacquiao's dominant record against his countrymen and is looking for a little get-back, even if it comes against a friend. Montiel and Donaire, who used to train together, are buddies outside the ring.
"Definitely, with Pacquiao fighting so many Mexicans, he created this rivalry," Montiel said through translator Ricardo Jimenez of Top Rank following Thursday's final news conference. "I look forward to fighting a good Filipino fighter. I want to get even for all the ones Pacquiao has beaten. So I want to get in there and get some wins for us."
Donaire, of course, hopes to continue the dominance of Pacquiao, his boxing idol.
"[The rivalry is] good news for boxing," Donaire said. "Me and Montiel are good friends, but in that ring we are proud of who we are, me being a Filipino and Montiel being a Mexican. We are proud of who we are. The rivalry is healthy for boxing. It's good for boxing. The Mexican fighters are our biggest rival."
Said Montiel: "I know the rivalry is getting better as [the Filipino] fighters are getting better. There is a little extra motivation there. I think both countries, the Philippines and Mexico, want to see their guys win. They are both behind their fighters, and a victory for either side would be important."
If Pacquiao is the No. 1 Filipino fighter -- and there is no doubt about that -- then Donaire (25-1, 17 KOs), who moved to the San Francisco Bay area when he was 10, is clearly No. 2.
"The face of boxing today is Manny Pacquiao and he comes for the Philippines, but right behind him in the Philippines is a man who comes from the same city as Pacquiao, General Santos, and is becoming more and more endeared to the Philippine fans," Arum said of Donaire.
Montiel (43-2-2, 33 KOs), one of five Mexican fighters to win world titles in three weight divisions, is Mexico's No. 2 active fighter behind lightweight champion Marquez.
Montiel would like to become the first Mexican to win a title in a fourth weight class. With a win against Donaire, he will consider looking to the junior featherweight division for the opportunity.
Montiel, 31, unified bantamweight belts last April when he went to Japan and, as the underdog, rallied for a fourth-round knockout of well-respected longtime titleholder Hozumi Hasegawa, who has since moved up in weight and claimed a featherweight belt.
But Donaire, 28, is another formidable opponent. The former flyweight titleholder lost his second pro fight in 2001 and hasn't lost since as he worked his way up the pound-for-pound list with several impressive victories, such as his flyweight title-winning knockout of Vic Darchinyan in 2007 and his fourth-round destruction of former bantamweight titlist Wladimir Sidorenko in December.
"He did impress me," Montiel said of Donaire's domination of Sidorenko. "He looked really great against Sidorenko, but I'm not Sidorenko. Sidorenko just stood there in front of him, and I think you have to take that into consideration too. I am not going to be standing in front of him. I'm going to be moving around and I'll be doing my job too. I think our styles match real well and it's going to be a good fight.
"He is obviously a fighter that has a lot of speed. He moves around the ring and is an intelligent fighter. The question to me is what is going to happen when he fights a guy that is just as intelligent, just as strong and just as good as he is? That is the question -- when he fights someone that is equal to him. I think it's the first time he will find a fighter that is just as good as he is."
While Montiel aspires to make Mexican boxing history by eventually winning a belt in a fourth weight class, Donaire aspires to the accomplishments of Pacquiao, who has won titles in a record eight weight classes.
Donaire won his first title at flyweight, the same division as Pacquiao.
"He is definitely an inspiration in my career -- an inspiration in boxing and how I want to be," Donaire said of Pacquiao. "I am inspired to see no impossibility. To get to 130 pounds or even more. To keep going. That's what he wants me to do, keep moving my feet to see how far I can go."
If Donaire wins, he said he also will probably move up in weight to try to get the most out of his ability and to continue his attempt at following in Pacquiao's footsteps.
He said he loves when he is mentioned along with Pacquiao.
"I embrace it. Manny Pacquiao is one of the greatest in the history of boxing," Donaire said. "What he has accomplished is incredible and beyond a lot of people. For me to even be compared to him or be [ranked] behind him, that's a great thing. That's an achievement.
"I'm going to try my best to win as many titles as I can. Manny keeps me hungry, he keeps me going, and it keeps me motivated to keep fighting and seek the best out there and be the best."
And Donaire sure wouldn't mind if he fulfilled those goals against Mexican fighters.
Boxing
2013 BWAA Nat Fleischer Award winner for excellence in boxing journalism
ESPN.com boxing writer since 2005
Five years at USA Today
EDITORS' PICKS
Molina has a plan for Saturday: Test Broner's chin.
Brian Campbell »

Fury took a big step toward a crack at the heavyweight title.
Scorecard »

Carl Frampton dominates, stops Chris Avalos.
Dan Rafael »
MOST SENT STORIES ON ESPN.COM