Commentary
Donaire announces arrival with KO
Updated:
February 21, 2011, 12:43 PM ET
By
Dan Rafael
| ESPN.com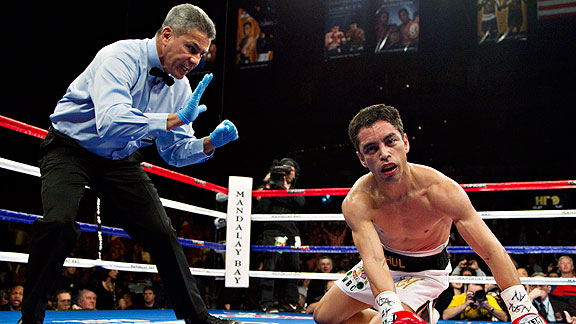 AP Photo/Julie JacobsonFernando Montiel might have beaten the count, but there was no beating Nonito Donaire on Saturday.

A roundup of the past week's notable boxing results from around the world:

Saturday at Las Vegas
Bantamweight
Nonito Donaire TKO2 Fernando Montiel
Wins two bantamweight titles
Records: Donaire, 26-1, 18 KOs; Montiel, 43-3-2, 33 KOs

Rafael's remark: A star is born. Donaire, with a massive knockout against a top-notch opponent in a much-anticipated fight, took his career to a new level and stamped himself among the handful of the best fighters in the world. Montiel, 31, of Mexico, a three-division titleholder, had not lost since 2006 and had established himself as the No. 1 bantamweight in the world by virtue of his impressive knockout of Hozumi Hasegawa last year to unify a pair of alphabet belts. Yet Donaire -- "The Filipino Flash" -- erased him in violent fashion to claim his 118-pound belts.
Little guys usually don't score such huge knockouts. Donaire, 28, a longtime flyweight titlist who also briefly held an interim belt at junior bantamweight before moving up in weight again in December, is not just any little guy. He's special. Donaire, a native of the Philippines who was born in the same hometown as his idol, Manny Pacquiao, before moving to a San Francisco suburb when he was 10, could potentially find himself just behind Pacquiao on the pound-the-pound list. No. 2 Floyd Mayweather Jr. is nearing a year of inactivity and close to dropping out of the rankings. And should No. 3 Sergio Martinez lose what looks like a tough fight against Sergei Dzinziruk on March 12, Donaire could move to No. 2 on some lists. He has skill, power, speed, charisma and massive size for a bantamweight.
Donaire won the first round and then authored one of the more memorable knockouts you'll see, sending a jolt of electricity through the crowd of 4,805 at the Mandalay Bay Events Center. Donaire had eaten a right hand from Montiel but countered the shot with a huge left hook. It landed flush on Montiel's jaw and Donaire followed with a short right uppercut as Montiel was falling to the mat. It sure looked like the fight was going to be over right there. Montiel had been separated from his senses. He was laying on his back, his arms stretched over his head and his legs twitching. It literally looked like he was doing the backstroke. Somehow, he got to his feet, fell down and got to his feet again to beat referee Russell Mora's count. Stunningly, Mora allowed the fight to go on and Donaire rushed to Montiel and hammered with a right and a left before Mora jumped in at 2 minutes, 25 seconds. That set off a wild celebration by Donaire and his team. And why not? They deserved to celebrate a spectacular victory.
Montiel wound up in the hospital as a precaution, but Donaire now is primed to make significant money in significant fights, be it at bantamweight against the winner of the April 23 Joseph Agbeko-Abner Mares title bout in the final of Showtime's four-man tournament or a move to junior featherweight. At junior featherweight, Top Rank is loaded with potential opponents who could make for lucrative fights: titleholders Steve Molitor and Guillermo Rigondeaux and the winner of the May 7 fight between titlist Wilfredo Vazquez Jr. and Jorge Arce. Donaire has aspirations to eventually fight at featherweight, at which Top Rank also has big-time opponents, such as titleholders Juan Manuel Lopez and Yuriorkis Gamboa. No matter who Donaire faces, it is clear he has arrived.
Welterweight
Mike Jones W12 Jesus Soto-Karass
Scores: 117-111, 116-112, 115-113
Records: Jones, 24-0, 18 KOs; Soto-Karass, 24-6-3, 16 KOs

Rafael's remark: After Jones had a rough time with Soto-Karass when they first met on Nov. 13 on the Pacquiao-Antonio Margarito undercard, he went to work on correcting some flaws and tweaking the game plan in preparation for the rematch. Jones got in better condition. He claims shoveling all the snow in his hometown of Philadelphia helped get him in great shape. He also hired strength coach Danny Davis. Meanwhile, Soto-Karass did almost nothing different from the first fight, which Jones won via debatable majority decision after nearly knocking Soto-Karass out in the second round and barely hanging on for the win after blowing so much of his energy in pursuit of the early knockout.
The result was a far better performance from Philadelphia's Jones, 27, who used a tremendous jab and more refined boxing skills to maintain control for virtually the entire fight against the hard-charging Soto-Karass, 28, of Mexico. Soto-Karass knows only one way to fight, and that's straight ahead. He is willing to eat three or four shots just to get one in. Jones handled the pressure well, using his height and reach advantage to his benefit and moving laterally just enough to throw Soto-Karass off. In the third round, Jones busted open cuts over both of Soto-Karass' eyes, which bled for the remainder of the fight. One came from an accidental clash of heads (even though it was ruled from a punch, video replays showed it was clearly a butt). and one came from a clean punch. The result, however, was the same: blood running down the sides of Soto-Karass' face for most of the fight. Give Soto-Karass a lot of credit for showing enormous heart. Cuts be damned, he was there to throw down and never once looked to be in retreat. He was a valiant loser, but Jones can now put the two bouts with Soto-Karass behind him and move on to something far more significant, even though Soto-Karass said he would like a third fight. That is not going to happen. Jones and his handlers would love a shot at titleholder Andre Berto, which would be a good fight and stiff challenge for Jones. That looks unlikely in the immediate future, however. There has been some discussion about a possible interim title bout with Kell Brook, one of England's fine, rising young fighters. Regardless of who Jones fights next, Top Rank's Bob Arum, Jones' co-promoter, said he thinks Jones will return to action June 4.
Saturday at Stuttgart, Germany
Middleweight
Felix Sturm TKO7 Ronald Hearns
Retains a middleweight title
Records: Sturm, 35-2-1, 15 KOs; Hearns, 26-2, 20 KOs

Rafael's remark: In the comfy confines of Germany, Sturm continues to rack up title defenses, although this one one was available live to American fight fans, thanks to ESPN3.com. Sturm, 32, made the ninth defense of his third reign by dominating Hearns, the 32-year-old Detroit native and son of all-time great Thomas Hearns. Sturm's camp handpicked Ronald Hearns, who has a glossy record but no accomplishments of note. Let's be honest, he got the fight simply because of his bloodlines. Thomas was ringside to see if his son could claim a title in the division he once held a title in. He could not and it was evident early that it was not going to happen. Hearns was competitive in the first three rounds, even though he was not winning those rounds. But then he continued to slip more and more behind as the fight became a Sturm exhibition. Sturm possesses one of the best jabs in the business and he showed it throughout the fight, stuffing the jab hard into Hearns' face. Hearns could do little in return because he had hard time breaking through Sturm's strong defensive guard. By the fifth round, Hearns' left eye was swelling from getting tagged with so many jabs. In the seventh, Sturm mixed it up and fired a right hand out of nowhere. It caught Hearns on the temple and sent him staggering into a corner. Sturm put another right hand behind it and blasted Hearns, who was gone. He bent in half and was out on his feet, slumped into the ropes as referee Raul Caiz Jr. intervened at 2 minutes, 30 seconds. Sturm was expected to roll over Hearns, and that is just what he did. But he looked impressive doing it. Hearns doesn't seem to have much of a future in boxing. He has had limited amateur experience and did not turn pro until he was 25. He got further than many thought he would and got a title shot and a career-high payday of about $100,000. He has a college education, so maybe it's time to put it to use.
Saturday at Tuscaloosa, Ala.
Heavyweight
Deontay Wilder TKO2 DeAndrey Abron
Records: Wilder, 15-0, 15 KOs; Abron, 15-7, 10 KOs

Rafael's remark: Wilder, 25, claimed a bronze medal in the 2008 Olympics. He was the only American boxer to take any hardware home from Beijing. As a pro, Golden Boy has moved him extremely slowly. Even though he has a gaudy record, he has yet to fight into the fifth round and has faced horrendous opposition. Abron, 38, of Youngstown, Ohio, for example, is a career light heavyweight. He lost his sixth fight in a row, four of which were by knockout. The losing streak began when he was routed in a decision to then-light heavyweight titlist Zsolt Erdei in 2008. As a heavyweight, he had no prayer against Wilder. Wilder threw a lot of wild punches (he really needs to work on that) but pounded Abron around the ring in front of a raucous and sold-out hometown crowd of about 2,000 at Shelton State Community College. Finally, after Wilder pinned Abron against the ropes in the second round and unloaded about 15 unanswered shots, the fight was called off at 1 minute, 22 seconds. Despite the gross mismatch, it was a historic night. It was the first card overseen by the newly created Alabama commission. The state had never had one until Wilder and manager/trainer Jay Deas campaigned to the state government to create one so Wilder, a popular figure in his hometown, could fight there. It was a long process and this card was the dream coming to fruition.
Saturday at Rosarito, Mexico
Junior lightweight
Alejandro Sanabria W12 Rocky Juarez
Scores: 117-110, 116-111, 114-113
Records: Sanabria, 25-1-1, 19 KOs; Juarez, 28-8-1, 20 KOs

Rafael's remark: Mexico's Sanabria won his third fight in a row and scored the most notable victory of his career when he sent what little was left of Juarez's career into serious doubt. Juarez is just about done at 30 years old after a career that once held so much promise. He had a huge amateur career that he capped off with a silver medal in the 2000 Olympics. He was tabbed for pro stardom but never panned out after a receiving a seven-figure signing bonus. Juarez has received several title opportunities but is 0-5-1 in world title bouts at featherweight and junior lightweight and has disappointed every time. Those fights at least came against the bests in the sport when he faced them -- Marco Antonio Barrera (twice), Juan Manuel Marquez, Humberto Soto and Chris John (twice, one a gift draw). But now Juarez is not just losing to top fighters he's losing to regular opponents. Juarez lost his fourth in a row against the obscure Sanabria on the Mexican network Televisa on a card that was part of Golden Boy's new deal for monthly shows on the network.
Saturday at London
Welterweight
Frankie Gavin TKO7 Michael Lomax
Records: Gavin, 9-0, 8 KOs; Lomax, 17-4-1, 2 KOs

Rafael's remark: Gavin, 25, is one of England's brightest prospects and one of the best prospects anywhere. He was a 2007 world amateur champion and 2008 Olympian. Gavin, in his first scheduled 12-rounder, was supposed to face Jason Cook in an eliminator for a shot at the British junior welterweight title, but Cook pulled out because of his weight, and Lomax, 32, also of England, took the fight on two days' notice. Still, Lomax represented the best opponent of Gavin's pro career. He was also the naturally bigger man. Gavin, usually a junior welterweight, turned in perhaps his most impressive pro performance against Lomax, a welterweight. Gavin took it to Lomax. He fought at a quick pace, was effective with his body blows and broke Lomax down. He rocked Lomax in the seventh with a left hook and was battering him until Lomax's corner threw in the towel. A shot at the British title could loom in Gavin's near future.
Saturday at Mississauga, Ontario
Welterweight
Victor Lupo W10 Junior Witter
Scores: 97-91, 96-93, 95-94
Records: Lupo, 19-1-2, 9 KOs; Witter, 37-4-2, 22 KOs

Rafael's remark: For several years, Witter was one of the top junior welterweights in the world. The 36-year-old from England held a world title from 2006 until losing it to Timothy Bradley in 2008. Then, in August 2009, he got an opportunity to win a vacant belt and faced Devon Alexander, who dominated him like nobody ever had until Witter quit on his stool after the eighth round. Witter retired but came out of retirement to face Lupo, a handpicked Romanian living in Toronto. Lupo, 32, does not have a resume that would make anyone fear facing him. But either Lupo is better than his reputation or Witter really is that far gone. Either way Witter resorted to holding (lost a point for it in the ninth round) and was really tired by the end of the fight, as Lupo pulled the upset and probably sent Witter back into retirement where he belongs.
Friday at Salisbury, Md.
Middleweight
Fernando Guerrero W10 Derrick Findley
Scores: 100-90, 99-91 (twice)
Records: Guerrero, 21-0, 16 KOs; Findley, 17-5, 11 KOs)

Rafael's remark: Guerrero, the 24-year-old blue-chip prospect, has one thing going for him that most other prospects don't: a rabid fan base. Guerrero, who was born in the Dominican Republic but has lived in Salisbury since he was kid, is beloved by his community and packs them in to the local arena. So the fans turned out to see him headline ESPN2's "Friday Night Fights," on the first card ever televised in 3D in the United States. Guerrero perhaps did not thrill the crowd with a spectacular performance, but he did turn in a workman-like effort in a dominant victory against Findley, who had few answers for what Guerrero was dishing out. Guerrero fought a smart fight, looked in great shape and picked his punches well. He was also patient. He didn't try to rush toward Findley. Instead, when there were openings, he took advantage by firing solid combinations. Findley had vowed before the fight to make it a war, figuring he had little chance to win a decision in Guerrero's hometown. But when the bell rang, Findley did not fight that way. He was eventually reduced to following Guerrero around the ring while eating his shots. Guerrero, a southpaw, still needs a bit more seasoning, but he is not that far away from a meaningful fight. Findley, 26, of Gary, Ind., dropped his second in a row, having also lost to 2008 Russian Olympian to Top Rank prospect Matvey Korobov via eight-round decision in November. Findley also has losses to Andre Ward and Andre Dirrell.
Welterweight
Shawn Porter W10 Anges Adjaho
Scores: 99-91 (twice), 97-93
Records: Porter, 18-0, 13 KOs; Adjaho, 25-5, 14 KOs

Rafael's remark: Porter had his way throughout the fight with Adjaho, who has become a dependable stepping-stone opponent because he has faced quality opposition and usually gone the distance to give up-and-comers experience. That's about the best way to sum this one up for Porter, the 23-year-old prospect from Cleveland. Adjaho, who lives in Geneva, N.Y., but is from the African nation of Benin, did the best he could, but Porter was so much quicker and polished that Adjaho had little chance to keep up with him. Porter peppered him with shots from both hands and deftly moved out of the way of the return fire, although he did get clipped with a few decent right hands. Bottom line: Porter outhustled him. Also of note, Porter, who had been fighting as a junior middleweight before dropping down to welterweight for his last three fights, came in at a career-low 144 pounds. Adjaho, who has lost to the likes of lightweight titlist Miguel Acosta, lightweight contender Antonio DeMarco and prospects Brad Solomon and Mark Melligen, lost his fourth fight in a row.
Super middleweight
Dominic Wade W4 Grover Young
Scores: 40-36 (three times)
Records: Wade, 10-0, 9 KOs; Young, 4-1, 2 KOs

Rafael's remark: Wade, 19, was an accomplished amateur. He boxed in the U.S. Olympic trials as a 16-year-old and won four consecutive Silver Gloves national titles before turning pro in March 2009. The Washington, D.C., product is certainly a blue-chip prospect and got some valuable TV time on ESPN2's "Friday Night Fights," on which he and Young, 22, of Memphis, mixed it up for four entertaining rounds. Wade likes to be aggressive and is going to be a pleasure to watch in televised bouts. He's strong and skilled and seems determined. He and Young went at it throughout the fight, but Wade, a bit more polished and with better speed and accuracy with his punches, scored the shutout decision. Wade won every round, and Young was not blown out. This was a fun, entertaining fight, but Wade is the one who looks as if he could be going places.
Friday at San Francisco
Lightweight
Mercito Gesta TKO3 Genaro Trazancos
Records: Gesta, 21-0-1, 11 KOs; Trazancos, 22-14-1, 13 KOs

Rafael's remark: In August, Gesta, 23, a native of the Philippines living in San Diego, scored a seventh-round knockout of Trazancos. Yet for some reason, promoters Don Chargin and Golden Boy went with a pointless rematch as the main event of Telefutura's "Solo Boxeo." Gesta is an exciting up-and-comer, but giving the public a rematch with Trazancos was a complete waste of time. Trazancos, 36, of Mexico, probably shouldn't even be fighting anymore. Gesta laid an utter beating on him, handing him his fourth loss in a row and ninth defeat in his last 10 fights, eight of them by knockout. Seriously, what is the point of this joke fight? Gesta, a quick southpaw, punished Trazancos with combinations and uppercuts as he blasted him with head shots. He gave Trazancos such a beating that the worthless mismatch was called off after the third round on the advice of the ringside physician. It is just sad and pathetic that this mismatch served as a featured televised bout.
Lightweight
Eloy Perez W8 Roger Gonzalez
Scores: 80-72 (three times)
Records: Perez, 20-0-2, 5 KOs; Gonzalez, 27-4, 18 KOs

Rafael's remark: Perez had no trouble with Gonzalez, a smaller man who spent the bulk of his career fighting as a bantamweight and fought this fight at 133 pounds, about 15 pounds heavier than where he usually fights. Perez, 24, of Salinas, Calif., pitched the shutout because he was superior in every way: speed, punch output, accuracy, defensively, you name it. Easy fight to score in favor of Perez, who is closing in on a title opportunity even though his resume is remains awfully thin despite the glossy record. Gonzalez, 32, of Chino, Calif., who was fighting for the first time in 25 months, lost his third in a row, including a 10th-round knockout to future featherweight titlist Yuriorkis Gamboa in his previous fight in 2009.
Friday at Ljubljana, Slovenia
Welterweight
Jan Zaveck TKO5 Paul Delgado
Retains a welterweight title
Records: Zaveck, 31-1, 18 KOs; Delgado, 25-10-1, 5 KOs

Rafael's remark: Zaveck, 34, fought before a raucous hometown crowd, which apparently either had no idea or just did not care that Delgado was a horrid title challenger. Delgado, 34, of Atlanta, had never beaten anyone of remote note and always lost when facing even mid-level opponents. But somehow he found himself with a ridiculous ranking by the checkered IBF and was cherry picked for a title bout he had no business being involved in. At least Delgado showed heart, but that was about all he showed. Zaveck beat him down. Delgado got off the deck from a pair of second-round knockdowns, took his beating like a man and finally went down again on the end of a sweeping right hand in the fifth round. He was on a knee with one arm on the ring ropes as he decided if he would get up. He did, barely beating the count, but referee Benny Decroos thankfully called it off.
Dan Rafael is the boxing writer for ESPN.com. Follow him on Twitter @danrafaelespn.
Boxing
2013 BWAA Nat Fleischer Award winner for excellence in boxing journalism
ESPN.com boxing writer since 2005
Five years at USA Today
SPONSORED HEADLINES
MORE BOXING HEADLINES
MOST SENT STORIES ON ESPN.COM
EDITORS' PICKS
A thrilling trilogy takes more from its fighters than it gives.
Nigel Collins »

Mayweather, Pacquiao meet at a game, in private.
Dan Rafael »

Chavez ready for Fonfara, wants Froch.
Watch