Commentary
Brandon Rios scores dramatic TKO
Updated:
March 1, 2011, 11:46 AM ET
By
Dan Rafael
| ESPN.com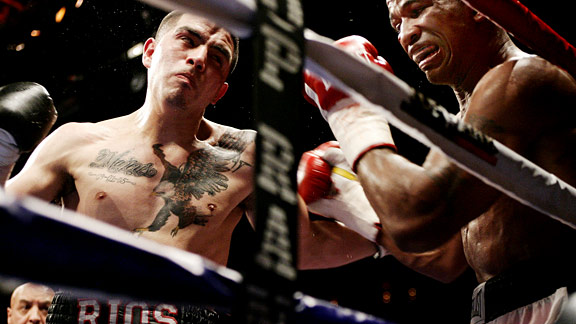 Chris Farina/Top Rank Brandon Rios turned his fight versus Miguel Acosta around and ended it in the 10th round.

A roundup of the past week's notable boxing results from around the world:

Saturday at Las Vegas
Lightweight
Brandon Rios TKO10 Miguel Acosta
Wins a lightweight title
Records: Rios (27-0-1, 19 KOs); Acosta (28-4-2, 22 KOs)

Rafael's remark: Things did not look good for Rios in the early going of the Showtime main event. The 24-year-old from Oxnard, Calif., had lost the first four rounds on two judges' scorecards and three of the opening four rounds on the third scorecard. In fact, Venezuela's Acosta, 32, was beating him easily. It looked like it might only be a matter of time until Acosta, who was landing solid punches, was going to get a knockout. Rios had been hurt by a body shot in the third round, had taken a beating in the fourth round and everything was going wrong for him in a fight in which he had been a 2-to-1 favorite.
Rios' status as the favorite might have been because Acosta is not well known to American boxing fans, even though he is really good. He was riding a 19-fight winning streak since 2003 and had looked good in recent fights, notably a ninth-round knockout of contender Urbano Antillon in July 2009 in an interim title bout and in a sixth-round knockout of Paulus Moses last May to claim a title in Moses' native Namibia. Meanwhile, Rios has been a staple of Top Rank cards, appeared on pay-per-view undercards (including on the Manny Pacquiao-Antonio Margarito show in November), the "Top Rank Live" series and on HBO in a big win over Anthony Peterson in September.
But a funny thing happened on the way to Acosta cruising to a victory: Rios turned things around in dramatic fashion. In the sixth round, he knocked Acosta down for the first of three times, nailing him with a left hook followed by a left jab and opening a cut under his right eye. In the eighth round, Rios, now in the groove, dropped Acosta again on the end of a left hook late in the round. Even though Rios, according to manager Cameron Dunkin, broke his right hand during the eighth round, he was undeterred. Rios and Acosta went toe-to-toe for most of the outstanding ninth round, a very early candidate for round of the year, before Rios ended it in the 10th round. He backed Acosta into the corner and nailed him with a left hand and a right to the temple. After two more lefts and two more rights, Acosta was out. He sunk to the canvas against the corner post. Referee Joe Cortez was in the process of stopping the fight at 1 minutes, 14 seconds as Acosta's corner was climbing onto the apron to throw in the towel. It was a stunning end to a very exciting fight. The future is bright for Rios and there are plenty of good fights out there for him if he can stay focused and keep himself out of trouble, which he has a long history of being in.
Featherweight
Roberto Marroquin W8 Gilberto Sanchez Leon
Scores: 78-74, 77-75 (twice)
Records: Marroquin (19-0, 14 KOs) ; Sanchez Leon (28-9-2, 10 KOs)

Rafael's remark: Marroquin, 21, of Dallas, is one of Top Rank's blue chip prospects, but he had some problems with the experienced Sanchez Leon, 30, of Mexico. It was quite a competitive fight and very technical, especially in the early rounds. Sanchez Leon used a good left hand and jab to win some of the early rounds while Marroquin tried to feel him out. Marroquin's best moment came in the fifth round, when he hurt Sanchez Leon with a short left hook that sent him staggering backward into the ropes. Marroquin nailed him with several follow-up shots and Sanchez Leon was desperate to hold on. The blows Marroquin landed in the fifth round definitely took some steam out of Sanchez Leon, who had some swelling on his face. The rest of the fight was also close, but Marroquin was faster and a sharper puncher, and he pulled it out -- although Top Rank's announcers, Barry Tompkins and Raul Marquez, who called the fight for Top Rank's international telecast and live website stream, each had it a draw. It was a good learning experience for Marroquin, who hopefully can take the lessons learned against Sanchez Leon and put them to good use as his level of opposition continues to increase. Marroquin will return to action in an eight-rounder that will open a "Top Rank Live" card on April 23.
Light heavyweight
Mike Lee TKO1 Pablo Gomez
Records: Lee (4-0, 3 KOs) ; Gomez (1-3-1, 1 KO)

Rafael's remark: Lee, 23, of Chicago, has garnered a lot of publicity for being a 2009 Notre Dame graduate with a finance degree who ignored a lucrative Wall Street job because he wanted to purse his passion for boxing. Already an attraction because so many Notre Dame alumni flock to his fights, Lee is making great strides as a young pro under the tutelage of trainer Ronnie Shields. Turning out to watch Lee were several notable former Fighting Irish football players, including Seattle Seahawks wide receiver Golden Tate, Kansas City Chiefs tight end Tony Moeaki and Notre Dame legend Rudy Ruettiger (yeah, the guy they made the movie "Rudy" about). Lee simply crushed Gomez, 31, of Denver. Gomez caught Lee with a wild right hand moments after the fight started, but Lee took the punch well and stormed back. He dropped Gomez with a flush right hand to the jaw, but Gomez got some extra recovery time because his mouthpiece came flying out and referee Russell Mora replaced it. The extra time did not help all that much as Lee dropped him to his rear end near the ropes again moments later with another right hand, and Mora immediately called it off at 2 minutes, 17 seconds. Lee, who had a limited amateur career, remains a work in progress, but he is one of the most interesting young fighters around because of his crowd-pleasing style combined with his potential to become a significant attraction due to the loyalty of all those Notre Dame followers who gobble up tickets to his fights.
Featherweight
Jesse Magdaleno TKO1 Jaime Gutierrez
Records: Magdaleno (3-0, 3 KOs); Gutierrez (3-5, 0 KOs)

Rafael's remark: Las Vegas' Magdaleno, 19, turned in another strong performance as he learns the ropes of being a professional. The younger brother of rising junior lightweight Diego Magdaleno, Jesse turned pro in November rather than pursue a spot on the 2012 U.S. Olympic team. He has a fun and exciting pro style, too. He went right at Gutierrez, 30, of Phoenix, swarming him with punches, including several solid body shots that quickly took their toll. Gutierrez took a knee under a hail of punches for the first knockdown. Moments later, he went down again from a hard jab to the gut and referee Russell Mora called it off at 2 minutes, 12 seconds. Magdaleno, who was 120-16 and won six major titles, including the U.S. Nationals and National Golden Gloves in 2009, as an amateur, is certainly a young prospect to keep an eye on.
Saturday at Grand Island, Neb.
Lightweight
Antonio DeMarco W12 Reyes Sanchez
Title eliminator
Scores: 117-111, 116-112, 115-113
Records: DeMarco (25-2-1, 18 KOs); Sanchez (20-4-1, 11 KOs)

Rafael's remark: Last February, Mexican southpaw DeMarco challenged the late Edwin Valero for a lightweight belt. Valero beat DeMarco down and stopped him in the ninth round in what would be his final fight before committing suicide days after murdering his wife. DeMarco, 25, returned in July, scored an easy second-round knockout of Daniel Attah and then landed this title eliminator with Mexican countryman Sanchez, 25, a fairly obscure boxer with a very limited resume. It was a rare professional fight in Nebraska and it opened Showtime's split-site doubleheader that also featured Brandon Rios' lightweight title victory against Miguel Acosta. In Cornhusker land, DeMarco was the clear winner in front of a surprisingly raucous crowd of more than 6,000. DeMarco landed a left hand in the opening minute of the fight that opened a cut over Sanchez's left eye. Sanchez's corner did a nice job of controlling the bleeding throughout the bout and it never became a serious factor. Sanchez was aggressive while DeMarco counter punched, but Sanchez (what was with the pink hair?) carried little pop in his punches as DeMarco walked right through them. Had Sanchez had more firepower, DeMarco probably would have been in big trouble. DeMarco landed the heavier punches throughout the fight, which the judges rewarded with the decision victory. It was a decent fight, with most of the action reserved for the final seconds of each round as each man tried to steal. The victory makes DeMarco the mandatory challenger for titleholder Humberto Soto, who has a nontitle bout on Saturday and then a May 7 rematch in a title defense against Urbano Antillon on the Manny Pacquiao-Shane Mosley Showtime PPV undercard. Soto and DeMarco, however, are cousins, and say they will not fight each other. So if Soto wins his rematch with Antillon, he plans to move up in weight and DeMarco likely will simply be given the title. If Antillon beats Soto, he would have to make his first defense against DeMarco.
Saturday at Merida, Mexico
Junior flyweight
Gilberto Keb Baas TKO8 Jose Antonio Aguirre
Retains a junior flyweight title
Records: Keb Baas (35-20-4, 22 KOs); Aguirre (35-10-1, 21 KOs)

Rafael's remark: In November, Mexico's Keb Baas, 33, scored a massive upset, winning a majority decision to claim a belt against heavily favored Omar Nino in a rematch of Keb Baas' 1998 win. Although Keb Baas' record is poor, at least he was 5-0-1 in his previous seven bouts before challenging the for the belt. Making his first defense, Keb Bass' team handpicked Aguirre, 35, also of Mexico. Aguirre is a former strawweight titlist whom the WBC absurdly approved for the title bout despite coming into the fight 2-7 in his last nine bouts since 2005, and neither victory was worth a damn -- one was against an opponent who was 4-5-1 and the other was against a foe 8-16-3 (and that was a split decision). The WBC has no credibility when dreck like this is sanctioned for a world title. Nonetheless, Keb Baas, as unlikely a titleholder as there is in boxing, did what he was supposed to do. He dominated the fight from the outset. He battered Aguirre to the body, broke him down and beat the hell out of him until he did not come out for the ninth round.
Saturday at Queretaro, Mexico
Flyweight
Julio Cesar Miranda TKO4 Arden Diale
Retains a flyweight title
Records: Miranda (35-5-1, 28 KOs) ; Diale (14-6-3, 3 KOs)

Rafael's remark: Miranda, 30, of Mexico, made the third defense of the vacant belt he won in June. It was another safe defense against a big underdog. Diale, 22, of the Philippines, did drop Miranda in the first round, but Miranda rallied and quickly regained control of the fight, badly hurting him in the action-packed third round before stopping him in the fourth. The win gave Mexico a victory in the emerging rivalry with the Philippines. Diale got the title shot despite a resume as thin as tissue paper. He has never beaten a notable opponent and lost to the two opponents who held belts, countryman Rodel Mayol and Johnriel Casimero (interim titlist).
Friday at Tulsa, Okla.
Featherweight
Juan Carlos Burgos TKO2 Frankie Archuleta
Records: Burgos (26-1, 19 KOs) ; Archuleta (27-8-1, 14 KOs)

Rafael's remark: Burgos, 23, of Mexico, is a legitimate featherweight contender. In November, he went to Japan and challenged Hozumi Hasegawa, the former bantamweight titleholder who had moved up in weight, for a vacant title. They put on a rousing slugfest that was one of the better fights of 2010, although Burgos lost a competitive decision. In his return fight, he was supposed to meet former titlist Cristobal Cruz in the ESPN2 "Friday Night Fights" main event, but Cruz, citing problems making the weight, withdrew a few weeks prior to the bout. Archuleta, 35, of Albuquerque, N.M., a big step down from Cruz, took the fight and did not last long. Archuleta has been a decent journeyman during his 14-year career, but he has not been too active in recent years. This was only his sixth fight since 2007. Burgos, the nephew of former junior flyweight titlist Victor Burgos, was just way too much for Archuleta. Burgos won the first round and then blew him out in the second. He scored three knockdowns in all, but Archuleta was basically finished after the first knockdown. His legs were gone after going down on the end of a counter left hook for the first knockdown. Burgos kept the pressure on as Archuleta wobbled around the ring and when he went down for third time, referee Gerald Ritter called it off without a count at 2 minutes, 33 seconds. Burgos would make for a good challenger against any of the featherweight titleholders, be it Juan Manuel Lopez, Yuriorkis Gamboa, Chris John or even a rematch with Hasegawa.
Friday at San Diego
Junior welterweight
Danny Garcia TKO2 John Figueroa
Records: Garcia (20-0, 14 KOs) ; Figueroa (7-9-3, 3 KOs)

Rafael's remark: As usual, it was another pre-ordained mismatch in the main event of Telefutura's "Solo Boxeo," one that Figueroa never stood a chance to win or even be competitive in. Garcia, a standout amateur who is one of the top prospects in boxing, is in his 20th pro fight yet Golden Boy matched him with a sub-.500 fighter in a televised main event. That is pathetic. So when Garcia blew out Figueroa, 30, of Puerto Rico, it should not have been a surprise. The surprise would have been if Garcia, 22, of Philadelphia, had not slaughtered him. Naturally, Garcia dominated the first round and then blitzed Figueroa in the second. Garcia staggered Figueroa with a left hook, sending him reeling backward and grabbing the ropes to keep from falling down. Garcia did not let up, firing several more shots against a defenseless Figueroa until referee Jose Cobian jumped in to stop it at 52 seconds after one final right hand landed. Just a disgrace that this served as a televised main event. "Solo Boxeo" is not even worth watching live anymore.
Super middleweight
Marco Antonio Periban TKO1 Dion Savage Jr.
Records: Periban (11-0, 8 KOs) ; Savage Jr. (10-1, 6 KOs)

Rafael's remark: In a meeting between undefeated prospects, Periban, 26, of Mexico, blew out Savage, 24, who is from Flint, Mich., and in the Floyd Mayweather Jr. camp; he is also trained by Roger Mayweather. This one was over in just 33 seconds as Periban blinded Savage with a left jab and then cracked him dead on the chin with a right hand. Savage lost his legs immediately and fell face first to the canvas. He popped right back up, but his balance was gone as he stumbled around. He made it to a corner and when referee Tom Taylor asked him to take a step forward he was non-responsive, and Taylor called it off. It was a stunning outcome to what was on, on paper at least, an intriguing fight.
Friday at Palm Bay, Fla.
Junior welterweight
Jesus Pabon TKO1 Americo Santos
Records: Pabon (17-1, 11 KOs) ; Santos (26-4-1, 22 KOs)

Rafael's remark: Well that was fun while it lasted wasn't it? Pabon, 30, of Puerto Rico, and Santos, 27, of Garland, Texas, are not the most refined boxers in the world, but they came out guns blazing as they rumbled from the opening bell in the Telemundo main event. Pabon, however, has more skill and did not use his face to block punches the way Santos did. After some wild exchanges, Pabon landed a flush straight left hand to the face of a wide open Santos and dropped him flat on his back in the center of the ring. He was wobbly, but survived. However, moments later, Pabon landed the same shot again and Santos went down for the second time. He popped right back up but was clearly in no shape to continue, and referee Frank Gentile called it off at 2 minutes, 45 seconds. Pabon won his seventh fight in a row. Santos, who had not fought since October 2007, dropped his second fight in a row (both by first-round knockout) and his third in his past four.
Thursday at Los Angeles
Super middleweight
Bastie Samir TKO3 Eddie Hunter
Records: Samir (10-0, 10 KOs) ; Hunter (5-5-2, 2 KOs)

Rafael's remark: Samir, 24, was a 2008 Olympian for his native Ghana, but now lives in Las Vegas, where he trains under the guidance of Kenny Adams, one of the best in the business. Samir turned pro shortly after the Olympics and fought three times as a pro before visa problems caused a nearly two-year layoff while he was stuck in Ghana and ironing out his paperwork. He is making up for list time as Golden Boy is keeping him busy as he was already fighting for the third time in 2011, including this bout on the "Fight Night Club" series. Hunter, 24, of Kent, Wash., was a little slick and it took Samir a couple of rounds to figure him out, but Samir broke through in the third round when he hurt him with a left hook. Samir followed up with a flurry of punches, including another hook, forcing referee Raul Caiz Jr. to call it off 51 seconds into the round. Regardless of how far Samir goes, he is going to make some fun TV fights.
Thursday at San Bernardino, Calif.
Heavyweight
James Toney W10 Damon Reed
Scores: 100-90 (three times)
Records: Toney (73-6-3, 44 KOs) ; Reed (45-15, 32 KOs)

.
Rafael's remark: Fighting for the first time in 17 months, Toney, 42, scored a shutout decision against Reed, a Topeka, Kan., journeyman who has always lost when he has stepped up in class. Toney, a former three-division champion -- middleweight, super middleweight and cruiserweight -- is way past his prime, but could probably beat guys like Reed when he's 60. Toney, from Grand Rapids, Mich., and now living in Los Angeles, has said repeatedly that he wants a shot at one of the titles held by brothers Wladimir and Vitali Klitschko. That's not going to happen because the match would be considered cruel and unusual punishment. Besides, if Toney was really serious about making a some sort of statement that he should have a title shot, he would not have weighed a career-high 257 pounds against Reed, 20 pounds more than his previous high, when he was 237 in his first fight with then-titleholder Hasim Rahman in their 2006 draw. Reed, 39, lost his second fight in a row and fourth out of his past six bouts.
Dan Rafael is the boxing writer for ESPN.com. Follow him on Twitter @danrafaelespn.
Boxing
2013 BWAA Nat Fleischer Award winner for excellence in boxing journalism
ESPN.com boxing writer since 2005
Five years at USA Today
SPONSORED HEADLINES
MORE BOXING HEADLINES
MOST SENT STORIES ON ESPN.COM
EDITORS' PICKS
Mike Alvarado, Brandon Rios ready for chapter three.
Dan Rafael »

Gilberto Ramirez wins decision over Maxim Vlasov.
Dan Rafael »

Alvarez-Kirkland bout tentatively set for May 2.
Dan Rafael »