Commentary
Martinez's stock continues to rise
Updated:
March 14, 2011, 5:41 PM ET
By
Dan Rafael
| ESPN.com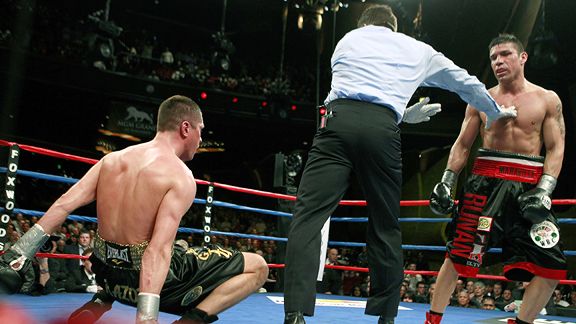 AP Photo/Michael DwyerSergio Martinez knocked down Sergiy Dzinziruk three times in the eighth round.

A roundup of the past week's notable boxing results from around the world:

Saturday at Mashantucket, Conn.
Middleweight
Sergio Martinez TKO8 Sergiy Dzinziruk
Retains the world middleweight title
Records: Martinez, 47-2-2, 26 KOs; Dzinziruk, 37-1, 23 KOs

Rafael's remark: Martinez is simply in a zone right now, fighting as well as anybody in the world as he continues to rise on the pound-for-pound list. Manny Pacquiao has owned the No. 1 spot, but Martinez is not far behind (if at all), especially with Floyd Mayweather on the sideline and not fighting. Martinez, at 36, has become a complete fighter. The consensus 2010 fighter of the year has above-average speed, defense, power, ring intelligence and overall skills. And he is winning decisively against the best opponents -- Kelly Pavlik, Paul Williams (in the 2010 knockout of the year) and now Dzinziruk -- in his past three fights, not just cherry-picking them.
Regardless of the fact the awful WBC stripped Martinez of its middleweight title, he remains the legitimate, true and lineal 160-pound champ of the world as he dissected Ukraine's Dzinziruk in stunningly one-sided fashion. When the fight was made, even though Martinez was considered the favorite, it was expected by most to be a competitive fight. Dzinziruk, 35, is no joke. He was a 1996 Olympian and owns a junior middleweight title, which he defended six times before moving up for the opportunity (and a career-high payday) to challenge fellow southpaw Martinez. Dzinziruk was also known for his killer jab and exceptional defense. But Martinez nullified both in shockingly easy fashion. In fact, according to CompuBox statistics, Martinez was the one who owned the fight with his jab, landing 147 of 348 jabs (38 percent) to Dzinziruk's 80-of-242 (33 percent). Martinez landed an average of 18 jabs per round -- three times the middleweight average. In addition, Dzinziruk had never been knocked down as a professional or as an amateur. But by the time the fight was over, he had tasted the canvas five -- count 'em, five -- times as Martinez routed him.
While Martinez's camp, especially promoter Lou DiBella, did not want to fight Dzinziruk and was upset at the way the fight was forced on him by HBO, Martinez was up for the challenge, even though head trainer Gabriel Sarmiento missed the fight due to an undisclosed personal issue and was replaced by his brother, Pablo Sarmiento. The way Martinez, a native of Argentina living in Oxnard, Calif. (and taking English lessons), fought, it didn't look like he needed anyone in the corner. He dropped Dzinziruk to a knee in the fourth round. He dropped him again with a sizzling three-punch combination in the fifth round. And then in the eighth round, Martinez decked him with a brutal overhand left -- the same punch that put Williams to sleep in November. Martinez would score two more knockdowns in the round before referee Arthur Mercante Jr. called off the violence at 1 minute, 43 seconds. It was an awesome performance by a brilliant fighter who has not ducked anyone -- and who is going to have trouble getting a really big fight because he is so damn good.
Middleweight
Andy Lee TKO10 Craig McEwan
Records: Lee, 25-1, 19 KOs; McEwan, 19-1, 10 KOs

Rafael's remark: This was a heckuva fight filled with action right up until the dramatic ending. Lee, 26, a 2004 Irish Olympian, was originally supposed to fight countryman John Duddy. However, Duddy abruptly announced his retirement in mid-January. So rather than the expected all-Irish showdown, Scotland's McEwan, 28, who is based in Los Angeles, got the call for what was promoted as the "Celtic War." Good title, because this was a slugfest, one in which both fighters were without their usual head trainers. Freddie Roach, McEwan's trainer, is in the Philippines prepping Manny Pacquiao for his May 7 fight against Shane Mosley, while Emanuel Steward, Lee's trainer and manager, was in Las Vegas for Miguel Cotto's junior middleweight title defense against Ricardo Mayorga on the same night. Lee started out fast with a dominant first round. But McEwan, a southpaw like Lee, stormed back to take several rounds in a row in a fight that had the crowd cheering. Lee felt he was behind and needed to do something dramatic in the closing rounds. Turns out he was right because the fight, in which Lee was the favorite, was down 86-84 on one card and even (85-85) on the other two going to the 10th and final round. Lee began to turn things around in the ninth round against the increasingly tiring McEwan when he dropped him near the end of the round. McEwan, who had once lost to Lee as an amateur, was fading fast in the 10th when Lee backed him up and dropped a big left hand on his jaw. McEwan collapsed to his knees and referee Steve Smoger called it off at 56 seconds. Lee essentially rescued his career with the win. A loss would have been a huge setback for a fighter once thought to be the future of the middleweight division. By winning so dramatically in such a good fight on the undercard of champion Sergio Martinez, Lee probably will be on the short list of possible opponents for Martinez's next defense. In fact, before Lee agreed to fight Duddy, a deal was in place for him to fight Martinez on this night. However, HBO changed its mind and reneged on the deal, which sent him to the undercard instead.
Featherweight
Javier Fortuna KO8 Derrick Wilson
Records: Fortuna, 14-0, 11 KOs; Wilson, 8-2-2, 2 KOs

Rafael's remark: Fortuna, 20, of the Dominican Republic, fights like a blaze of movement. He's a wild, free-swinging prospect who appears fearless as he tried to simply knock Wilson's head off throughout the fight. He went after the more orthodox Wilson round after round, but inflicted damage along the way. He dropped Wilson, 22, of Fort Myers, Fla., four times in all -- in the third, sixth and twice in the eighth round -- but the finisher was the prettiest of them all. It was a solid left hand to the jaw that knocked Wilson down so hard that referee John Callas called off the fight at 2 minutes, 27 seconds without bothering to complete the count. Fortuna is going to have to tighten up his defense. He is so wild that he is bound to get clipped when he leaves himself so open. Wilson, however, could not take advantage of that defensive sloppiness and he paid the price. As long as Fortuna is swinging, he is going to be awfully fun to watch. He is in good hands as far as how he is moved along because he shares the same team as middleweight champ Sergio Martinez -- promoter Lou DiBella, adviser Sampson Lewkowicz and trainer Gabriel Sarmiento.
Welterweight
Thomas Dulorme TKO2 Guillermo Valdes
Records: Dulorme, 10-0, 9 KOs; Valdes, 12-3, 3 KOs

Rafael's remark: Wow. Dulorme is as good looking a prospect as we've seen in a long time. The 21-year-old from Puerto Rico looks like he has power and he definitely has loads of hand and foot speed, skills and charisma. He did it all against Miami's Valdes, who, granted, is not a top opponent. But the way Dulorme, who recently moved up from junior welterweight, went about taking him apart was very impressive. He landed an array of punches from all angles and with both hands and worked the body well, which is something young fighters often neglect. He rocked Valdes repeatedly and when he landed a hard right hand to his ear and then followed up with a couple of more blows, referee Dick Flaherty properly stopped the fight at 2 minutes, 30 seconds. With many media members, as well as HBO executives, watching ringside, his three promoters, partners Gary Shaw, Lou DiBella and Javier Bustillo, got what they wanted: A spectacular performance from a possible future star.
Saturday at Las Vegas
Junior middleweight
Miguel Cotto TKO12 Ricardo Mayorga
Retains a junior middleweight title
Records: Cotto, 36-2, 29 KOs; Mayorga, 29-8-1, 23 KOs

Rafael's remark: Conventional wisdom heading into this Showtime PPV main event was that it would be exciting while it lasted and that Cotto would win. That's what happened. They turned in an exciting action fight, albeit one that Cotto dominated before dropping the former two-division titleholder with a flush left hook early in the final round before 7,247 at the MGM Grand. When Nicaragua's Mayorga went down, he also clearly had some sort of problem with his left hand, which he overtly stuck out. After the fight, Mayorga said it was a thumb injury. Although Mayorga continued to fight after the knockdown, he didn't for long. He eventually backed into a corner after taking another shot from Cotto and quit, shaking his hand and forcing referee Robert Byrd to call it off at 53 seconds. Cotto, who is now 16-2 in world title bouts, had been ahead 107-102 on all three scorecards at the time of the stoppage. Although one-sided on the scorecards, it was a fun fight from the opening bell as three-division titlist Cotto, 30, the pride of Puerto Rico, retained his 154-pound belt for the first time. He had moved up from welterweight last summer and stopped Yuri Foreman to win the title at Yankee Stadium. However, Cotto took the rest of the year off to have shoulder surgery and also just to rest. In his second fight with trainer Emanuel Steward, Cotto looked pretty good against Mayorga. He let his hands go, boxed well, jabbed well and roughed up Mayorga, 37, who wanted to make it a brawl from the outset after predicting a knockout inside of four rounds. That did not come close to happening. Instead, Cotto tagged Mayorga with a lot of hard punches, like in the fifth round, for example, when he landed several hard uppercuts. Mayorga had some good moments. He landed some solid right hands that Cotto took well, although he definitely had him a bit rocked by one of those right hands in the seventh round, when Cotto looked a bit wobbly heading back to his corner.
Although Mayorga had fought only once since a September 2008 knockout loss to Shane Mosley, and that was a December tune-up fight against journeyman Michael Walker, he acquitted himself well against Cotto. If Mayorga, who is 4-5 in his past nine bouts, decides to continue fighting, he can probably get himself another notable fight just based on his reputation for exciting fights and because of all the trash he talks (but rarely backs up) during a promotion. He earned only $50,000 for the fight with Cotto because the rest of what he would have earned went to promoter Don King to pay off what he owed him. Cotto earned at least $1 million (and could get more if the pay-per-view is successful) but is in line for a much bigger payday. The fight Top Rank promoter Bob Arum said he wants to make is a rematch between Cotto and Antonio Margarito on July 16. Margarito won the first fight and a welterweight title via 11th-round knockout in July 2008. However, the victory is tainted because of the strong belief by many that Margarito fought with loaded gloves. He was caught with loaded gloves before his next fight against Mosley.
Junior middleweight
Pawel Wolak TKO6 Yuri Foreman
Records: Wolak, 29-1, 19 KOs; Foreman, 28-2, 8 KOs

Rafael's remark: Wolak, born in Poland and based in New Jersey, is a hard-charging, action fighter who scored a career-best victory in this dominant performance against former titleholder Foreman, a native of Belarus living in Brooklyn and studying to become a rabbi. In his last fight, Foreman, 30, lost his title when he was stopped by main event winner Miguel Cotto in the ninth round at Yankee Stadium last June after blowing out his right knee, but continuing to fight in a memorable scene. Foreman, who dedicated the fight to his late manager, Murray "Schpipples" Wilson, who was his biggest advocate until dying a few months ago, did not go for an easy touch in his return fight, instead electing to face Wolak, 29, who is limited, but tough as nails. Surprisingly, Wolak won every round on all three scorecards. He dished out such a beating on Foreman, especially during the fifth and sixth rounds, that Foreman's corner called off the fight after the sixth round. Foreman usually relied on defense and movement to evade punches, which has often put him in boring fights. But he could not evade the punches against Wolak, who applied so much pressure. Foreman said afterward that his knee was not the problem, just that he did not feel like himself. After two losses in row, both by stoppage (as well as a career as a rabbi waiting for him), perhaps Foreman will hang up the gloves.
Heavyweight
Tom Zbikowski TKO1 Richard Bryant
Records: Zbikowski, 2-0, 2 KO; Bryant, 1-3, 1 KO

Rafael's remark: Zbikowski, 25, of Arlington Heights, Ill., fought in 2006 on the Miguel Cotto-Paulie Malignaggi pay-per-view undercard. That was while he was still playing college football at Notre Dame. Now Zbikowski plays safety for the Baltimore Ravens, but with the NFL labor strife ongoing, he elected to return to boxing, which he took up when he was 9 and in which he has fashioned a 75-15 amateur record. Zbikowski, who fought as a 193-pound cruiserweight, gave up quite a bit of weight to the 225-pound heavyweight Bryant. But Zbikowski made $50,000 while Bryant, a hand-picked 35-year-old from London, Ky., made just $1,500. When the disparity is that great in money you know what is supposed to happen. Bryant had no chance as Zbikowski needed just 1 minute, 45 seconds to take him out. First, Zbikowski threw him to the canvas when they got tangled up. Then, he ended the fight with a left hand to Bryant's midsection. He went down on a delayed reaction and beat the count, but referee Russell Mora decided to call it off. It was a sloppy fight with little skill on display, but Top Rank promoter sure got a lot of mileage out of the bout to help promote the show because of the interest it sparked due to Zbikowski's NFL connections at a time when the labor dispute has been in the headlines. Zbikowski said he intends to continue fighting during the lockout and is supposed to return March 26 on Top Rank's HBO card in Atlantic City, N.J.
Lightweight
Miguel Vazquez W12 Lenny Zappavigna
Retains a lightweight title
Scores: 118-110 (twice), 117-111
Records:Vazquez, 28-3, 12 KOs; Zappavigna, 25-1, 17 KOs

Rafael's remark: Vazquez is easily the least known of the top lightweights, but he is a skilled fighter with a good jab which he used to outclass and slice up Zappavigna -- "Lenny Z," as he is known to many -- on his way to making a successful second title defense. Mexico's Vazquez, 24, won a vacant belt by scoring a lopsided decision against Ji Hoon Kim in August. Zappavigna, 23, of Australia, knocked Kim out in the first round in October to become Vazquez's mandatory. Vazquez used his height and reach advantage, as well as movement, to frustrate Zappavigna throughout the fight. Vazquez does not do anything fancy, but he is effective. He jabbed Zappavigna and the blows took their toll. In the fifth round, he opened a cut on Zappavigna's right eye and raised swelling. In the 10th round, he opened two separate cuts over his left eye, which streamed blood. Zappavigna just did not have the game plan to deal with the jab or movement. Vazquez's next move is uncertain, but he is with Top Rank, which also promotes several other top lightweights -- including titlist Brandon Rios -- meaning fights against them would be relatively easy to make.
Middleweight
Matvey Korobov TKO1 Michael Walker
Records: Korobov, 14-0, 9 KOs; Walker, 19-7-2, 12 KOs

Rafael's remark: Korobov, 28, was a 2008 Russian Olympian and a hugely successful amateur. Although he has been winning as a professional, his improvement seems to have leveled off somewhat. He has had layoffs, nose problems and several trainer changes, although now he is working with former world champion Mike McCallum. Walker, 32, of Chicago, posed no challenge for Korobov, who stopped him with a left hand in just 91 seconds. Walker, a favorite opponent for a rising contender or veteran in need of a win, lost his sixth in a row and fourth in a row by knockout. Among those to also beat Walker in recent fights: Ricardo Mayorga, Andy Lee, Fernando Guerrero and Daniel Jacobs.
Saturday at Glasgow, Scotland
Junior lightweight
Ricky Burns TKO7 Joseph Laryea
Retains a junior lightweight title
Records: Burns, 31-2, 8 KOs; Laryea, 16-3, 11 KOs

Rafael's remark: Burns outpointed Roman Martinez to win a 130-pound belt in September in a fantastic fight, one of the best of 2010. And now Burns' promoter, Frank Warren, is cherry-picking opponents for him to look good against. So for both of his title defenses, Burns, 27, who was fighting in front of a home crowd, has been in soft and notched the expected victories. The latest victim was Laryea, 25, of Ghana, whose résumé is devoid of anything remotely resembling a win good enough to be in a world title bout. In any event, Burns did was he was supposed to do. He was too fast and too accurate for Laryea, who tried but was outclassed. Finally, after the seventh round, Laryea retired on his stool, citing a damaged hand. Burns has expressed interest in participating in more significant fights and there has been talk of a possible summer unification match with titleholder Mzonke Fana of South Africa.
Light heavyweight
James DeGale TKO5 Alpay Kobal
Records: DeGale, 10-0, 8 KOs; Kobal, 7-13-2, 5 KOs

Rafael's remark: DeGale, 25, won a gold medal for Britain in the 2008 Olympics and is widely regarded as one of boxing's most significant prospects. He won the British super middleweight title in December with an impressive ninth-round knockout of quality opponent Paul Smith and is looking forward to a possible April 9 showdown with George Groves (12-0, 10 KOs), another of Britain's top rising fighters. But DeGale wanted to stay busy and promoter Frank Warren added him to this bill on about a week's notice. It was nothing more than a fight designed to keep DeGale sharp, and that is what he did. He easily manhandled Kobal, 34, of France. He pounded on him and marked up his face until referee Victor Loughlin stepped in to stop the fight at 1 minute, 37 seconds of the fifth round, sending Kobal to his fourth defeat in a row and a record of 0-4-1 in his past five bouts.
Friday at Las Vegas
Heavyweight
Michael Grant KO3 Tye Fields
Records: Grant, 47-4, 35 KOs; Fields, 45-3, 41 KOs

Rafael's remark: Eleven years ago Grant, the chiseled 6-foot-7, 252-pounder from Atlanta, was a top heavyweight contender getting ready to face then-champion Lennox Lewis. Lewis, of course, crushed Grant in two rounds. Grant was never the same. But Grant, now 38, has plugged on, mostly winning against subpar competition and losing along the way to other contenders. In his last fight in August, he put up a good fight in an entertaining bout with Tomasz Adamek, but lost a clear decision. In his return from that defeat, Grant faced the 6-9, 278-pound Fields, 36, of Las Vegas, in the main event of a poorly conceived pay-per-view card. But it was a good opportunity for Grant to score an easy win against an opponent who, despite his size and padded record, is not very good. Grant hurt Fields with a right hand in the second round, but Fields rebounded to rock Grant with a left. But Grant was OK and finished Fields with a single, thudding right hand to the chin in the third round. Fields hit the deck like a sack of rock, bounced his head off the canvas and was a wobbly mess as he tried to get to his feet, even though referee Joe Cortez called it off at 1 minute, 6 seconds. Fields said before the fight that if he couldn't win he should probably hang up the gloves. For Grant, it was a decent performance and probably gives him hope for a bigger fight down the line.
Welterweight
Joel Casamayor W10 Miguel Leyva
Scores: 97-92, 96-93 Casamayor, 95-94 Leyva.
Records:Casamayor, 38-5-1, 22 KOs; Leyva, 20-2, 12 KOs

Rafael's remark: For most of the 2000s, Casamayor was one of the premier fighters in the world. The 1992 Olympic gold medalist, who defected shortly before the 1996 Olympics, became the most successful of all the era's Cuban defectors. He won titles at junior lightweight and lightweight and faced numerous top opponents. But at 39 and with so many fights (some 400 as an amateur) behind him, he has been in steep decline the past few years. He entered this must-win bout having lost two of his past three. Casamayor was supposed to face former junior lightweight titlist Mike Anchondo, but wound up facing Mexico's Leyva, 28, on a week's notice instead when Anchondo pulled out. Although Casamayor got the nod in the a split decision, this was no easy victory. He had to use all of his wily veteran ways to stave off the aggressive Leyva, who was fighting outside of Mexico for the first time. Casamayor aided his cause by scoring a knockdown with a left uppercut to the gut moments before the fifth round ended. But just the mere fact Casamayor would struggle with an opponent such as Leyva shows you just how far he has fallen as he has advanced in years. Casamayor is a probable Hall of Famer, but the late stages of his career have not been pretty. Leyva is an opponent that the Casamayor of just a few years ago would have toyed with.
Dan Rafael is the boxing writer for ESPN.com. Follow him on Twitter @danrafaelespn.
Boxing
2013 BWAA Nat Fleischer Award winner for excellence in boxing journalism
ESPN.com boxing writer since 2005
Five years at USA Today
SPONSORED HEADLINES
MORE BOXING HEADLINES
MOST SENT STORIES ON ESPN.COM
EDITORS' PICKS
Rios revives his career with win against Alvarado.
Scorecard »

Rios dominates Alvarado in their rubber match.
Dan Rafael »

Gilberto Ramirez wins decision over Maxim Vlasov.
Dan Rafael »