Commentary
Gamboa crushes Solis in lopsided win
Updated:
March 29, 2011, 1:58 PM ET
By
Dan Rafael
| ESPN.com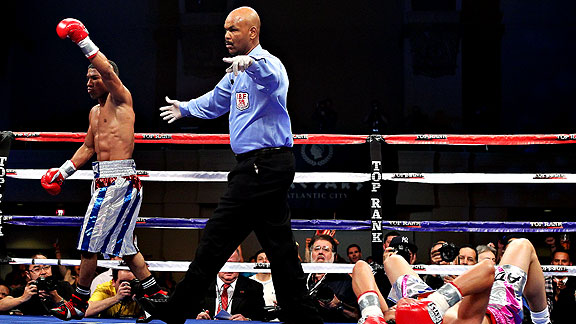 Ed Mulholland/FightWireImages.comA familiar scene: Yuriorkis Gamboa knocked down Jorge Solis five times on his way to victory.

A roundup of the past week's notable boxing results from around the world:

Saturday at Atlantic City, N.J.
Featherweight
Yuriorkis Gamboa TKO4 Jorge Solis
Retains a featherweight title
Records: Gamboa, 20-0, 16 KOs; Solis, 40-3-2, 29 KOs

Rafael's remark: Just for comparison's sake, how about this: In 2007, pound-for-pound king Manny Pacquiao stopped a game Solis, 31, of Mexico, in the eighth round of a junior lightweight bout. Gamboa crushed him in half the time. Solis, who now holds an interim title at 130 pounds and is one of the best in the world at the weight -- if not the best -- dropped down to featherweight to challenge Gamboa for his 126-pound belt and was utterly blown out.
The 29-year-old Gamboa, a 2004 Cuban Olympic gold medalist who defected in 2007 and is now based in Miami, was positively electrifying against Solis. Gamboa has incredibly fast hands, quick feet, power in both hands and an instinct in the ring that makes him extremely dangerous and explosive at any given moment. When he turned pro, he was reckless (which led to multiple knockdowns) and extremely offensive-minded. In recent fights, such as his September struggle with Orlando Salido, Gamboa has not been quite as exciting to watch. But the way he fought against Solis made him look like the total package of offensive firepower, volume punching and defensive responsibility. Gamboa looked so outstanding against Solis, shredding a really good fighter with ease, that he ought to move into the top 20 on the pound-for-pound list.
The fight that fans and media want to see in the talent-rich featherweight division is Gamboa in a unification bout with Puerto Rico's Juan Manuel Lopez. The fighters would like to make it, but their promoter, Top Rank, is trying to build it bigger commercially. It's almost ready to happen, perhaps in the first quarter of 2012. Lopez fights Salido on April 16. Top Rank would like Gamboa to fight again in August. If Lopez beats Salido, he would get one more fight this year. And then, hopefully, the showdown would be made. In the meantime, Lopez was ringside to get a firsthand look at Gamboa slicing through Solis in brutal fashion.
Gamboa knocked down Solis a total of five times. He scored the first knockdown with a right-left combination in the second round. Another came in the second round on a right hand, although the punch was behind the head and he was not penalized. (The one knock on Gamboa is that he has a tendency to throw illegal shots behind the head, which is dangerous and unnecessary, given his offensive gifts.) The third knockdown was a hard one off a left hook at the end of the third round. In the fourth, it was more destruction, as Gamboa first floored Solis with a flush right hand then drove him into the canvas with a barrage of about a dozen shots to end the fight in sensational fashion. It was about as flawless a performance as Gamboa could have authored against the best opponent of his career so far. It should help add to his fan base, which is what Top Rank is trying to build before making the fight with Lopez. Hopefully, we will get the fight so we can see a classic battle and find out which of them really is the best featherweight in the world.
Featherweight
Miguel Angel "Mikey" Garcia TKO10 Matt Remillard
Records: Garcia, 25-0, 21 KOs; Remillard, 23-1, 13 KOs

Rafael's remark: Since turning pro in 2006, Garcia, 23, of Oxnard, Calif., has had big things expected of him. He comes from a boxing family and has been groomed to be a champion from the crib. His older brother and trainer, Robert, is a former junior lightweight titlist. Top Rank has brought the younger Garcia along very well, and it has shown. He is so poised, so mature and so polished that he makes his fights appear almost effortless. Even though his win against Remillard, 24, of Manchester, Conn., was a bit uneventful, Garcia thoroughly dominated, despite a badly upset stomach. He was quicker and more accurate than Remillard, who displayed a good body attack but did not punch hard enough to gain Garcia's respect. Garcia took his time and broke down Remillard, breaking through in the ninth round, when he scored the first knockdown with a sweeping left hook. It wasn't a clean shot, and Remillard, who was in his first fight since signing with Top Rank in January, didn't appear fazed by the blow, but he was hurt later in the round, when Garcia punished him with flurries of punches and knocked him down to his rear end with a left hook. Remillard was fading fast in the 10th round and unable to keep Garcia off of him. As the fight was coming to a close, Garcia landed a nice right hand behind the ear that dropped Remillard again. Clearly a beaten man in a one-sided fight, Remillard saw his night end when his compassionate corner made the right call and asked the referee to stop the fight. A good win for Garcia, who is headed toward an eventual title shot. For Remillard, he took a big step up in competition and found out he was not ready for that caliber of opponent. Back to the drawing board.
Junior featherweight
Teon Kennedy W12 Jorge Diaz
Scores: 118-109, 117-109, 115-111
Records: Kennedy, 17-0-1, 7 KOs; Diaz, 15-1, 9 KOs

Rafael's remark: This looked like a tremendous fight on paper -- and it turned out exactly that way. It's just a shame the bout wasn't televised. It should have been the main event of a card on ESPN2, "ShoBox" or "Top Rank Live." It was a good, regional rivalry between undefeated prospects with clashing styles. Kennedy, 24, of Philadelphia, is a fast boxer, while Diaz, 23, of New Brunswick, N.J., throws a ton of punches and loves to brawl. The fight sold many of the tickets to the card, and fans got their money's worth and more. It was a high-energy slugfest from the start. Diaz started exceptionally fast, but Kennedy did a nice job of staying with him and not getting overwhelmed by his activity. Despite Diaz's aggressiveness, it was Kennedy who scored a knockdown in the third round, when he landed a left hook to the head. The action was hot and heavy in the ensuing rounds, and then came the outstanding sixth round -- a round of the year-type. Kennedy landed a massive right hand to Diaz's head, sending him down to his knees. Although he was hurt, Diaz -- who has a lot of Arturo Gatti in him (and not just because Diaz is with manager Pat Lynch, who also guided the career of the late-action star) -- has a big heart and continued to fight hard, even though Kennedy was hammering him. After another left hand rocked Diaz, referee Steve Smoger gave strong consideration to stopping the fight. Diaz was not badly dazed, but his legs were gone. Smoger, one of the best referees in the business, has an uncanny knack for knowing when to stop a fight. He let this one continue, and it was the right call. Diaz got himself together and grabbed on to Kennedy before they fell to the canvas as the wild round came to a close. Kennedy tried to box but was forced to fight, as Diaz continued to pursue him through the second half of the fight. But Diaz was also tiring and his punch output decreased as Kennedy continued to win rounds, with the crowd cheering throughout. A very good fight that ended with Diaz's face swelling and Kennedy walking away with a cut over his right eye.
Heavyweight
Tom Zbikowski W4 Caleb Grummet
Scores: 39-36 (twice), 38-37
Records: Zbikowski, 3-0, 2 KOs; Grummet, 0-1-1

Rafael's remark: Zbikowski, 25, of Arlington Heights, Ill., has received enormous attention because he is a safety for the Baltimore Ravens who is attempting to box professionally during the NFL lockout. Some view him as a bit of a sideshow, but make no mistake, Zbikowski is serious about this endeavor, at least as long as the labor dispute lasts. He went 75-15 as an amateur and is clearly a gifted athlete, so he has a foundation. He also is now working with Hall of Fame trainer Emanuel Steward, one of the great teachers in boxing who was in Zbikowski's corner for the first time. But after blowing out his first two opponents in less than a round (in his pro debut in 2006 and his second fight on March 12), Zbikowski was in a real fight this time. He had some trouble, was forced to go four rounds at a brisk pace and was stunned by some shots. But the win is in the books, and this was a great learning experience that will make him a better fighter. Grummet, 29, of Lake Odessa, Mich., was slow and lacked technique, but showed a lot of effort and had some experience as a mixed martial arts fighter. He pushed a tiring Zbikowski (who was a 195-pound cruiserweight outweighed by 20 pounds against a heavyweight) and hurt him in the fourth round with a right uppercut. But Zbikowski had done enough in the first two rounds, in addition to getting an assist when Grummet was docked a point for a low blow in the third round, to claim the competitive victory. Zbikowski and Steward need more time together. Who knows? Maybe Zbikowski can develop. Whatever happens, he has been fun to watch.
Junior middleweight
Glen Tapia W6 Eberto Medina
Scores: 60-52, 60-53, 59-54
Records: Tapia, 9-0, 5 KOs; Medina, 5-6, 1 KO

Rafael's remark: Tapia gained some notoriety last fall when he performed well as a sparring partner for pound-for-pound king Pacquiao when he was getting ready to fight Antonio Margarito. Tapia, 21, of Passaic, N.J., is a physically strong and determined prospect who should only get better with experience. His schedule was dealt a slight setback when he returned from Pacquiao's camp and, despite winning an October fight against Quinton Whitaker, suffered a broken jaw. Making his return from the injury, Tapia showed no ill effects. He was busy, punched hard and dominated Medina, 27, of Newark, N.J., who showed true grit to make it to the final bell. Tapia doled out a beating in an entertaining, albeit one-sided, fight. Although Tapia ravaged him with right hands, Medina took those punches. But a stiff jab in the final seconds of the third round dropped Medina, as Tapia rolled to the decision.
Saturday at Ekaterinburg, Russia
Middleweight
Dmitry Pirog W12 Javier Francisco Maciel
Retains a middleweight title


Scores: 117-111, 115-112, 115-111
Records: Pirog, 18-0, 14 KOs; Maciel, 18-2, 12 KOs

Rafael's remark: Pirog was an obscure Russian fighter (on this side of the globe, anyway) when he came to Las Vegas last July as a heavy underdog to face hot prospect Daniel Jacobs for a vacant middleweight belt. But Pirog, 30, made a tremendous splash when he knocked out Jacobs in the fifth round in a strong performance on HBO PPV. Then Pirog disappeared, failing to capitalize on his big win before returning eight months later to face handpicked Maciel, 26, of Argentina. Thanks to ESPN3.com, American fight fans were able to watch Pirog's return live (or on demand) in front of his home crowd. Pirog won the decision in a methodical performance that bordered on boring. He wasn't as aggressive as he had been in the past and he let the unknown Maciel hang around. Pirog did pick up the pace a bit in the later rounds, especially in a strong ninth round. But although some had viewed him as a possible challenger to the real middleweight champion, Sergio Martinez, Pirog didn't show anything that should give Martinez's supporters pause. Bottom line: Pirog got the job done against Maciel, but it wasn't the kind of encore he probably had hoped for after the sensational knockout of Jacobs. Maciel saw his seven-fight winning streak come to an end.
Saturday at Johannesburg, South Africa
Junior featherweight
Takalani Ndlovu W12 Steve Molitor
Wins a junior featherweight title


Scores: 118-110 (twice), 116-112
Records: Ndlovu, 32-6, 18 KOs; Molitor, 33-2, 12 KOs

Rafael's remark: The third time was a charm for South Africa's Ndlovu, 33, who had previously lost twice to Ontario's Molitor, 30, in 122-pound title bouts. In 2007, when Molitor was making the first defense of his first title reign in Ontario, he stopped Ndlovu in the ninth round. When they met again in March 2010 for a vacant belt, again in Canada, Molitor won a close but clear decision. In his next fight, Ndlovu won an eliminator and Molitor was forced by the IBF to face him for a third time. This time, the bout wound up in South Africa, after Ndlovu's team won the purse bid after a technicality voided an initial purse bid won by Molitor's promoter Top Rank (which intended to put the fight in Canada). But wherever the third bout took place, it had nothing to do with the scoring. This time, Ndlovu won a clear decision. It must have been impossible for Molitor, who was making the second defense of his second reign, to get psyched up to face Ndlovu, having already twice beaten him. This time, Ndlovu was aggressive, worked the body well and outboxed Molitor, who hurt him in the second and sixth rounds. A fourth fight would seem pointless, but Molitor could get some other opportunities because Top Rank is heavily involved at featherweight and junior featherweight. Molitor probably needs to come back with a victory and could find himself in line for a shot at any of Top Rank's various titleholders -- the winner of the Wilfredo Vazquez Jr.-Jorge Arce fight and Guillermo Rigondeaux at junior featherweight, or featherweights Lopez and Gamboa.
Flyweight
Moruti Mthalane TKO5 Johnriel Casimero
Retains a flyweight title
Records: Mthalane, 27-2, 18 KOs; Casimero, 14-2, 8 KOs

Rafael's remark: Mthalane, 28, of South Africa, challenged then-flyweight titlist Nonito Donaire for his belt in 2008 and was stopped on cuts in the sixth round of a competitive fight. A year later, Mthalane claimed a vacant belt with a lopsided decision against Julio Cesar Miranda (who would go on to win another version of the 112-pound title). Making his second defense, Mthalane and Casimero engaged in a fast-paced action fight, but Casimero could not withstand Mthalane's power. When he connected with head shots in the fifth round, the fight was called off at 1 minute, 51 seconds. Former interim junior flyweight titlist Casimero, 21, of the Philippines, lost his second fight in a row. After a big win in which he knocked out Cesar Canchila in the 11th round to claim that interim belt in December 2009, Casimero lost a split decision to Ramon Garcia before moving up in weight and getting the shot at Mthalane.
Saturday at Hamburg, Germany
Heavyweight
Alexander Dimitrenko TKO12 Albert Sosnowski
For vacant European heavyweight title
Records: Dimitrenko, 31-1, 21 KOs; Sosnowski, 46-4-1, 28 KOs

Rafael's remark: Dimitrenko, 28, of Ukraine, and Sosnowski, 32, who was born in Poland and lives in England, were supposed to square off for the vacant European title in December. However, Dimitrenko passed out in the dressing room moments before his walk to the ring and the fight was called off. With Dimitrenko OK, the fight was rescheduled. Both fighters were one fight removed from a loss -- Dimitrenko was outpointed by Eddie Chambers in a July 2009 title eliminator, while Sosnowski got a shot at titleholder Vitali Klitschko and put up a game effort before being knocked out in the 10th round. Each won his comeback fight to set the stage for their meeting, which was a bruising and competitive battle. But Dimitrenko came out on top when he landed a devastating right uppercut in the final round to knock out Sosnowski in the middle of the ring at 1 minute, 28 seconds. Sosnowski was down for several minutes, before leaving the ring under his own power.
Friday at Las Vegas
Junior middleweight
Erislandy Lara D10 Carlos Molina
Scores: 95-95 (twice), 97-93 Molina
Records: Lara, 15-0-1, 10 KOs; Molina, 17-4-2, 5 KOs

Rafael's remark: The 27-year-old Lara was a 2005 world amateur champion and would have been a heavy gold medal favorite in the 2008 Olympics had he not defected from Cuba. Now living in Miami, Lara has been on the fast track to a title shot and close to a significant fight. Then came this stinkbomb performance in the ESPN2 "Friday Night Fights" main event, which was the first boxing event held at the Cosmopolitan, a new Las Vegas casino. Instead of dazzling with his talent and skills, the heavily favored Lara was lucky -- very lucky -- to escape with a draw against the hard-charging Molina, 27, a Chicago-based Mexican. Coming into the fight, Lara had scored four consecutive first-round knockouts, but the notion of extending that run quickly faded. Molina pressured Lara throughout the fight, and only a late rally from Lara, who wobbled Molina in the ninth round, saved him from a decision loss in what was easily the most disappointing performance of his career. Instead of throwing combinations and using his counterpunching ability, Lara threw one punch at a time, despite the pleading of trainer Ronnie Shields. Make no mistake, the draw should be considered a big setback and a huge disappointment for Lara, who was sloppy and dispassionate. And Molina certainly could have gotten the decision. Still, a draw was basically like a win for Molina, who hasn't lost since a three-fight losing streak ended in 2007. One interesting tidbit about Molina: He hung the only blemish -- a six-round draw -- on the record of Julio Cesar Chavez Jr. in 2005 before losing a decision in a rematch.
Junior middleweight
Yudel Jhonson TKO7 Richard Gutierrez
Records: Jhonson, 10-0, 7 KOs; Gutierrez, 26-6-1, 16 KOs

Rafael's remark: Jhonson, 29, a Cuban defector now based in Miami, received a silver medal in the 2004 Olympics. He defected in 2009 with amateur teammates Guillermo Rigondeaux and Yordanis Despaigne and like most of the recent influx of former Cuban amateur stars has moved quickly as a professional. Gutierrez, 32, of Colombia, who is also based in Miami, has been a fringe contender for a few years, but he has seen better days, as he's dropped to 2-5-1 in his last eight fights with the losses coming to good opposition. So he figured to pose a reasonable test for Jhonson, who fought at measured pace and controlled the fight from the outset. He was clearly winning the fight when he picked up his offense in the seventh, landing a right hook that wobbled Gutierrez before rocking his head back with a right-left combination. Although Gutierrez was in trouble (but was throwing a punch back), referee Russell Mora surprisingly jumped in to stop it at 1 minute, 9 seconds. It was a pretty shaky stoppage, especially when you consider that just last month Mora bravely allowed Fernando Montiel to continue against Nonito Donaire in their bantamweight championship fight even though Montiel had been heavily knocked down and, although he beat the count, was clearly in bad shape. How do you stop this fight when Gutierrez is punching back but almost let Montiel get killed? Mora needs more consistency. Jhonson just needs more experience as he climbs the pro ladder. Gutierrez, who blew making weight by two pounds, needs to think about a day job.
Friday at Fairfield, Calif.
Junior lightweight
Alejandro Perez KO1 Antonio Escalante
Records: Perez, 15-2-1, 10 KOs; Escalante, 23-4, 15 KOs

Rafael's remark: Escalante, 25, of El Paso, Texas, is an exciting fighter who had been on the verge of being a true contender for a few years, but that time now seems to have passed, after he lost his second fight in a row by way of bad knockout. In September, Escalante took a dangerous fight with powerful featherweight contender (and former junior featherweight titlist) Daniel Ponce De Leon and got drilled in the third round. Making his return against the unheralded Perez, 24, of Mexico, Escalante moved up to 130 pounds to headline on Telefutura's "Solo Boxeo Tecate" and get his career back on track. But with just 20 seconds left in the opening round, Perez surprised him with a violent knockout. Perez caught Escalante with a big right hand behind the ear, and that's all she wrote. This was an excellent win for Perez, who bounced back from an eight-round decision loss to hot prospect Rico Ramos in November.
Dan Rafael is the boxing writer for ESPN.com. Follow him on Twitter @danrafaelespn.
Boxing
2013 BWAA Nat Fleischer Award winner for excellence in boxing journalism
ESPN.com boxing writer since 2005
Five years at USA Today
EDITORS' PICKS
Calling into question Mayweather's P4P ranking.
Nigel Collins »

Mayweather remains atop the pound-for-pound list.
P4P »

Rios and Alvarado could have a third fight in January.
Dan Rafael »