Commentary
A post-prime showdown with prime time implications
Contrary to what many boxing folk are saying, Eric Raskin writes that Jones-Trinidad is more of a serious throwdown than senior tour shenanigans.
Updated:
January 16, 2008, 3:00 PM ET
By
Eric Raskin
| ESPN.com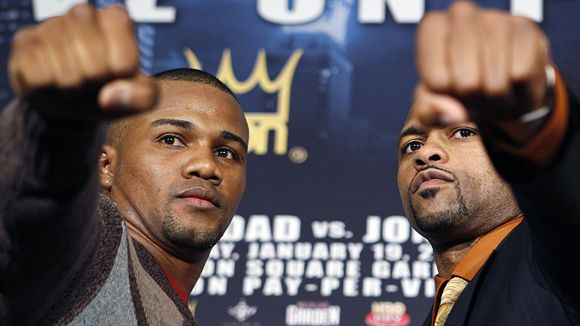 STAN HONDA/AFP/Getty ImagesFelix Trinidad, left, and Roy Jones won't be in New York City to make friends on Jan. 19.
If you don't want to pay $49.95 to watch Roy Jones vs. Felix Trinidad on pay-per-view this Saturday night, that's your prerogative. If you don't want to pay up to $15,000 for a seat at Madison Square Garden, that's not just your prerogative, that's simple sanity. But if you're planning on skipping this fight, make sure you're doing it for the right reasons. Valid reasons include the following: You don't like boxing (which makes the fact that you're still reading this column perplexing); you're flat broke; you never found Jones' style particularly entertaining; you perceive the fight as a mismatch because Trinidad is significantly smaller than Jones and is coming off a 32-month layoff; or you simply haven't been able to take Jones seriously since the release of "Y'All Must've Forgot," which included the lyric, "I got disqualified in March of '97 / After givin' a whippin' to Montell Griffin." Here's the invalid reason: You think this fight doesn't mean anything. You see it as having no relevance in the big picture of today's fight game. It's a natural initial response. Jones will turn 39 three days before the fight and has lost three of his last five (two by knockout). Trinidad turned 35 this past Thursday and has retired as many times as he's fought in the last five and a half years (twice). This sure looks like a case of two old superstars whose greatest attributes are their names and are fighting each other because the price is right while the risk is less than if they tangled with ambitious 20-something contenders. Cashing in on nostalgia is a time-honored tradition in boxing. Ray Leonard spent 1989 fighting a rematch with Tommy Hearns and a rubber match with Roberto Duran. For his part, Duran took on Hector Camacho in a meaningless fight in '96, then a beyond-meaningless rematch in '01 in the Panamanian's final fight. A 50-year-old Larry Holmes fought Bonecrusher Smith in '99 and Mike Weaver in '00. (Sadly, David Bey was unavailable for an '01 showdown.) "There was also Beau Jack and Ike Williams, two greats who fought each other in 1955 in what was the final fight for both of them," added boxing historian Bert Sugar, a regular contributor to ESPN.com. "It goes to the fact that in all sports, not just boxing, fans like to watch their heroes take a victory lap. It's a chance to appreciate what was, a chance to see greatness one last time." Certainly, Jones vs. Trinidad fits that description. But this fight isn't only about the past.
[+] Enlarge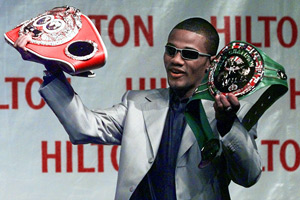 AP Photo/Laura RauchA win over Roy Jones may put Felix Trinidad in line for another shot at a title.
Incredibly, though Trinidad isn't a contender in any weight class at the moment and Jones is only a middling light heavyweight contender (seventh in
ESPN.com's rankings
and unranked by The Ring), this is a fight with meaningful future implications. The winner could very well challenge for a legitimate world championship by the end of '08. Light heavyweight champ Bernard Hopkins and super middleweight champ Joe Calzaghe are in the dotting-and-crossing phase of negotiations for an April fight. Both veterans have declared that they only want major fights that will garner mainstream interest from here on out. For the winner, a title defense against the Jones-Trinidad victor becomes not just a viable option, but a logical first choice. And you thought Jones-Trinidad was just a throwaway fight on boxing's seniors' tour? It's practically a title eliminator. Jones is favored to defeat Trinidad (Bet365.com has him at more than 3-1), and Calzaghe will be favored against Hopkins (currently just under 3-1). Jones was asked last week if he'd be interested in facing the Hopkins-Calzaghe winner. "If Joe Calzaghe wins, yes," Jones said. Jones was far less committal regarding Hopkins, as the two have attempted negotiations on at least two occasions this decade and ultimately stalled out. But if they both win their upcoming fights and the money's right, and Jones recognizes it as an opportunity to beat the man who beat the man (Antonio Tarver) who beat him for the light heavyweight title, then it's possible they'll finally find numbers they can agree on (Hopkins declined comment, continuing his trend of refusing to give quotes on Jones-Trinidad while he focuses on Calzaghe). If Trinidad should upset Jones, he does have one option more lucrative than a fight with the Hopkins-Calzaghe winner: a rematch to his controversial 1999 win over Oscar De La Hoya. Never before in boxing has nostalgia sold like it would in Tito-Oscar II. "With the constituency that Oscar brings and the tremendous number of fans that Tito has, that fight would indeed do enormous business," Sugar agreed. But whether Trinidad and De La Hoya can find an agreeable weight remains to be seen. And then there's the obstacle of "The Golden Boy" promising his Puerto Rican wife, Millie Corretjer, that he'd never fight a Boricua again. So if De La Hoya-Trinidad isn't an option, then Hopkins-Trinidad or Calzaghe-Trinidad certainly would be. Asked last week if he'd be interested in a chance to avenge his knockout loss to "The Executioner," Trinidad replied, "Of course I would." Oddly, while Hopkins and Calzaghe both can be found on every knowledgeable observer's pound-for-pound list, they're part of the seniors' tour at the same time. Hopkins, who turns 43 this week, gave the new generation a chance when he twice fought Jermain Taylor and lost a pair of close decisions. Then he started picking on people his own age and kicked off a new winning streak against older fighters Tarver and Winky Wright. Calzaghe, 35, has already turned away the most highly regarded young super middleweights in the world, Jeff Lacy and Mikkel Kessler, both in spectacular fashion. It might not seem fair to rising young fighters such as Chad Dawson or Lucian Bute, but it's simple economic reality: The big money comes from the established names, faded though they might be as fighters, and that means the Jones-Trinidad winner is in position for a championship shot. In that sense, there's everything to gain, nothing to lose for both Roy and Tito. Sure, it would be embarrassing for Jones if he got pancaked by a man whose best days were at welterweight and junior middleweight. But Jones could get brutally knocked out another dozen times and it wouldn't prevent him from getting into the Hall of Fame (though it might prevent him from remembering his own name, which would seriously cramp his style when it comes to speaking in the third person). Same with Trinidad. The physical risk is there, but the risk to his reputation is non-existent. If he gets blown out inside four rounds like Jones promises he will, it's the expected result and he'll remain the most beloved fighter Puerto Rico has ever known. But if he wins, suddenly Trinidad is calling all the shots again. Suddenly, he's as red hot and important as he was in 2001 -- when the talk of him fighting Jones first began. Both were better fighters then. The fight would also have sold better then. That's largely because the importance of the fight would have been obvious. Seven years later, the relevance is not as immediately identifiable. But it's there. Call them "shot" fighters if you want. But these shot fighters are closer to the other kind of "shot" than you might realize.
Eric Raskin is a contributing editor and former managing editor of The Ring magazine.
Boxing
Former managing editor of The Ring magazine.
Co-host of "Ring Theory" boxing podcast.
Author of "The Moneymaker Effect: The Inside Story of the Tournament That Forever Changed Poker."
SPONSORED HEADLINES
MORE BOXING HEADLINES
MOST SENT STORIES ON ESPN.COM
BRING ON THE TITANS


FELIX TRINIDAD
vs. ROY JONES
Saturday, Jan. 19, New York

Features
• Rafael: Does Jones-Trinidad have that oomph?
• Mulvaney: The lead up to the big fight (Tuesday)
• Mulvaney: The lead up to the big fight (Wednesday)
• Mulvaney: The lead up to the big fight (Thursday)
• Smith: Golota no longer the "Foul Pole"
• Steinberg: Jones' key fights
• Steinberg: Trinidad's key fights
• Dettloff: Camacho's link to Trinidad
• Raskin: A post-prime showdown
• Rafael: Can Jones be serious?

Chat wraps

•
Roy Jones
Video

•
Jones-Trinidad press conference
•
Jones ready for Trinidad