Commentary
Calzaghe-Jones and an era in judgment
Several subplots fuel interest in Joe Calzaghe's Sept. 20 showdown with Roy Jones. The most compelling? How the outcome of the fight could affect the debate over who has ruled the ring for the past 15 years.
Originally Published:
July 14, 2008
By
Eric Raskin
| ESPN.com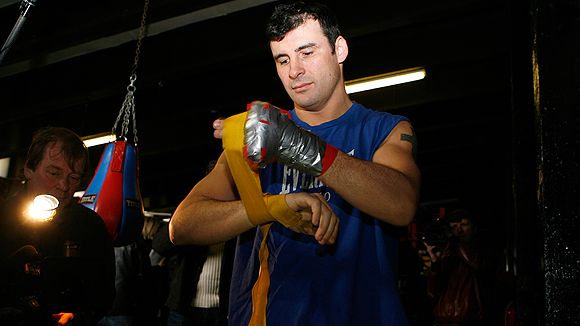 AP Photo/Simon DawsonWould victory over Roy Jones solidify Joe Calzaghe's place as the premier pugilist of the past 15 years?
When future civilizations look back upon boxing in the 1990s and 2000s, it's a near certainty that this will be recalled as the Oscar De La Hoya Era. "The Golden Boy" has been the defining fighter of his generation. But with five losses accumulated and little (if any) time spent atop the pound-for-pound lists, De La Hoya has not been the best fighter of his generation. The question of who has been the premier pugilist of the past 15 years is very much up for debate. There are probably 10 different fighters for whom you can make a case. And two of them just signed to fight each other at Madison Square Garden on Sept. 20. Among the many subplots fueling interest in Joe Calzaghe vs. Roy Jones, perhaps the most compelling is how the outcome of the fight could affect the debate over who has ruled the ring for the past 15 years. If defending light heavyweight champion Calzaghe wins, as he's generally expected to, he will have extended his record to 46-0 while defeating two fighters in the best-of-the-era debate, Bernard Hopkins and Jones, back-to-back. The obvious counterpoint: Hopkins was 43 when they fought and Jones will be four months shy of 40, so the name value of the victories would far exceed the actual merit.
[+] Enlarge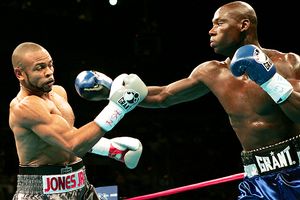 Jed Jacobsohn/Getty ImagesRoy Jones, left, is anxious to erase memories of his losses to Antonio Tarver, right, and Glen Johnson.
If Jones pulls off the upset, it would undo some of the damage done by his losses to Antonio Tarver and Glen Johnson. It would mark Jones' first win over a championship-caliber opponent (no, an undersized, comeback-attempting Felix Trinidad doesn't count) since his reflexes began to dull, and would prove that he can compensate for his shortcomings and positively respond to adversity the way most of boxing's great champions have. And don't forget -- Jones ruled the pound-for-pound list for the bulk of a decade, from 1994 to 2004. At his best, he was the closest thing to unbeatable that we have seen in recent years. The underlying question, however, is whether he would have looked so unbeatable against tougher opposition. Trainer Freddie Roach, who has worked with such elite modern fighters as Hopkins and Manny Pacquiao, is one observer who doesn't believe a Jones win over Calzaghe is enough to elevate him above his peers, largely because Jones was reluctant to face some of his most dangerous foes during his prime. "I always felt he ducked some fighters out there," Roach told ESPN.com. "When he was at super middleweight, both Frankie Liles and Steve Collins, two fighters I trained who had world titles -- they both wanted to fight him but he wouldn't fight either of them. I mean, probably Roy Jones would have beaten them, but Frankie did beat him twice in the amateurs, so you never know. At super middleweight, Jones never tried to unify the titles, and that really made me not such a Roy Jones fan, to be honest. To be known as the best, I think you need to beat everybody." The matter of wasting prime years fighting fringe contenders is one that haunts Calzaghe as well. Since 2006, the Welshman has faced the ultimate challenges and risen to them, becoming undisputed super middleweight champ by whipping Jeff Lacy and taming Mikkel Kessler, then rising to light heavyweight to knock off the division's best in Hopkins.
[+] Enlarge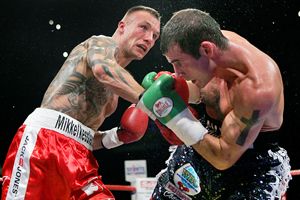 John Gichigi/Getty ImagesOnly recently has Joe Calzaghe, right, gone after the best possible opponents.
For nearly the whole decade before that, however, Calzaghe was content to defend his alphabet belt against Bum Of The Month Club types (though Calzaghe's un-Joe-Louis-like schedule made it more of a "Bum Every Six Months Club"). Showtime expert analyst Al Bernstein feels that time spent fighting low-profile names limits Calzaghe's all-time ranking, and he doesn't see a win over Jones dramatically altering his place in history. "I think against Jones, Joe Calzaghe is almost in a no-win situation," Bernstein asserted. "This Jones he's fighting now is a damaged Roy Jones who has fought carefully selected opponents to get back to this opportunity. I don't know that Calzaghe will get a lot of credit for beating Jones at this juncture. Kelly Pavlik, Chad Dawson and Antonio Tarver would all do more for Calzaghe within boxing circles. "He's chosen to go in the direction of fighting a faded superstar, and there's nothing wrong with that -- you get lots of money, an opponent you feel comfortable against and a lot of mainstream recognition. But what you don't get is any real legacy-building credibility." One thing Calzaghe does have in his favor is that zero in his loss column. It's the same reason Floyd Mayweather and Ricardo Lopez, two extraordinarily gifted and technically proficient fighters, are in the thick of the discussion despite facing spotty opposition. Bernstein prefers those who fought and beat everyone around to those who picked and chose their way to perfect marks. That's why he rates Lennox Lewis and Pacquiao as the two best of the era. He places Mayweather just beneath them, then lumps the likes of Jones, Calzaghe, Hopkins and Felix Trinidad together in the next grouping. Roach has his inherent biases in favor of Pacquiao and Hopkins, so he's reluctant to issue his own ranking -- especially at this juncture. "I don't think Bernard has fought for the last time, there's a good chance he'll fight again," Roach revealed. "And that's what makes it tough to judge all of these guys -- a lot of them aren't done yet. You can't really decide who was the best of the era until they're retired and everything is said and done." Whenever that time comes, however, the events of Sept. 20, 2008, are sure to affect the positioning. If you like fighters with perfect records whose careers ended on a series of high notes, then maybe Calzaghe is king. If you like unparalleled athletic gifts and perhaps a late-career, poor man's Ali-over-Foreman triumph to provide an exclamation point, then maybe it is Roy who has reigned supreme. Either way, Calzaghe vs. Jones isn't likely to settle the debate. But it should at least narrow the field of candidates by one.
Eric Raskin is a contributing editor for and former managing editor of The Ring magazine.
Boxing
Former managing editor of The Ring magazine.
Co-host of "Ring Theory" boxing podcast.
Author of "The Moneymaker Effect: The Inside Story of the Tournament That Forever Changed Poker."
SPONSORED HEADLINES
MORE BOXING HEADLINES
MOST SENT STORIES ON ESPN.COM