Commentary
If you watch only one fight all year …
Boxing fans' prayers have been answered: Antonio Margarito and Miguel Cotto will settle their differences on Saturday.
Originally Published:
July 21, 2008
By
Eric Raskin
| ESPN.com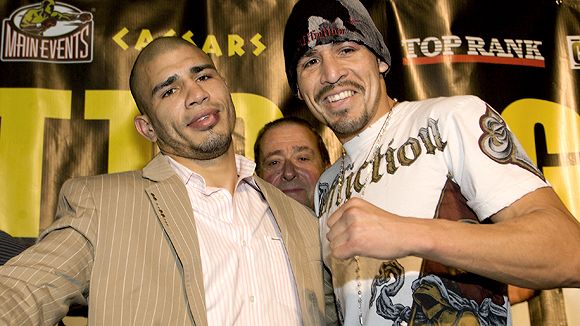 Marty Rosengarten/Ringsidephotos.comThis one's for the fans: Miguel Cotto, left, and Antonio Margarito should be a battle for the ages.
Among the many bonds that unite boxing fans, one of the more universal is the recruitment mission. There is a common compulsion among fight fanatics to turn those who've been missing out into fanatics as well. The best way to do that? Persuade them to tune in for a fight guaranteed to showcase the thrills that make boxing, at its best, the most riveting of all sports. Unfortunately, there are no guarantees when it comes to unscripted competition. In boxing, a sport in which the competition sometimes ends in just a few seconds, this unpredictability is amplified. Yet it is with near certainty that everyone associated with the fight game is advertising Saturday's Miguel Cotto-Antonio Margarito welterweight showdown as a can't-miss.
[+] Enlarge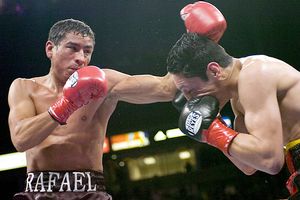 Chris Cozzone/FightWireImagesRafael Marquez, left, and Israel Vazquez put on a show for the ages in March. Can Cotto-Margarito surpass them in terms of excitement and theatrics?
In a year in which Israel Vazquez and Rafael Marquez already gave us a fight of the year candidate, many have been labeling Cotto-Margarito the fight of the year since the contracts were signed. In a sport that everyone agrees airs too much product on pay-per-view, nobody is complaining about this fight costing $50. Sometimes the fights we spend months salivating over last only 91 seconds (Mike Tyson-Michael Spinks, anyone?). Sometimes one of the fighters cheats, cheating the fans of a proper conclusion (like Evander Holyfield-Tyson II). Sometimes the fighters' styles leave us yawning (think Floyd Mayweather-Oscar De La Hoya).
The Battle
TV lineup for Saturday night's Top Rank/HBO PPV card (9 ET) from the MGM Grand Garden Arena in Las Vegas: • Welterweights: Miguel Cotto (32-0, 26 KOs) vs. Antonio Margarito (36-5, 26 KOs), 12 rounds, for Cotto's title • Junior flyweights: Giovanni Segura (19-0-1, 15 KOs) vs. Cesar Canchila (26-1, 21 KOs), 12 rounds, for a vacant interim title • Junior welterweights: Michael Alvarado (21-0, 14 KOs) vs. Cesar Bazan (48-10-1, 31 KOs), 10 rounds • Junior featherweights: Bernabe Concepcion (25-1-1, 14 KOs) vs. Adam Carrera (19-3, 8 KOs), 10 rounds -- Dan Rafael
So why is there such universal confidence that Cotto-Margarito will be worth every penny? If you don't already know, just do yourself a favor Saturday night and find out. "It's pure entertainment," said junior welterweight belt holder Paulie Malignaggi, who took Cotto the distance two years ago. "Both fighters are better offensively than they are defensively, and that's not because they're bad defensive fighters -- it's because they're both very good offensive fighters. It's not good for them because they're going to take a lot of punishment, but it's good for everyone watching." Frequently in boxing, we see tune-up doubleheaders, intended to build toward a superfight, that instead take some of the shine off the endgame match. Recent examples include Erik Morales' getting boxed silly by Zahir Raheem on a card designed to promote a Morales-Manny Pacquiao rematch, and De La Hoya's struggling to a controversial decision over Felix Sturm, probably costing the Golden Boy's fight with Bernard Hopkins thousands of pay-per-view buys. On April 12, Cotto and Margarito shared a card in Atlantic City, scoring convincing knockouts over Alfonso Gomez and Kermit Cintron, respectively. Bucking the doubleheader trend, both fighters performed in a way that made it tough to pick against them, heightening interest in their eventual fight, rather than diminishing it. Jim Lampley provided blow-by-blow commentary on that doubleheader for HBO, and when I spoke to him a few days afterward, his enthusiasm for Cotto-Margarito was already bubbling over. "I said before the first Jermain Taylor-Kelly Pavlik fight that I wouldn't be surprised if both guys were on the canvas, and this is another fight where I'm not going to be surprised if both guys are on the canvas," Lampley said. "From my perspective, even if the fight disappoints, it's still going to be worth watching. I'm asking for one of my top 10 fights in my 22 years of calling fights on television. Those are my honest expectations, and sorry if I'm overselling." No need to apologize, Lamps, because if you're overselling, so is everyone else in the fight fraternity. We've reached a point, 32 fights into Cotto's undefeated pro career, at which the doubters have almost all disappeared, replaced by enthusiasts who would never allow themselves to miss a Cotto fight.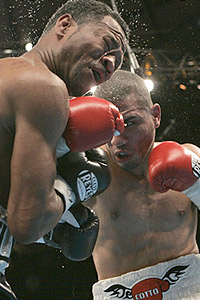 APCotto, right, isn't just a pound-for-pound fighter; he's also entertaining.
The pound-for-pound list is stocked with great action fighters, including Pacquiao, Vazquez, Marquez and Pavlik. Cotto fits right into that mix. He's an elite talent (ESPN.com ranks him fourth pound-for-pound; The Ring places him sixth) who entertains every time out. There have been some one-sided Cotto fights, but have there been boring Cotto fights? I can't think of any besides maybe his decision win over John Brown in 2002. Cotto is such a game, gutsy, heavy-handed warrior that he doesn't need a perfect foil to be thrilling. Margarito might be his perfect foil anyway. Margarito lacks Cotto's pristine record and his pound-for-pound ranking, but he has all the tools to push the Puerto Rican to his limits. The Mexican veteran will be the most aggressive fighter Cotto has faced. He's four inches taller with a six-inch reach advantage, but he loves to fight on the inside, meaning no distance is entirely safe for Cotto. Margarito has never been knocked out -- never even appeared close, in fact -- and, like Cotto, he has shown a propensity for getting stronger as a fight progresses. "This is not going to be a short fight," Malignaggi said. "It's going to be fast-paced and grueling, and the only way I see it ending inside the distance is if Cotto lands a perfect body shot. Margarito's arms are so long and he's so wide with those punches, and I could see Cotto possibly landing one of those hard body shots underneath while Margarito's going to throw a punch. "But other than that, I think it's going to go the distance. Cotto's power, and I know from experience, it's more of a brute strength than it is a knock-you-unconscious kind of power. So I believe Margarito is going to take a lot of punishment in trying to dish out his own, and it's going to be a hellacious fight." It's a fight likely to be hellacious enough to turn casual boxing observers into serious fans. So if you're already a hard-core fan, give your friends the sales pitch for this one. And if you're just a general sports fan who doesn't watch much boxing, consider this column your sales pitch.
Eric Raskin is a contributing editor for and former managing editor of The Ring magazine.
Boxing
Former managing editor of The Ring magazine.
Co-host of "Ring Theory" boxing podcast.
Author of "The Moneymaker Effect: The Inside Story of the Tournament That Forever Changed Poker."
EDITORS' PICKS
Golovkin stays put despite another KO victory.
P4P Rankings »

Martin Murray to face Domenico Spada on ESPN3.
Dan Rafael »

Golovkin is currently one of the best fighters in boxing.
Dan Rafael »