Commentary
Nacho typical way to prep for a major fight
When it comes to working with Oscar De La Hoya, no trainer can say they were caught in the corner for too long. Eric Raskin walks us through the revolving door in De La Hoya's camp and analyzes Nacho Beristain's place in The Golden Boy corner.
Originally Published:
September 29, 2008
By
Eric Raskin
| ESPN.com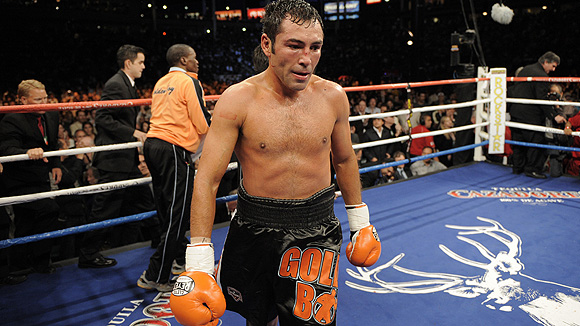 AP Photo/Mark J. TerrillBoxing vagabond Oscar De La Hoya never met a trainer he couldn't walk away from.
On the surface, Oscar De La Hoya and George Steinbrenner don't have much in common. "The Boss" is in his 70s. Oscar was born in the '70s. Steinbrenner made his millions as a businessman, then bought his way into the world of professional sports. De La Hoya made his millions as an athlete, then bought his way into the world of business.
[+] Enlarge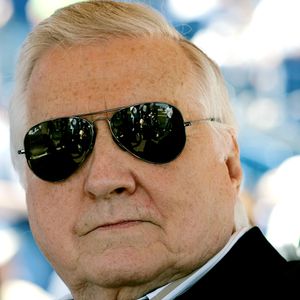 AP Photo/Kathy WillensAs owner of the New York Yankees, George Steinbrenner changed managers 20 times in his first 23 years.
"Big Stein" has enjoyed calzone lunches with George Costanza. De La Hoya has not. But there is one thing De La Hoya and Steinbrenner have in common: They've both gone through coaches like Hulk Hogan goes through yellow tank tops. As owner of the New York Yankees, Steinbrenner changed managers 20 times in his first 23 years. De La Hoya isn't quite on the same pace. But the announcement last week that he had hired Ignacio "Nacho" Beristain to prepare him for his Dec. 6 "Dream Fight" against Manny Pacquiao marked the seventh different trainer in Oscar's pro career -- and his third different head coach in three fights. Most interestingly, it marked the second time in three fights that De La Hoya was readying to take on the pound-for-pound best boxer on the planet with a trainer he'd never worked with before. When The Golden Boy fought Floyd Mayweather last May, his trainer for his previous eight fights, Floyd Mayweather Sr., bailed, and Oscar turned to Freddie Roach. Though De La Hoya fought well in spots, officially the pairing failed, as Mayweather captured a split decision.
[+] Enlarge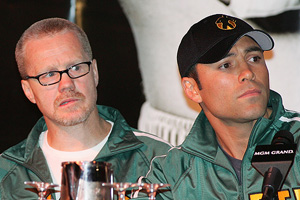 Ethan Miller/Getty ImagesThe Oscar De La Hoya-Freddie Roach tandem didn't last very long.
De La Hoya brought Floyd Sr. back on for his next fight, an easy win over tune-up opponent Stevie Forbes. And he expected to have the elder Mayweather with him for the Pacquiao fight, until boxing's poet laureate decided to train Ricky Hatton for a Nov. 22 fight and, unable to be in two places at once, passed on the Oscar gig. Mayweather's curious decision to give up his role in the biggest, richest fight of the year is another discussion for another time. The discussion here is whether his decision denied us a chance to see the very best of De La Hoya because part of his training camp will be spent adjusting to a new trainer.
The trainers' track records
Here are each trainer's overall numbers in De La Hoya's corner. (Note that the totals don't equal Oscar's total record, because there was overlap between Robert Alcazar and other trainers.)
How they stacked up

| | |
| --- | --- |
| Trainer | Record |
| Robert Alcazar | 32-2 (26 KOs) |
| Jesus Rivero | 7-0 (5 KOs) |
| Emanuel Steward | 2-0 (1 KO) |
| Gil Clancy | 5-1 (4 KOs) |
| Floyd Mayweather Sr. | 7-2 (4 KOs) |
| Freddie Roach | 0-1 (0 KOs) |
"I don't think it makes a difference," said veteran trainer Ronnie Shields, who currently works with lightweight contender Juan Diaz and briefly served as a gun-for-hire trainer for Mike Tyson. "Oscar's been around a long time, he's not a young fighter on the way up. It shouldn't take him long to gel with Nacho. "I'm going through a situation right now with [former welterweight titlist] Kermit Cintron, we just started training together. We've been together one week, and we're gelling good. I've never had a problem with needing a lot of time to get the best out of a fighter." And certainly, as short-notice options go, De La Hoya couldn't have done any better than Beristain. The mustachioed Mexican has trained such Hall of Famers as Ricardo Lopez, Chiquita Gonzalez and Daniel Zaragoza, and he currently works with the Marquez brothers, Juan Manuel and Rafael. His experience with Juan Manuel means he's already prepped to face Pacquiao twice and has had some success against "Pacman." Marquez fought to a draw in their first fight and lost a questionable split decision six months ago in the rematch. All things considered, Beristain is the perfect choice. It's just unfortunate that De La Hoya had to make a new choice at all, because he and Mayweather seem to have good chemistry, and because if there's one thing De La Hoya could do without, it's another cook in the proverbial kitchen. "I don't think he really ever found his identity, whether he's a boxer, a counterpuncher, or both," said Shields. "That's the knock against having so many trainers; you can never really get settled." For the first 17 fights of his career, De La Hoya was trained by Robert Alcazar. For his 18th fight, in 1995, defensive master Jesus "The Professor" Rivero was brought on to work alongside Alcazar and turn The Golden Boy into an approximation of Willie Pep. When it was decided that what Oscar needed was more offense and less defense, Emanuel Steward replaced Rivero in '97. "Willie Pep was a short, little man with no power," Steward said at the time. "Oscar is a tall guy who can punch. I'm going to turn Oscar into another Sugar Ray Robinson."
[+] Enlarge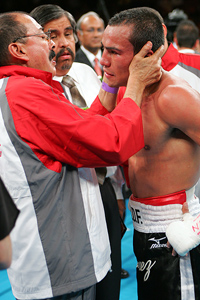 AP Photo/Eric JamisonNacho Beristain, left, will have his hands full with preparing De La Hoya for Manny Pacquiao.
Steward only had two fights to accomplish that lofty goal before Oscar's father, Joel, pushed for his dismissal. So Gil Clancy, who hadn't worked as a trainer in seven years, took Steward's spot less than a month before De La Hoya's fight with Wilfredo Rivera. Clancy stayed on for six fights and was canned after the strategic disaster that was De La Hoya's 1999 loss to Felix Trinidad, and after two fights as the lone trainer, Alcazar finally got the boot the next year when De La Hoya lost again, to Shane Mosley. Along came Mayweather, who went on to make history as the only trainer Oscar ever retained after a defeat (twice, in fact). But Mayweather, Steward and Clancy all had the good fortune of easing into their work with De La Hoya by starting out with safe fights. Steward presided over the two-round blowout of David Kamau, Clancy helped De La Hoya dominate Rivera and Mayweather got his toes wet against undersized and overmatched Arturo Gatti. Roach and Beristain have been asked to pull off considerably more daunting initial tasks. Now those two men will go head to head. Much will be made in the press of Roach's presence in the corner opposite De La Hoya, working with his long-time charge Pacquiao against his former short-term project. But much will also be made of how De La Hoya is again someone's short-term project. As the fight nears, HBO's "24/7" will again give us tremendous access to both training camps. One thing we know for sure is that those shows will suffer from the absence of the colorful Mayweather Sr. The question is whether De La Hoya will suffer from that absence as well. If he does, well, let the interviewing process for trainer No. 8 begin.
Eric Raskin is a contributing editor for, and former managing editor of, The Ring magazine.
Boxing
Former managing editor of The Ring magazine.
Co-host of "Ring Theory" boxing podcast.
Author of "The Moneymaker Effect: The Inside Story of the Tournament That Forever Changed Poker."
SPONSORED HEADLINES
MORE BOXING HEADLINES
MOST SENT STORIES ON ESPN.COM
EDITORS' PICKS
Rios dominates Alvarado in their rubber match.
Dan Rafael »

Gilberto Ramirez wins decision over Maxim Vlasov.
Dan Rafael »

Alvarez-Kirkland bout tentatively set for May 2.
Dan Rafael »