Commentary
Tessitore: 2008 should be a lot of fun
Boxing fans can expect a little bit of everything from "Friday Night Fights" in 2008.
Updated:
December 26, 2007, 11:48 AM ET
By
Joe Tessitore
| ESPN.com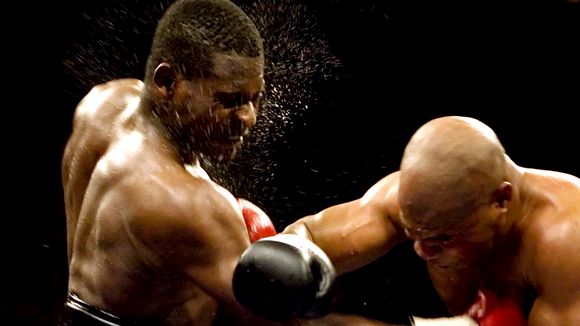 Ed Mulholland/Fightwire ImagesWhen Darnell Wilson, right, is fighting, you can expect fireworks.
The 10th year of "Friday Night Fights" is about to begin. Yes, a decade of body batter and blood splatter. Ten years of Teddy Atlas' expert analysis and Brian Kenny's crafty interviewing. Ten years of watching the stars of tomorrow emerge and the stars of today fade. In 1997, Floyd Mayweather was in the midst of his first year as a pro when FNF went on the air. Mike Tyson was arguably the most famous, or infamous, person in America. And a young Max Kellerman was wearing leather jackets and seated behind a studio anchor desk. Good times. Now it's even better times. "Friday Night Fights" has made a leap from a promotional tag line to reality. The show has truly cemented itself as "the boxing authority." We're so excited to bring you the next year of FNF, we can't even wait for 2008. On Dec. 28, the first bell rings. After a 2007 season in which some of our best action came from Montreal, we have decided to take our opener to the other end of Canada. While it's the first-ever visit to Vancouver for FNF, Teddy Atlas and I spent some time there back in 2003. We were filming an episode of "The Dead Zone" with Anthony Michael Hall. I try to ignore the fact that we were never invited back for another episode. As far as this episode of FNF is concerned, it features heavyweights Dominick Guinn and Robert Hawkins in the main event while Roy Jones is in studio. The rest of the FNF winter schedule is shaping up nicely -- especially the series' second week. On Jan. 4, we will be in Tulsa, Okla., for power-punching Allan Green's next step on his quest for a title fight. He will take on Rubin Williams. The following week, we head to The Hard Rock in Hollywood, Fla., for a double-bill with two of the world's top super middleweights, Edison Miranda and Jean Pascal, who are in separate fights to set up a showdown in late spring. Other early entries into the FNF lineup include KO of the Year warrior Darnell Wilson, former titlist Randall Bailey, an interesting matchup between Monty Meza-Clay and recent world champ Eric Aiken, and the continued comeback of Delvin Rodriguez. An axiom I live by is, "Your children will live up to or down to your expectations of them." I think the same is true with "Friday Night Fights." You, the viewer, should expect and demand the best from our production and programming teams. In return, we should live up to those expectations. We are not always going to have the most compelling fights. Our budget is spread out over 50 live shows. When you add in swing bouts, co-features and the rest, we broadcast easily three times as many fights as any other TV network. So quantity may be a hurdle. However, quality can be demanded in our productions. We feel strongly that we almost never let you down in that regard. Teddy and I pride ourselves on being able to give you a reason to watch every fight. We also hope that you recognize our sometimes brutally honest analysis and opinions of what we are seeing, both the fight in front of us and the landscape of the entire sport. Brian Kenny is bar-none the strongest sports studio anchor in the business. His interviews, news sense and analysis are televised boxing's information backbone. 2008 should be a lot of fun. You know there will be some blowup between a fighter and Brian Kenny. My bet is it will be his longtime favorite verbal sparring partner, Mayweather. I get the sense that Floyd is getting closer and closer to demanding that he be recognized as the greatest ever, and Brian will surely be asking about a fight with Miguel Cotto. Ringside, you know Teddy will predict at least five knockouts dead on. He will tell you how and when something will happen and it
will
happen. And clearly you know there will be at least 10 more times that I will nearly come out of my seat calling the action in complete disbelief as to what I am witnessing. In fact, that is the beauty of boxing. You think you have seen everything and then you end up picking your jaw up off the ground. You should expect greatness from our production team. You should expect excitement and entertainment from our remote live location ringside and the best guests, news and analysis from our studio. This year you will get a little more. We are working on some special projects for our viewers to celebrate the 10th anniversary of FNF. The model for FNF has served the fight game well for those promoters and fighters who are smart enough to use it. Mayweather, Cotto, Zab Judah, Vernon Forrest, Jermain Taylor, Kelly Pavlik, Kermit Cintron, Juan Diaz, and so many more of today's champs came up on FNF. Others like James Toney and Arturo Gatti turned their careers around on FNF. And some like Micky Ward, Ray Olivera, Scotty Pemberton and Emmanuel Augustus made their careers fighting consistently on FNF. If you want pure exposure in this sport, you have to be on FNF, either in the studio or in the ring. It is where those in the know go. And on behalf of all of us, we are so glad that includes you, our fans. Our very loyal fans have been with us for a decade now, and we plan on giving you the best year you have ever seen. You deserve it.
Joe Tessitore is the blow-by-blow announcer for ESPN2's "Friday Night Fights."
Boxing
Joe Tessitore has been the blow-by-blow announcer for ESPN2's "Friday Night Fights" and "Wednesday Night Fights" since 2002 and contributes a weekly boxing column to ESPN.com.