Commentary
Steward: Lee will become middleweight champion of the world
Andy Lee is one of the best middleweights to grace boxing in years. Says who, you ask? Says Emanuel Steward.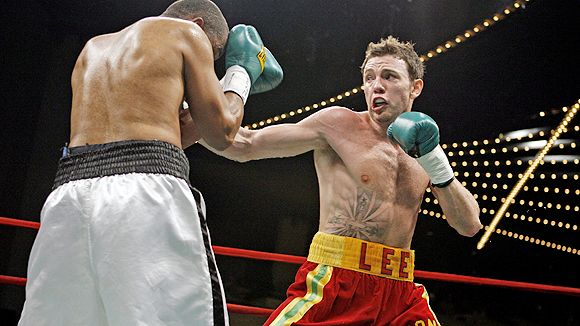 AP Photo/Jason DeCrowDon't be surprised if Lee, right, is fighting for a title by the end of '08.
Put your ear to the thin wall of boxing's inner circle and you'll hear some interesting stuff. If you can get past the promoter bashing, manager lies and fighter excuses, you may uncover really juicy gym talk. Stories of sparring wars revealing monstrous can't-miss prospects are my favorites. For the past few years, one name that has been the center of the chatter seems to be Andy Lee (15-0, 12 KOs). The Irish-born, Kronk-trained southpaw middleweight is making his Friday Night Fights debut this week (ESPN2 Friday, 9 p.m. ET). Lee will be taking on Brian Vera, whom we got to know on the third season of "The Contender." Truth be told, he's fighting against both hype and expectations. "I see in the very near future, within the next 12 months, Andy Lee becoming the middleweight champion of the world," said Emanuel Steward. You heard him.
The
Manny Steward who has led can't-miss prospects to the very top.
The
Manny Steward who has maintained the corner of the very elite champions of our generation.
The
Manny Steward whose expert analysis has broadcast so many recent middleweight title fights and who has served in then-middleweight champ Jermain Taylor's corner. That Manny Steward says the 15-0 kid from Ireland is next.
[+] Enlarge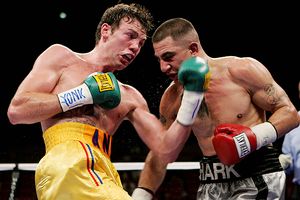 AP Photo/John Marshall MantelSteward considers Lee of the hottest middleweight prospects to come around in years.
Actually, Manny says that Lee is not just next, he's also the next great one. "In the next six or seven years, he can establish himself as one of the best middleweight champions of all time. I think he has the talent, but more so than that, he has a burning desire to be great, and he has a love for his sport. And I think those are the big factors that are going to make him become a great fighter." That burning desire is what drove Lee to leave his comfort zone behind. Three years ago, he left Limerick, Ireland, for Detroit to push himself to the next level. "I knew all about Kronk [Gym] before I arrived," said the 23-year-old Lee. "It has the reputation as being the hardest gym in boxing. A lot guys don't make it through the door. They get there and they're just intimidated immediately. For me, I wanted that challenge, I was relishing it and I was looking forward to proving myself." Prove himself he did. Somewhere in early 2006, those with Kronk connections would drop his name. They would say things like, "We've got this kid from Ireland who is super fast, strong and tough and gives us great sparring." His street cred was rising. Then there was the June 2006 buzz in Memphis. Jermain Taylor was readying to fight Winky Wright. You would have thought Taylor had already lost before the fight even started. That was how Lee's sparring work with the middleweight champ was portrayed. Those of us hanging ringside at the Friday Night Fights show preceding the big fight would hear how Lee is handling Kronk fighters and dropping jaws. When Wladimir Klitschko holds training camps, the world's top heavyweight utilizes Lee. Yes, the 160-pounder has been one of the keys to success for the Ukrainian, who is nearly 100 pounds heavier. Yet another Kronk test passed for Lee. "They put me in there and they tried me, they kept testing me," Lee said. "Every day, I'd come down here to spar, spars were getting harder and harder and harder. Eventually, I showed that I could hold my own in the ring, and then I became the guy who tested other people, all the new guys who come into the gym. Now they just treat me like one of their own." Steward literally treats Lee like one of his own. Lee lives in Steward's home. He's there along with top cruiserweight Johnathon Banks. "I would probably say that he and Johnathon Banks are probably my two best friends. We do lots of things together. Most of the time we're together, going to places, doing things. Even [when I'm] doing business decisions, I usually discuss it with Johnathon and Andy. They have a tremendous input on a lot of things that I do myself personally. They're more like sons of mine." A pretty serious commitment, isn't it? Imagine that level of on-the-job learning in other pro sports. Do you picture Greg Oden doing dishes in Trailblazer head coach Nate McMillan's kitchen? Or NFL quarterback Vince Young taking out the trash in Jeff Fisher's driveway? Different beast, this boxing is. "You have to commit yourself 100 percent," Lee explained. "There'd be no good [if I was training] with Emmanuel and living somewhere else. If I wanted to come, myself, it was my decision to come here and move here and live here and really submerge myself into a boxing world. As you look around on the walls, there are pictures of boxing and tons of videos, so this is really a boxing house here. We have different fighters staying at different times, coming and going. This is where I want to be. I'm learning everything every day, not just in the ring. It really was my decision." Lee has made a decision that he will be the best middleweight in the world. Steward has made a decision that he is going to tell people it will happen. Now, the fans get to make a decision this week. You tune into FNF and get to watch Lee against an opponent who will try to stay in there tough and test him. You get to decide if you're buying the hype. You get to decide if you're an Andy Lee fan the way Steward says you should be.
Joe Tessitore is the blow-by-blow announcer for ESPN2's "Friday Night Fights."
Boxing
Joe Tessitore has been the blow-by-blow announcer for ESPN2's "Friday Night Fights" and "Wednesday Night Fights" since 2002 and contributes a weekly boxing column to ESPN.com.
SPONSORED HEADLINES
MORE BOXING HEADLINES
MOST SENT STORIES ON ESPN.COM