First Corrales-Castillo fight best of year
Updated:
December 26, 2005, 5:57 PM ET
By
Dan Rafael
| ESPN.com
Diego Corrales and Jose Luis Castillo will fight for the third time in nine months when they meet Feb. 4, but their first battle May 7 at Mandalay Bay in Las Vegas is the one people will remember most.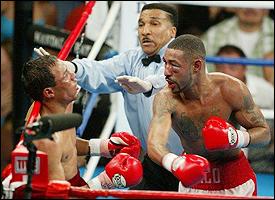 AP Photo/Matthew MinardDiego Corrales went down, but got up and blistered Jose Luis Castillo in their epic first fight.
Corrales' dramatic -- to put it mildly -- 10th-round TKO of Castillo to unify lightweight world titles was not only the hands-down choice as 2005 ESPN.com's fight of the year, but if you check back with us in a few years, expect to see it honored as the fight of the decade.
It was simply one of the greatest fights ever, an unforgettable masterpiece that will stand the test of time. Corrales-Castillo I is right there in the pantheon of all-time ring wars alongside Ali-Frazier III, Pryor-Arguello I, Hagler-Hearns, Leonard-Hearns I and the Zale-Graziano, Bowe-Holyfield, Gatti-Ward and Barrera-Morales trilogies.
"I think the whole sports world knows that this fight was something legendary, and Castillo and Corrales put on a performance that great athletes do, and people that go into legendary status in their careers do," said Todd duBoef of Top Rank, Castillo's promoter. "They put on a beautiful performance and made people think how great boxing is."
It had all the ingredients for a great fight. Nonstop, savage action. Blood. Courage. Momentum swings. High stakes. Knockdowns. Controversy. And an ending so stunning, so sublime, that you could hardly believe what you were seeing.
From round one through the incredible conclusion, Corrales and Castillo went at it in blistering, video-game-like fashion, which they had predicted in the days leading up to the bout.
"This fight will be like two buffaloes colliding," Castillo promised.
| | |
| --- | --- |
| Year | Fight |
| 2005 | Diego Corrales TKO10 Jose Luis Castillo (I) |
| 2004 | Marco Antonio Barrera W12 Erik Morales (III) |
| 2003 | Arturo Gatti W10 Micky Ward (III) |
| 2002 | Micky Ward W10 Arturo Gatti (I) |
| 2001 | Micky Ward W10 Emanuel Burton |
| 2000 | Felix Trinidad TKO12 Fernando Vargas |
"On paper, this has the potential to be as exciting a fight as you will see," Corrales said. "I definitely feel that at some point, it will be bombs away. … I really do not see how it can go the distance with each of us dropping bombs on each other in the middle of the ring. I love these kinds of fights."
After nine rounds of grueling, frenetic action, Corrales, with a badly swollen left eye, got knocked down twice in the 10th round. Hard. This fight was over, right?
Not quite yet.
On each knockdown -- and this is where the controversy comes in -- Corrales lost his mouthpiece, giving him valuable recovery time while it was replaced by referee Tony Weeks.
Perhaps it was those precious extra seconds that did the trick, but whatever it was, Corrales made a magical comeback. Moments later, he stopped Castillo with a flurry of shots along the ropes.
The fight was over, but the memories will last a lifetime.
Other unforgettables:
Erik Morales W12 Manny Pacquiao (March 19 at Las Vegas)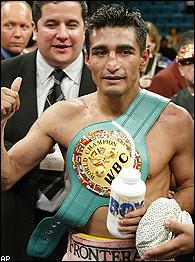 Erik Morales brought his WBC belt into the ring after beating Manny Pacquiao.

How often does a fight of the year candidate on paper turn out to be the real thing? Not too often, but this was one of those times as junior lightweight stars Morales and Pacquiao, two of the sport's most exciting warriors, waged a toe-to-toe slugfest that would have been the fight of the year in any year that didn't include Corrales-Castillo I. Did it matter that this was a non-title bout? Not to any of the almost 15,000 who packed the MGM Grand. All they were concerned with was watching Morales and Pacquiao trade violent power shots for 12 rounds, seemingly in an attempt to decapitate one another.

Barely a minute into the fight they were brawling, and the intensity only grew from there. From the fifth round on, Pacquiao fought with blood streaming down his face from a cut over his right eye. And Morales, even though he was fully in control by the 12th round, took some chances and got rocked in the final 90 seconds to add to the drama.

"There's nowhere else in sport where you will find greater passion, greater intensity, greater courage, greater commitment, greater sheer guts than what these two guys are showing," HBO's Jim Lampley exclaimed as the final few seconds ticked off the clock. "This is boxing at its best." Indeed. And lucky for us, the rematch is set for Jan. 21.
Miguel Cotto KO7 Ricardo Torres (Sept. 24 at Atlantic City, N.J.)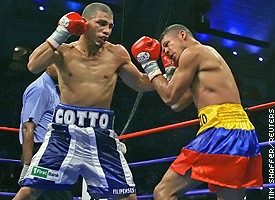 REUTERS/Tim ShafferCotto (left) knocked Torres down four times, but Torres also staggered the champ.

Big punches, huge swings in momentum and knockdowns galore punctuated this spectacular battle as Cotto barely escaped with his junior welterweight title. So good was the fight that HBO's Larry Merchant exuberantly dubbed Cotto the "Puerto Rican Arturo Gatti." Cotto -- and Torres for that matter -- became must-see fighters courtesy of a scrap in which Cotto scored four knockdowns but also went down for the first time in his pro or amateur career in the second round.

There were other times when Torres, a clubbing slugger from Colombia who took the fight on only three weeks' notice, had Cotto staggering all over the ring and on the verge of going down. But Cotto's heart carried him through, not to mention that massive left uppercut that ended matters in the seventh.
Jorge Arce TKO10 Hussein Hussein I (March 19 at Las Vegas)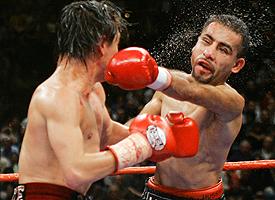 Reuters/Steve MarcusJorge Arce (left) and Hussein Hussein traded blows all night.

These little guys provided mammoth action in this flyweight title eliminator, a toe-to-toe battle that an hour after its conclusion had been largely overshadowed by the intense Morales-Pacquiao main event. But this fight can stand on its own as a terrific all-action affair.

Arce showed tremendous courage fighting through a deep gash on the bridge of his nose that left him a bloody mess for much of the fight. Hussein also showed heart, never backing down. Even before what turned out to be the final round, HBO's Lampley blurted out exactly what we were thinking: "This has turned out to be a memorable and brilliant battle." An October rematch turned out quite differently, with Arce blitzing Hussein for a second-round TKO.
Tomasz Adamek W12 Paul Briggs (May 21 at Chicago)

Tomasz Adamek won a true slugfest.

What a shame that this brutal slugfest for a vacant light heavyweight title was not televised in the United States. If you call yourself a true boxing fan, you'll hunt down a tape or DVD from one of the many countries around the world that did televise the co-featured fight on the card headlined by Lamon Brewster's heavyweight title defense against Andrew Golota.

This fight stole the show. Adamek, from Poland, and Briggs, from Australia, dug deep inside to will themselves to the final bell of a bloody brawl that Adamek won via majority decision. How tough is Adamek? He came into the fight with his nose already broken. You can only imagine what it looked like after the fight. Briggs, too, showed immense heart as he also bled and absorbed massive shots round after round.

How both of these guys made it to the final bell remains one of the great unanswered questions of boxing in 2005. A rematch is likely and we simply can't wait.
Jesus Chavez W12 Carlos Hernandez (May 28 at Los Angeles)

Chavez

Although the bout was on the undercard of Julio Cesar Chavez's supposed "Adios" fight against Ivan Robinson, hardcore fight fans shelled out their pay-per-view money for this match, and it was worth every cent. Look up the word grueling in the dictionary and there should be a photograph from this one next to it.

Going in, you knew it would be a blood-and-guts battle of attrition. You know what? It was exactly that. For 12 razor-close rounds, the former junior lightweight champs hammered each other at close range with another title shot on the line. Virtually every round was loaded with hard, clean combinations in the center of the ring. Most rounds could have gone either way, but in the end it was Chavez pulling out the split-decision victory while fans were treated to a fabulous fight.
Vicente Mosquera W12 Yodsanan Nanthachai (April 30 at New York)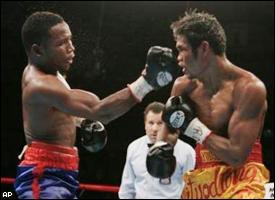 AP Photo/Ed BetzVincente Mosquera and Yodsanan Nanthachai fought an action-packed third round.

Although they fought in near-obscurity on the undercard of the John Ruiz-James Toney heavyweight title fight, Mosquera of Panama and Nanthachai of Thailand supplied more drama than the rest of the eight bouts on the card combined. Mosquera, the mandatory challenger fighting outside of his homeland for the first time in his career, claimed a junior lightweight world title in this sizzling affair. He scored knockdowns in the first, third and 11th rounds and survived his own trip to the deck in the wild third round.

There was no television coverage of this bout in the United States, but for those who were there, they won't soon forget it.
Vinny Maddalone TKO5 Shannon Miller (Aug. 19 at Saratoga Springs)

Vinny Maddalone won on heart and desire..

Maddalone is no stranger to exciting brawls. ESPN2 viewers are unlikely to forget his 2004 10th-round TKO loss to Brian Minto, one of that year's best fights. In 2005, Maddalone, a native of Queens, was at it again, but this time winning ESPN2's most dramatic fight and the best heavyweight bout of the year.

Neither Maddalone nor Miller is particularly skilled, but what they lack in that department they more than make up for in heart and desire. They went at it at a frantic pace from the opening bell, and although Maddalone would score three knockdowns en route to his win, it wasn't easy getting there. Miller had several big moments before succumbing. Although Miller was down twice in the opening round, he rocked Maddalone in between trips to the canvas and then cut him over the left eye in the second round of the roller coaster slugfest.

Maddalone summed it up afterward: "You get anyone to stand in front of me like that and it's going to be like that every day. It's going to be a war." So true.
Jhonny Gonzalez KO3 William Gonzalez (Sept. 1 at Tucson)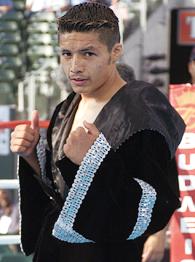 Rob DeLorenzoJhonny Gonzalez was all smiles before his slugfest with William Gonzalez.

These bantamweights have the same last name, but they are not family. After watching them tee off on each other for three rounds, that was obvious.

The fight, in which William Gonzalez was a late replacement for the injured Mark Johnson, was short but sensational, containing more action than many 10-rounders. If you like knockdowns, this HBO Latino main event was absolutely for you.

How about five in less than three full rounds?

First William hit the deck in the opening round. Jhonny went down in the second. Then things got really out of hand in the third, as William got knocked down, then Jhonny visited the mat for the second time, and moments later he starched William with a thudding right hand.
Jason Litzau W10 John Nolasco (July 15 at Temecula, Calif.)

Jason Litzau is an up-and-coming star.

Litzau, just 22, showed early traces of Arturo Gatti-like potential in the first real test of his career in this ESPN2 main event. Although it was an excellent, fast-paced featherweight fight, it didn't truly heat up until the second half, when there was plenty of drama. Litzau survived a hard knockdown with 30 seconds left in the seventh round and was so dazed that he walked back to the wrong corner after the round. He rebounded strongly to hurt Nolasco at the end of the ninth in this battle of wills that Litzau ultimately pulled out by split decision. This fight put him on the map as an exciting young fighter to watch. After the fight, Litzau summed it up perfectly: "It was a beautiful fight. I like this. This is what people come to see."
Michael Hunter W12 Esham Pickering (Oct. 28 at Hartlepool, England)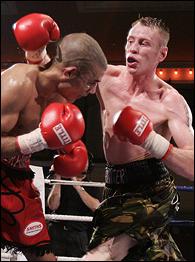 Action Images/WireImage.com Michael Hunter and Esham Pickering (red shorts) put on a good show in England.

The best British bout of the year was simply a dog fight featuring voluminous contact from start to finish, the sort of back-and-forth action that had the crowd roaring throughout.

Hunter thrilled his hometown fans by surviving knockdowns in the first and second rounds to pull out a majority decision and win the British, Commonwealth and European junior featherweight titles against his countryman.

He and Pickering also each won something else: Fans for life.
Oscar Larios W12 Wayne McCullough I (Feb. 10 at Lemoore, Calif.)

Larios

More often than not, McCullough -- the "Pocket Rocket" -- is involved in all-action fights. His first encounter with the then-junior featherweight champ was no exception. McCullough spent 12 rounds charging right to Larios, throwing punch after punch after punch. Larios, like most proud Mexican champions, never took a backward step despite suffering a right biceps injury in the sixth round.

It made for one terrific battle. It was so good that they faced each other again in July. However, they could not recreate the magic as Larios stopped McCullough in the 10th round of their July 16 rematch.
Also coming this week: Awards for round, knockout, prospect and fighter of the year
Dan Rafael is the boxing writer for ESPN.com.
Boxing
2013 BWAA Nat Fleischer Award winner for excellence in boxing journalism
ESPN.com boxing writer since 2005
Five years at USA Today
EDITORS' PICKS
Zou is getting a title shot in only his seventh fight as a pro.
Dan Rafael »

Thurman excited about headlining first PBC show.
Brian Campbell »

Provodnikov, Matthysse set to settle their differences.
Rankings »
MOST SENT STORIES ON ESPN.COM