Every round was special; 10th was extraordinary
Updated:
December 27, 2005, 4:22 PM ET
By
Dan Rafael
| ESPN.com
You could watch boxing for another 50 years and never see a round as extraordinary as the 10th frame of the now-legendary first fight between Diego Corrales and Jose Luis Castillo.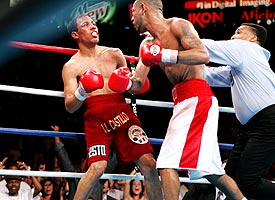 Tom Casino/WireImage.comDiego Corrales celebrates after stopping Jose Luis Castillo at 2:06 of the 10th round.
Before the round had even started, the lightweight unification match on May 7 at Mandalay Bay in Las Vegas was etching a place on the list of all-time great fights.
The 10th round, with two knockdowns and Corrales' stunning comeback, put the fight into the stratosphere of legendary fights.
Corrales and Castillo had already spent nine rounds slugging it out in a violent toe-to-toe collision. Each man was bleeding. Each man had been hurt. Each man was obviously exhausted.
Then came the 10th, the obvious choice for ESPN.com round of the year. It might just be one of the top 10 rounds of all-time.
Thirty seconds in, Castillo landed a tremendous left hook that stopped Corrales dead in his tracks and sent him to the canvas as his mouthpiece flew out. He rolled over on all fours and was in obvious distress, but shakily rose at the count of eight.
Referee Tony Weeks called timeout and replaced the mouthpiece. When the action resumed a few seconds later, Corrales again went down under heavy fire. While struggling to right himself, he pulled out his mouthpiece to aid him in catching his breath, as he said afterward.
It didn't seem like it would matter because the fight appeared to be over. Corrales was in a haze and he barely beat Weeks' count.
To hear Corrales' version, he had Castillo right where he wanted him. "I had all the heart and the desire and the knowledge I was going to win the fight," he said a few days later. "I had to stay in it."
Weeks called timeout again, deducted a point from Corrales for excessively spitting his mouthpiece, and had Corrales trainer Joe Goossen replace it.
Corrales was happy to trade the point for the roughly 30 seconds of recovery time he received while the bit was replaced. Refreshed as he could be at that stage of the fight, Corrales went back on the attack and, as they were trading, he finally hurt Castillo with a left hook.
| | |
| --- | --- |
| Year | Fight |
| 2005 | Diego Corrales-Jose Luis Castillo I (10th) |
| 2004 | Marco Antonio Barrera-Erik Morales III (11th) |
| 2003 | Acelino "Popo" Freitas-Jorge Barrios (11th) |
| 2002 | Micky Ward-Arturo Gatti I (9th) |
| 2001 | Micky Ward-Emanuel Burton (9th) |
| 2000 | Erik Morales-Marco Antonio Barrera I (5th) |
"Unbelievable ebb and flow," exclaimed Showtime broadcaster Steve Albert.
For the next minute, they threw everything they had at each other, and Corrales somehow found the energy to get off a seven-punch flurry. He connected with several of them, leaving a vulnerable Castillo out on his feet against the ropes with his hands dangling at his side, forcing Weeks to stop the fight and give Corrales one of the most incredible comebacks you will ever see in any sport.
"The fight is over! Corrales with a remarkable, dramatic turnaround to win this fight," Albert bellowed. "Unbelievable!"
Other scorchers:
Corrales-Castillo I (8th)

Castillo
Corrales

The reality is that virtually any round from the fight is a candidate for round of the year. The 10th is obviously the winner because of Corrales' amazing comeback, but for sheer action it's hard to top this one.

Corrales and Castillo had already spent seven rounds tearing into each other, so you figured fatigue would eventually become an issue, but it never did. In fact, they seemed to turn it up a notch in the eighth. Corrales, his left eye nothing more than a slit because of such massive swelling, came out with a sense of urgency. Castillo, too, was bleeding from a cut over his left eye.

No matter. They simply met in the center of the ring, winging punches at a breakneck pace.

With each punch, the crowd went nuts, and with 75 seconds to go, Showtime's Albert couldn't believe what he was seeing: "The action just never lets up!" Corrales and Castillo rocked each other with left hands in the final minute, one blow even sending Corrales' mouthpiece flying out, a mere portent of things to come.
Miguel Cotto-Ricardo Torres (2nd)

Cotto

Both men had already been rocked in the first round of this junior welterweight title bout, and Torres had been down. It only served as an appetizer for this blazing round.

For the first 95 seconds, it was all Torres. He had his back to the ropes when he surprised Cotto with a big left hand that badly hurt him. He knew it and tried to capitalize, bludgeoning Cotto with an assortment of clubbing shots. Cotto was staggering around the ring in cartoonish fashion and finally went down for the first time in his pro or amateur career under a hail of power shots.

But Cotto showed tremendous heart and regained his footing to take charge in the final minute. He finally rocked Torres with 30 seconds to go, leading HBO's Jim Lampley to compare it to a legendary fight of yesteryear. "It's Foreman-Lyle at 140-pounds," Lampley exclaimed, comparing it to the epic brawl waged by heavyweights George Foreman and Ron Lyle in 1976.

"A gunfight in Atlantic City! Trading shots, Miguel Cotto and Ricardo Torres!"
Tomasz Adamek-Paul Briggs (8th)
This light heavyweight title bout was a grueling, brutal, stomach-churning fight, and the eighth round made us a little queasy, to tell you the truth. There was blood everywhere and classic back-and-forth action.

Briggs, with an ocean of blood pouring from a cut by his left eye, badly hurt Adamek with a right hand that sent him reeling into the ropes, his legs buckling. But Adamek, his face swelling like a balloon and blood flowing from his broken nose, rallied to hurt Briggs. Then Briggs rocked Adamek yet again as blood sprayed from both of their faces.

This round was not for the faint of heart or weak of stomach.
Sechew Powell-Cornelius Bundrage (1st)
Simply amazing. The junior middleweight prospects, headlining Showtime's "ShoBox: The New Generation" series, met in the center of the ring and knocked each other down with the first punches they threw in an ultra-rare double knockdown. Although the referee absurdly ruled that they had slipped, there was no doubt that they were knockdowns.

Each man sprang back up immediately and Powell's next shot -- a massive left hand -- crumpled Bundrage. He got up quickly, staggered across the ring and fell again. Then he got up again, but his legs were gone and he fell down again like a drunk as the referee called off the fight after just 22 explosive seconds.

"I've never seen anything like it, " exclaimed Showtime's Nick Charles. Neither had we.
Jesus Chavez-Carlos Hernandez (12th)

Chavez

This was simply an exhausting fight to watch as the former junior lightweight champs tore into each other at close quarters. The 12th round was a fitting conclusion to one of the year's most physical brawls.

It began with the combatants dispensing with the traditional tapping of gloves before the final round, hugging each other instead in a sign of respect. Then it was down to business as they immediately began trading in the center of the ring with the fight still up for grabs. They did that for virtually the entire three minutes as the Staples Center crowd went wild.
Erik Morales-Manny Pacquiao (5th)

Morales

You could really pick just about any round from this fabulous fight to be on this list, but we'll go with the action-packed fifth in which the junior lightweight stars hammered each other nonstop.

Pacquiao did the damage early on, and Morales responded with several stinging left hooks and a good right uppercut. The only lull was a brief timeout while Pacquiao was examined by the ringside physician after Morales busted open a cut above his right eye. Pacquiao, undeterred by the blood streaming down his face, continued to march forward while Morales did the same, resulting in tremendous action.
Jhonny Gonzalez-William Gonzalez (3rd)

Gonzalez

The bantamweights had already exchanged knockdowns in the first and second rounds to set the stage for this wild frame.

The first half of the round was pedestrian by the standards they had set in the first two rounds, but then things heated up big-time. A left-right combination dumped William to his backside, but he got up immediately and charged back into battle. He launched a right hand that buckled Jhonny and sent him down, although he popped right back up.

Ten seconds later, Jhonny landed a crushing right hand that splattered William flat on his back and out for the count to end a riveting round and a memorable fight.
Vicente Mosquera-Yodsanan Nanthachai (3rd)
Nanthachai, who had already been down in the opening round, was adamant about retaining his junior lightweight title. Mosquera was intent on seizing it. The result was a frenetic round with a wild swing of fortunes.

Nanthachai struck first, scoring a knockdown with a hard left hand, and appeared on the verge of a stoppage. But Mosquera recovered and responded seconds later, unleashing a flurry punctuated by a right hand that put the champion on the mat in a sudden reversal that made for the best round of a terrific bout.
Jorge Arce-Hussein Hussein I (6th)
These big-hearted flyweights spent most of the fight trading at close range, including in this remarkable round. They simply lowered their heads and swung away for most of the three minutes.

Arce, with blood streaming down his face from a horrible gash on the bridge of his nose, was digging left hooks to the body and Hussein was answering with right hands. There was tremendous sustained action, especially in the final minute.

As the round came to a close with Arce and Hussein in an all-out exchange and the MGM Grand crowd going berserk, HBO's Lampley summed it up: "It's becoming a movie fight!"
Lamon Brewster-Luan Krasniqi (9th)

Brewster

The fast-paced heavyweight title bout appeared to be over in the eighth when Brewster, who was trailing, scored a hard knockdown at the end of the round. However, Krasniqi survived with the help of an excessively long count from the referee.

When the ninth round began, however, Krasniqi was still dazed, and Brewster jumped on him to try to end it. He cracked Krasniqi, who was hurt and reeling, and just as it looked like Brewster would retain his title via knockout, Krasniqi came to life and staggered Brewster. The turnaround was brief, though, because with 12 seconds to go Brewster finally finished him.
Vinny Maddalone-Shannon Miller (1st)
These limited heavyweights with no use for defense wasted no time. Instead of sizing each other up, they dove right into battle at the opening bell.

Miller did the damage first, buzzing Maddalone with a left hand. But just when Maddalone appeared to be in trouble, he landed a tremendous looping left hand to knock Miller down. He was hurt but got up quickly and staggered Maddalone with a left hand of his own. Then, as they were swapping punches toe-to-toe in the center of the ring, Maddalone hammered Miller with a right hand to the eye, dropping him again. Miller was unsteady as he rose, but before they could engage again, the bell sounded to end a terrific round.
Alex "Terra" Garcia- Rhoshii Wells II (8th)
The heavy-handed Garcia dropped Wells 40 seconds into the round with his vaunted right hand, but Wells rose quickly in this junior middleweight title bout. Wells was hurt, however, and Garcia dominated the first two minutes.

Wells tried to grab onto him in order to smother the punches, but when that didn't work he figured he might as well try something else. So Wells went on the offensive and started winging shots. One of them, a left hook, nailed Garcia, who was stunned. From there, they spent the final 45 seconds battering each other.

"What a round of boxing this is," exclaimed broadcaster Bob Sheridan. "They're loading up shots at the bell again! What a war! All right! Both guys out on their feet!"
Calvin Brock-Jameel McCline (7th)

Brock

The two heavyweight contenders were in an exchange when McCline leveled Brock with a right-left combination. Brock was in trouble and badly hurt when he got up. McCline tried to finish him but Brock survived. There was still a minute to go when Brock turned things around and hurt McCline with a combination on the inside.

By the end of the round, Brock was in full control, raining shots on the winded McCline.

"What action from two very hungry and determined heavyweights," ESPN's Joe Tessitore said as the thrilling round came to a close.
Ike Quartey-Verno Phillips (9th)
The first half of the round of this junior middleweight bout was just solid, nothing spectacular. But the final 90 seconds were intense and exciting.

Phillips crushed Quartey with a right-left combination, sending him sprawling to the mat. Quartey was up at five, but wobbling. Yet he survived and rebounded to dish out punishment on Phillips. Just as it looked like Quartey might score a knockdown, Phillips unloaded at the bell and Quartey went down to a knee, although the referee ruled it a slip rather than the genuine knockdown that it appeared to be.
Antonio Tarver-Glen Johnson II (11th)

Tarver

They had already fought 22 tough rounds against each other dating back to their first match in December 2004. Six months later, here they were again battling for light-heavyweight supremacy in another bruising fight.

Johnson was losing this time, although not by much. So he attacked Tarver in attempt to seize control. Johnson kept throwing punches nonstop while Tarver landed some of his own in this grind-it-out three minutes that personified their rivalry.

When it was over, even HBO's hard-to-please Larry Merchant was impressed: "That is one of the best rounds you will ever see two light heavyweights fight."
Also coming this week: Awards for knockout, prospect and fighter of the year
Dan Rafael is the boxing writer for ESPN.com.
Boxing
2013 BWAA Nat Fleischer Award winner for excellence in boxing journalism
ESPN.com boxing writer since 2005
Five years at USA Today
MOST SENT STORIES ON ESPN.COM