Commentary
Scorecard: Clash of styles meant lots of fireworks in Atlantic City
Maybe it was the ring rust or maybe Herman Ngoudjo is better than he's given credit for. Whatever it was, Paulie Malignaggi was pushed to his limits and was forced to dig deep to eke out the win on Saturday.
Originally Published:
January 7, 2008
By
Dan Rafael
| ESPN.com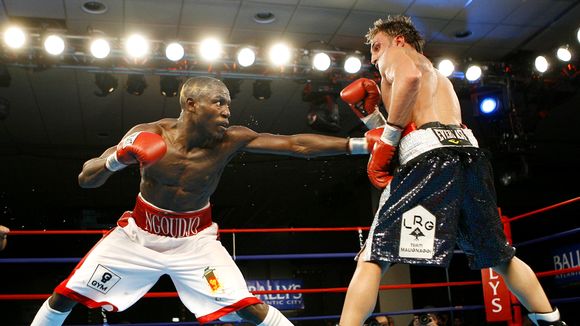 Ed Mulholland/Fightwireimages.comHerman Ngoudjo, left, used an unorthodox style to throw Paulie Malignaggi off of his game.

A roundup of last week's notable boxing results from around the world:

Saturday at Atlantic City, N.J.
Junior welterweight
Paulie Malignaggi W12 Herman Ngoudjo
Retains a junior welterweight title
Scores: 117-111, 116-113, 115-113
Records: Malignaggi, 24-1, 5 KOs; Ngoudjo, 16-2, 9 KOs

Rafael's remark: Malignaggi made the first defense of the belt he won with ease from Lovemore N'Dou in June, but it wasn't easy against big underdog Ngoudjo. Perhaps Malignaggi was a little rusty and perhaps Ngoudjo is better than many thought. More likely, it was a combination of both. Whatever it was, Malignaggi had a tough time with the rugged challenger and the fight could have gone either way. A draw wouldn't have been the worst decision either. Ngoudjo, who is from Cameroon but lives in Canada, seems to have a knack for close fights. He dropped a controversial split decision to former two-time lightweight champ Jose Luis Castillo in January 2006 but rebounded to win a split decision against ex-titleholder Randall Bailey in a June eliminator to earn the mandatory bout with Malignaggi. No matter whom you think won, at least Malignaggi and Ngoudjo made it as entertaining as their pre-fight war of words. Ngoudjo, who hurt Malignaggi in the seventh round, was aggressive while Malignaggi boxed, so it was a good mesh of styles. Malignaggi did enough in the middle rounds to open a lead, but Ngoudjo closed strong. Ngoudjo ought to remain in the mix for a good match in the division. Malignaggi, however, will be looking for something much bigger down the road, even if his uneven performance against Ngoudjo doesn't necessarily warrant it. The fight that he and promoter Lou DiBella would love to put together, possibly for the fall, is against recognized world champion Ricky Hatton. Hatton-Malignaggi, , which would be a big (and excellent) fight, is certainly a lot more interesting than Hatton against British countryman and titlist Junior Witter.
Light heavyweight
Glen Johnson TKO8 Hugo Pineda
Records: Johnson, 47-11-2, 32 KOs; Pineda, 39-4-1, 28 KOs

Rafael's remark: Antonio Tarver wants no part of light heavyweight titlist Chad Dawson, but Johnson doesn't seem to share Tarver's reluctance on the matter. Unlike Tarver, Johnson, who owns victories against Tarver and Roy Jones, is willing to fight anyone and doesn't make excuses. And after Johnson dropped Pineda -- the same guy who was knocked out in the fourth round by Felix Trinidad in a 1999 welterweight title fight -- in the seventh round, he finished him off with body shots early in the eighth. It was Johnson's third consecutive stoppage victory since losing a split decision in a title bout to Clinton Woods in September 2006. After the fight, it was announced that Johnson, still going strong at 39, had signed to face Dawson at a to be determined venue on Showtime on April 12. Pineda, a tall southpaw, mirrors Dawson's build, making him a good opponent for Johnson to face. It should be noted that the April 12 date is not Showtime's usual first Saturday of the month broadcast date for boxing, so the fight figures to be shoved aside by most in favor of the much bigger Bernard Hopkins-Joe Calzaghe championship fight being penciled in for the same date on HBO PPV.
Junior welterweight
Lovemore N'Dou KO7 Rafael Ortiz
Records: N'Dou, 46-9-1, 31 KOs; Ortiz, 14-12-2, 13 KOs

Rafael's remark: Fighting for the first time since Malignaggi routed him to take his belt in June, N'Dou returned on Malignaggi's undercard and got back in the win column against a D-level opponent. N'Dou knocked Ortiz down for the count with left hooks to the head and body. The win could set up a rematch with Malignaggi; he owes N'Dou one from their original contract but it was deferred after Malignaggi won the title because their fight was so one-sided and not remotely viable for American television. However, promoter Lou DiBella said there is interest in the bout in Italy, where Malignaggi's family is from. And since Malignaggi wants to be busy this year, which means three or possibly four fights, DiBella said he would consider taking the fight to Italy. Doing that would kill two birds with one stone: Malignaggi would stay active and N'Dou would get the rematch he is owed (but doesn't deserve).
Heavyweight
Chazz Witherspoon W8 Kendrick Releford
Scores: 78-75, 78-74 (twice)
Records: Witherspoon, 21-0, 14 KOs; Releford, 14-10-2, 5 KOs

Rafael's remark: Witherspoon, a cousin of two-time heavyweight champion Tim Witherspoon, keeps doing his thing as he climbs the ladder. His thing is to cruise past the usual assortment of journeymen heavyweights as he learns his craft and gains the experience he needs after a brief amateur career. Releford, who has faced many quality opponents, was the perfect sort of foe for Witherspoon, and the result couldn't have been any more expected. A few more fights like this and Witherspoon ought to be ready for a real test.
Junior lightweight
Yuriorkis Gamboa TKO1 Gilberto Luque
Records: Gamboa, 8-0, 7 KOs; Luque, 7-5-2, 3 KOs

Rafael's remark: Gamboa appears to be on a rocket ride to a championship. The 2004 Olympic gold medalist for Cuba has been extraordinarily impressive in his brief pro career. In this latest bout, the walkout bout after Malignaggi's close fight with Ngoudjo, Gamboa blitzed Mexico's Luque. Gamboa, who defected to Germany with two gold medal-winning teammates last April, needed 1:54 to get rid of Luque. He dropped Luque in the first 30 seconds with a left hand and then dropped him twice more before the referee called it off. How good is Gamboa? How about this from Lou DiBella's right-hand man, seasoned matchmaker Carl Moretti, who promoted the card but is not directly involved with Gamboa. Moretti said after seeing the bout that Gamboa was already a legit top 10 junior lightweight and that he "has the fastest hands I've seen since Meldrick Taylor, difference being, he has power in both hands." Compliments get no greater. Gamboa, who could stand to tighten his defenses, is slated to return to the ring in early February.
Friday at Tulsa, Okla.
Super middleweight
Allan Green W10 Rubin Williams
Scores: 99-89, 99-90, 98-91
Records: Green, 26-1, 18 KOs; Williams, 29-3-1, 16 KOs

Rafael's remark: With his hometown fans behind him, Green dominated Williams in the one-sided decision in the "Friday Night Fights" main event. Green displayed a powerful jab and scored a knockdown with a short jab in the final seconds of the ninth round to punctuate his victory. But what's with Green looking down at his feet about every five seconds? It's a horrible habit and maddening to watch. Green won his third consecutive bout since suffering his lone defeat, a decision to Edison Miranda 10 months ago. But it was also Green's second bout since undergoing serious surgery to have 85 percent of his colon removed. Considering his medical situation, Green looked good -- but not great. Williams, who hadn't fought since a draw with Antwun Echols in a brutal slugfest last January, looked like he was going through the motions; he was certainly not active enough against Green. Even when Williams, who was cut during the first episode of this past season of "The Contender," had a good moment, he didn't follow up.
Lightweight
Zahir Raheem KO1 Ricardo Domingo
Records: Raheem, 29-2, 17 KOs; Domingo, 23-2-2, 15 KOs

Rafael's remark: We could get used to this version of Raheem. Instead of the agonizing-to-watch Raheem, who stunk out arenas and was even booed by his hometown fans in his last fight, this Raheem blew away the overmatched Domingo, whose record was inflated against a collection of stiffs. That made no difference to Raheem, who was in dire need of an impressive showing. He got it by dusting Domingo with a picture-perfect left hook to the jaw. Domingo went down to his back, got to his butt and took the full count from referee Steve Smoger. Next time out, we need to see this dynamic Raheem, not the one whose style inflicts pain on viewers instead of opponents.
Friday at Biloxi, Miss.
Junior welterweight
Lamont Peterson W10 Antonio Mesquita
Scores: 100-89, 99-90, 98-93
Records: Peterson, 24-0, 11 KOs; Mesquita, 34-1, 26 KOs

Rafael's remark: Peterson dominated Mesquita, whose only chance to win was with a big punch that he never found and never really tried to go for until the last minute of the fight. Peterson, 23, was content to work behind a stiff jab, give the 36-year-old Mesquita angles and easily outbox him for the most notable win of his career in the "ShoBox" main event. Peterson sent Mesquita through the ropes with hard shot in the fifth and Mesquita rebounded by scoring what looked like a flash knockdown that was ruled a slip by referee Bill Clancy. However, Mesquita did land a punch and it appeared as though the ropes held Peterson up. After Peterson was warned for a low blow in the 10th, Mesquita retaliated by hitting him on the break and lost a point. Then Mesquita finally turned up the intensity that had been missing all fight, but it was too little, too late. It's time for Peterson to step up to face a contender or former titleholder. Showtime's Steve Farhood suggested someone like former titleholder Lovemore N'Dou. That is the perfect sort of test for him.
Lightweight
Anthony Peterson KO8 Jose Antonio Izquierdo
Records: Peterson, 26-0, 19 KOs; Izquierdo, 16-2-1, 13 KOs

Rafael's remark: Peterson, the 22-year-old younger brother of main event fighter Lamont Peterson, dominated Izquierdo en route to the impressive stoppage. Peterson scored a knockdown in the seventh round and two more in the eighth. Izquierdo was dead tired in the eighth and lost a point for excessive holding. A few moments later came the final knockdown and Izquierdo, a native of Cuba living in Mexico, had no intention of getting up. He only took the fight on a few days' notice after a contract squabble kept Guadalupe Rosales out of the bout. Time for Peterson, like his brother, to step up the competition in a major way. He's ready for a quality contender.
Friday at Los Angeles
Junior welterweight
Michele Rosales TKO2 Dairo Esales
Records: Rosales, 19-1, 17 KOs; Esales, 31-11, 25 KOs

Rafael's remark: Mexico's exciting Rosales scored his third victory in a row and did it in dynamic fashion in the Telefutura main event. After knocking Colombia's Esales down with a counter left hand in the opening moments of the second round, he poured it on. Eventually, he trapped Esales in a corner and unloaded a vicious flurry, eventually pounding him to the canvas and forcing the referee to call off the fight. Esales, a last-minute replacement after previous opponents Miguel Vazquez and Jose Antonio Izquierdo withdrew, lost his sixth fight in his last seven. However, the fight before this loss was an upset eight-round decision win against former titleholder DeMarcus "Chop Chop" Corley on Nov. 30.
Junior bantamweight
Brian Viloria W8 Jose Garcia Bernal
Scores: 78-72 (three times)
Records: Viloria, 20-2, 12 KOs; Bernal, 26-11-1, 17 KOs

Rafael's remark: Viloria, the former 2000 U.S. Olympian and former junior flyweight titleholder, moved up in weight and ended a three-fight winless streak by taking care of business against Colombia's Bernal. Viloria worked for his win against the tough Bernal, but left no doubt with a huge eighth round in which Bernal was penalized a point for spitting out his mouthpiece and then was knocked down with a hard right hand to the body. Viloria had lost his 108-pound belt to Omar Nino in August 2006, got a draw in a rematch (which became a no contest when Nino failed his post-fight drug test) and lost a majority decision to Edgar Sosa for a vacant belt in April.
Junior middleweight
Vanes Martirosyan W6 Clarence Taylor
Scores: 60-54 (three times)
Records: Martirosyan, 18-0, 12 KOs; Taylor, 12-13, 6 KOs

Rafael's remark: Two weeks after blowing away Dan Wallace in the first round, Martirosyan, the 21-year-old 2004 U.S. Olympian, made a quick return. But this time Taylor made Martirosyan, who was working with trainer Ronnie Shields for the second fight in a row, work for his win despite the lopsided scores. Taylor stunned Martirosyan with an uppercut in the second round, but he shook it off and dominated.
Dan Rafael covers boxing for ESPN.com.
Boxing
2013 BWAA Nat Fleischer Award winner for excellence in boxing journalism
ESPN.com boxing writer since 2005
Five years at USA Today
EDITORS' PICKS
Lawson defeats Prescott by split decision.
Watch replay

Charlo hoping for title shot with win over Martirosyan.
Dan Rafael »

Chris Algieri and Robert Garcia talk Mayweather-Pacquiao.
Grantland
MOST SENT STORIES ON ESPN.COM