Commentary
Scorecard: Williams goes from 'Punisher' to 'Punished'
Surprise, surprise! Paul Williams was being touted as the biggest threat to pound-for-pound king Floyd Mayweather -- until Carlos Quintana turned "The Punisher" into "The Punished" on Saturday.
Originally Published:
February 11, 2008
By
Dan Rafael
| ESPN.com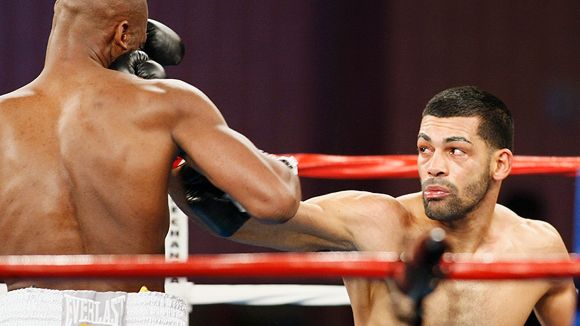 Craig Bennett/FightWireImages.com Paul Williams was looking ahead at big paydays, but Carlos Quintana, right, had other ideas.

A roundup of last week's notable boxing results from around the world:

Saturday at Temecula, Calif.
Welterweight
Carlos Quintana W12 Paul Williams
Wins a welterweight title
Scores: 116-112 (twice), 115-113
Records: Quintana, 25-1, 19 KOs; Williams, 33-1, 24 KOs

Rafael's remark: We have our first serious candidate for upset of the year with this surprising result. Williams, making the first defense of the belt he won in July 2007 from Antonio Margarito, was being pushed by promoter Dan Goossen as the most avoided fighter in the sport. Some believed he even posed the most legitimate threat to pound-for-pound king and recognized division champion Floyd Mayweather Jr. Hope that fantasy is over now after Williams was exposed in this hugely disappointing performance on HBO's "Boxing After Dark." Nicknamed "The Punisher," Williams might as well be called "The Punished" because that's what Quintana did to him. He strafed Williams -- who made $900,000 to Quintana's paltry $160,000 -- with clean shots all night in an entertaining battle of southpaws. Quintana landed more punches and was more accurate (of 596 for a 34 connect percentage while Williams was 157-of-799 for 20 percent, according to CompuBox). It was redemption for Quintana, who folded in his only previous title shot when he was smashed in five rounds by Miguel Cotto in December 2006. Quintana, 31, of Puerto Rico, had fought just once since that loss before getting the shot at Williams, 26, when titlist Kermit Cintron suffered an injury and withdrew from their unification bout. Quintana started extremely fast, slowed down a little in the middle rounds, and then picked it up down the stretch. He opened cuts over both of Williams' eyes, including a terrible gash over his right eye in the 11th round. With all the hype from his handlers, Williams seemed to have overlooked Quintana. Williams also looked sapped at the weight, even though he insisted he would remain at welterweight. But it's probably not healthy for him to weigh in at 146¾ pounds and rehydrate all the way to 164 pounds.
Welterweight
Andre Berto TKO6 Michel Trabant
Records: Berto, 21-0, 18 KOs; Trabant, 43-3-1, 19 KOs

Rafael's remark: The 2006 ESPN.com prospect of the year destroyed Trabant, who was fighting in the United States for the first time. Berto forced the former world title challenger and European champion from Germany to retire on his stool after the sixth round. Berto, 24, displayed his incredibly fast hands and good power against an opponent that showed no ability to mount any offense whatsoever. The fight was the first under Berto's three-bout contract with HBO. He's one of the most dynamic young fighters in the sport, but is absurdly ranked No. 1 by the WBC. He may someday deserve that perch, but he needs to step up and beat a serious opponent before he warrants that kind of recognition. Still, he did nothing wrong against Trabant and seems to be fighting in a more controlled manner with improving defense. In the star-filled welterweight division, Berto and his exciting style fit in well.
Heavyweight
Cristobal Arreola TKO1 Cliff Couser
Records: Arreola, 23-0, 21 KOs; Couser, 26-15-2, 14 KOs

Rafael's remark: No surprise: Couser lasted a mere 82 seconds before being stopped by Arreola, one of the top rising contenders. Couser was a particularly poor opponent and it wasn't a matter of if he'd be knocked out, it was a matter of when. Couser lost for the fifth time in six fights with each defeat coming inside two rounds. This was a joke match from the moment it was announced. Arreola had been out of action since September after passing on a "ShoBox" fight in the immediate wake of the shooting death of his best friend. Now that he's back, Arreola is poised for a meaningful fight.
Saturday at Leon Guanajuato, Mexico
Junior middleweight
Julio Cesar Chavez Jr. TKO8 Jose Celaya
Records: Chavez Jr., 35-0-1, 28 KOs; Celaya, 31-3, 16 KOs

Rafael's remark: Chavez, 21, didn't look great in this Top Rank PPV headliner, but the son of the legendary Julio Cesar Chavez Sr. (who was ringside working the Mexican television broadcast) took Celaya's will and made him quit. Chavez was taking a step up in competition against Celaya and almost had him out early. He scored a huge knockdown with a left hook in the second round, but Celaya survived. Celaya outboxed Chavez for stretches in the middle of the fight, but he had bad bruising under his left eye. A right hand dropped Celaya again in the eighth. After the action resumed, Chavez landed a blow directly on the swelling and Celaya turned away, shook his hand at the referee and quit. Promoter Bob Arum said Chavez will return in the main event of a pay-per-view card from Mexico on April 26.
Heavyweight
Tommy Morrison TKO3 Matt Weishaar
Records: Morrison, 48-3-1, 42 KOs; Weishaar, 3-1-2, 1 KO

Rafael's remark: The controversial Morrison fought even though his bout, which was announced by Top Rank as being part of the pay-per-view and then further promoted during the telecast, was ultimately held until after the main event at the direction of promoter Bob Arum, who told ESPN.com on Sunday that he decided to keep the bout off television at the last minute because he never wanted Morrison on the card in the first place. Arum said that Morrison was put on the card by one of his executives without his knowledge. Nonetheless, Morrison, 39, stopped Weishaar with a barrage of punches at 1:40 of the third round. If you don't know why this is controversial, you're either not a boxing fan or you've been under a rock for the past decade. Morrison tested positive for HIV in 1996. He insisted that he was clean in blood tests taken in late 2006 and early 2007 and apparently passed tests before being cleared to fight in February 2007, when he won his comeback in West Virginia. A former associate claimed that those tests were fraudulent. Morrison's participation in a fight in Mexico, where blood testing isn't mandatory, is scandalous. On the day of the bout, the American-based Association of Boxing Commissions pleaded with Mexican officials to stop the fight, to no avail. Morrison has said he would take a public blood test in the United States to prove he is HIV negative. Obviously, he hasn't done that yet. Don't hold your breath. The whole matter is a disgrace and Top Rank should be ashamed of itself. Arum, however, insisted that he didn't want him on the card in the first place and that he would never put Morrison on one of his cards again.
Junior flyweight
Edgar Sosa W12 Jesus Iribe
Retains a junior flyweight title
Scores: 120-108 (twice), 119-109
Records: Sosa, 31-5, 16 KOs; Iribe, 10-5-1, 4 KOs

Rafael's remark: Sosa, 28, pitched a near-shutout in a dominant victory to retain his 108-pound belt for the fourth time since winning it in April 2007. He's been one of the busiest titleholders in the world. It was Sosa's 19th consecutive win since losing a 2003 majority decision to Ulises Solis, his Mexican countryman who now owns one of the other junior flyweight titles. A rematch is in order. Top Rank promotes both fighters, so it would be an easy fight to make. It won't happen just yet because Sosa is likely headed to Haiti for a March 28 defense against Carlos Mello.
Middleweight
Marco Antonio Rubio TKO7 Jose Luis Zertuche
Records: Rubio, 41-4-1, 36 KOs; Zertuche, 19-5-2, 14 KOs

Rafael's remark: Neither of these guys know the meaning of going backward, so they were in front of each other the whole fight. But Rubio, 27, is more skilled and fresher than Zertuche, 34, who hadn't fought in 13 months. In his previous bout, future middleweight champion Kelly Pavlik knocked him out in spectacular fashion. Zertuche doesn't look like he's recovered. This was a WBC regional title bout, so Rubio, a former world title challenger, knew he was ahead on all three scorecards after the fourth round under the organization's awful open scoring system. In the seventh, Rubio hammered Zertuche virtually at will and battered him around the ring until the referee stepped in.
Junior welterweight
Omar Chavez KO1 Miguel Camacho
Records: Chavez, 6-0, 5 KOs; Camacho, 3-2-1, 1 KO

Rafael's remark: Here's a shocker -- a Chavez scored a knockout with a brutal left hook to the body. Following in the footsteps of his famous father, Mexican icon Julio Cesar Chavez, and his older brother, headliner Julio Cesar Chavez Jr., Omar dispatched Camacho in 97 seconds with a single, digging body shot the same way his old man did to so many opponents. Omar, just 18, is considered by many to be more of a serious prospect than Julio Cesar Chavez Jr. Top Rank promoter Bob Arum is high on him, so we'll be seeing much more of him. Arum said Camacho needed to go to the hospital after the fight and was urinating blood after the body shot.
Junior featherweight
Bernabe Concepcion W12 Juan Ruiz
Scores: 114-112 (twice), 114-111
Records: Concepcion, 24-1-1, 13 KOs; Ruiz, 21-5, 6 KOs

Rafael's remark: The opening fight of the pay-per-view card was a rough, physical bout filled with fouls, but Concepcion, a 20-year-old prospect from the Philippines, outmuscled Ruiz, of Santa Clarita, Calif., who dropped his third in a row. Both men were docked points for dirty tactics in the entertaining scrap.
Friday at Dover, Del.
Cruiserweight
B.J. Flores W12 Darnell "Ding-A-Ling Man" Wilson
Scores: 118-110, 116-112, 115-113
Records: Flores, 21-0-1, 13 KOs; Wilson, 22-6-3, 19 KOs

Rafael's remark: In his first bout against a notable opponent, Flores pulled off the upset in the "Friday Night Fights" main event even if, being polite, it was not an enthralling performance. Fearing Wilson's calling card power, Flores frustratingly (for Wilson and viewers) played keep away. He boxed from the outside, used a five-inch height advantage, a better jab and took few chances. But against Wilson, 33, a tremendous puncher with limited skills, it was enough. In the end, it was a close fight despite the ludicrous 118-110 scorecard turned in by George Hill. Wilson had no game plan other than to try to land a massive punch, which he did effectively during his impressive four-fight winning streak that included a memorable 11th-round destruction of Emmanuel Nwodo last summer in the 2007 knockout of the year. Although Wilson's aspirations for a title shot took a serious blow, his power will always make him welcome in a televised fight. Flores, 29, moved a step closer to a title opportunity, but if he wants to make real money and fans, he'll need to fight in a more appealing style.
Friday at Boston
Featherweight
Antonio Escalante W10 Jose Beranza
Records: Escalante, 17-2, 10 KOs; Beranza, 30-12-2, 25 KOs

Rafael's remark: The 22-year-old Escalante had been viewed as a quality prospect until being stopped 13 months ago by Mauricio Pastrana, a faded former titleholder who is much smaller. However, Escalante is putting his career back on track and won his third in a row. He dominated Beranza, who dropped his third fight in a row in the Telefutura main event.
Welterweight
Jeffrey Resto W8 Humberto Tapia
Scores: 77-75 (twice) Resto, 77-75
Records: Resto, 21-2, 13 KOs; Tapia, 12-6-1, 5 KOs

Rafael's remark: Resto closed strong to claim a split decision against Tapia. Resto, a New Yorker, was once an acclaimed prospect before back-to-back losses to Carlos Maussa (September 2003) and Michael Warrick (June 2004). Resto, 30, has now won four in a row, but this was his first bout in 11 months. He replaced 2004 U.S. Olympian Rock Allen on the card after Allen suffered a thumb injury.
Friday at Miami
Welterweight
Cosme Rivera TKO8 Raul Pinzon
Records: Rivera, 31-11-2, 22 KOs; Pinzon, 15-2, 14 KOs

Rafael's remark: Rivera, who once challenged Zab Judah for the undisputed welterweight title, shook off a two-fight losing streak to Andre Berto and Joel "Love Child" Julio to dominate Pinzon in the Telemundo main event. Mexico's Rivera cut Pinzon, of Colombia, and dropped him with a solid right hand in the eighth. Pinzon barely beat the count, but the referee called it off as Pinzon grimaced in pain.
Bantamweight
Eric Morel W8 Felipe Almanza
Scores: 79-73, 78-74, 77-75
Records: Morel, 36-2, 18 KOs; Almanza, 12-13-2, 6 KOs

Rafael's remark: Morel, a former flyweight titleholder and a 1996 U.S. Olympian, returned to the ring for the first time since March 2005, when he lost a junior bantamweight title bout to Martin Castillo. The reason for the layoff: Morel went to prison for sexually assaulting a 15-year-old girl. Morel, 32, came out of prison six months ago and is trying to resurrect his career in a new weight division as he outpointed Almanza, who dropped his fourth in a row.
Junior middleweight
Ishe Smith TKO2 Carlos De La Cruz
Records: Smith, 19-2, 9 KOs; De La Cruz, 10-11-1, 10 KOs

Rafael's remark: Smith, a first-season participant on "The Contender," returned to the ring for his first fight since losing a decision to Sechew Powell on HBO in February 2007. Smith got in a little work in the tuneup fight before stopping De La Cruz, who fell to 1-8-1 in his past 10. Smith is next supposed to face Joel "Love Child" Julio in the April 30 main event on ESPN2's "Wednesday Night Fights."
Friday at Dubai
Heavyweight
Michael Moorer KO1 Shelby Gross
Records: Moorer, 52-4-1, 40 KOs; Gross, 16-4, 13 KOs

Rafael's remark: The wealthy United Arab Emirates could become a major player in boxing because of its financial resources and this was the first of two notable cards scheduled there in the first part of the year. Moorer, the 40-year-old former two-time heavyweight champion, won his sixth in a row, needing just 32 seconds to blow out Gross. Moorer scored two knockdowns and finished Gross with a right uppercut. That's a pretty long trip to make for barely a half-minute of work.
Heavyweight
J.D. Chapman KO2 Rich Boruff
Records: Chapman, 29-0, 26 KOs; Boruff, 17-2-1, 10 KOs

Rafael's remark: Although Chapman, 24, still has not fought anybody with a pulse, he nonetheless extended his glossy record with a blowout of Boruff, ending matters at 1:17 of the second round with a left-right combination. Chapman also had Boruff, who lost his previous fight on a first-round knockout to Michael Moorer, on the deck in the first round.
Thursday at Las Vegas
Junior welterweight
Kendall Holt W10 Ben Tackie
Records: Holt, 23-2, 12 KOs; Tackie, 29-9-1, 18 KOs

Rafael's remark: Whatever is written here has to be more interesting than this fight. It was pure agony. In his first bout since a controversial 11th-round TKO loss to titleholder Ricardo Torres in Colombia in September, Holt used his boxing skills and speed to win a methodical and utterly uninteresting decision against the faded Tackie, who still has never been knocked down or stopped. It was Holt's first bout since signing with Top Rank, and despite the agony of the Versus main event, company chief Bob Arum said he'd still like to match Torres and Holt in a rematch. For what it's worth, Holt was suffering from flu-like symptoms before the bout. Tackie dropped his third in a row. How judge C.J. Ross had it a draw will forever remain a mystery, although if she fell asleep, which would be understandable, that would explain it.
Junior middleweight
Vanes Martirosyan TKO3 Michi Munoz
Records:Martirosyan, 19-0, 13 KOs; Munoz, 20-2, 13 KOs

Rafael's remark: Top Rank's ability to develop a fighter from the amateurs into a top professional is clearly at work again with Martirosyan, a 2004 U.S. Olympian who is just 21 and beginning to blossom. Now under trainer Ronnie Shields, Martirosyan's jab is becoming an impressive weapon. He knocked Munoz down in the first and third rounds and finished him later in the third when referee Kenny Bayless stepped in. Under Top Rank's guidance it is no surprise that Martirosyan has been the busiest of all the 2004 U.S. Olympians. Top Rank chief Bob Arum said after another couple of fights, he'd like to step Martirosyan up into an HBO "Boxing After Dark" opening bout. That is, of course, if Arum can get a "BAD" date, which he hasn't had in 14 months.
Dan Rafael is the senior boxing writer for ESPN.com.
Boxing
2013 BWAA Nat Fleischer Award winner for excellence in boxing journalism
ESPN.com boxing writer since 2005
Five years at USA Today
MOST SENT STORIES ON ESPN.COM