Commentary
Scorecard: Pavlik, Taylor provide 12 rounds of fun and fireworks
You get the feeling that if they were to fight 100 times, Kelly Pavlik and Jermain Taylor would put on a hundred spectacular shows -- but Pavlik would always come out on top, writes Dan Rafael.
Originally Published:
February 18, 2008
By
Dan Rafael
| ESPN.com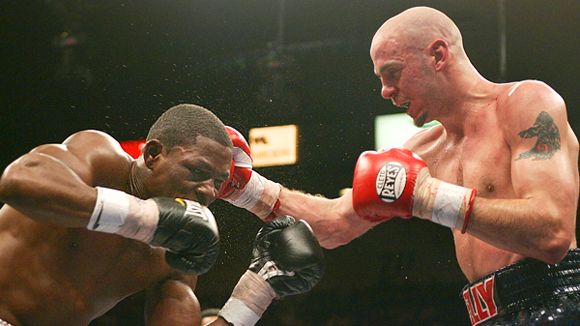 Chris Farina/Top RankKelly Pavlik, right, swept the later rounds to secure victory over Jermain Taylor.

A roundup of last week's notable boxing results from around the world:

Saturday at Las Vegas
Super middleweight
Kelly Pavlik W12 Jermain Taylor
Scores: 117-111, 116-112, 115-113
Records: Pavlik, 33-0, 29 KOs; Taylor, 27-2-1, 17 KOs

Rafael's remark: The first fight between Pavlik and Taylor, the epic battle this past September in which Pavlik rallied to knock him out in the seventh round to win the middleweight championship, was a great fight. The much-anticipated rematch, a nontitle bout contracted for a 166-pound maximum (they both weighed 164) as per Taylor's rematch clause, was merely an excellent fight. These guys could fight 100 times and it probably would be an entertaining fight every time. But one other thing also is clear -- Pavlik, forced to go past nine rounds for the first time in his career, is just a smidge better than Taylor.

Even though Taylor fought much better than in the first fight, and did so under the tutelage of assistant trainer-turned-head trainer Ozell Nelson in the wake of the firing of Emanuel Steward, he couldn't do enough. But other than Pavlik, Taylor probably would have beaten any other middleweight in the world on this night, and for sure some of the top super middleweights also. But Pavlik is so strong, so confident and so busy -- not to mention that, at 25, he is four years younger than Taylor -- that it's going to be tough to beat him. With a pro-Pavlik crowd of 9,706 in the house -- thousands of them from Pavlik's beloved Youngstown, Ohio -- Pavlik did a good job beating Taylor to the punch and applying relentless pressure. Taylor was effective late in rounds as he tried to steal some of them with bursts, but Pavlik was steadier throughout a fight in which there were many close rounds.

Both teams believe they will meet again someday at a heavier weight, just not right away. Taylor is going to stay at super middleweight and look for action there. It shouldn't be hard to find good fights for him because it's a good division. He could meet Winky Wright there in a rematch of their draw. There are also attractive fights with Mikkel Kessler, Allan Green, Jeff Lacy (Taylor's 2000 Olympic teammate) and others. Pavlik is going back down to 160 pounds, intending to make a few defenses before also moving up. Next up will be a June 7 fight at Madison Square Garden. He probably will face John Duddy, as long as Duddy wins a tune-up fight on Saturday on the Wladimir Klitschko-Sultan Ibragimov heavyweight unification undercard. Pavlik plans to be in the house watching. The other possibility is star Felix Trinidad, but there are serious doubts about whether Tito can make the weight. Later in the year, Pavlik could meet belt holder Arthur Abraham of Germany. Whoever winds up on Pavlik's dance card, he is now a bona fide star and won't lack for money fights as long as he keeps doing what he has been doing, which is boxing at a high level and making crowd-pleasing fights.
Junior bantamweight
Fernando Montiel KO4 Martin Castillo
Retains a junior bantamweight title

Records: Montiel, 36-2-1, 27 KOs; Castillo, 33-3, 17 KOs

Rafael's remark: Where has this Montiel been hiding? What a performance from the 28-year-old. He took Castillo, a former titlist many picked to win the fight, and blew him out easily. It was shocking. Montiel, 28, knocked him down early in the first round and cut his left eye, and Castillo was never the same. In the fourth, Montiel was still pouring it on when he knocked Castillo down again. Instead of getting up, a thoroughly beaten Castillo stayed on his knees and was counted out. At 31, Castillo could be at the point that he has become an old man in boxing years. The victory could propel Montiel, now with six defenses under his belt in his second title reign at 115 pounds, into a unification fight with fellow titleholder Cristian Mijares, who also retained his title on the card. More immediately, Montiel might return on an April 26 Top Rank PPV card headlined by Julio Cesar Chavez Jr.
Junior bantamweight
Cristian Mijares W12 Jose Navarro
Retains a junior bantamweight title
Scores: 117-111, 115-113, Mijares; 120-108 Navarro
Records: Mijares, 34-3-2, 13 KOs; Navarro, 26-4, 12 KOs

Rafael's remark: Mijares, who put on a very good performance against a very good challenger, is closing in on a spot in the top 20 pound-for-pound. He is an excellent fighter with a diverse arsenal. There were many close rounds, but Mijares, 26, with his more accurate punching, got the better of the action in his sixth title defense. He severely messed up Navarro's face. Navarro's left eye was grotesquely swollen and totally closed, his right eye was cut, his nose was bleeding, and he was marked up all over. Even his once-white trunks were soaked in his own blood. Yet judge Doug Tucker somehow had it a shutout for Navarro. That's one of the worst scorecards in the history of boxing. No exaggeration. Did Navarro, 26, win some rounds? Sure. Can you argue that maybe he won? Possibly. But to have him winning every single round borders on insanity. Just look at Navarro's face. Don't you think that maybe, just maybe, he lost at least one round? Anyway, it was Navarro's fourth shot at a title (first on American soil) and fourth empty feeling, even though his 2005 split decision loss in Japan to Katsushige Kawashima was a brutal robbery. Gaining a fifth shot could be a long shot.
Junior middleweight
Ronald Hearns TKO8 Juan Astorga
Records: Hearns, 18-0, 14 KOs; Astorga, 11-2-1, 6 KOs

Rafael's remark: Hearns looks so much like his father, all-time great Thomas Hearns, that it is scary. They're both long and lanky and they both can punch extremely hard. But Ronald, 29, is still just a prospect climbing the ladder after never fighting until his mid-20s. He's very raw and has a long way to go, but he's improving with every fight. Astorga was a bit of a step up for him, and he did well, knocking him down in the fifth round and finally stopping him in the final round as proud papa watched. One thing Hearns can improve is his finishing skill. He had Astorga hurt many times and should have been able to end the fight sooner. Hearns is ready to step up again, but what about this -- Lou DiBella, who promotes Hearns, and Bob Arum, who handles Julio Cesar Chavez Jr., talked after the fight about matching the famous spawn. They were only half serious, but wouldn't that be a cool fight?
Flyweight
Brian Viloria W8 Cesar Lopez
Scores: 78-73 (twice), 77-74
Records: Viloria, 21-2, 12 KOs; Lopez, 20-6, 4 KOs

Rafael's remark: For the first time in several fights, Viloria, a former junior flyweight titleholder, looked very good. He came awfully close to becoming the first fighter to stop Lopez, who has a great chin and survived numerous rocky moments against the "Hawaiian Punch." Viloria, 27, who knocked Lopez down in the fifth round, won his second in a row after going 0-2 with a no contest in 108-pound title bouts. Lopez lost a third consecutive fight.
Middleweight
Danny Jacobs TKO2 Alexander Volkov
Records: Jacobs, 3-0, 3 KOs; Volkov, 0-1-1

Rafael's remark: Jacobs was a terrific amateur, but he lost in last year's U.S. Olympic trials and decided to turn pro. Amateur boxing's loss is pro boxing's gain with this exciting 21-year-old prospect from Brooklyn, N.Y. He has very fast hands and obvious power, which he used to score two knockdowns in a dominant performance that saw Jacobs get into the second round for the first time. Jacobs has much to learn -- he still has some amateur habits -- but check back in two or three years and we could be looking at a serious player.
Junior lightweight
Miguel Angel "Mikey" Garcia TKO5 Jorge Ruiz
Records: Garcia, 11-0, 9 KOs; Ruiz, 5-4-1

Rafael's remark: Top Rank is the very best in the business when it comes to developing young prospects into topflight fighters. Garcia, trained by older brother and former junior lightweight beltholder Roberto Garcia, looks as though he will be another one of them. The 20-year-old college student from talent-rich Oxnard, Calif., could develop very quickly. He has nice size for his weight division, has good power and is well-schooled in the fundamentals. Ruiz's record is nothing special, but he had never been stopped, not even in his previous fight against Argenis Mendez, another of Top Rank's outstanding prospects. But Garcia, who is managed by Cameron Dunkin (who also has Kelly Pavlik) flattened Ruiz, nailing him with an out-of-nowhere right hand midway through the fifth to end the fight.
Junior middleweight
Sergio Martinez W4 David Toribio
Scores: 40-36 (twice), 39-35
Records: Martinez, 42-1-1, 22 KOs; Toribio, 14-11, 8 KOs

Rafael's remark: This was weird. Here's Martinez, the mandatory challenger for titlist Vernon Forrest, staying busy -- in a four-round fight. That is odd. Normally, it would be at least an eight-rounder. Martinez didn't fight with any particular urgency in the short bout, but still dominated Toribio, who didn't belong in the ring with a legitimate contender. Martinez pounded on him for the whole fight, although he couldn't get him off his feet. Nonetheless, it was a decent workout for Martinez (he probably gets better work in the gym) and yet another loss for Toribio, who found the "L" column for the 11th time in 13 fights. Anyone expect anything other than a Martinez rout?
Saturday at Nurnberg, Germany
Heavyweight
Nikolai Valuev W12 Sergei Liakhovich
Title eliminator
Scores: 120-108 (twice), 120-107
Records: Valuev, 48-1, 34 KOs; Liakhovich, 23-3, 14 KOs

Rafael's remark: In a fight between former titleholders, Valuev, the 7-foot, 321-pound Russian giant, looked as good as he ever has and Liakhovich, who is 6-foot-4, was horrible. The result: a shutout for Valuev, 34, who earned a mandatory rematch with titlist Ruslan Chagaev, who took Valuev's belt via majority decision in April 2007. Valuev throttled the disinterested, out-of-shape Liakhovich, 31, who was a career-heavy 251 pounds (13 pounds more than when he lost his title to Shannon Briggs in his previous fight, in November 2006). And Valuev won essentially with one punch: a long, stiff left jab that he powered into Liakhovich's swelling face over and over and over and over and over again. For 12 rounds, it's all he did, and Liakhovich was utterly clueless how to defend himself. Tommy Brooks, Liakhovich's trainer, was exasperated with him, yelling before the 11th round, "Keep your hands up, man!" Truer words could not have been spoken. Liakhovich looked like a spent fighter. Valuev, however, has a serious chance to regain his belt when he meets Chagaev for the rematch.
Friday at Uncasville, Conn.
Welterweight
Delvin Rodriguez W10 Troy Browning
Scores: 100-90 (twice), 99-91
Records: Rodriguez, 22-2-1, 13 KOs; Browning, 20-1-1, 8 KOs

Rafael's remark: Rodriguez, 27, fighting in his home state, used his height, speed, reach, youth and, frankly, talent advantages to dominate 40-year-old southpaw Browning, who had racked up an unbeaten record in a 17-year career against terrible opposition. But he did score a signature victory in his previous bout, against heavily touted prospect Julio Cesar Garcia in June on ESPN2's "Friday Night Fights." Returning to the series, Browning couldn't handle Rodriguez, a prospect who has been a staple of the show for the past few years. He won his second in a row since being stopped in the eighth round by Jesse Feliciano in a March 2007 upset.
Friday at Cicero, Ill.
Welterweight
Mike Alvarado W10 Jesus Rodriguez
Scores: 100-90, 98-92, 97-93
Records: Alvarado, 20-0, 13 KOs; Rodriguez, 17-3, 5 KOs

Rafael's remark: A couple of months ago, Alvarado, 27, thought he would be fighting Ricardo Torres for a junior welterweight title on the Kelly Pavlik-Jermain Taylor undercard, but Torres eventually rejected the match. This was Alvarado's consolation prize: a headline slot on Telefutura. Alvarado, one of the Top Rank prospects who doesn't get much hype, followed up a first-round TKO of Michael Clark in December with this distance fight. Alvarado had some issues with Rodriguez's style early on but figured him out and cruised to the decision.
Dan Rafael is the senior boxing writer for ESPN.com.
Boxing
2013 BWAA Nat Fleischer Award winner for excellence in boxing journalism
ESPN.com boxing writer since 2005
Five years at USA Today
SPONSORED HEADLINES
MORE BOXING HEADLINES
MOST SENT STORIES ON ESPN.COM
EDITORS' PICKS
Cruiserweight titlist Marco Huck's stock is on the rise.
Scorecard »

Jean Pascal continues to chase Adonis Stevenson.
Dan Rafael »

Andre Berto is ready to jump back into the ring Sept. 6.
Dan Rafael »