Commentary
Scorecard: Savvy vet Casamayor proves he still has it
In boxing, you're only as good as your last fight. Most pundits had written off Joel Casamayor after a dismal showing against Jose Armando Santa Cruz in November, but in dissecting upstart Michael Katsidis, Casamayor proved he's still a world-class operator.
Originally Published:
March 24, 2008
By
Dan Rafael
| ESPN.com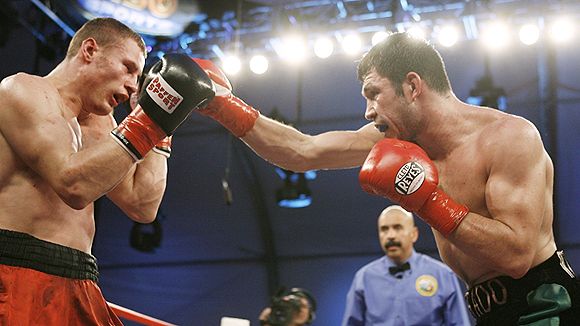 Tom Hogan/Golden Boy PromotionsHe may not have been the star of the show, but Librado Andrade, right, punched his ticket to bigger paydays by stopping Robert Stieglitz on Saturday.

A roundup of last week's notable boxing results from around the world:

Saturday at Cabazon, Calif.
Lightweight
Joel Casamayor TKO10 Michael Katsidis
Retains world lightweight title

Records: Casamayor, 36-3-1, 22 KOs; Katsidis, 23-1, 20 KOs

Rafael's remark: The old man obviously still has something left after this dramatic victory in a terrific action fight on HBO's "Boxing After Dark." As boxing fans, we're getting a little spoiled after seeing our third classic of the month to go along with the March 1 Israel Vazquez-Rafael Marquez rubber match and the March 15 Manny Pacquiao-Juan Manuel Marquez rematch. We expected tremendous battles in those other two fights, but the sheer excitement of Casamayor-Katsidis came as something of a surprise. Folks who follow boxing know what to expect from Katsidis, and that's a brawl. But although Casamayor has been in some very entertaining fights, he also can really stink an opponent out. Coming off his last fight, a horrible performance last fall, this one came out of left field. Casamayor, the legitimate and lineal lightweight world champion, was last in the ring in November on the Miguel Cotto-Shane Mosley undercard against Jose Armando Santa Cruz. The 36-year-old Casamayor was dropped and beaten every possible way. When it was over, virtually every ringside observer not only had Santa Cruz winning, but had him winning via virtual shutout. Two of the (blind) judges, however, incredibly gave it to Casamayor and he won the split decision in the worst decision of 2007, by far. At that point, Casamayor's career was left for dead and many expected the physically bruising Katsidis to walk through him and claim the title. Not so fast. Casamayor dropped Katsidis twice in the first round, and the excitement never let up. Katsidis, who had trouble figuring out Casamayor's southpaw stance early on, fought his way back into the bout and was beginning to wear Casamayor down. He knocked Casamayor out of the ring and onto the apron with a body shot in the sixth round and, after referee Jon Schorle took a point from Casamayor for a low blow in the ninth, Katsidis led on two scorecards heading into the 10th. But 30 seconds into the round, Casamayor knocked Katsidis down with a left he never saw. Although he continued, Katsidis was shaky. After Katsidis took another flush blow, Schorle stopped the fight to give Casamayor a dramatic victory. It was a tremendous rebound performance for the 1992 Cuban Olympic gold medalist after the debacle with Santa Cruz. Afterward Casamayor called out Manny Pacquiao and Marco Antonio Barrera, but who cares about either of those fights? The fight he needs to take is a rematch with Nate Campbell, who upset Juan Diaz earlier this month to lift a trio of alphabet titles. Casamayor has the Ring title (and the meaningless alphabet interim title he won from Katsidis) and the lineage. Campbell, who was ringside, has most of the hardware and a signature victory against Diaz. Not only that, Campbell and Casamayor fought in 2003, and Casamayor won a highly competitive decision to hand Campbell his first pro loss. A rematch is an absolute must. And not in a year. Next. Golden Boy has ideas of a Casamayor-Diaz fight, but that would be wrong, just wrong. Let Casamayor fight Campbell and Diaz can fight Katsidis (who, despite the loss, remains a must-see fighter) in the losers bracket. The winners can then fight. It's pretty simple.
Super middleweight
Librado Andrade TKO8 Robert Stieglitz
Title eliminator

Records: Andrade, 27-1, 21 KOs; Stieglitz, 31-2, 19 KOs

Rafael's remark: Although this fight was not originally supposed to be on card -- it was only added to HBO's telecast after a junior welterweight title bout between Junior Witter and Demetrius Hopkins fell apart a few weeks ago -- it turned out to be an exciting, albeit one-sided, fight. Andrade dominated to earn a mandatory title shot against Lucian Bute of Canada. Andrade has been to Canada before and won, sending Otis Grant into retirement in 2006 to earn a title bout with Mikkel Kessler last March. However, Kessler pummeled Andrade over 12 rounds to win the lopsided decision. Andrade seems to have bounced back from the loss, winning his third in a row. Against Stieglitz, Andrade, 29, used a terrific body attack and landed some thudding uppercuts to mow him down. Stieglitz, 26, from Germany via Russia, was bleeding from the nose and taking heavy fire when referee Ray Corona stopped the fight. Like Andrade, Stieglitz was bidding for a second shot at a world title. In his other appearance, he was stopped by Alejandro Berrio in the third round last March in Germany. Subsequently, Berrio lost to Bute, who will now have to meet Andrade, who has no problem taking three shots to get in one. He's as fan-friendly a fighter as there is.
Junior lightweight
Billy Dib W10 Edgar Vargas
Scores: 95-94 (twice) Dib, 95-94 Vargas
Records: Dib, 18-0, 9 KOs; Vargas, 11-4, 1 KO

Rafael's remark: Australia's Dib, 22, a flamboyant -- bordering on cocky -- fighter, edged Vargas, 24, via split decision. Dib lost a point in the fifth round for a low blow that sent Vargas to the canvas. Had he not lost the point, it would have been a majority decision. There has been talk that Dib could next challenge featherweight titlist Jorge Linares in the spring, possibly on Oscar De La Hoya's May 3 undercard, but nothing is solid yet.
Middleweight
Daniel Jacobs TKO1 Matt Palmer
Records: Jacobs, 4-0, 4 KOs; Palmer, 2-2, 0 KOs

Rafael's remark: Jacobs, 21, was one of the most sough after amateurs who turned professional after losing in last year's U.S. Olympic trials. He signed with powerful adviser Al Haymon and has looked good in the early fights of his pro career. The Brooklyn, N.Y., native has only been stretched into the second round once so far. Palmer couldn't do it though as Jacobs dropped him twice with body shots for the first-round stoppage.
Featherweight
Carlos Velasquez W6 Manuel Sarabia
Scores: 60-54 (twice), 59-55
Records: Velasquez, 7-0, 6 KOs; Sarabia, 16-23-9, 9 KOs

Rafael's remark: Fighting on the same card as his 23-year-old twin brother, Velasquez, of Puerto Rico, scored a lopsided decision against the experienced Sarabia, who has faced several quality opponents, including Hall of Famer Michael Carbajal in 1996 (first-round knockout loss). But Sarabia usually goes rounds with his opponents, which is why he was brought in for Velasquez, who got just that. Velasquez was pushed the distance for the first time, despite hurting both hands. Manager Shelly Finkel believes he needs to have his hands wrapped better to prevent the injuries.
Featherweight
Juan Velasquez W4 Tomas Bernal
Scores: 40-36 (three times)
Records: Velasquez, 7-0, 4 KOs; Bernal, 3-6, 2 KOs

Rafael's remark: Velasquez, 23, a standout amateur from Puerto Rico who, like twin brother Carlos, is managed by Shelly Finkel and promoted by Golden Boy, won the shutout decision. Finkel believes both brothers are ready to move into longer bouts and could put them in eight-rounders as soon as their next bouts.
Saturday at Cardiff, Wales
Junior welterweight
Andreas Kotelnik TKO12 Gavin Rees
Wins a junior welterweight title
Records: Kotelnik, 29-2-1, 13 KOs; Rees, 27-1, 13 KOs

Rafael's remark: Kotelnik, a 2000 Olympic silver medalist, is a hard-luck loser no more. The German-based Ukrainian came to Rees' home turf and gave him a beating, finally stopping the giant-hearted defending titlist in the final round of his first defense. The only blemishes on Kotelnik's record are a split decision loss to Souleymane M'Baye (the man Rees won his belt from last July) in a 2004 eliminator, a competitive decision loss to future titleholder Junior Witter in a 2005 European championship fight, and a 2007 draw with M'Baye in a rematch for a world title. So when Kotelnik faced Rees as the mandatory challenger, he did so with much more experience against a better cut of opponent than Rees had. It showed. The first few rounds of the fight were competitive but then it was all Kotelnik, although Rees showed tremendous courage to keep absorbing punishment while throwing a few shots back to stay in the exciting fight. But by the 12th, he was out of gas and his nose was busted. Kotelnik, 30, who was simply smacking him around at will at this point, cracked him with a right hand and, a few seconds later, Rees fell to the canvas. Although it was not ruled a knockdown, Rees, 27, was done. When he got up, Kotelnik ripped him with a few more shots and referee Luis Pabon mercifully called it off. Had it continued, Rees, who trailed on two scorecards going into the 12th, could have suffered a serious injury. That's how much punishment he was taking over the final few rounds. It was another tough night for Rees' trainer, too. He is trained by Enzo Calzaghe, who lost his second world titlist of the month. His cruiserweight beltholder was knocked out by David Haye in their unification match on March 8. He has one champion left, his super middleweight son Joe Calzaghe, who challenges Bernard Hopkins for the light heavyweight world title April 19.
Saturday at Chiba, Japan
Flyweight
Koki Kameda W10 Rexon Flores
Scores: 100-91 (twice), 100-91
Records: Kameda, 17-0, 11 KOs; Flores, 18-4-4, 9 KOs

Rafael's remark: Kameda, a former junior flyweight titlist and one of Japan's most popular (and flamboyant) athletes, shut out Flores, a former title challenger from the Philippines who lost a similarly lopsided decision to beltholder Omar Narvaez in August 2006. Flores won two in a row after that defeat and was selected as Kameda's next victim. Kameda, 21, dropped Flores, 25, in the first round and battered him until the final bell. It's just a matter of time until Kameda gets a shot at a flyweight title. Two of his countrymen, Takefumi Sakata and Daisuke Naito, hold titles and either fight would be a massive event in Japan.
Saturday at Dublin
Middleweight
Matthew Macklin W10 Yory Boy Campas
Score: 98-95
Records: Macklin, 21-2, 16 KOs; Campas, 91-12, 73 KOs

Rafael's remark: Macklin, Ricky Hatton's buddy, racked up the most notable victory of his career by outhustling faded former titleholder Campas, who is nothing more than a decent name for a young fighter's resume at this point. The reason for only one score: In the United Kingdom, only the referee scores nontitle bouts. Macklin won his fourth in a row since suffering a 10th-round knockout to Jamie Moore in a sensational British championship fight in September 2006. As for Campas, 36, the hard-headed Mexican is merely playing out the string and looking to pick up a paycheck here and paycheck there. He lost his second in a row and fourth in his last seven fights. It's sad to see. Promoters will milk him for every last ounce of blood he has to give.
Friday at Uncasville, Conn.
Middleweight
Brian Vera TKO7 Andy Lee
Records: Vera, 16-1, 10 KOs; Lee, 15-1, 12 KOs

Rafael's remark: Holy upset, Batman! Lee, a 2004 Irish Olympian, was viewed by virtually everyone in boxing as a future star and heir apparent to the middleweight championship, especially trainer/manager Emanuel Steward, who couldn't let a moment pass without gushing about him. Steward even talked about Lee challenging Kelly Pavlik by the end of the year and had called out Winky Wright. But it all came crashing down in shocking fashion in the action-packed "Friday Night Fights" main event as Brian Vera, 26, a third-season participant on "The Contender" and huge underdog, pulled what may turn out to be the upset of the year. Lee, 23 and a powerful 6-foot-2 southpaw, looked like he was on his way to the expected knockout win when he dropped Vera in the first round. But Vera, who showed toughness and heart, never stopped coming at him. Vera was losing the fight but Lee was tiring and taking more flush punches than he ever had when they moved into the seventh round. Finally, Vera unloaded a barrage of punches and referee Tony Chiarantano jumped in to stop it with Lee on his feet and throwing back in the center of the ring. It sure looked like a premature stoppage, but the bleeding Lee was in bad shape and exhausted, and it is doubtful he would have survived the rest of the round. Lee looked a bit sluggish and never found a home for his powerful right hook. And Vera, who had been knocked out in two rounds by Jaidon Codrington in his only defeat on "The Contender" at super middleweight, showed a good chin to take the shots Lee did land. Lee, who had agreed to a contract with promoter Top Rank a couple of weeks ago, hadn't yet signed the deal, so there could be some changes to that agreement. Also, don't expect him to be on the June 7 Pavlik-Gary Lockett undercard as originally scheduled. More likely, Lee could face Vera in July rematch back on ESPN2. Lee may very well win the rematch, but certainly some of the bloom is off the rose.
Super Middleweight
Aaron Pryor Jr. W8 Alphonso Williams
Scores: 79-73, 77-74, 76-75
Records: Pryor Jr., 9-0, 6 KOs; Williams, 10-4, 8 KOs

Rafael's remark: Pryor Jr. has the unenviable task of having the same name as his father, Aaron Pryor Sr., the former junior welterweight world champion and one of the greatest fighters of all time. There is no way he'll ever match what his father did, especially given that he is already 29. The 15-month layoff he ended surely didn't help either, and he found himself in a much tougher fight than expected. Pryor weathered some very difficult moments, especially when he was rocked in the first and seventh rounds by Williams, 32, who lost his second in a row. But Pryor, who towered over the shorter Williams, had a better jab and displayed toughness to win the clear decision. But a 79-73 scorecard? That was too wide.
Thursday at San Jose
Super middleweight
Andre Ward TKO7 Rubin Williams
Records: Ward, 15-0, 10 KOs; Williams, 29-4-1, 16 KOs

Rafael's remark: Ward won the 2004 Olympic light heavyweight gold medal and turned pro with considerable hype and promise. But his career has moved like a glacier and the fight with Williams was the first time Ward, 24, was matched with anyone remotely resembling a test. Williams, 31, had fought several good opponents, including a seventh-round TKO loss to Jeff Lacy in a 2005 world title bout, a lopsided decision loss in January to Allan Green and a draw with longtime contender Antwun Echols in January 2007. Ward, from nearby Oakland, passed his test. He dominated Williams, who came in overweight at 169-and-a-half pounds for the 168-pound fight, before it was stopped because of a cut over his left eye. Ward initially opened the cut in the second round. With Williams disposed of, Ward needs to step up even more and face a legitimate contender and he needs to be more active. The Ward-Williams fight was taped and will be broadcast on Thursday's edition of "Best Damn Sports Show Period" (FSN, 8 p.m. in most markets).
Dan Rafael is the boxing writer for ESPN.com.
Boxing
2013 BWAA Nat Fleischer Award winner for excellence in boxing journalism
ESPN.com boxing writer since 2005
Five years at USA Today
EDITORS' PICKS
Six months after suffering a severe stab wound, Kell Brook defended his welterweight title with a demolition of Jo Jo Dan in a dominant performance Saturday in England.
ESPN UK »

Russell proved to be the better man against Gonzalez.
Brian Campbell »

WBC made Kovalev the mandatory for Stevenson.
Dan Rafael »
MOST SENT STORIES ON ESPN.COM