Commentary
Ward passes first stiff test of career
Originally Published:
May 18, 2009
By
Dan Rafael
| ESPN.com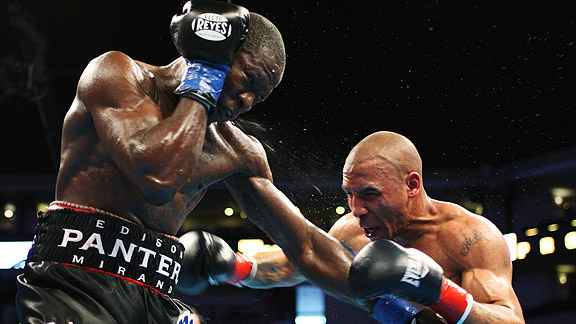 Tom Casino/Showtime Despite landing some heavy leather, Edison Miranda never came close to stopping Andre Ward.
A roundup of the past week's notable boxing results from around the world:
Saturday at Oakland
Super middleweight
Andre Ward W12 Edison Miranda
Scores: 119-109 (twice), 116-112
Records: Ward, 19-0, 12 KOs; Miranda, 32-4, 28 KOs

Rafael's remark: After moving fairly slowly in his five years as a pro, there was a chorus of folks asking for Ward to face a dangerous opponent. We wanted to see him tested. Finally, he took a major step up against Miranda, a former title challenger who had lost a decision in a controversial loss to Arthur Abraham and had also been knocked out by Abraham in a rematch and by Kelly Pavlik before Pavlik won the world title. But Miranda, a tremendous puncher, also owns a victory against contender Allan Green. The result of Ward's big test? A terrific performance for the 2004 U.S. Olympic gold medalist, the only American to win boxing gold in the past three Olympics.
The 25-year-old was fighting in his hometown for the first time as a professional and an excited crowd of 7,818 turned out to see the "ShoBox" main event in person. After the crowd-pleasing and dominant performance Ward turned in, you have to figure they'll be back. Ward promoter Dan Goossen said he was so pleased with the ticket sales that he'll be bringing Ward back to Oakland as quickly as he can. What was there not to like from him? Although Ward suffered a cut over his left eye in the first round when Miranda head butted him (it borderline looked like it was on purpose), Ward remained calm. His cutman, Jacob "Stitch" Duran, is one of the best in the business and did a terrific job of keeping the cut closed for most of the fight. Ward did his job, as well, firing shots with both hands, keeping a tight defense, using his speed and lateral movement and roughing up Colombia's Miranda, 28, throughout the fight with a steady diet of flush shots. Ward also easily switched from an orthodox stance to southpaw stance, which kept Miranda off balance.
While Ward mixed up his punches and showed a diverse arsenal, Miranda was reduced to looking for a single big right hand. You do have to give Miranda credit for taking as many punches as he did. He looked like he was in tremendous shape and he was able to go the distance. However, the relentless trash talker could come nowhere close to delivering on his prefight promise of a 10th-round knockdown.
The win positions Ward for possible title bouts against either Carl Froch or Karoly Balzsay. Ward certainly will have a good chance to win either bout if and when one of them happens. Although Ward voiced his displeasure with his performance after the fight, he's being too hard on himself. He gets an A.
Junior lightweight
John Molina TKO2 Frankie Archuleta
Records: Molina, 17-0, 13 KOs; Archuleta, 25-7-1, 14 KOs

Rafael's remark: Molina is a crowd-pleasing prospect who likes to mix it up. Archuleta, a seasoned veteran at 33, was fighting for only the fourth time since 2005 (while falling to 1-3 in that stretch) and never stood a chance. Although the first round was competitive, it was obvious Archuleta was going to be outgunned. He looked two divisions smaller than the powerful 26-year-old. Still, Archuleta was the best opponent Molina has faced so far since turning pro in March 2006. Working with trainer Joe Goossen for the third consecutive fight, Molina let his punches flow while trying to keep a tight defense. In the second round, he unloaded about 10 unanswered punches and Archuleta went down under the heavy fire. Although he made it to his feet, he clearly didn't want to go on and referee David Mendoza stopped it at 2:06, which was a smart move.
Super middleweight
Shawn Estrada TKO1 Cory Jones
Records: Estrada, 6-0, 6 KOs; Jones, 5-6, 1 KO

Rafael's remark: A 2008 U.S. Olympian, Estrada, 24, made quick work of Jones, 31, aggressively going after him and getting rid of him in a mere 91 seconds. Estrada scored two knockdowns, the second of which nearly knocked Jones through the ropes as he was on his way down for the second time. Referee Jon Schorle didn't even bother to count, calling off the bout as Jones was clearly in no condition to continue. Promoter Dan Goossen is keeping the rugged Estrada busy, as this was his fourth fight since late March. Jones lost for the third time in his past four bouts. What was most impressive about Estrada's victory was that he dusted Jones quicker than two other blue-chip prospects who have faced him recently. Shawn Porter outpointed Jones over four rounds on Feb. 6 and Russian Olympian Matvey Korobov took him out in the fourth round on Feb. 21.
Saturday at Primm, Nev.
Junior lightweight
Brandon Rios KO5 Oscar Meza
Records: Rios, 20-0-1, 14 KOs; Meza, 18-3, 16 KOs

Rafael's remark: In the main event of the Azteca America-televised card, Rios, 23, looked good putting Meza away with a shot to the gut 24 seconds into the fifth round. Meza, who had taken the fight on only a few days' notice when Jose Antonio Izquierdo fell out, dropped to his knees and took referee Tony Weeks' full count while trying to regain his wind. A 2004 U.S. national amateur champion and Olympic alternate, Rios is one of the rising prospects in the Top Rank and manager Cameron Dunkin stable. He showed a diverse arsenal, including landing some good uppercuts, while also shaking off some hard shots in the entertaining, action fight.
Featherweight
Miguel Angel "Mikey" Garcia TKO3 Anthony Napunyi
Records: Garcia, 16-0, 13 KOs; Napunyi, 10-3, 5 KOs

Rafael's remark: Garcia is a 21-year-old, Top Rank-promoted, Cameron Dunkin-managed prospect who fights beyond his years. With his brother, former junior lightweight titleholder Robert Garcia, in his corner, Garcia had his way with Napunyi. Although Napunyi never went down, Garcia was landing a lot of punches, especially during a flurry in the third round that was enough for referee Robert Byrd, who called it off at 1:04.
Junior middleweight
Vanes Martirosyan TKO1 Harrison Cuello
Records: Martirosyan, 24-0, 15 KOs; Cuello, 19-7-2, 13 KOs

Rafael's remark: Martirosyan, 23, was a 2004 U.S. Olympian who is developing nicely with Top Rank, the best promotional company when it comes to taking a fighter from 0-0 and building him into an attraction and champion. He took out the 30-year-old Cuello in just 2:16, hammering him with ease until referee Jay Nady stepped in. Cuello, who took the fight on just a few days' notice when Juan Astorga pulled out, lost his second fight in a row. Martirosyan trained during the early part of his career with Freddie Roach in California, and had moved to Houston to stay with relatives while working with Ronnie Shields for recent fights. But Martirosyan moved back home to California and has resumed training with Roach, who, according to Martirosyan, is teaching him to "throw a lot of punches and with a lot of power. Freddie is teaching me to be more explosive, like Manny Pacquiao." It apparently worked. The victory paves the way for Martirosyan to face his stiffest test as a pro when he meets Andrey Tsurkan on June 27 on the televised undercard of Top Rank's Juan Manuel Lopez-headlined pay-per-view card in Atlantic City, N.J.
Saturday at Rome
Cruiserweight
Giacobbe Fragomeni D12 Krzysztof Wlodarczyk
Retains a cruiserweight title
Scores: 116-112 Fragomeni, 114-113 Wlodarczyk, 114-114
Records: Fragomeni, 26-1-1, 10 KOs; Wlodarczyk, 41-2-1, 31 KOs

Rafael's remark: In October, Italy's Fragomeni outpointed Rudolf Kraj for one of the belts that David Haye vacated when he decided to move up to heavyweight. After multiple postponements, Fragomeni, 39, finally faced former titleholder Wlodarczyk, 27, in a mandatory defense and barely retained the belt with a split draw. Wlodarczyk, whose only other defeat was a 2007 majority decision to Steve Cunningham in a title bout, dropped the more aggressive Fragomeni with a solid left to the head in the ninth round. Wlodarczyk appeared to knock him down again moments later with a clean right hand. However, he also followed that punch by hitting Fragomeni while he was down on the canvas and referee Ian John-Lewis didn't rule a knockdown. Instead, he warned Wlodarczyk for hitting him while he was down and gave Fragomeni valuable extra recovery time in a bit of a controversy that certainly helped the hometown fighter. There was plenty of solid, two-way action in the fight and both guys showed they really wanted to win it. Fragomeni's only defeat came to Haye via ninth-round knockout in a 2006 European championship bout.
Saturday at Buenos Aires
Cruiserweight
Victor Emilio Ramirez W12 Ali Ismailov
Retains a cruiserweight title
Scores: 116-112, 115-113 Ramirez, 115-113 Ismailov
Records: Ramirez, 15-1, 12 KOs; Ismailov, 15-2-1, 11 KOs

Rafael's remark: Ramirez, 25, returned home to Argentina for the first defense of the vacant title he won in January against heavily favored Alexander Alexeev in Germany. Ramirez stopped Alexeev in the ninth round. He had a more difficult time with Ismailov, 35, an obscure hand-picked challenger born in Ukraine and living in Azerbaijan. It was a fast-paced fight early on before fatigue seemed to set in during the second half of the bout. Ismailov was holding and warned for the infraction by the referee in a fight that was a bit messy in the late rounds, which Ramirez pulled out, at least according to two of the judges. At some point, Ramirez will have to face interim titlist Ola Afolabi, but neither fighter nor the WBO seem in any hurry to order that match.
Friday at Atlantic City, N.J.
Heavyweight
Kevin Johnson TKO6 Devin Vargas
Records: Johnson, 22-0-1, 9 KOs; Vargas, 17-1, 7 KOs

Rafael's remark: Talk about a rarity -- two undefeated American heavyweight prospects facing each other. Well, it happened when Monte Barrett suffered a cut in training and Vargas, 27, the captain of the 2004 U.S. Olympic boxing team, took the "Friday Night Fights" main event on nine days' notice against Johnson, 29. You have to respect both guys for their willingness to face each other, especially under the circumstances, but it didn't work out so well for Vargas, who was taking an even bigger step up in competition than Johnson. Johnson looked outstanding, taking it to Vargas from the outset, dropping him twice and finishing him to fulfill his prediction of a knockout victory. Johnson, who has a tremendous jab he can use as a weapon, dominated. At the end of the third round, he dropped Vargas for the first time in his career (pro or amateur) when he landed five left hands and a big right hand. Vargas, who was bleeding from his nose, went down to one knee. Two solid left hands in the final minute of the fifth round dumped Vargas to his backside, after which he complained to his corner that he couldn't hear out of his right ear. It turned out that Vargas had suffered a perforated ear drum, but still he fought on. Johnson was hammering him in the sixth round and when Vargas was rocked yet again and on visibly wobbly legs, his corner threw in the towel, forcing referee Earl Morton to stop it at 2:23. Johnson has always talked a big game, but hasn't always been so crowd pleasing. In this fight, he talked and was entertaining. At this point, there is no reason why Johnson shouldn't get a chance in a more meaningful fight on an HBO or Showtime level. He just might be the best American heavyweight.
Lightweight
Jorge Teron W10 Aldo Valtierra
Scores: 99-91, 97-93, 96-94
Records: Teron, 23-1-1, 15 KOs; Valtierra, 25-11,13 KOs

Rafael's remark: Teron said he had an off night when he met Valtierra on Dec. 4 and lost a 10-round majority decision. Maybe Teron was right because he had no problems in the rematch, taking the unanimous decision. The 96-94 scorecard is certainly questionable. Regardless, Teron, a 23-year-old prospect from New York, won with ease against the 38-year-old journeyman from Mexico. Teron, in his first fight with promoter Star Boxing, was quicker and sharper than Valtierra, who dropped to 1-4 with a no contest in his past six fights, the lone win, of course, coming in the first meeting with Teron.
Friday at Puerto Colombia, Colombia
Welterweight
Ricardo Torres TKO10 Raul Pinzon
Records: Torres, 33-2, 29 KOs; Pinzon, 16-3, 15 KOs

Rafael's remark: Torres, the murderous puncher from Colombia, returned to action for the first time since he was relieved of his junior welterweight title by Kendall Holt in their incredible 61-second slugfest 10 months ago. In that one, Torres dropped Holt twice before Holt knocked him cold in the round of the year. Moving up to welterweight for what was supposed to be a somewhat easy comeback fight in front of the hometown fans, Torres had anything but an easy night against Pinzon, a last-minute substitute. Pinzon dropped Torres in the fourth and seventh rounds before Torres mounted a dramatic rally to knock down Pinzon three times in the last round for the victory.
Dan Rafael is the boxing writer for ESPN.com.
Boxing
2013 BWAA Nat Fleischer Award winner for excellence in boxing journalism
ESPN.com boxing writer since 2005
Five years at USA Today
SPONSORED HEADLINES
MORE BOXING HEADLINES
MOST SENT STORIES ON ESPN.COM
EDITORS' PICKS
De La Hoya aims to make 122-pound unification bout.
Dan Rafael »

A thrilling trilogy takes more from its fighters than it gives.
Nigel Collins »

Mayweather, Pacquiao meet at a game, in private.
Dan Rafael »