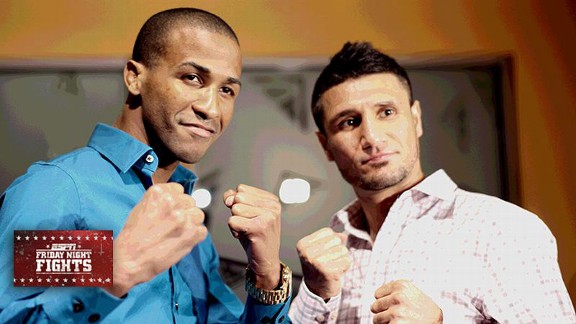 Perfect Match?
Unbeaten contenders Rances Barthelemy and Arash Usmanee clash on the FNF season opener. WatchESPN

Usmanee's story

Peterson-Holt set

FNF on Twitter »Facebook »
Marco Perez/MPsportimages.com
COLUMNISTS
Nigel Collins
Why Not Rigo?
Everyone loves a winner ... unless he fights like Guillermo Rigondeaux. Why do so few fans appreciate his artistry?
Kieran Mulvaney
Power For The People
Manny Pacquiao outclassed Brandon Rios to win for the first time in more than a year and lift the spirits of his countrymen.
Dan Rafael
MAKING THE ROUNDS
Each week Jim Basquil, Brian Campbell, Kieran Mulvaney and others discuss boxing's top stories.
ESPN 'FRIDAY NIGHT FIGHTS'