Mayweather Jr. wins junior welterweight debut
Updated:
May 23, 2004, 6:58 PM ET
By
Thomas Gerbasi
|
Maxboxing.com
ATLANTIC CITY, N.J. -- Crafty and powerful, Floyd Mayweather Jr. made the jump in weight class look easy.
Mayweather, one of boxing's brightest young stars, overwhelmed former champion DeMarcus "Chop Chop" Corley on Saturday in a 140-pound WBC elimination bout.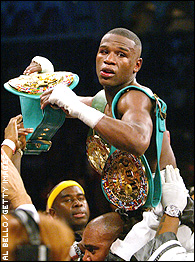 With his junior welterweight initiation over, Mayweather Jr. (above) can look forward to meeting the champ, Arturo Gatti.
Scores were 119-107, 119-108, and 118-108 for Mayweather.
Shaking off two minor injuries and a fourth-round scare, Mayweather knocked Corley down twice and toyed with him for much of the 12-round fight, coasting to victory and a possible showdown with junior welterweight champ Arturo Gatti.
"I beat the best at 130, I beat the best at 135. Now, I want to beat the best at 140," he said after Saturday's fight. "I would love for me and Arturo Gatti to fight on pay-per-view."
Gatti defends his crown in the same Atlantic City ring against Leonard Dorin on July 24.
"Mayweather can flat-out fight," said Corley trainer Don Turner. "He's like magic."
Corley had no magic of his own. The 29-year-old lefty from Washington, D.C. entered the ring wearing an Army camouflage jacket and a gas mask over his head. But there was no hiding from Mayweather, who mixed in right leads and uppercuts, left leads and jabs.
The 27-year-old Mayweather, of Las Vegas, patiently waited for openings when Corley went on the offensive, countering with lightning-quick leads that carried much more power.
Mayweather took the initiative to start the bout, establishing his 140-pound credentials immediately. And while he was effective, especially with a couple of lead rights to the body, Corley had his own moments in the fast-paced opening frame. It was a right to the neck by Mayweather, though, that sent Corley back on his heels briefly and left the biggest impression on the judges.
"Chop Chop was a tough opponent, and I knew coming up I had to show my power," said Mayweather.
Both fighters continued to trade punches in the second, and while Corley was effective with rights and the occasional left on Mayweather's chin, "Pretty Boy" refused to step back, answering with hard rights to the body and head.
In the third, Mayweather stood flat-footed and potshotted Corley, but his confidence almost backfired when Corley appeared to stun him with a flush left to the jaw. Mayweather shook off the punch, but he was now well aware that Corley had come to fight.
"I got a granite chin," Mayweather said later. "He caught me with a good shot and I shook it off."
In the fourth, Corley looked as if he had a chance. He caught Mayweather with a hard right to the head that seemed to stagger him, knocking him into the ropes. Corley then moved in with a dozen unanswered punches, but couldn't put him away.
Mayweather (32-0, 21 KOs) said he hurt his right hand in that round, and that he injured his left shoulder during training for it.
He didn't look hurt, though.
The pace slowed for the first two minutes of the fifth. But in the round's final 60 seconds, Mayweather sent Corley to the ropes with a big right hand. Yet once again, Corley was able to slide out of danger.
Corley pushed the action in the sixth and seventh, but was largely ineffective as Mayweather calmly picked his shots from a distance (albeit one at a time) and showed off some of his defensive prowess.
In the eighth, he dazed Corley with a right uppercut and left hook coming out of a clinch, then chased him across the ring before landing a left-right combination that dropped Corley to the canvas, where he was met with the ref's count.
"He was protecting his body. I was trying to break him down to the body so I could go to the head and put him down," Mayweather said.
In the ninth round, Corley fell to one knee in what was ruled a slip. Mayweather reached down, put his gloves under Corley's armpits and hoisted him up to his feet, eliciting a round of applause from the crowd in Boardwalk Hall.
Mayweather, a former Olympic bronze medalist who has won WBC titles as a super featherweight and lightweight, brought the crowd of 6,103 to its feet several times with his rapid-fire combinations and deft defense.
In the 10th, his five-punch combination put Corley down again, just about sealing the victory.
"He makes you move into the punches," Turner said.
Corley himself conceded that "Mayweather has great hand speed."
Between rounds ten and eleven, Corley was asked, "Why don't we call it a night?", but he refused to give in, responding, "I got him." And to his credit, "Chop Chop" fought competitively in the eleventh and twelfth, trading with Mayweather on occasion and giving him a bloody lip to go with his bruised eye.
It was the second straight loss for Corley (28-3, 1 KO), who lost a split decision to Zab Judah last July.
Mayweather, meanwhile, was left to look ahead to a promising -- if uncertain -- future.
The fight was the last in a six-fight deal he had with promoter Bob Arum and HBO, although both have right of first refusal if Mayweather signs with someone else.
Arum and Mayweather have had a stormy relationship, but neither was ruling out the other for the future.
"This young man is a credit to the sport of boxing," Arum said. "His skills are just absolutely tremendous."
Mayweather wasn't quite as effusive.
"We don't know what the future holds," he said. "He may be my promoter again."
Equally uncertain is whether Mayweather will hook up with Gatti, who holds the WBC's 140-pound title.
"I've been chasing Arturo Gatti for the longest time. The guy doesn't even want to fight," he said.
Information from The Associated Press was used in this report.
SPONSORED HEADLINES
MORE BOXING HEADLINES
MOST SENT STORIES ON ESPN.COM