De La Hoya wins controversial decision
Updated:
June 6, 2004, 4:28 PM ET
By
Thomas Gerbasi
|
MaxBoxing.com
LAS VEGAS -- If Oscar De La Hoya didn't know who Felix Sturm was before their WBO middleweight title bout Saturday night at the MGM Grand in Las Vegas, he certainly does now.
It was Sturm that gave "The Golden Boy" perhaps the toughest fight of his career, yet ended the 12-round bout without his title intact, as De La Hoya scored a questionable unanimous decision over the only fighter standing in the way of a September superfight between De La Hoya and Bernard Hopkins, who easily defended his undisputed title earlier with a decision over Robert Allen.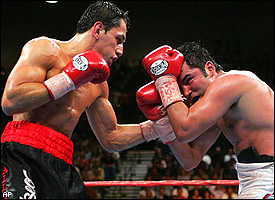 Germany's Felix Sturm, left, controlled a good part of the fight with his quick left jab.
"Everything went wrong tonight," said a downcast De La Hoya after the bout. "What can I say? I stepped in the ring, and 'boom' -- nothing."
All three judges scored it 115-113 for De La Hoya, who improved to 37-3 with 29 KOs in his middleweight debut. Sturm suffered his first loss, falling to 20-1 with 9 KOs. The Associated Press scored the fight 114-114, and HBO's ringside analyst had Sturm winning by a two-point margin.
"I know Oscar is a big name here and a great champion," said the 25-year-old Sturm. "But tonight, I think the whole world saw who was the better fighter."
Ringside stats showed Sturm landing 234 of 541 punches to 188 of 792 for De La Hoya.
"It was a very close fight, let's put it that way," said De La Hoya, who will now face Hopkins on Sept. 18 in the same MGM Grand ring.
"I'm all about challenges," De La Hoya said. "What I'm very disappointed in is my performance. I know I can do better."
For his part, Hopkins had some shaky moments in his dressing room before the decision in De La Hoya's fight was announced.
"My blood pressure went up slightly," he smiled.
Looking to test the middleweight waters immediately, De La Hoya came out throwing hooks to the body. Sturm was undeterred, shooting out a stiff jab, and even landing a quick uppercut on the inside.
Sturm continued to land solidly in the first, surprising many, especially De La Hoya, who nonetheless flurried effectively as the round ended before going back to his corner with a bloodied nose.
"The Golden Boy" went to his jab in the second round, while still working the body when Sturm got close. The German's jab was even stronger and more accurate, and it was obvious that the WBO titlist had come to America to win.
Sturm, unintimidated, landed with alarming frequency in the third, but De La Hoya gave as good as he got, especially to the body -- a rarity given that De La Hoya doesn't usually take as many shots as he did.
De La Hoya opened the physical distance between the two in the fourth, but the lanky Sturm was still able to land solid shots, at least until the final stages of the round, when the veteran stole the round with a solid flurry of power blows.
Perhaps buoyed by his strong finish in the fourth, De La Hoya kept throwing in the fifth, putting his combinations together beautifully as he looked to establish control of a fight that was at that point up for grabs. And by the time the bell rang, De La Hoya had his most effective round in the bank.
The Hamburg native got back on track in the sixth and seventh rounds, and the two, while fighting tactically, still shot off enough punches to keep the crowd in the fight. The story, though, was Sturm's accuracy versus De La Hoya's work rate.
De La Hoya, looking pudgy at a weight 30 pounds heavier than when he began his pro career after winning a gold medal in the 1992 Olympics, seemed to tire in these middle rounds while Sturm, a 2000 Olympian for Germany, remained fresh.
De La Hoya slowed down in the eighth, and Sturm, while not overly active, may have done enough to grab the round on the scorecards.
With the smell of an upset in the air, Sturm quietly controlled the ninth round, and De La Hoya's work rate dipped further.
His right eye rapidly swelling and his white shorts bloody from the open cut on his nose, De La Hoya showed little urgency in the 10th, and even when he did briefly open up, either Sturm's counters or his tight defense left "The Golden Boy" frustrated.
As if eating Sturm's jabs all night wasn't enough, De La Hoya had to deal with his opponent turning to a southpaw stance in the eleventh. But De La Hoya responded well with some flurries, at least until Sturm started firing back on his rapidly tiring foe.
Sensing his September superfight with Hopkins was slipping away, De La Hoya fired whatever he had left in the 12th round, but Sturm was unmoved, his solid defense frustrating the East Los Angeles native. And as the round ended, it was Sturm showboating and celebrating, not De La Hoya -- and certainly not Hopkins.
In the end, though, for both the De La Hoya and Hopkins camps, it was much ado about nothing.
Bernard Hopkins kept his end of the September bargain with a 12-round unanimous decision over Robert Allen, a bout that resembled a Delaware sparring session more than a championship fight.
Scores were 119-107 twice, and 117-109 for Hopkins, who kept his 11-year winning streak intact. "The Executioner" improves to 44-2-1 (31 KOs) while defending his undisputed middleweight crown for the 18th time. Allen, who had a 1998 no contest and a 1999 seventh-round KO loss in his previous two bouts with "The Executioner," falls to 36-5 (27 KOs).
"I wanted to take my time and I wanted to be careful," said Hopkins, who admitted he was nervous about the outcome of his bout as well as that of the headlining bout involving De La Hoya.
"There's $10 million waiting for me if I win and De La Hoya wins," he said. "All of this on the line and all it would take is one shot."
Referee Joe Cortez, whose selection had Hopkins threatening to pull out of the bout as late as Friday morning, was a nonfactor in the bout, and the pre-fight furor produced more action than the actual fight did.
"Cortez refereed a great fight," said Hopkins immediately following the fight.
With the crowd booing from the midway point of the first, the requisite amount of holding and hitting, punching on the break, and bad blood usually evident in a Bernard Hopkins fight made its appearance. As far as conventional boxing, Hopkins held the edge as he felt Allen out.
In the second, Hopkins, one of the game's masters of the dark arts, spun Allen into a quick flurry and sent him to the canvas moments later with a trip that was correctly not called a knockdown by Cortez.
Allen finally landed a clean shot in the third, a right that momentarily stopped Hopkins' movement. But without any follow-up, any momentum gained by Allen was lost, and Hopkins went back to pot-shotting from a distance.
The dance continued in the fourth, with Hopkins doing little and Allen, as the challenger, doing even less. Allen lost a point for low blows early in the fifth, though the penalty was not really an issue since the Atlanta resident was already far behind on the scorecards.
Hopkins landed a series of effective rights at different points of the sixth, but his refusal or inability to throw combinations kept the dreary bout going, much to the dismay of ringsiders.
Finally in the seventh, a big right by Hopkins put Allen on the canvas. Hopkins jumped on Allen with a flurry of leather, and after a brief respite, started digging hooks to the body. But by the end of the round, Allen had survived -- barely.
With trainer Byron Oglesby telling him "that was your wake-up call," Allen actually landed a solid left and right on Hopkins as the eighth began, and the crowd finally woke up as well. The heated action was short-lived, though, as the round concluded with the same pattern -- Allen walking forward aimlessly and Hopkins moving around the ring while occasionally popping a shot or two.
After another dismal frame in the ninth, Hopkins went back to his body attack in the 10th, and his follow-up head shots hurt Allen, who fought with little urgency despite being far behind on the scorecards.
The championship rounds were anything but, as Allen fought as if he were already winning the fight, not losing it by a landslide. As for Hopkins, he simply put in six more minutes of work on his 39-year-old body as he prepared for the Promised Land in September against De La Hoya.
Information from The Associated Press was used in this report.
SPONSORED HEADLINES
MORE BOXING HEADLINES
MOST SENT STORIES ON ESPN.COM