What's the method to the madness?
Ricardo Mayorga has allowed several of his foes to take their best shots at his face. Will he do it again Saturday? What's behind his and other boxers' crazy tactics?
Last October in New York, Ricardo Mayorga, brash as ever even against stiff odds, dropped his hands and allowed Felix Trinidad to punch him in the face.
Sound crazy? Perhaps. Giving one of the biggest punchers in boxing a free shot isn't something even a typically brave boxer would do. Make no mistake, though: There was method to Mayorga's madness, even in a bout that ended with Trinidad victorious via eighth-round TKO and Mayorga sporting welts under his eyes.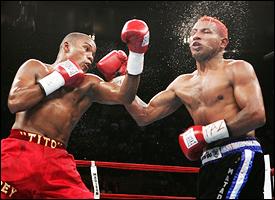 Mayorga realizes the downside to leaving his face exposed, as Felix Trinidad (left) demonstrates.
Some quirky things boxers do in the ring are for show, a way to seize the attention of the fans or promote themselves in some way. Fighters also use ploys -- such as Mayorga's fairly unusual tactic -- to win mind games. These strategies might be spontaneous, some might be planned, but all seem to be aimed at convincing fans, foes and the fighter himself of his invincibility.
"With Mayorga, it's one of those macho things that say, 'You can't hurt me,' " HBO television analyst Larry Merchant said of the former welterweight champion, who faces slick Michele Piccirillo in a super welterweight fight Friday in Chicago. "But you better be awfully strong to do that -- and not do it a lot."
Some colorful fighters have been as much clown as athlete. One example is former featherweight champ Jorge "Maromero" Paez, who was a circus performer as a child. His nickname means "tumbler."
GLOBAL GLORY FIGHT CARD
Showtime PPV Saturday 9 p.m. ET
United Center in Chicago
• Heavyweight: Hasim Rahman (40-5-1, 33 KOs) vs. Monte Barrett (31-3, 17 KOs), 12 rounds, for a vacant interim title
• Junior middleweight: Ricardo Mayorga (26-5-1, 22 KOs) vs. Michele Piccirillo (44-2, 28 KOs), 12 rounds, for a vacant title
• Heavyweight: Oliver McCall (44-8, 31 KOs) vs. Przemyslaw Saleta (42-6, 21 KOs), 10 rounds
• Welterweight: Luis Collazo (25-1, 11 KOs) vs. Miguel Angel Gonzalez (49-4-1, 39 KOs), 12 rounds, for Collazo's title

Outside the ring, former writer and current publicist John Beyrooty swears Paez did flips from one crap table to another in Las Vegas and handstands going up escalators in hotels. Come fight time, his antics were legendary: Shaved messages on his head, outrageous outfits, flips after victories and more.
Once the opening bell rang, he was more mischievous than strategic. He'd mug for the camera during clinches, blow kisses at the crowd -- anything to set himself apart.
"He'd have the presence of mind during a fight or exchange to look into the camera and make a face," Beyrooty said. "The crowd would react with laughter, like it was a TV sitcom. … He was a natural-born entertainer who happened to be a fighter, not the other way around. Even today, the Mexicans love him."
Another entertainer was Los Angeles-based light heavyweight/cruiserweight Ray "Windmill" White, who reportedly threw punches behind his back just for show in the '60s and '70s.
Impossible?
"He did it … I saw it," said Hall of Fame publicist Bill Caplan, who promoted shows on which White fought. "He threw all kinds of crazy punches, from crazy angles, like Naseem Hamed did. And he threw punches behind his back, he really did. He had long enough arms."
Of course, the list of unusual things fighters have done in the ring is long, whether they were a trademark or one-time occurrence. Muhammad Ali did his shuffle. Kid Gavilan threw his bolo punch. Willie Pep once won a round without throwing a single punch.
And then there are those with slightly more daring tactics.
Sugar Ray Leonard wasn't as reckless as Mayorga in his second fight with Roberto Duran, the "No mas" fight in 1980, but his showboating was the product of serious intentions.
In firm control of the fight, Leonard began to play to the crowd. He stuck out his chin. Too quick for the frustrated Panamanian, he pulled it back just in time to avoid Duran's efforts. He swung his right arm like a windmill, as if warning Duran that a right was coming -- only to land a shot with his left.
The fans loved it, Duran hated it. Utterly helpless, the champion quit in the eighth round.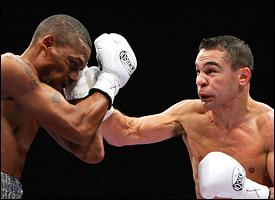 Campbell (left) regrets ever giving Peden a free pass to punch him in the face.
Leonard's actions weren't planned. But a devastating loss to Duran earlier in the year that had cost him his welterweight title and Duran's rude comments to Leonard's wife before the first fight were on his mind. He wanted to demoralize his rival, to take the fight out of him.
"That stuff is never planned, it's spontaneous," Leonard said. "When you're doing battle and you're coming out on top big time, like I was in that fight, you have additional confidence that allows you to take the risk.
"And I know it sounds contradictory, but we do these things for a reason, too. It broke his spirit, it gave me a psychological edge. I think it [a bolo punch] had the same effect on Marvin Hagler [in 1987]."
And what does a boxing purist think of such behavior?
"It didn't bother me when Leonard did it," said trainer and ESPN television analyst Teddy Atlas said. "He had proven himself to be a real fighter, not just a talent but a real fighter. He was in complete control, and one way of showing that was to do what he did.
"Now, I wouldn't like to see a flawed fighter do that, someone who couldn't back it up, someone who when he's put to task folds up his tent. That guy doesn't have the right to do that."
Nate Campbell would illustrate Atlas' point.
In March, 2004, former super featherweight contender Campbell was dominating Robbie Peden when, flush with confidence, he dropped his hands and invited Peden to punch him. The Australian obliged, knocking Campbell out with one devastating left hook.
| | | |
| --- | --- | --- |
| | " | I think that was God's way of humbling me. I was showing off and I paid a price; no one paid as much as I did. Would I do that again? Nooooooo. " |
| | | — Nate Campbell, on daring a foe to punch him |
"I was sitting in the first few rows," said Scott Woodworth, a vice president of boxing operations for Sycuan Ringside Promotions in the San Diego area. "I couldn't believe it. It had to be the dumbest thing I've ever seen a boxer do."
Campbell, who has since lost again to Peden in a February 2005 rematch and once more to Francisco Lorenzo in his most-recent fight, agrees with Woodworth. He admits he made a costly mistake.
So why did he do it? Old-fashioned cockiness. He was winning the fight and feeling invincible.
"Yeah, that played a big role," he said. "I've always been cocky, that's me. I think that was God's way of humbling me. I was showing off and I paid a price; no one paid as much as I did.
"Would I do that again? Nooooooo. It drives me crazy just seeing other guys do things like that now."
This brings us back to Mayorga and his ill-advised habit of leading with his face, especially against Trinidad.
The Nicaraguan has allowed other fighters to punch him. Tony Gonzalez, Mayorga's attorney and advisor, said Mayorga used the tactic in his second fight against Vernon Forrest in 2003. Mayorga beat Forrest in both fights, the second by majority decision.
| | | |
| --- | --- | --- |
| | " | I think bravado gets the best of him and he does it anyway. I don't think it cost him the fight, as some people think. But I do think he was rattled a little bit. " |
| | | — Tony Gonzalez, Ricardo Mayorga's attorney and advisor, on Mayorga's habit of daring foes to hit him. Felix Trinidad accepted Mayorga's offer repeatedly in their 2004 clash |
"I don't like it at all," said Gonzalez, laughing. "I was in disbelief [when he did it against Forrest]; I remember my reaction. And he did it again against Eric Mitchell in April of last year. For the Trinidad fight, everyone said, 'Now, don't stick your chin out with this guy.' He said, 'Don't worry. I know when to do it and when not to do it.'
"And then I think bravado gets the best of him and he does it anyway. I don't think it cost him the fight, as some people think. But I do think he was rattled a little bit."
Indeed, Mayorga got away with it -- to some extent. Trinidad wasn't able to take him out when Mayorga made himself vulnerable. But the expression on his face made it clear that it was Trinidad -- not Mayorga -- who had gained a psychological advantage.
Trinidad went on to pummel his brave but outsized and overmatched opponent en route to an eighth-round knockout.
Forrest wasn't surprised that Mayorga's luck ran out against Trinidad.
"Everybody does different things to try to psyche the other guy out," Forrest said of Mayorga's tactics. "... They act like they're going to let you hit them and then they counter, something like that. I hit him but I didn't want to fall into a trap.
"I think Trinidad really sat down on his punch. I guess Trinidad had seen him do it so many times that he expected it and was ready."
Still, don't be surprised if Mayorga, like so many others compelled to stray from conventional tactics, does it again on Friday or in future fights. Some fighters, caught in the moment, just can't help themselves.
"That's him," said Gonzalez, Mayorga's advisor, "that's his makeup."
Michael Rosenthal covers boxing for the San Diego Union-Tribune.
SPONSORED HEADLINES
MORE BOXING HEADLINES
MOST SENT STORIES ON ESPN.COM
EDITORS' PICKS
Felix Verdejo is ESPN.com 2014 prospect of the year.
Dan Rafael »

Coyle's 11th round against Brizuela is the best of 2014.
Brian Campbell »

Klitschko could face Jennings next April in New York.
Rankings »