Vital signs aside, sport's profile hinges on heavies
Satisfying fights, big gates, impressive PPV buys, movie and TV depictions. Is boxing experiencing a resurgence? Looks might be deceiving.
On May 7, Diego Corrales and Jose Luis Castillo participated in a slugfest that was lauded as one of the best fights in boxing history. But for the boxing business, the hits kept coming in subsequent weeks.
Consider this parade of milestones: Winky Wright's victory over Felix Trinidad; the throngs appearing at each stop of the long-running "farewell tour" of Julio Cesar Chavez; a crowd of 22,000 for the Ricky Hatton-Kostya Tszyu fight in England -- a bout that began at 2 a.m. local time; more than 15,000 in attendance for Mike Tyson's apparent career finale; and 350,000 pay-per-view buys for the Floyd Mayweather-Arturo Gatti clash.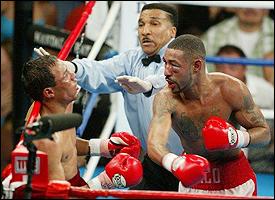 AP Photo/Matthew MinardCastillo (left) and Corrales (right) are headed for an October sequel to this May classic.
All this action is hardly expected for a sport that has been ravaged by scandals, a glut of sanctioning bodies and a slew of promoters at every level.
"It's been a long time since we've had so many real fights and the fans are starting to come back," said Gary Shaw, a 34-year veteran of the sport who promotes stars Corrales, Wright and Jeff Lacy. "Corrales-Castillo really set the stage for it all."
So is boxing staging a comeback? Will the summer of 2005 be remembered as the year boxing became more mainstream? Looks might be deceiving.
Last month, Shaw promoted the super middleweight fight between Lacy and Robin Reid, which drew an impressive 15,000 fans in Lacy's hometown of Tampa, Fla.
Shaw says the key to a resurrection is to have promoters making good matchups -- and fighters who are willing to fight.
"One of the problems was that boxing got complacent and the promoters got complacent," Shaw said. "Champions didn't want to fight, promoters didn't really care and people got turned off."
| | | |
| --- | --- | --- |
| | " | The fact is that there aren't a lot of draws out there. We have to work hard to expose these guys and create new stars. " |
| | | — Promoter Gary Shaw |
Shaw said fans seem to be more particular these days, with the exception of any bout involving Tyson.
"Fans know a good fight from a mismatch. They are not stupid, and only real fights are going to work," Shaw said. "Guys like [Marvin] Hagler, [Thomas] Hearns and Sugar Ray Leonard even learned that nobody is going to pay to watch you in the middle."
So how did Shaw pack 15,000 in the St. Petersburg Times Arena?
He had Lacy and Reid go everywhere -- from an Air Force base to a public July 4 picnic. He insisted that Reid fly in from England to attend the press conference and the two fighters were pushed in front of the news cameras as if they were dueling political candidates. At the fight, Shaw hired stilt walkers and face painters to create more of a scene around the event.
"The fact is that there aren't a lot of draws out there," Shaw said. "We have to work hard to expose these guys and create new stars."
Ask any promoter and he'll partly blame television for the fall of boxing. When the big networks (ABC, CBS and NBC) dropped boxing from their lineups, the sport dropped off the radar.
Today, too many fights are on pay-per-view, where only hard-core fans will buy and new fans are almost never watching, said Lou DiBella, who promotes undisputed middleweight champion Jermain Taylor among others.
Shaw says the money for cable fights on Showtime, HBO and ESPN has dropped in recent years, citing the fact that a fighter who fights on ESPN2's "Friday Night Fights" makes only $15,000, compared to the $60,000 he would have made two years ago.
"And they want you to pay for the lights," Shaw added.
But that doesn't mean that business is bad at ESPN. It might just mean that there are enough fighters out on the market to water down the price.
Last year, both "Tuesday Night Fights" and "Friday Night Fights" experienced double-digit ratings increases. Ratings are up again for both nights this year as well, and two men's care brands have recently agreed to buy presenting sponsorships to the programs, according to Jim Noel, ESPN's vice president of business affairs for programming.
On July 15, "Friday Night Fights," featuring the Jason Litzau-John Nolasco bout, drew a .91 rating (810,000 homes), the sixth-most watched boxing telecast on ESPN2 and the highest-rated show since 2002. Litzau subsequently signed a four-year contract with a promoter.
"It takes a while for the momentum in boxing to be monetized," Noel said.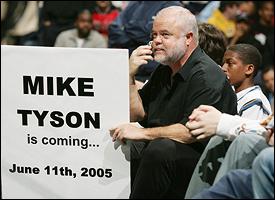 Doug Pensinger/Getty ImagesIn the wake of Mike Tyson's decline, the fight game needs more proven draws.
DiBella says he doesn't believe "The Contender," the boxing reality TV series (which will start its second season on ESPN in April), or Russell Crowe's "Cinderella Man," the critically acclaimed depiction of Depression-era boxer James Braddock, did much to popularize the sport.
"Both the show and the movie didn't do as well as the producers hoped," DiBella said. "Plus, there have always been boxing movies."
Indeed, "Cinderella Man" grossed only $61 million in three months -- roughly what the movie "Dukes of Hazzard" grossed in two weeks, according to Boxofficemojo.com.
Then again, the Clint Eastwood-Hilary Swank film "Million Dollar Baby" grossed $100 million, dominated the Academy Awards this year and seemed to herald a surge in popularity for women's boxing.
But the planned July 30 "Million Dollar Lady" fight between Christy Martin and Lucia Rijker was canceled. Rijker suffered an Achilles injury, but the fight reportedly had sold fewer than 500 tickets.
Critics of boxing always point to the lack of strong heavyweights. Vitali Klitschko, Chris Byrd, Lamon Brewster and Hasim Rahman don't exactly herald the golden age of boxing.
"As the heavyweight class falters, so does boxing," Shaw said.
No great future is guaranteed. But at least there's hope that great fights will draw more people in this fall. On Oct. 8, Corrales and Castillo will face each other again, and for the first time in a long time, fans and media members are saying that the $44.95 pay-per-view fight will be worth every penny.
They haven't said that about a Tyson fight in years.
Darren Rovell, who covers sports business for ESPN.com, can be reached at Darren.rovell@espn3.com
ESPN.com Sports Business reporter
ESPN.com's sports business reporter since 2012; previously at ESPN from 2000-06
Appears on SportsCenter, ESPN Radio, ESPN.com and with ABC News
Formerly worked as analyst at CNBC
EDITORS' PICKS
Six months after suffering a severe stab wound, Kell Brook defended his welterweight title with a demolition of Jo Jo Dan in a dominant performance Saturday in England.
ESPN UK »

Russell proved to be the better man against Gonzalez.
Brian Campbell »

WBC made Kovalev the mandatory for Stevenson.
Dan Rafael »
MOST SENT STORIES ON ESPN.COM