No matter the precautions, boxing's risks remain
Super bantamweight Wayne Pocket Rocket McCullough was ringside for the Jesus Chavez-Leavander Johnson fight. He explains why a boxer will risk his life and endure so much punishment.
Originally Published:
September 20, 2005
By
Wayne 'Pocket Rocket' McCullough
| Special to ESPN.com
Editor's note: Wayne "Pocket Rocket" McCullough (27-6-0) has fought Oscar Larios twice this year for a super bantamweight title. Though he lost both bouts, McCullough has never been knocked down. McCullough, who also writes for the Ring magazine, provides the boxer's perspective on the Sept. 17 lightweight title fight between Jesus Chavez and Leavander Johnson, which left Johnson fighting for his life after sustaining a brain injury in the bout. McCullough watched from ringside. Johnson died five days later in a Las Vegas hospital.
LAS VEGAS -- Many people think of boxing as a violent, brutal sport in which one boxer enters the ring with the intention of hurting his opponent. That could not be further from the truth. There is not one boxer I know who would deliberately go into the ring to inflict damage on his opponent.
Boxing is as safe as it could possibly be now, especially in Nevada, where every fighter must undergo significant testing before he can step between the ropes. Unfortunately, Las Vegas has been under the spotlight in recent months because of a series of severe injuries sustained by boxers here, including Leavander Johnson's brain trauma suffered in his Sept. 17 lightweight title loss to Jesus Chavez.
Why does there seem to be a spate of injuries or deaths in our sport here? My only guess for this is that Vegas is host to many more shows than anywhere else in the world, so that increases the chances for injuries.
Opponents of our sport might request that headgear be introduced for pro boxers. But I had more injuries in the amateurs, where headgear is mandatory, than I have had in my pro career.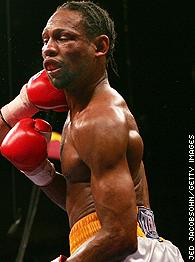 Jed Jacobsohn/Getty ImagesLevander Johnson collapsed in the dressing room after getting roughed up in a loss to Jesus Chavez.
I think wearing headgear is like wearing blinkers. A lot of the time, you cannot see the punches coming. I believe wearing headgear can sometimes intensify the punch. You can almost feel it ricocheting around the head.
There are also different sized gloves used when fighting, but the lower weight classes, myself included, fight in eight-ounce gloves. I doubt anyone could prove that increasing the glove size is going to make a difference in the number of injuries we have in our sport.
I was sitting ringside when former super featherweight champion Chavez challenged Johnson at the MGM Grand Hotel in Las Vegas. Chavez had moved up in weight to fight Johnson in a scheduled 12-round fight.
Chavez was the shorter, stockier boxer. He's physically strong but not a big puncher. Typically he marches forward, throwing wild hooks to the head and body.

Johnson, the taller of the two, won the championship in his most recent outing by beating Stefano Zoff, from Italy. But Johnson had been TKO'd in three previous championship challenges. Johnson likes to stand erect as he fights and likes to use his reach advantage to keep his opponent at a distance.

Against Chavez, Johnson won the first round on all three judges' scorecards and was off to a good start. Chavez, a nonstop puncher, worked Johnson's body but his left hooks to Johnson's head were the best shots of the fight. He rocked Johnson in the third with the left hook. But the round was pretty even and one of the judges gave it to Johnson.

The first five rounds were competitive and Johnson was holding his own, at least on the scorecards. Two of the judges gave him two rounds and one judge gave him one round but he was still in the fight.

As a fighter, I didn't see Johnson taking any significant punches in the first five rounds and he wasn't in any serious trouble. He did get hit with clean shots but he was always fighting back.

Then the fight took a turn, and from the fifth round on, it was all Chavez.

During the next few rounds, Chavez repeatedly landed left hooks to Johnson's chin. The 10th round was the most crucial of the fight; Chavez threw single power shots to Johnson's head and they landed every time. Johnson walked unsteadily back to his corner.

The ringside physician, Margaret Goodman, checked on Johnson in the corner, said he was "alert" and allowed the fight to continue.

Chavez jumped on Johnson in the 11th round and landed punch after punch.

Referee Tony Weeks felt Johnson had taken enough punishment and stepped in to stop the fight at 0:38 of the round.

Johnson had taken a lot of shots in the previous round and I honestly thought the fight could have been stopped then because of his unsteadiness. His corner might not have noticed any change in his behavior in-between rounds, which might be why he allowed him to go out for the 11th round. His trainer, who is also his father, is the one person who knows him best in a fight. [Editor's note: Bill Johnson, Leavander's father and trainer, told the Associated Press that he told his son he was going to stop the fight after the eighth or ninth round.]
| | |
| --- | --- |
| | I believe Tony Weeks is one of the best referees in the business and he made the right call. Johnson couldn't have taken any more punishment but, at that point, there was no way to tell how much damage he had sustained. |
I believe Tony Weeks is one of the best referees in the business and he made the right call. Johnson could not have taken any more punishment but, at that point, there was no way to tell how much damage he had sustained.

Johnson looked fine leaving the ring but no one can predict what will happen afterward. Unfortunately. when Johnson arrived at his dressing room, he collapsed. The Nevada State Athletic Commission was on hand immediately and got Johnson to a hospital, where he was diagnosed with a subdural hematoma (bleeding on the brain) and underwent emergency surgery to relieve the pressure on his brain. Johnson died Thursday.

I believe everything was done for Johnson that could have been done. He would have been fully tested prior to the fight to make sure there was nothing wrong with his brain. Nevada is one of the safest places in the world to fight because it is mandatory to have an MRI brain scan performed before you fight here. A boxer licensed to fight in Nevada must have an MRI done every five years.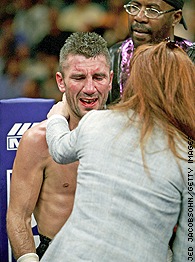 McCullough feels he should have been allowed to finish this rematch with Larios, even though Dr. Margaret Goodman (right) felt otherwise.

Still, I can understand Johnson's reluctance to surrender.

When I fought Oscar Larios in a rematch July 16, Goodman stopped me in the corner after the 10th round because she had said I'd "taken too much." I take punches -- that's my style, like it or not! I have fought the best in the business: Erik Morales, Naseem Hamed, Daniel Zaragoza and Scott Harrison to name a few. I have never been on the canvas or stopped before and obviously I protested the stoppage.

When I fought Harrison, I took 10 times more punishment than I took against Larios, and Harrison was a bigger man. The referee in the Harrison fight saw that my legs were strong and my eyes were clear -- just as in the Larios fight -- and he knew there was no need to stop the fight.

My track record shows that I come back in the final rounds I have proven that on numerous occasions -- most recently in my first fight with Larios in February. In the rematch, in July, Larios won the middle rounds but I was slowly coming back and was ready for rounds 11 and 12. But I wasn't given the chance. I hardly had a mark on my face after the fight -- and I mark up easily. But to me, that proved I didn't get hit too much.
| | |
| --- | --- |
| | My wife and manager Cheryl and I have discussed in private that if she sees me getting hurt in a fight she can stop it. Cheryl knew I was fine in the [second Oscar] Larios fight but she would have been the first person in the ring if she thought otherwise. |
The 10th round in my rematch with Larios was pretty even and I believe my opportunity to finish the fight was taken away. No one can say I was definitely going to lose and no one can say I was definitely going to win. The worst thing is that I will never know. I feel like I've been denied six minutes of my life.

My wife and manager Cheryl and I have discussed in private that if she sees me getting hurt in a fight, she can stop it. Cheryl knew I was fine in the Larios fight, and she would have been the first person in the ring if she thought otherwise.

Following my second fight with Larios, I was instructed to get a CT scan to make sure my brain was not damaged. I had no problems taking the scan. I must be one of the most tested boxers in the world! My CT scan came back clear and I'm ready to fight again.

Thankfully, I've never been in a fight in which my opponent has been badly hurt. But in my second world championship defense, in 1996, I ended up in a hospital even though I won the fight. My blood pressure was out of control and my heart rate was over 100 beats per minute. I was in shock and my whole body was shaking. I was hooked up to morphine to numb the pain. I thought that I was going to die, but fortunately I got through it.

I've been ringside in Las Vegas for a couple of bouts when a fighter has later died. In July 1994, welterweight Robert Wangila Napunyi, 26, died from injuries sustained in a bout against David Gonzalez. In May 1995, Jimmy Garcia, 23, died 13 days after a fight against Gabriel Ruelas for a super featherweight title.

When I get into the ring, I might get seriously hurt or worse, but I know the risks. Even though I try not to think about it, I know it can happen.

I have no doubt it will be hard for Chavez until he gets closure on the Johnson fight. The sad thing about boxing is that this happens.

My thoughts and prayers are with Johnson and his family.

Wayne McCullough's autobiography "Don't Quit" will be published in the United Kingdom and Ireland on Nov. 10 and is scheduled for release in the United States on December 27. McCullough's Web site is www.pocketrocketbox.com
SPONSORED HEADLINES
MORE BOXING HEADLINES
MOST SENT STORIES ON ESPN.COM
EDITORS' PICKS
Welterweight titlist Manny Pacquiao defeats Chris Algieri.
Dan Rafael »

Lomachenko retains title with win over Piriyapinyo.
Dan Rafael »

Another fight, another victory for Roman Gonzalez.
Story »