'He doesn't feel sorry for himself'
Updated:
October 27, 2005, 11:05 AM ET
ESPN.com news services
Three-time former heavyweight champion Muhammad Ali seems to be losing his battle with Parkinson's, his daughter Laila told the Los Angeles Times.
Ali, 63, has struggled with Parkinson's symptoms for years. But recently, the incurable movement disorder seems to be taking a greater toll.
"I feel like the disease is progressing," she said. "Different things start happening as you get older. I have noticed a change in him, something that goes along with Parkinson's.
"It's painful for me because I would love to sit down and talk to my dad about the way he used to be when he was my age, when he was in his prime, because we are so much alike. I can't really do that. I can't share a lot of things with him."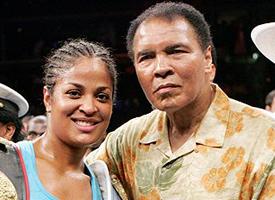 AP Photo/Pablo Martinez MonsivaisThe Alis after Laila's victory over Erin Toughill in June on the Mike Tyson-Kevin McBride undercard in Washington, D.C.
According to the Parkinson Disease Foundation's Web site, the affliction occurs when certain brain cells malfunction and die. The afflicted have trouble receiving and executing messages from the brain telling the body how to initiate and control movement. Symptoms continue and worsen over time. There is no known cause.
Some think Ali's affliction was caused by the accumulation of punches absorbed over the years.
Medication and surgery can treat the symptoms. Ali is one of approximately one million Americans thought to suffer from Parkinson's.
Laila Ali, 27, is in her sixth year as a pro boxer. She's 21-0 with 18 knockouts. She has more of a chance to bond with her father now than when she was younger, as Ali divorced her mother Veronica Porche when Laila was eight years old.
Once one of the more quotable celebrities, Ali today is mostly silent, his daughter said.
"We don't talk about boxing," she told the Times. "He might come to a fight and say, 'You're bad.' But he was never one to talk much about boxing with us. That was not him. And he doesn't talk much these days anyway. It takes him too much energy to talk.
"He has his good days and his bad days. He's taking a lot of different medications. Sometimes, his speech is so slurred, you can't hardly understand him. But he definitely knows what's going on. That's for sure. He sees everything."
Her father feels "like he's trapped inside his body. He can think. He has things he wants to say, but his lips sometimes just don't move to get it out," said his daughter, who lives in Los Angeles.
"He's just taking life easy. He likes doing simple things. He loves to draw, he likes to color, he likes to clip pictures out of magazines. And he likes to do magic tricks. It doesn't take a whole lot to keep him entertained. But his attention span is very short when the subject is something more than that.
"He doesn't feel sorry for himself, so it's hard to feel sorry for him."
On Nov. 20, Ali and his wife Lonnie are expected to attend the grand opening of the Muhammad Ali Center in his native Louisville, Ky.
SPONSORED HEADLINES
MORE BOXING HEADLINES
MOST SENT STORIES ON ESPN.COM
EDITORS' PICKS
Manny Pacquiao still chasing Floyd Mayweather Jr.
P4P list »

How good is American women's boxer Claressa Shields?
Aimee Berg »

Groves was shaky against Douglin, and he knows it.
Dan Rafael »