Brawl, race controversy thrust Pavlik into spotlight
Despite a 27-0 record, Kelly Pavlik has lived on the fringe of notoriety. But following an arrest after a bar fight and a racial controversy, Pavlik is getting attention.
Kelly Pavlik has evolved from a nice, soft-spoken kid with a bright future into a barroom brawler and the perceived victim of persecution from network television because he's white.
This transformation has happened in about a month's time.
Call it the middleweight contender's initiation into the wacky world of big-time boxing.
"Yeah, a lot of things are going on," Pavlik said. "It might affect some people. Me? I got a fight coming up I gotta focus on that. That's all I'm thinking about now."
Pavlik had a fight slated for Jan. 21, when he was supposed to face Jose Luis Zertuche on the Erik Morales-Manny Pacquiao undercard. But MaxBoxing.com reported Tuesday that Pavlik has been scratched from the card due to a swollen right hand.
No one could have predicted such drama for Pavlik. His life and career had been relatively nondescript.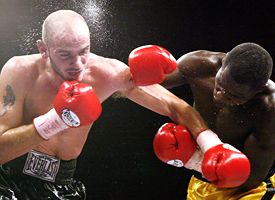 CHRIS FARINA/Top RankPavlik, left, has won his last seven fights by knockout.
Pavlik, 23, grew up in a lower middle-class neighborhood in Youngstown, Ohio, a once-robust leader in a steel industry that has declined along with its economy. His family -- father, mother and two brothers, who also dabbled in boxing -- is a tight-knit group.
As a fighter, Pavlik generously has been compared to Thomas Hearns because of his height (6-foot-3) and wicked punch. He's 27-0, with 24 knockouts.
With no title shot in sight after five-plus years as a professional, a certain degree of frustration has set in. However, ranked no lower than No. 11 among middleweights in all major sanctioning bodies, he knows his time will come if things go well.
That was it. An average Joe from an average town who happened to have a knack for boxing.
And then, either late on the night of Dec. 8 or in the early morning hours of Dec. 9, Pavlik walked into Shenanigan's, a bar on the south side of Youngstown.
In a nutshell, according to police, Pavlik and an off-duty sheriff's deputy working as a bouncer tussled after the deputy tried to throw the unruly fighter and some friends out of the establishment. Police say Pavlik punched the deputy, which the fighter denies.
Pavlik was charged with felony assault of a peace officer, among other charges, but pleaded no contest to a single reduced misdemeanor assault charge and will be sentenced Feb. 13.
He faces a maximum of six months in jail and a $1,000 fine, although chief assistant city prosecutor Anthony J. Farris doubts Pavlik will spend much, if any time, behind bars.
"He's not a guy who's been in trouble," Farris said. "I've been prosecuting cases here for 10 years and I've never heard anything bad about him. He's not a troublemaker. In fact, we're all proud of him. We want him to become champ."
Pavlik, so soft-spoken that he had trouble doing interviews early in his career, said the incident "has been blown way out of proportion" but blames himself.
"I should never have been in that situation," he said. "It's very embarrassing. No one's ever heard anything like that about my name. I never should've put myself in that situation, to embarrass myself, because of the fans out there, kids, families...
"It hurts but I'll get past it. I'll redeem myself by bringing home a handful of titles."
If he gets a chance, which is where the "white" issue enters.
Manager Cameron Dunkin has brought Pavlik along carefully. His record has been built mostly against journeyman opponents, although his October knockout of sturdy Fulgencio Zuniga was a good step.
Still, Pavlik and his handlers believe his amateur pedigree (he fought in the 2000 Olympic trials) and impressive record should no longer be overlooked. He's due for a shot at the big-time -- overdue.
Pavlik has fought on Showtime's "ShoBox" series and on ESPN. He will be seen on pay-per-view Jan. 21 because promoter Bob Arum decides who's on the card. But Pavlik has never been featured on a major HBO or Showtime card.
Arum last week said on a national conference call that middleweight champion Jermain Taylor and contender Winky Wright are afraid of Pavlik because of his power. Arum then raised both eyebrows and ire when he suggested that Pavlik hasn't been embraced by HBO or Showtime because he's white.
Arum was careful to say that Pavlik is not the victim of evil intentions, only that a negative perception of white fighters might stand in the way of a contract with one of the two major networks.
| | | |
| --- | --- | --- |
| | " | The general tendency is [to believe] that white guys can't fight. It's much tougher for a white kid to break through, like a Kelly Pavlik. " |
| | | — Promoter Bob Arum |
"You can't say, 'He's a white kid who can't fight. Why waste time with him on the network?'" Arum said. "Really, that's the reverse prejudice we have now. Not that the network people are bad people. It's just a perception. They judge people by their racial background.
"The general tendency is [to believe] that white guys can't fight. It's much tougher for a white kid to break through, like a Kelly Pavlik."
Pavlik, obviously following Arum's lead, agreed.
"I didn't want to make it into a racial issue. Mr. Arum took care of that," Pavlik said. "Everybody can see his point, though. It's true. You see any article on me, the fact that I'm white is always mentioned. If I'm compared to Tommy Hearns, I'm the white Tommy Hearns.
| | | |
| --- | --- | --- |
| | " | I think so many white fighters in the past have been great white hopes, and they almost always come up short. I think networks might hold back because of that. " |
| | | — Kelly Pavlik |
"I think so many white fighters in the past have been great white hopes, and they almost always come up short. I think networks might hold back because of that."
Arum's comments weren't well-received. Ross Greenburg, president of HBO Sports, reportedly called Arum "a disturbed man."
Kerry Davis, senior vice president of HBO Sports, was baffled.
"He's a good fighter," Davis said of Pavlik. "I don't even think you'd call him a prospect anymore; he's had 27 fights. He's a good fighter, a good puncher. I'd like to see him against stepped-up competition.
"He's certainly someone we've talked about fighting on our network. That's why the comments coming from Arum came out of the blue a little bit."
Davis continued: "It's always difficult for any young fighter to break in on a premier network such as HBO. There are limited slots. It's based on who he fights. If [Jermain] Taylor wanted to fight Kelly Pavlik, of course we'd do that. If Pavlik fights another fighter who's less well-known than he is, it's more difficult to appear on premier shows...
"I have no idea what [Arum] was trying to do. I don't think in those terms."
HBO television analyst Larry Merchant also was taken aback, saying "Arturo Gatti and the Klitschkos were white last time I checked." Merchant dismissed Arum's comments as a promoter being a promoter.
However, he added that had Arum couched his comments slightly differently, he might have made more sense.
"Now, if he had said no one believes a white guy from the Midwest can fight, you might have to think about it for a while," Merchant said. "When's the last time you saw a white fighter from the Midwest who wasn't being used as an [easy] opponent to build up someone's record?
"If he'd said that, there might be some justifiable skepticism. This guy might be an exception, though. It looks like he can fight, he wants to fight -- and he can punch."
Pavlik's tribulations don't end there. He also has dissension in his camp.
Dunkin, his manager his entire pro career, has been pushing him to move to Las Vegas and work with former Olympic trainer Kenny Adams to fine-tune his skills, even though the fighter remains committed to the only trainer he's known, Jack Loew.
And Dunkin pushes hard.
"He has a lot of potential," Dunkin said. "One thing he needs, though, is a world-class trainer. He wants to stick with Loew. Loew doesn't know [expletive]. [Loew] has taught him everything he can. He's long overdue to get a world-class trainer, a guy like Kenny Adams, someone you really believe can train and take him to the next level.
"Everything else is there -- the athletic ability, the speed, the unbelievable power."
That doesn't sit well with Loew, who has worked with Pavlik since the fighter walked into his gym at age 10.
"I think it's [expletive]," he said. "That's Cameron panicking because he's losing other fighters. … I'm not afraid to work with another trainer. If I do something wrong, I want that pointed out to me. As far as taking Kelly away from home, though, that's different.
"As they say, if it ain't broke, why fix it."
And Pavlik is caught in the middle. He's loyal to both men and, at the moment, doesn't plan to change anything.
"If we ever do [work with another trainer], it will be so we both will learn," he said of himself and Loew. "I'm sticking with him."
| | | |
| --- | --- | --- |
| | " | If we ever do [work with another trainer], it will be so we both will learn. I'm sticking with him. " |
| | | — Kelly Pavlik on his plan to stick with trainer Jack Loew |
All of the above is a lot for a 23-year-old from a small town to absorb suddenly.
Of course, any skepticism -- perhaps over poor judgment at a bar one unfortunate night, his background or even his trainer -- can be assuaged by one thing: winning.
If he continues to win, particularly by knockout, his dream of facing the likes of Taylor and Wright, of winning multiple world titles, could become a reality.
The sparring injury will cost Pavlik the immediate opportunity to show what he can do. He still longs for the spotlight, but for the right reasons.
"I want to impress everyone by either a knockout or unanimous decision," Pavlik said, adding that "I want to look sharp. That's the main thing, looking good. I want to prove to HBO, to the public, that I'm a good fighter, that they can't beat around the bush when it comes to me."
Michael Rosenthal covers boxing for the San Diego Union-Tribune.
SPONSORED HEADLINES
MORE BOXING HEADLINES
MOST SENT STORIES ON ESPN.COM