Boxing-football marriage renews vows on FNF
"Friday Night Fights" is at the Super Bowl, and a Sanders with NFL and Detroit connections -- boxer Mary Jo Sanders -- is in the spotlight.
Originally Published:
January 31, 2006
By
Joe Tessitore
| Special to ESPN.com
You've heard similar stories before. It's a tale about an athletically blessed child following in the footsteps of the NFL dad.
It's the story about that special next generation pro whose family life was interwoven with gridiron glory. Aside from the genetic advantages, all of that environmental exposure to intensity, passion and success tends to shape a young mind. Heck, the Manning brothers permanently have cast that mold for years to come.
I suppose this story marches in step.
Oh, except for the fact I failed to mention that the child doesn't play football. And, one other thing, the pigskin progeny is a beautiful woman.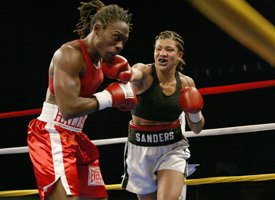 Tom CasinoSanders (right) beat Chevelle Hallback (left) for her first title.
For more than 10 years, Charlie Sanders was the Detroit Lions' star tight end. In 1974 Charlie had a good year. He made the NFL Pro Bowl and his wife Georgianna gave birth to a little girl. Thirty-two years later that little girl is fighting live on "Friday Night Fights" (ESPN2, 9:30 ET). While her hometown gets set to crown a Super Bowl champion, Mary Jo Sanders is more concerned with her own championship. Sanders (19-0, 5 KOs) is trying to defend the WBC female welterweight title against 20-year-old Iva Weston (10-3, 1 KO).
"Growing up I had five sisters and three younger brothers," she said. "I was a girly girl and would get all dressed up, but I wasn't afraid to play in the mud, either. Mom had to use a little extra Shout on my stains."
Her father played in the mud, too. Charlie learned the keys to success in a sport that tests you physically and mentally. Now it's Mary Jo who has to pass such tests.
"Dad knows not to call or bother me before a fight, he knows the mental preparation is key, he says you have to take yourself somewhere else mentally, he knows what normal people wouldn't," she said, proudly boasting of her father's well-earned wisdom.
Never had the football-boxing connection reached higher heights than with Ken Norton. The former heavyweight champ himself played college football, and his son Ken Jr. played linebacker on three consecutive Super Bowl-winning teams. Perhaps most memorable were Norton Jr.'s goal-post punching celebrations to honor the connection.
Long before Norton sized his Super Bowl ring, Ed "Too Tall" Jones stunned us all. In the prime of his football career, the Dallas Cowboys defender said good-bye to Tom Landry and hello to Yaqui Meneses.
It was big stuff back in November 1979. It was such a big deal, Too Tall's fight with Meneses was televised. Hey, why not? Could you imagine if Michael Strahan left the New York Giants immediately for a pro boxing career? Bet you anything his pro debut would find its way to cable primetime. Too Tall went 6-0 against limited competition and returned his 6-foot-9 frame to the Cowboys' defensive line.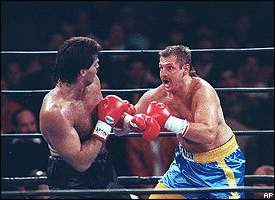 Gastineau (left) was a terror on the field, but he was not much in the boxing ring.
Football and boxing have long had a mutual attraction. Sometimes it works in perfect harmony. Other times you get Mark Gastineau.
If you don't remember the former New York Jets star's foray into the fight game, then consider yourself blessed.
When NFL quarterbacks were no longer running scared from him, Gastineau needed another way to feed his ego. So he stepped into the ring. Of course, there were plenty of small-time promoters willing to make a quick buck. And unfortunately, there were many big-time crooks lining up opponents with no chance, or intent, of beating Gastineau.
Finally, Gastineau was put in against a fighter who had every intention of beating him. Oddly enough, it was former NFL running back Alonzo Highsmith. The old first-round pick scored a fresh second-round KO.
Even today, one of the best footballers in America is a boxer. Notre Dame starting defensive back Tommy Zbikowski is a Chicago Golden Gloves veteran. When the top prospect was picking his college choices, Tommy Z almost went elsewhere based on his ability to stay involved in boxing.
It all makes sense now. He plays football the way Micky Ward fights. Between the white lines, Zbikowski is is as tough as a club fighter getting paid per round.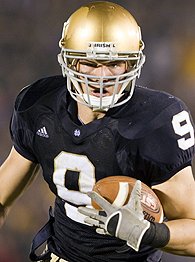 Andy Altenburger/Icon SMI Zbikowski is a great example of success on the field and in the ring.
What is it that links football and boxing so closely? Seems like a perfect question for our ESPN college football analyst Bill Curry, whose father was the boxing coach at Georgia Military Academy.
"As football players, we understand fatigue and sheer courage. Boxers so desperately want to quit when they can't hold up their arms anymore. Football is a team sport, but when that ball is snapped, it's a man-on-man challenge," Curry said.
"You have to ask yourself questions like, 'Can I dominate the other guy physically?' Football is just an orchestrated brawl. Somebody loses and wins a fight on every play."
Curry would know. He went toe-to-toe weekly as an NFL center. He played in Super Bowls for Lombardi and Shula, yet among his most indelible memories in a life filled with sports was watching a 1958 light heavyweight title fight. Yvonne Durelle knocked down "The Old Mongoose" Archie Moore three times in the first round and again in the fourth. In what would go down as one of the greatest comebacks of all time, Moore knocked out Durelle in the 11th round.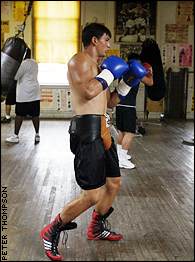 Zbikowski is 60-13 as an amateur boxer.
"I just watched it again a few months ago on ESPN Classic," Curry said. "It's the essence of guts and courage. It crossed that very fine line of where human competition should go."
And that really explains it all. We love to watch football and boxing because we are compelled to. It's human nature. We question if we ourselves could not just attempt to do it, but withstand it. Could we really run over Ray Lewis? Could we survive Arturo Gatti's left hook?
This Friday night, the boxing-football marriage renews its vows. "Friday Night Fights" is at the Super Bowl and a Detroit Sanders is in the spotlight.
It's not Charlie Sanders, not Barry Sanders -- it's Mary Jo Sanders.
"When the gloves come off you'll see bright red nail polish," Mary Jo said confidently, adding "but I will turn it on and be aggressive." I wouldn't doubt that for a second.
"FNF" FLASHBACK
My quick takes after this past "Friday Night Fights" in Tucson, Ariz.
• Undefeated 130-pound prospect Vicente Escobedo didn't impress me as much as I thought he would. That had a lot to do with the type of fighter he was in against. Well past his prime, former bantamweight title challenger Jesus Perez was crafty and trying to survive. I don't want to paint the picture that I think Escobedo (9-0, 9 KOs) is overrated. Instead, I got the feeling I caught him in a spot where he wouldn't blow me away. I'm sure I could watch Escobedo in a few weeks and be completely goo-goo over him. It just didn't happen on this night. The way he conducts himself outside the ring makes me want to see him succeed inside the ring. The Olympian will be fine. I don't know if he will be a world champion, but he is gaining valuable learning experiences as Golden Boy Promotions grooms him for the big time.
• Escobedo's Olympic teammate Rock Allen had a much easier evening. He notched his fifth knockout victory in his fifth pro fight simply by destroying utterly overmatched Mike Walker in one round. It takes a lot of guts to step into a ring as a pro fighter, but Walker needed more than guts to have any chance with Allen. My inner circle of boxing aficionados includes a real old-school fight freak named Rick Gervasini. Rick summed it up best during his weekly post-fight phone call to me: "Tess, it was like watching an eighth grader beat up a fourth grader at the schoolyard." That's so very true. Walker was about as scared as a fourth grader eyeing a big bully coming at him.
Allen, who didn't achieve his goals at the Athens Summer Games, has what Teddy Atlas noted as a style much more suited for the pro ranks. It's also a style which most fans want to see more often. I didn't mind watching Allen in such a poorly matched fight because at least it was a chance to introduce him to the TV audience. It's like unveiling a brand new sports car on the test track. Next time though, we need to see him in a real race!
• The 154-pound version of Kassim "The Dream" Ouma we watched in the "FNF" main event is better than Roman Karmazin, Ricardo Mayorga, Shane Mosley, Fernando Vargas and Kassim's very own promoter Oscar De La Hoya. You will be hard pressed to convince me otherwise. He dominated Francisco Mora on the way to a KO victory. His accuracy was nearly perfect. His balance and footwork was so much improved. The use of his jab was stellar. He was not distracted. He was as sound defensively as a volume punching aggressor can be, and he never strayed from his game plan once.
Joe Tessitore is the blow-by-blow announcer on ESPN2's "Friday Night Fights."
Boxing
Joe Tessitore has been the blow-by-blow announcer for ESPN2's "Friday Night Fights" and "Wednesday Night Fights" since 2002 and contributes a weekly boxing column to ESPN.com.
SPONSORED HEADLINES
MORE BOXING HEADLINES
MOST SENT STORIES ON ESPN.COM
EDITORS' PICKS
Brandon Rios ready for his return against Diego Chaves.
MTR

Can Sergey Kovalev stop Blake Caparello on Saturday?
MTR

Super middleweight bout being discussed for Jan. 24.
Dan Rafael »