'Contender' champ hungry for challenges
Sergio Mora, who will take on Archak Termeliksetian in Thursday's "Contender" special on ESPN, still seeks to face top competition, Joe Tessitore writes.
Originally Published:
May 2, 2006
By
Joe Tessitore
| Special to ESPN.com
The echoes from the knockout in downtown Providence still were reverberating through the February night. Hometown hero Peter Manfredo had just gotten rid of Scott Pemberton the way my wife cleans out my closet: fast and with a hint of anger. It was a night for Rhode Island to celebrate their local boy who made good. Manfredo graduated on that cold winter evening from reality series star to boxing fringe contender.
| | |
| --- | --- |
| | |
| | Mora |
Among the Italian flag-clad fans who filled the Dunkin' Donuts center was Sergio Mora. The $1 million winner of "The Contender" was in enemy territory. Sergio accepted the taunts and chants head-on. "I'll tell you what -- I respect them," he said. But not enough to be affected.
In the past year, he had defeated Manfredo twice. For Sergio, this night wasn't about drawing out a third fight, although that seemed to be there for the taking. It was about advancing his own boxing story.
After grabbing plenty of on-air time with Teddy Atlas, Brian Kenny and me, "The Latin Snake" made his way to the post-fight party. The Manfredo well-wishers were everywhere. Mora knew each handshake would come with a call-out.
"Now you have to come here to Providence for the third Manfredo fight," an ESPN producer said.
Mora didn't deny the possibility but you could see the want in his eye was for something different. It's what every fighter wants. A chance to take on the very best.
He sat opposite me at a long table filled with food, cocktails and TV executives. With each passing round of drinks, the conversations at the other end of the table grew in volume, while the trio at our end quickly delved into some serious boxing talk.
Sugar Ray Leonard and I were playing fantasy manager with Sergio, going over possible future opponents. The names being put forth were legit guys. There are fights that Mora would be the favorite, others that he might not be. There are fights against former world champions or guys who have fought for the world title. There are fights that would gain him credibility beyond the walls of Mark Burnett Productions.
Mora (17-0) never shook his head on any of them. He is a fighter, deep down. No challenge is too much for him.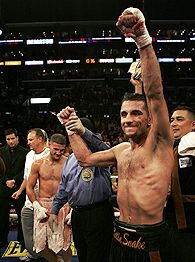 Al Bello/Getty Images Sergio Mora celebrating his Oct. 15, 2005, victory over Peter Manfredo in Los Angeles.
His next challenge is going to get plenty of TV attention. It's the heavily promoted ESPN Vegas Night ("The Contender Special: Latin Warriors," 9:30 ET Thursday). Mora will be taking on Archak Termeliksetian. An Armenian raised in Brazil who now lives in Los Angeles, Termeliksetian (15-3) fights as hard as his name is to pronounce. But it's obviously not a name known to most boxing fans.
"I have told everyone involved I will fight the fighters Shane Mosley and Fernando Vargas fought in their last five fights," Mora said. "But I realize more and more that it's not really up to me."
Mora is a smart guy who speaks the truth. To a certain extent, he's correct. It's not really up to him. He wouldn't be a star in the first place if it weren't for the system. "The Contender" gave Mora the opportunity. Now the economics and politics of the made-for-TV promotional force will dictate the pace at which this next stage of his career is reached.
The Thursday night of Vegas action starts with what is being called "The Impossible Jump" (ESPN, 8:30 ET). It features one of those X-Games motorcycle guys (Mike Metzger) who is going to attempt to back flip over the fountains at Caesars Palace. Mora might be taking the bigger risk.
"I don't think it advances a lot," he said. "It keeps me sharp and it is a respectable fight."
Many insider boxing folks think that it could be a very exciting fight. Termeliksetian's only losses are to undefeated prospects. Stylistically he is crowd pleasing.
"I know it is going to be an exciting fight," he said. "He comes out fast and strong and comes to punch the first four rounds. I have to avoid his big shots."
While most reality-show stars erode to a life of tabloid news notes and B-level casting calls, Mora has matured through the whole process of "The Contender."
He told me, "At first, I was tense before fights. I was almost hyper. I have been thinking a lot more, wondering if I am just getting used to the entertainment side. I've said to myself, 'Dude, you're too calm.'"
My thought is that it is a good kind of calm. Mora has reached a level of professional maturity that allows you to effectively put forth your natural talents and hard-earned skills in a controlled way.
Joe Tessitore is the blow-by-blow announcer on ESPN2's "Friday Night Fights."
Boxing
Joe Tessitore has been the blow-by-blow announcer for ESPN2's "Friday Night Fights" and "Wednesday Night Fights" since 2002 and contributes a weekly boxing column to ESPN.com.
SPONSORED HEADLINES
MORE BOXING HEADLINES
MOST SENT STORIES ON ESPN.COM