Hard-fought draw prompts hard feelings
Jermain Taylor retained the world middleweight title, escaping Memphis on Saturday night with a draw against challenger Winky Wright.
Originally Published:
June 17, 2006
By
Dan Rafael
| ESPN.com
MEMPHIS, Tenn. -- Once again, controversy reigns in boxing.
Did Jermain Taylor win?
Did Winky Wright win?
They called it a draw, and no one was happy.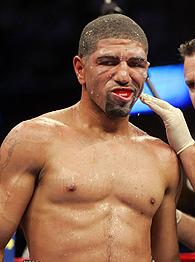 AP Photo/Charles Rex ArbogastChallenger Winky Wright believed he won the fight outright.
Taylor retained the world middleweight title, escaping the FedEx Forum on Saturday night with a split draw in a fight packed with more action than many expected.
Judge Melvina Lathan scored it 114-114, judge Chuck Giampa had it 115-113 for Taylor and judge Ray Hawkins had it 115-113 for Wright. ESPN.com at ringside had it 114-114.
This was a tight fight all the way with no single dramatic moment but a lot of two-way action. Many rounds were close and could have gone either way.
Taylor, whose left eye was shut late in the fight, perhaps from a head butt, acknowledged that either man could have won.
"I knew it was a close fight," said Taylor, who earned $3.75 million. "It could have gone either way."
Wright stormed out of the ring before relenting to an interview in the dressing room with HBO's Larry Merchant.
Wright (50-3-1), the former undisputed junior middleweight champion regarded by many as the No. 2 fighter in the world pound for pound, was disgusted with the verdict.
"It's another Vargas fight," he said, referring to a close decision loss in a junior middleweight title fight against Fernando Vargas in 1999. "He threw some good punches, but I was picking them off. I knew I had won the fight going into the 12th round. He didn't do nothing in that round."
Handlers for both fighters immediately rushed to press row to spin the fight in favor of their fighter.
Gary Shaw, who promotes Wright, was first to the media to make his case.
"He gave him a boxing lesson. It wasn't even a fight," Shaw said. "Look at their faces. Taylor spent half the fight trying to push Winky off him with his forearm and shoulder."
Lou DiBella, who promotes Taylor, loudly made his case, too.
"Winky Wright didn't clearly win any fight," DiBella said. "It was a damn good fight. It was a close fight. When will this kid [Taylor] get any respect? It was a very close fight."
Some of the comments from the promoters were filled with expletives and the hard feelings were evident and the words even harsher than they were during an extraordinarily contentious negotiation for the fight.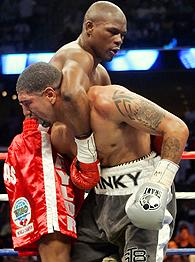 AP Photo/Charles Rex ArbogastJermain Taylor, left, tangles with Winky Wright in the fourth round. Both fighters traded plenty of leather throughout the bout.
Taylor (25-0-1) has made a recent living in close fights.
He claimed the undisputed middleweight title last July with a disputed decision against Bernard Hopkins. Taylor then won the immediate rematch in December, but it was another extremely close affair that many thought Hopkins won.
Now, Taylor, 27, has a draw in another nip-and-tuck bout in his first fight since firing longtime trainer Pat Burns to go with Hall of Fame trainer Emanuel Steward a few months ago.
"I landed a couple of good punches but I really didn't think I hurt him," Taylor said. "But he didn't have much power, either. If he wanted the title so bad, he should have fought all 12 rounds. I fought all 12 rounds. This is boxing. You have to fight all 12 rounds."
Taylor landed 163 of 703 punches (23 percent), according to CompuBox statistics, while Wright was 226 of 643 (35 percent).
It was the third consecutive fight in which Taylor was outlanded by his opponent, yet received the benefit of the doubt.
Wright's jab was also effective. It was the same punch he used to completely shut down Felix Trinidad last spring to earn the mandatory shot at Taylor.
Wright, who earned $3.5 million, landed 103 of 335 jabs (31 percent). Taylor's jab, his best punch, was useless, which is no surprise given that he was facing a southpaw. He managed to land just 41 of 308 (13 percent) against Wright, a consummate defensive fighter.
"Winky had a great jab. He worked it," Taylor said. "I didn't think his jab was that fast."
Wright didn't always play defense. Wright came to mix it up with Taylor and they went at each other at a fast pace from the opening bell.
They took turns landing clean shots, although Taylor's seemed to be more powerful.
Taylor backed off a little in the late rounds because of the damaged left eye, which began to swell noticeably in the eighth round.
"In the last round, I couldn't see out of my left eye," Taylor admitted.
Said DiBella: "The eye was closed and he had to do a little more retreating than he wanted to. But Winky can't make this a robbery. I don't like that he walked out of the ring acting like he was robbed."
The fight contract contained a rematch clause in the event of a Wright victory. Although a rematch of such a close and action-filled fight would scream rematch, the draw frees Taylor to fight whomever he wants next, which he plans to do.
"We will never fight this fight again," DiBella said. "The rematch will never happen. Winky said he doesn't want one. Fine with us."
DiBella said he would take Taylor to his hometown of Little Rock, Ark., in the fall for an optional defense.
"We will fight who we want next and knock him out, and maybe we will get a little respect," DiBella said. "My kid just went two fights in a row with Bernard Hopkins and then fought Winky Wright in a close fight. What does he have to do to get your respect?"
Wright, so upset with the decision, said he didn't want to fight Taylor again.
"What do you expect. I'm in [essentially] his hometown," Wright, 34, said. "They gave him what he wanted. I don't want no rematch," he said. "There are other fights out there. The fans know who won the fight."
Perhaps he meant fans watching on HBO, but the fans in the arena were overwhelmingly for Taylor given that Little Rock is only about two hours from Memphis.
Although they were loud, there weren't many of them. Only 9,678 showed up at an arena with a capacity of 18,500.
Although the fight was one of the marquee matches in the sport, it was almost half-empty because Memphis-based site promoter Prize Fight Boxing grossly overpriced the tickets.
The top ticket was $1,250, followed by tickets priced at $1,000, $750, $500, $300, $150, $100 and $75. The cheaper tickets sold quickly. However, huge swaths of the arena were empty in the higher-priced sections.
The undercard
• Rising junior middleweight contender Sechew Powell (20-0, 12 KOs) scored a spectacular 10th-round knockout of Willie Lee (14-5) with 40 seconds left in the fight.
Lee gave Powell, a southpaw from Brooklyn, N.Y., some problems here and there, especially in the seventh, when he scored a series of head shots. But Powell shook it off.
He came close to stopping Lee along the ropes with a sustained flurry in the ninth. In the 10th, he did stop him and in highlight-feel fashion.
Powell connected with a four-punch flurry, a pair of left hands, a right and a left behind the head as Lee was falling face-first to the canvas. Lee beat the count, but was unsteady and the referee stopped the fight.
• Isaac Hlatshwayo (25-0) of South Africa made a successful junior welterweight debut, winning a methodical near-shutout of Jeremy Yelton (17-6) in an eight-round bout.
Two judges scored it 80-72 while the third had it 79-73 for Hlatshwayo, whose accurate punches raised swelling under both of Yelton's eyes.
Hlatshwayo was steaming toward a lightweight title shot after he defeated lightweight contender Nate Campbell in April, but struggles in making weight led to his decision to move up in weight.
• Former Olympian Andre Berto (13-0, 11 KOs), one of the sport's elite prospects, hammered Sammy Sparkman (18-15-1) until the fight was stopped at 2:50 of the second round.
Berto dropped Sparkman with a huge right in the second round, and although he made it to his feet, he was clearly unsteady. The fight continued, however, until Berto landed a series of flush shots until referee Bill Clancy stopped it.
Berto, a Winter Haven, Fla., resident, came up through the U.S. amateur system but represented Haiti in the 2004 Olympics.
That Sparkman lost should come as no surprise. He has made a career of fighting and losing to top fighters on their way up, including Miguel Cotto, Paul Williams and Cory Spinks.
• Super middleweight Anthony Hanshaw (19-0) dominated journeyman James North (8-12-2) to win a six-round decision in his first fight in almost two years.
Hanshaw, 28, who hadn't fought since a first-round knockout of Victor Maciel on July 16, 2004, put a beating on North, who stood up to some heavy shots but was never competitive in the fight.
Hanshaw, who lost to Taylor three times in an otherwise stellar amateur career, was a hotshot pro prospect who signed with promoter Main Events when he turned pro.
He rolled to 18-0 and was on the verge of moving into bigger fights when he was overcome with injuries and personal problems, leading to the long layoff.
The Mansfield, Ohio, product, who is trained by former Buster Douglas trainer John Russell, came close to stopping North several times in the fight, although he didn't score any knockdowns.
Dan Rafael is the boxing writer for ESPN.com
Boxing
2013 BWAA Nat Fleischer Award winner for excellence in boxing journalism
ESPN.com boxing writer since 2005
Five years at USA Today
EDITORS' PICKS
Thurman-Guerrero headlines 'PBC on NBC' first card.
Dan Rafael »

Oscar De La Hoya talks Floyd, Manny, his heritage, more.
Watch

Unbeaten Harrison looks to move closer to title shot.
Preview »
MOST SENT STORIES ON ESPN.COM