'Contender' on ESPN depicts 16 with 'shot at greatness'
Originally Published:
June 17, 2006
By
Michael Woods
| Special to ESPN.com
Sugar Ray Leonard throws out a challenge to ESPN.com Nation.
Take Sergio "The Latin Snake" Mora, the winner of the first season of "The Contender," the unscripted drama, and put him next to any pretty well-known world champion, Sugar Ray says.
Heck, put him next to any current world champion, save Wladimir Klitschko, Oscar De La Hoya and Floyd Mayweather.
Have the two boxers walk down Broadway in midtown Manhattan, and, Leonard says, more people will recognize Mora than the world champion.
Ray Leonard has a point.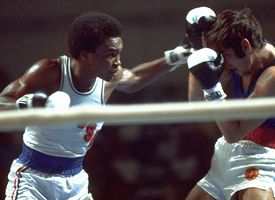 AP PhotoLeonard (left), who won gold in the 1976 Olympics, says exposure is key to a fighter's success.
Boxing has changed since he burst onto the nation's radar during the 1976 Summer Olympic Games in Montreal. The sport is absent from network TV and has been relegated to cable outlets and intermittent pay-per-view offerings.
When Leonard turned professional in 1977, his climb to contender and championship status was covered obsessively on ABC, and millions upon millions grew attached to the kid with the dazzling smile and even more dazzling hand speed. His athletic prowess and pleasant persona were exposed to a legion of fans, many of whom weren't devotees of the sweet science, but once hooked, became doting followers.
Tuesday night, on ESPN at 10 ET, Leonard will introduce a batch of 16 boxers to the public and he hopes that viewers will grow attached to them, their backstories, and their fervent desire to grow their careers. The premiere will run two hours and the subsequent weekly showing will run an hour, with a grand-finale showdown from Staples Center in Los Angeles to come on Sept. 26. The winner receives $500,000.
The brainchild of reality show legend Mark Burnett, who has been described as the Steven Spielberg of the unscripted drama set, "The Contender" got battered around when it debuted on NBC last year.
In truth, the show suffered from the volatile hands of network scheduling brain surgeons. It was supposed to debut in November 2004, then January, then February, and then it finally hit TV sets in March.
The network, apparently presuming everyone owns a TiVo and remembers to tape their must-see TV selections, further muddied the launch by introducing the series during the middle of the week, and then shifting it to Sundays.
Eight million people were tuning in to the program, which featured relative no-names (some of whom have parlayed their appearance into greater notoriety and paydays) but at the end, when the numbers were tallied, NBC wasn't enthused.
SUGAR RAY VS. THE CONTENDERS?
Ray Leonard just turned 50, but even if he doesn't have the look of a baby-faced assassin, he still looks trim enough to give the 16 contenders a go of it. Given eight weeks of training, Leonard was asked, how many of these contenders could he beat?
After a two-second pause, he answered.
"Ninety percent," he said, and then began to crack up.
"I feel great," he says. "During the filming I was in the 160s. I fluctuate, I walk around at the mid-160s to 180."
ESPN.com asked the welterweight, junior middleweight, middleweight and super middleweight champion, who engaged in memorable tussles with Wilfred Benitez, Roberto Duran, Thomas Hearns and Marvin Hagler, who would give him the most trouble among the new cast.
"The toughest fights would be with Stevie Forbes, Michael Clark, Cornelius Bundrage and Nick Acevedo," Leonard says.
There will not be, Leonard hastens to add, another comeback.
–Michael Woods

So the second season, minus co-producer Sylvester Stallone, who is counting down to his latest "Rocky" extravaganza, has found a comfortable, presumably stable home on ESPN.
Burnett wanted to introduce the power of the "Adrian factor," the emotional roller-coaster ride of terror and pride that is born when a significant other stands by her man as he steps into the ring and risks his health, to a wider segment of the U.S.
Had millions of people not sampled, and dismissed, Fox's copycat offering, "The Next Great Champ," before "The Contender" hit the airwaves, the run might have turned out differently.
Also, 2005 was the year that "Desperate Housewives" titillated the public, so many of the females Burnett needed to lure to the power of the sweet science, were instead following the ups and downs of the residents of Wisteria Lane.
Leonard had a sinking feeling in his gut when people would walk up to him on the street, before "The Contender" debuted, and tell him they saw his show.
"That's not my show," he'd quickly clue them in, but the damage was done.
Leonard turned pro in 1977, after America fell in love with his thousand-watt smile and speed-of-sound flurries at the 1976 Olympics in Montreal, when he took gold. TV needed a replacement for an aging Muhammad Ali, and Leonard fit the bill.
Humble and engaging, he could slip into shark mode when he had an opponent in trouble, and his finishing instinct provided a stunning contrast to his sunny disposition. The living legend, who retired in 1997 with a record of 36-3-1 with 25 KOs, is upbeat about the prospects for the franchise in its new home base.
"We have a hit," he declares to ESPN.com. "Viewers are going to root for the guys and have a vested interest in them immediately. My wife of 13 years, Bernadette, she cried every episode last time."
Newsday TV critic Verne Gay, who's given the thumbs up or down on television fare for the paper since 1988, thinks that the relocation of "The Contender" from NBC to ESPN will be most helpful.
"It's a much more logical place for it," he tells ESPN.com. "I saw some of the first season and I never got it. It wasn't suitable for NBC, it was boxing, full-scale, guys whaling each other."
"The show wasn't cursed," the critic continues, "but it was ill-conceived. It was well done, but boxing has been a dead sport on TV since the 1976 Olympics. And boxing skews old. It should've been on ESPN all along."
Gay says he likes Burnett and wishes the program well.
"Mark's a good guy," he says. "He saw the social element of it, that these are poor kids who've never gotten their closeup, not the yuppies you get trying out for 'Survivor.'"
The crew of 16 looking for their closeups are in the welterweight class, 147 pounds, and the fighters run the gamut. Las Vegan Steve Forbes, age 28, has a 29-3 mark as a pro, and held the IBF super featherweight title for a spell. Chicagoan Rudy Cisneros, age 24, has just nine pro fights on his resume.
"These were guys not taken seriously by managers or promoters, guys that fell through the cracks of the industry," Leonard says. "Now they have a shot at greatness."
People who tuned in to the first season likely will be pleased at one tweak: There won't be any silly trash-sport type challenges/product placement fests interrupting the flow. Also, in 2005, the boxers were split into an East vs. West format, while this time around, the fighters engage in a playground-style choose-'em-up to chop the group into two parts.
Leonard thinks this batch of contenders is collectively a bit older and wiser.
"This group is just as impressive as the first season, maybe a little older, with some guys in their 30s," the 50-year-old Hall of Famer says. "They're veterans that have gotten their feet wet. The first season, guys were a little reluctant to trust the process, now the guys are older and they've seen how Sergio Mora and Alfonso Gomez have had their careers and lives changed. These guys are a little more focused."
Leonard acts as emcee and father figure to the wannabes, and tries to pass on his accrued wisdom.
The shoot for the show took place in January and February, and Leonard treasures the experience.
"I was like a father figure to the fighters during the shoot, they were like sons," he says. "My son Little Ray is now 32 years old. I felt like a father, my door was always open to give advice on wives, kids. It was a special time for me."
What was the top tip he gave the 16 cast members?
"Exposure is everything," he shares. "It's so valuable and this group in the second season knows what the first season didn't. Fighters back in the day were seen on "ABC's Wide World of Sports", on network TV. You reached enormous amounts of viewers, non-boxing people."
Heavyweight contender Calvin Brock, who fought in the 2000 Olympics and is poised for a title shot, agrees with Leonard that exposure is key.
"The best attribute of the show for the fighters is the exposure," said Brock, a 31-year-old from North Carolina with a 29-0 record. "If they do well, they also get a whole year of making decent money."
Another reason Brock says he's a fan of the concept and the show is the behind-the-scenes look it gives the public at the emotional rigors that the sport engenders.
"It's a pretty real look at what boxing's like on the inside," Brock says. "Viewers can look into the emotional side that people don't get to see. They get to see the letdown in the locker room, especially after a loss."
One person who has promised to tune in religiously is heavyweight hopeful Brian Minto, a 31-year-old Pennsylvania-born prospect with a 25-1 record and high hopes that he can climb the ladder to a title shot and financial security for his family.
"I watched the first season and they had the best setup, much better than "The Next Great Champ," Minto says. "I wish the producers would do the Contender 3 for heavyweights. There are enough of us. I'd do it in a New York minute."
Minto, who isn't hooked up with one of the big three promoters, Don King, Bob Arum or Oscar De La Hoya, feels a tight bond with his fellow fighting fraternity brothers as they cut and scratch to reach the next rung on the ladder to the top of the heap.
"The biggest thing is to see how much it is a mental game," Minto says. "I support my family by boxing. I see the pressure the fighters are feeling, see the emotions."
And even though Minto is poised to get into the sanctioning bodies' top 10 soon, and he was offered a shot to fight the faded icon of stubbornness, Evander Holyfield, he will come aboard if the opportunity arises.
"Definitely give me a call," says Minto, who worked for the local cable company and as a construction laborer before he was laid off, and went into the fight game full-time. "I'd love a chance at all that money for winning a few fights."
Many of the current cast have won more than their fair share of fights, but in order to step up into the elite class, they still need honing.
Leonard reports that he acted as nutritional guru as well.
"They didn't have discipline, they'd gain 20 or 30 pounds in between fights," he says. "I told them, 'This is your life, your family's life. Don't blow it on an additional two or three hamburgers."
And as Burnett intended, Leonard picks up the theme of "The Contender" as metaphor for life.
"This show is not just about boxing, per se," he explains. "It's about family, friendship, bonding, the behind-the-scenes backstories. It's about 16 decent, determined men trying to change their lives through the sport.
"We all have a good corner or bad corner, so to speak, to support us," he says. "We're all fighters, in a sense."
Michael Woods, the news editor for TheSweetScience.com, has written for ESPN The Magazine, GQ and the New York Observer.
Boxing
Michael Woods, a member of the board of the Boxing Writers Association of America, has been covering boxing since 1991. He writes about boxing for ESPN The Magazine and is the news editor for TheSweetScience.com.
SPONSORED HEADLINES
MORE BOXING HEADLINES
MOST SENT STORIES ON ESPN.COM
The Contender Season 2

Chats:
•
Sergio Mora
•
Alfonso Gomez
Also:
•
Rafael: Champ Taylor vs.'Contender' Mora match in works
Host Sugar Ray Leonard weighs in:
•
Sugar Ray's take on 'The Contender'
•
Sugar Ray chat wrap
•
State of boxing today
•
More Sugar Ray on ESPN Radio
Plus:
•
More on 'The Contender'