Ibragimov committed to improvement, and it shows
Sultan Ibragimov (19-0, 17 KOs) takes on Ray Austin (24-3-3, 16 KOs) on FNF. The winner will be the IBF's No. 1-ranked heavyweight contender, Joe Tessitore writes.
Originally Published:
July 25, 2006
By
Joe Tessitore
| Special to ESPN.com
A heavyweight with a March 8 birthday! That's like a preacher born on Dec. 25. Or a florist born on Feb. 14. Or Allen Funt blowing out the candles each April 1. (Boy, I loved "Candid Camera.") You get the idea. It was meant to be.
Four years after Ali-Frazier I cemented March 8 as one of sports' most historical dates, a woman in Kaspiisk, Russia, gave birth to a healthy baby boy. You can only begin to imagine what Kaspiisk was like in March 1975. I have visions of a long, gray winter and a longer, grayer, bread line.
The boy was named Sultan. Sultan Ibragimov. Cool name, isn't it? Has a bit of Czar to it. A touch of Persian magic carpet ride, mixed with regal grandeur.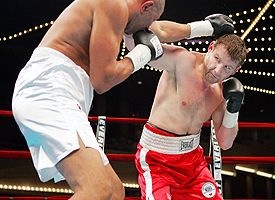 Ed Mulholland/WireImage.comSultan Ibragimov (right), who stopped Al Cole in the third round at MSG in a March 3, 2005, bout, is 19-0 with 17 KOs.
Little Sultan grew into Big Sultan. At age 17, he started to make his mark in impressive fashion. Boxing was his calling. Winning was his routine. He is Kaspiisk's own Sultan of Swat. Now, 14 years after Sultan started his amateur career, he is on the verge of some Ruthian feats as a pro.
This week, the undefeated Sultan Ibragimov (19-0, 17 KOs) takes on Ray Austin (24-3-3, 16 KOs) in a "Friday Night Fights" (ESPN2, 9 ET) main event.
The winner of the fight will be the IBF's No. 1-ranked heavyweight contender. Now, I don't want to try to attach much hope on the IBF system, but ostensibly that means they are fighting for a chance to face havyweight champion Wladimir Klitschko.
I know what you're thinking. Just what the American public wants, more Eastern European heavyweights. Let's see … we have Sergei Liakhovich, 7-footer Nicolay Valuev, Klitschko and Olympic star Alexander Povetkin is even making his move up the ranks.
The heavyweight division's old Soviet tie-ins are making the NHL's Red Team influx look like nothing. It has gotten so obvious that the promotion for Hasim Rahman's title defense against Oleg Maskeav is themed as America's Last Stand. Is that what we are in store for this week on "Friday Night Fights?" Is it a last stand for American heavyweight pride?
On the other side is Austin. He is a good ol' fashioned American inner-city tough guy.
The Cleveland native said: "I got started just being in the neighborhood and getting in street fights. There is no way I could say how many fights I was in, because sometimes I got into more than one per day. We were always fighting in those days. We had no choice."
Yeah, that's the kind of heavyweight we like. A guy from the streets. Kicking butt and taking names.
But let's not allow our xenophobic and jingoistic tendencies to get the best of us. This is boxing, the sweet science, the manly art. At the end of the day, fight fans really appreciate styles, action, heart and skill. Welcome to Ibragimov's scouting report.
"The other guy, offensively, is tremendous," says Austin.
He's dead on. Ibragimov is the rarest of heavyweight contenders. He's a southpaw volume puncher. A guy who makes the Bob Canobbios of the world shake their head in disbelief.
Canobbio has been keeping CompuBox stats since he started the company in the 1980s. Those who have watched Ibragimov ringside for his entire career will testify that Ibragimov is well ahead of the heavyweight averages for punches thrown per round. Heck, Ibragimov is ahead of the lightweight average for punches thrown per round.
"He is exciting, wait until you see him, he's the next great one," I was told by Ibragimov's adviser, Sampson Lewkowicz.
Ibragimov sat behind Teddy Atlas and me when we were broadcasting the Juan Urango-Naoufel Ben Rabah fight a few weeks ago at the Seminole Hard Rock. Ibragimov is an innocent-looking fellow. I didn't even realize it was him for the first hour I was at work that night.
Ibragimov is not showy. And at 6-foot-2 and around 215 pounds, he is hardly a physical presence. What he is, though, is very good. He took the silver medal at the 2000 Olympics and has only gotten better as a pro.
One of the reasons he has improved is because of his commitment to do so. He trains hard. Real hard. The other reason he feels he has improved so much is thanks to the teachings of his veteran trainer.
Here it comes. The red button of this sport. He is trained by Panama Lewis. There it is. Does it change your entire image of Ibragimov?
Every sport has a former mainstream participant who has been ostracized and tossed out of the spotlight. Baseball has had its share, Pete Rose being the most current and famous. Football has O.J. Simpson. Boxing has Panama Lewis.
Among Lewis' crimes is one so horribly wrong it makes you cringe. In 1983 Lewis removed the padding from his fighter's gloves before a bout. The result was horrible. His fighter's opponent wasn't able to fight again after suffering an eye injury from the potentially deadly gloves. Lewis was convicted of assault.
After serving his time in prison, Lewis was banned from boxing. He isn't licensed to be in a corner any longer but he still works in the gym. And that's where Sultan finds him every day in South Florida.
Team Sultan says that Lewis has made a big difference. They say he is a hard character at times but he deserves a second chance. They'll tell you he paid the price for what he did long ago.
And what's the reason why they want that to be the accepted take? Because they feel Lewis has fine-tuned and motivated an already gifted athlete even though he isn't allowed in the corner come fight night.
Panama Lewis sits among the crowd. Last time he did it was last December, when Sultan toppled and TKO'd the 6-8 giant Lance Whitaker in the seventh round. Lewis had a heart attack that night in the arena. Quite a way to motivate your fighter!
And motivated Sultan Ibragimov is. Now at 19-0 and fighting, in a title eliminator, it's time for all the Sultan Ibragimov hype to boil over. It's a heavyweight division that needs an exciting stylist willing to make attractive fights. This Friday night, we will find out if the fighter the division deserves is Kaspiisk's very own Sultan of Swat.
Joe Tessitore is the blow-by-blow announcer on ESPN2's "Friday Night Fights."
Boxing
Joe Tessitore has been the blow-by-blow announcer for ESPN2's "Friday Night Fights" and "Wednesday Night Fights" since 2002 and contributes a weekly boxing column to ESPN.com.
SPONSORED HEADLINES
MORE BOXING HEADLINES
MOST SENT STORIES ON ESPN.COM
EDITORS' PICKS
Best of ESPN's "Friday Night Fights" in 2014.
Watch

Klitschko's fifth-round KO of Pulev is best of the year.
Dan Rafael »

Felix Verdejo is ESPN.com 2014 prospect of the year.
Dan Rafael »