Relative unknown gets a shot at 'The Real Deal'
When Jeremy Bates, 32, got the call to fight Evander Holyfield, Bates put aside his insurance gig to take on the 43-year-old former heavyweight champ. They'll meet in the ring Friday.
Originally Published:
August 17, 2006
By
Michael Woods
| Special to ESPN.com
Jeremy Bates thought he was done with boxing when he heard that Evander Holyfield was attempting a comeback after 21 months away from the ring. Bates, a 32-year-old Kentucky native, no longer thought of himself as Jeremy "The Beast" Bates, a ready, willing and fairly capable slugger with a solid right hand who could put you on your can if you weren't careful. He had transformed himself into Jeremy Bates, insurance salesman.
The process was going smoothly, too. In February, his second month at J.W. Potts Insurance in Parkersburg, W. Va., Bates broke the company record for sales. He is, he says, building a base of clients for the long haul.
Then he got word that Evander Holyfield, the living legend, a boxer Bates had followed since the Real Deal fought in the 1984 Olympics, wanted to give it another go.
Holyfield hadn't fought since 2004, and to be charitable, he stunk up the joint in that outing.
AGONY OF DEFEATS
Does Jeremy Bates truly have an iota of a chance against Evander Holyfield on Friday night? One can't help but notice that every time he has stepped up to a higher level of opposition, Jeremy Bates is susceptible to being knocked out.
The fighter, who says he woke up and grew up in 2004, must be credited for appraising his missteps with admirable honesty.
• TKO2 loss to Andre Purlette, Oct. 5, 2001, in Florida: "I had Purlette hurt on the ropes and he caught me with a right hand. I was up at six but the ref stopped the fight. It's just one of those things."
• KO2 loss to Kirk Johnson, Dec. 7, 2002, in Las Vegas: "He was too big, 6-2, 243 pounds. I couldn't beat a heavyweight that skilled that size. I'm 5-11, 225 but that's a puffed up 225."
• TKO4 loss to Leo Nolan, June 13, 2003, in Detroit: "I was losing to a great boxer, he was outslicking me. I got thumbed in the second round, my eye dilated and the doctor stopped it."
• TKO8 loss to Brian Minto, April 23, 2004, in West Virginia: "I had him hurt in the fifth but I couldn't finish him. I didn't train properly, I thought I'd blast him out."
• TKO2 loss to Ray Austin, April 1, 2006, in Cleveland: "That was the only fight my whole career I took for money, something I said I'd never do. They called and officered me the fight and money and I said no. They called back three days before the fight, and doubled the offer to close to $10,000."
–Michael Woods

But being a man of unrelenting faith, he believed that he still had more to give as a boxer. Four-time heavyweight titlist Holyfield wanted to make another run at a heavyweight crown, and he needed an opponent to gauge his skill level.
Bates, back in "Beast" mode, at least mentally, put the word out that he would push himself away from the desk, crawl out from under the mountain of auto, home and health policies he'd been churning out, and sign a contract to fight Holyfield.
After being knocked out by contender Ray Austin in March in Cleveland, Bates, now a Parkersburg resident, had sworn that was it. There were mouths (daughters Ashley, Kaylee and Riley, and son Bradley) to feed. Really, it was time to put the dream of athletic conquests away, like so many high school trophies, and get real.
But this was an exception. An opportunity to fight a living legend, to push himself to the physical limit, to see if a 21-11-1 fighter who'd been knocked out six times as a pro could step up and perform like he thought he could.
So Bates told his promoter, Jerry Thomas, to toss his name in the mix for Holyfield's comeback scrap.
"I never thought I'd get it," Bates told ESPN.com via cell phone on Tuesday evening. "Then they were down to six names from about 50 and I said, 'S---, I better get running.'''
That was nine weeks ago. A few days after he was told he was on the short list, Bates got another call. He was at work, under an avalanche of paperwork, and Thomas told him he got the fight.
Holyfield, it turns out, had watched tapes of the final five potential foes and something about Bates stood out.
"Holyfield said that this guy came to fight, and he knew he'd be in a fight, and he wouldn't come to lay down," said Lester Bedford, the event marketer who's planning the Friday card in Dallas. "He requested Jeremy. 'That's the only guy that deserves to fight me,' he said."
Bates contained himself, quietly faxing back the contract after he'd scrawled his John Hancock and agreed to step in with a man he'd looked up to as a model of talent and perseverance.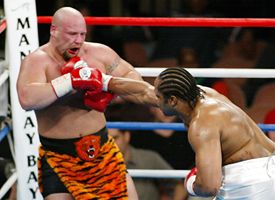 AP Photo/Eric JamisonBates (left) was TKO'd in the second round by Kirk Johnson in December 2002.
He told his boss, of course, because he'd need time off to get in proper shape. He needed ample time so he could know, when he finally called it quits for good, that there were no excuses.
Bates wants to be sure, he tells ESPN.com, that there are no lingering "ifs" hanging over his head. IF I had trained more, IF I had taken more time off to get in enough cardio work, etc. …
Bates went to sleep that night, and his cell phone the next morning contained 37 messages. Did word get out that this was the man to call for term life insurance? Well sure, but these messages were from acquaintances long forgotten, wishing him well.
The insurance salesman received permission from Potts to take the time off to get ready, and he says that come Friday, he's in it to win it. He didn't come to Texas to collect a final payday and lay down for the legend.
"Hell yeah, I'm going to win," he says. "I didn't come to Texas to lose. He's my hero but if I don't show up and try to kick his ass, that's disrespectful to him."
Need further proof that Bates won't be looking for a soft spot to land on the canvas in the American Airlines Center on Friday? All in all, he's actually going to lose money on this deal.
"I took a loss in pay to do this," he says. "I have a month off with no pay. If I was making a vacation of this, I would have kept working insurance … I'm coming to win."
THE SKINNY ON 'THE BEAST'
A reader may get the mental picture that Bates is a Toughman alumnus with zero technique.

Actually, he had a 50-26 amateur record and wanted to make the 2000 U.S. Olympic team. That dream fell to the curb after he was beaten by Dominick Guinn in the U.S. amateur championship, so he turned pro.

Boxing wasn't Bates' first choice. He was a solid baseball player and earned a scholarship to Lindsey Wilson College in Columbia, Ky.

But he was already married, with two children, so he had to get to work.

"I never would have picked boxing, boxing picked me," he says.
–Michael Woods

Does he have a chance of downing the legend? Well, Holyfield, who turns 44 in October, looked abominable in his last outing. He still had the ripped body, but that was the only impressive thing about Holyfield on Nov. 13, 2004, against Larry Donald in Madison Square Garden. He didn't win a round against the mobile, jab-crazy opponent. Coming in, Holyfield's neck was hurting him so badly, everyone around him told him to pull out, but the stubborn slugger still thought he could handle Donald.
This time around, Bedford reports, Holyfield (38-8-2) is healthy. His legs are strong, and while he may eat a few Bates rights along the way, most experts believe he should have enough to handle the salesman of the month.
Bates doesn't really care what the experts are predicting. He heatedly makes his case as a solid, if underachieving, professional: "I'm not a bum. I'm not going to get beat up for money. I'm not a tomato can. I can pick up cans on the road before I do that. I've got too much respect for the game."
And if the experts are wrong, as they were just last weekend when the majority picked Hasim Rahman to down Oleg Maskaev in their WBC title fight, then Bates has a plan for what comes next.
"If I win, I'm done, that's it," he says. "That's it. How could I top that? Win, lose or draw, I'm an insurance agent. People can say, 'Hey, my insurance agent kicked Holyfield's ass. What's your agent do?'"
I prodded Bates, asking him why he wouldn't parlay a win over Holyfield into another outing to capitalize on the moment.
"Well, I've never been rich, so for a million bucks I would fight seven silver-backed gorillas," he concedes. "But I'm not going to fight in some club show in Ashland [Ky.]. Hey, if someone wanted me to fight Wladimir Klitschko for seven million dollars, I'd fight both brothers, him and Vitali, and the rest of his family."
In all likelihood, however, this is it for Bates. After Friday, the most competitive aspect in his life will be trying to beat his previous months' numbers at the insurance agency.
"This fight is for me," he says. "This is for the betterment of Jeremy. This fight isn't for money. It isn't for ESPN.com. It's to say, 'In the sport of boxing that I did for so long, I did all right.'''
"Everyone has a Rocky story, their one chance. This is my chance to lay everything out there, my chance to see if I do get a shot, a break, I could have been something."
Michael Woods, the news editor for TheSweetScience.com, has written for ESPN The Magazine, GQ and the New York Observer.
Boxing
Michael Woods, a member of the board of the Boxing Writers Association of America, has been covering boxing since 1991. He writes about boxing for ESPN The Magazine and is the news editor for TheSweetScience.com.
MOST SENT STORIES ON ESPN.COM