De La Hoya confirms Pacquiao deal, to Arum's chagrin
Originally Published:
September 25, 2006
By
Dan Rafael
| ESPN.com
The Pac Man and Golden Boy are indeed a team.
"Yes, we have signed Manny Pacquiao," Golden Boy Promotions boss Oscar De La Hoya told ESPN.com from his home in Puerto Rico on Monday.
| | |
| --- | --- |
| | |
| | Pacquiao |
| | |
| --- | --- |
| | |
| | De La Hoya |
De La Hoya confirmed Friday's ESPN.com report that his company had signed the Filipino icon to a seven-fight promotional contract during a secret dinner in Los Angeles last Monday night. In addition, Golden Boy will pay Pacquiao a signing bonus of about $300,000.
"Manny wants to finish his career with us," De La Hoya said. "It puts a smile on my face because he trusts us. He is putting his career in our hands. It says a lot about our company."
De La Hoya's bold move -- signing Pacquiao out from under rival promoter Bob Arum's Top Rank -- adds another star fighter to Golden Boy's increasingly deep stable, one that also includes Pacquiao rivals Marco Antonio Barrera and Juan Manuel Marquez along with Shane Mosley, Bernard Hopkins, De La Hoya himself and a host of other top fighters.
"It was basically us out-thinking the competition," De La Hoya said. "I had a goal and that goal was to sign Manny Pacquiao. We strategized and we figured it out and we were willing to do whatever it took to sign him."
According to Arum, the signing is a violation of his agreement with Pacquiao. Arum is promoting Pacquiao's Nov. 18 rubber match with Erik Morales and told ESPN.com that there is a specific provision in his contract that the fighter is forbidden from signing with any promoter before the bout.
"If he signed with Golden Boy, it violates the contract we have with Manny for this fight," Arum said. "I have a specific provision against it. It says you can't sign until after this fight with any other promoter. It's specific and says it clearly."
"Manny wants to finish his career with us. It puts a smile on my face because he trusts us. He is putting his career in our hands. It says a lot about our company."
-- Oscar De La Hoya
Arum said he was unsure what he would do about it.
"Golden Boy has torturously interfered with our contract. Under the specific language of the contract, they had to wait until after the fight was over to sign," Arum said. "I'm not going to let it slide. What we do is up to the attorneys. I don't like my contracts to be violated. Manny's lawyer [Jeng Gacal] went through my contract with a fine-toothed comb. I negotiated with him and specifically this paragraph."
Whatever the legal fallout is, De La Hoya took the lead making the deal, meeting Pacquiao at the airport when he arrived from the Philippines on Monday and wooing him over a three-hour-plus dinner in a private dining room at a Morton's Steakhouse before Pacquiao signed the deal with Gacal at his side.
"I made the effort to go out to the airport and greet him there and talk to him," De La Hoya said. "We not only talked about a promotional deal, but we also talked about our careers. Manny looks up to me and I think he can be one of the greatest fighters ever to come out of the Philippines. We touched on a lot of subjects. We just clicked and we were able to come to an agreement."
"I'm not going to let it slide. What we do is up to the attorneys. I don't like my contracts to be violated."
-- Bob Arum
Pacquiao (42-3-2, 32 KOs) came to the United States last week to begin his training camp for the highly anticipated rubber match with Morales. Many believed Pacquiao would sign a long term deal with Top Rank after the fight, and Arum was making plans for Pacquiao to fight in the Chinese territory Macau next spring at the Wynn Macau resort.
De La Hoya said Pacquiao hoped to keep the signing a secret until after the fight with Morales because he was worried about retribution from Arum for going with Golden Boy.
"It was Manny's request to keep it a secret until after the fight, but we talked about it yesterday," De La Hoya said. "I told him we can't keep secrets from the media or the boxing world. He understood and I assured him that everything would be OK in the Morales fight because he was concerned about Bob Arum or the judges or the referee being against him. I told him everything would be OK, don't worry about it.
"I told him everything would be fair. He has to win the fight, and we're not here to talk to judges or referees. We're here for him to make sure it is an even playing field."
De La Hoya said Pacquiao gave him the OK to talk about the signing, although Pacquiao was still reluctant to talk about it.
"I told him we might as well tackle this situation right now while it's so early in his training camp. We get it over with and then you can just focus on the fight," De La Hoya said. "The last thing we want is for him to be distracted the week of the fight. Let's get this out of the way and he can go train."
De La Hoya said he had been interested for months in signing Pacquiao, who broke from two promoters in recent years, Murad Muhammad and Gary Shaw, and was a much sought-after free agent.
"Many months ago there was a conversation between [Pacquiao trainer] Freddie Roach and Manny, and Freddie told him I wanted to meet him," De La Hoya said. "He didn't tell Manny the subject I wanted to talk to him about, but Manny was very excited because I know he looks up to me. Many months passed by and it never happened. So when Freddie was at the airport last week and he mentioned to Manny that I was there, he was excited and I was able to meet him."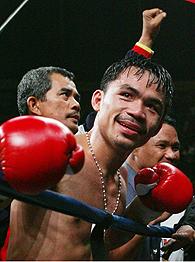 AP Photo/Bullit MarquezNow with Golden Boy, Manny Pacquiao can focus on his Nov. 18 rubber match vs. Erik Morales.
De La Hoya said they talked and then went to dinner to finalize the deal.
"We got there at about 10:30 and the restaurant was going to close at 11, but had already set up a private room in the back," De La Hoya said. "We were there until about 1:30 in the morning. We did everything over dinner."
De La Hoya said he expects resistance from Top Rank when it comes to including Golden Boy in the Nov. 18 promotion, but added, "We're Manny Pacquiao's promoter now, and whatever Manny wants from us, we will be there to represent him. If he wants me sitting ringside, I will be sitting there cheering for him, even if I don't expect to be sitting next to Bob. Whatever Manny wants, we will support him 100 percent. If I have to buy tickets, then I will buy the tickets.
"But I know we will not be welcomed with open arms if we decide to be involved in the promotion. We will be if Manny wants us to be. He's the boss. He hired us and it's whatever he desires."
Arum said he would not allow Golden Boy to be involved in any aspect of the promotion.
"Forget about that," Arum said. "No way."
Although De La Hoya said his main satisfaction was signing one of the premier fighters in the world, he said he did get some satisfaction beating Arum.
"I really have to admit this -- it did bring a smile to my face at first," De La Hoya said. "But then I thought about it. Bob and I worked together for many years and I would really love to work with him again. We can make some really good fights. There's rumblings about a Shane Mosley-Antonio Margarito fight. But that will never happen with the way things are between Bob and I now. If we can patch things up and let bygones be bygones, I would love to work things out. If Bob and I can patch things up it will be good for us and good for the sport. I wouldn't mind calling him and maybe going out to Vegas to sit down and talk. I could see it. Let's move on."
If Pacquiao beats Morales -- they split their first two bouts, with Pacquiao scoring a knockout in the Jan. 21 rematch -- De La Hoya's plans for Pacquiao include major fights.
First up would be a rematch in March between Pacquiao and Barrera. When they met in 2003, Pacquiao scored an 11th-round knockout in a featherweight championship fight. Barrera went on to win the junior lightweight championship and a rematch has been talked about since.
Another significant fight for Pacquiao would be a rematch with Marquez. In their May 2004 featherweight title fight, Pacquiao scored three knockdowns in the first round but was held to a draw in a sensational action battle.
"Assuming that Manny is able to take care of Morales, Barrera loves the idea of a rematch," De La Hoya said. "That's the one fight he really wants. Obviously, Manny is more than happy to give him a rematch. That's the fight we can shoot for. Manny has his hands full in November, but we've laid out a map of what Manny's fights in the future can be."
As for a potential Marquez rematch, De La Hoya said, "Their fight was amazing, a great underrated fight. I think that rematch can easily be made. Both of them want to fight each other again. I don't think it will be a problem."
De La Hoya also mentioned others from his stable as potential opponents, including junior lightweight title holder Joan Guzman and lightweight titlist Jesus Chavez, who could drop back to 130 pounds.
Although Pacquiao has signed with a new promoter, he is breaking with his current management team. His contract with managers Shelly Finkel, Nick Khan and Keith Davidson is up Jan. 31, and they have agreed to release him following the Morales fight. However, Finkel is trying to negotiate a new deal in order to remain with Pacquiao.
Dan Rafael is the boxing writer for ESPN.com.
Boxing
2013 BWAA Nat Fleischer Award winner for excellence in boxing journalism
ESPN.com boxing writer since 2005
Five years at USA Today
SPONSORED HEADLINES
MORE BOXING HEADLINES
MOST SENT STORIES ON ESPN.COM