Show will go on despite Tyson's boring performance
Originally Published:
October 24, 2006
By
Michael Woods
| Special to ESPN.com
Mike Tyson performed on Friday night in an exhibition bout against Corey Sanders in Youngstown, Ohio, and the critics savaged the bout -- and the pay-per-view event -- with a ferociousness rivaling that shown by Tyson when he was known as the Baddest Man on the Planet.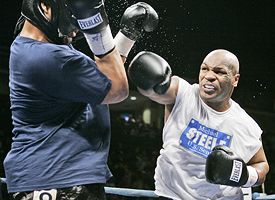 AP Photo/Tony DejakMike Tyson opened his exhibition tour Friday in Youngstown, Ohio, to lackluster reviews.
Boring was the consensus adjective attached to the first stop of Mike Tyson's World Tour. Any viewer who ponied up the $30 to see Tyson and his former sparring mate Sanders engage in a four-round match and expected to see some semblance of the Kid Dynamite-era Tyson had to be sorely disappointed.
The crowd at the Chevrolet Centre, the 6,000-seat venue that held the first leg of the tour, made its displeasure known intermittently throughout the affair.
The estimated 5,000 fans on hand conveyed dismay when Sanders, a 292½-pound behemoth, strolled to the ring wearing a T-shirt and headgear.
They vigorously announced their displeasure when it became apparent Sanders would be functioning as a human heavy bag on this occasion, and would not be unleashing anything resembling a stiff shot in Tyson's direction.
In fact, even the announcers for the PPV broadcast, veteran play-by-play man Bob Sheridan and Youngstown legend Ray "Boom Boom" Mancini, the former lightweight titlist, vocalized their disappointment at the quality of the feature.
Despite all that -- and we haven't even delved into the lackluster undercard that featured overweight, over-the-hill Lou Del Valle losing to an 11-8-1 Zack Page in the chief support bout -- the show will continue, according to event organizer and promoter Sterling McPherson.
To modify the old showbiz adage slightly, a cynic might ask, must the show go on?
"I thought the show went very well," said McPherson, 51, a former pro fighter and manager based in Las Vegas. "It was like my first baby, even though I've promoted big shows before. No one knew what to expect, and a lot of people didn't understand that we weren't looking to pull the wool over anyone's eyes. This was no different than the exhibitions that Ali and Joe Louis and Larry Holmes did."
The most prevalent beefs of Tyson devotees or curious fight fans who wanted to see what the 40-year-old Tyson has left (he last fought for real in June 2005, losing to journeyman heavyweight Kevin McBride) were not about his effort, but rather the effort put forth by Sanders. The 31-year-old, 6-foot-6 mountain of flesh looked to be most intent on not hurting Tyson, with neither his fists nor his head. Sanders threw few punches in each 2½-minute round, and what he threw were of negligible velocity and of peaceable intent.
Sheridan and Mancini speculated during the show on whether the boxer, who sports a 23-11 mark, was asked to take it easy on Tyson. McPherson fielded that question.
"I wouldn't get involved in telling a fighter how to fight," he said. "I can't say I was disappointed in his effort. It's Mike's call if we use him again. We've talked about guys who would be fighting back harder."
McPherson is waiting on PPV numbers to roll in, but even if he doesn't hit the marks he'd like to hit, which he wouldn't disclose, he and Team Tyson will press on.
Best-case scenario would be that Tyson will perform once a month or more, said McPherson, who is targeting a Thanksgiving weekend date in California.
Virginia and San Antonio, Texas, also are in the near-term mix, and the promoter has locked up a Dec. 31 date in the East Asian island of Macau. Tyson would appear on a Pride mixed martial arts show, in a boxing exhibition (not against a Pride fighter, as has been rumored). Beyond that, McPherson said, it is likely Tyson will take the show to Russia in May.
All the Tyson appearances will not be on pay-per-view, the promoter said, and that makes sense, after the putrid reviews this outing received. McPherson, though, is looking to the future, and acknowledges that some kinks were evident on Friday night, and must be worked out to raise the level of the World Tour.
"We learned a lot," he said. "There were some mistakes, it was the first show. I'm disappointed in myself. I had no idea how big it would be."
Looking forward, McPherson hopes to enlist some of Tyson's pals in other entertainment areas to strengthen the shows.
"We're looking to upgrade the shows, get entertainers on the card, whether it be comedians or singers or what have you," he said. "I saw great potential to do different things."
Tyson, because of his copious record of legal skirmishes and tabloid-friendly misbehavior, has had his share of occasions being scrutinized by the press over the years.
So the media has been somewhat circumspect about the tour. One notable area of scrutiny is the assertion that one catalyst for the tour is Tyson's wish to donate proceeds from the events to charity. But the specifics on the donations have been nonexistent. McPherson answered queries on the vague nature of the charitable element and the media's desire for transparency, especially when Tyson reportedly owes the IRS between $8 millon and $40 million.
"If I told you that I gave money to the Salvation Army, I wouldn't have to disclose how much," he said. "But because he's Tyson, he has to tell you? That's unfair. I don't think he has to disclose the charitable specifics if he doesn't want to. Big shots give money to charities, they give millions, and it's not disclosed in public. He has expressed interest in giving, but he hasn't gotten into specifics on how much and which ones."
Because a vision of a kinder, gentler Tyson has been peddled to the media, and the public, it would seem fair for the press to require evidence of this transformation. McPherson disagreed. But he did say that he's seen Tyson's generosity in person and is impressed.
"I haven't seen anybody like him in giving," McPherson said. "We pull over in a car in L.A. and see a homeless guy. I'm a dollar kind of guy. He's a $100 guy."
So, McPherson was pressed, will the outlay to worthy organizations be considerable or minute?
"I didn't say he'd be giving major monies," he clarified. "But he wants to give money from the tour to charity. I haven't sat down with him and said, 'Who are you going to give money to?' Who it's going to, it's none of my business."
Tyson went to D.C. after the fight to spend time with family and, McPherson said, he and the former whirlwind of uncontainable aggression will sit down in the next day or so and go over the Youngstown debut.
They will discuss, the promoter said, areas to improve, including sparring opposition, the quality of the undercard, upgrading the round-card girls … anything and everything that can be tweaked to better the product.
In short, McPherson said, press naysayers and severe critics aside, the show will go on. For those disappointed by the Youngstown debut, who assumed that the plug would get mercifully pulled, think again.
The Mike Tyson World Tour is just getting started.
Michael Woods, the news editor for TheSweetScience.com, has written for ESPN The Magazine, GQ and the New York Observer.
Boxing
Michael Woods, a member of the board of the Boxing Writers Association of America, has been covering boxing since 1991. He writes about boxing for ESPN The Magazine and is the news editor for TheSweetScience.com.
SPONSORED HEADLINES
MORE BOXING HEADLINES
MOST SENT STORIES ON ESPN.COM