Unbeaten Litzau fights as if he has everything to lose
Originally Published:
December 13, 2006
By
Michael Woods
| Special to ESPN.com
Show me an athlete who doesn't really mind losing, and I'll show you someone who either never made it as a pro, or is an ex-professional. No pro athlete likes to lose, but certainly some hate losing more than others.
| | |
| --- | --- |
| | |
| | Litzau |
Floyd Mayweather Jr. guards his undefeated record like a mother lion oversees her newborn cub. But I can't recall talking to any athlete who talks about the prospect of losing in quite the same way Minnesota-born junior lightweight Jason Litzau does.
The 23-year-old Litzau (20-0, 18 KOs) will step in the ring against Jose Hernandez as a co-feature on HBO's "Boxing After Dark" show Saturday night (9:45 ET) in Miami. When Litzau is asked what his reaction would be if the Mexican-born Hernandez (21-3, 13 KOs) gets the better of him, his reaction is swift and certain, which also describes his fighting style.
"I'd be devastated," he said. "I've got so much on my shoulders, supporting my daughters, my family financially, I don't know how I could take losing. It would be devastating to take a loss. I'd be in a coma."
The boxer, whose nickname is "The American Boy," turned pro in 2002 and spent the first half of his career burnishing his record and honing his skills in Minnesota. But the honchos at his promotional outfit, Main Events, quickly noted that he owns a certain "it" factor, and also a mind-set of taking out his foes with ruthless intent. They saw marketing opportunities in both his talent and his personality. In boxing terms, that's the daily double.
"I've got so much on my shoulders, supporting my daughters, my family financially, I don't know how I could take losing. It would be devastating to take a loss. I'd be in a coma."
-- Jason Litzau, who is 20-0
Truly, that Litzau is even functioning as an adult, let alone nurturing a promising career as a prizefighter, is something of a minor miracle that is well documented.
Litzau, with his brother, was raised by his mother and his stepfather. They were substance abusers, Litzau said, and his stepfather would take his and his brother's heads and force them to collide when he was displeased with the boys.
The Litzau brothers went to live with their father when Jason was 10. The milieu wasn't any calmer.
Litzau: 'I'm a forgiver'
Any armchair Dr. Phil could see that Litzau's upbringing could prove a stumbling block down the road.

It would be easy, natural even, for a person to cave in to feelings of anger and frustration at elders who failed him, role models who dropped the ball when they needed to step up.

Litzau tells me that anger doesn't rule him, and he has made amends with his father's treatment of him and his brother.

"I'm a forgiver," he says. "I got no anger for anybody. My father's gotten millions of chances, and he hasn't improved, so I cut him off."

Litzau and his father, he says, do not speak, and his father will not be in attendance when he fights on Saturday night. His stepdad, brothers and sister will be, however, and he aims to put on a show for them.

"I have my own daughters, so I'm not worried about the past, about dumb stuff," he says.

Litzau narrowly averted catatonia when he fought Dominican John Nolasco in July 2005.

ESPN's Friday Night Fights showed the bout, and the boxer says it is the scrap that defines him as a pro.

Litzau tasted the canvas in the seventh, courtesy of a Nolasco left hook, but rose, and held on to win a split decision.

He isn't interested in sampling even the mildly sour taste of near defeat. Could that extreme aversion to loss hamper his growth as a prospect?

Carl Moretti, the VP of Main Events, keeps an eye trained on his young prospect, making sure his history doesn't impede his future.

Moretti says Litzau is an "A" level prospect and will continue to monitor his personality.

"He's passionate about winning and that could worry you a bit," Moretti says. "He's so pumped up to get to that next level, stardom, he can overcompensate in the ring. He can get away from his game plan."

"If his motivation is to provide for his family a better life, there's nothing wrong with that," Moretti says. "But I do hope he doesn't give up anything technically in the ring to prove a point, to say, 'I can take anything, any kind of punishment, because I've been through everything.'"
-- Michael Woods
"My dad had a drug problem," Litzau recalled. "I was na´ve. Me and my brother took care of ourselves since I was 11."
Litzau rarely attended school, and instead, at the behest of his dad, he and Allen would commit crimes so the family could stay afloat in its tiny one-bedroom apartment.
In Bloomington, Minn., the Mall of America is a 4.2 million-square-foot palace of all-American consumerism. Inside, there was an amusement park-type shooting game that thrilled patrons. It also served as a fertile spot for the Litzau boys to plunder. They'd hop the game counter, pilfer tokens for the game, and then peddle them to customers in the parking lot at a discount.
"We'd make $50 or $100 a day," he said.
This wasn't a situation in which the boy's father was busy with work, mind you, a case of benign neglect. In fact, the father condoned the Litzaus' larceny, Jason said.
The boys also did legal odd jobs to keep themselves able to pay rent and eat, as their father, Litzau said, didn't hold down a steady job. They'd help people load and unload luggage at the airport on occasion. But their father did not encourage lawful employment.
"My dad told me if you want clothes, you need to get them yourself," he said. "We used to steal candy, then go in to bars and sell it, and say it was for a good cause."
Soon, according to Litzau, the father was running a ring of theft. He'd pile the boys in to his car, and they'd drive hundreds of miles on a shoplifting spree. Then they'd sell the items at truck stops.
"Big, small, whatever was expensive," Litzau said.
At age 14, Jason Litzau had enough. He'd been curious about boxing, as his mother's brother had been a pro boxer in the 1990s. So his dad took him and his brother to a boxing gym. The fight game seeped in to his blood and Litzau retired as an active booster. His father wasn't pleased with the development, and told Jason to quit boxing, told him to get a job.
That was ironic, Jason said, because his father wasn't one to do the 9-to-5 thing himself.
"I didn't quit boxing, I left my father's apartment," he said. The Litzau boys were on their own, officially, conclusively.
They bounced around, from their uncle's place, to their grandma's. Jason was actually living in the gym he was training in when he turned pro. At 19, he finally got his own apartment.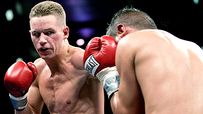 Ed Mulholland/WireImage.comLitzau has knocked out his opponents in 90 percent of his professional fights.
Finally, there was something resembling stability.
Litzau made peace, he said, with his mom and stepfather, and maintains he doesn't hold hatred in his heart for his father.
His own two daughters, Hailey (3) and Morgan (1), born to his ex-girlfriend, forced Litzau to stay on the straight-and-narrow path, if he ever contemplated resorting to the free-form existence of his youth. His brothers Travis (17) and T.J. (15), both of whom live with Jason, and his sister Rebecca (13), all look up to the fighter. So there's pressure to down Hernandez on Saturday, and impress the suits at HBO, who are always looking for a breakout talent to market to U.S. fight fans starved for some star-spangled sluggers to emerge.
"I want my brothers, sister and daughters to have an easier life, so they don't have to go through the struggles I did," he said.
"It's everybody's last hurrah. De La Hoya, Floyd Mayweather, everybody. They're recycling right now. I want to bring back some life in to boxing. Who better than The American Boy to take over?"
-- Litzau
Litzau hasn't been humbled by his wayward days as a junior shoplifting machine. He has learned from his bumpy ride to young adulthood, but the experience hasn't rendered him a serene automaton. He has a cockiness in his voice when he talks about his growth as a boxer, and his desire to break through in 2007.
"It's everybody's last hurrah," he explained. "De La Hoya, Floyd Mayweather, everybody. They're recycling right now. I want to bring back some life in to boxing. Who better than The American Boy to take over?"
He is cocky, but not in an overly brash, annoying way. While he believes that a defeat would be an unspeakable trauma, he isn't so foolhardy to think that it could never happen, nor will he go out on a limb and offer a money-back-guarantee that Hernandez will get stopped.
"I'm not Mike Tyson," he said. "I've got to be careful. I won't promise a knockout. But fans on Saturday will see an action-type fight."
Michael Woods, the news editor for TheSweetScience.com, has written for ESPN The Magazine, GQ and the New York Observer.
Boxing
Michael Woods, a member of the board of the Boxing Writers Association of America, has been covering boxing since 1991. He writes about boxing for ESPN The Magazine and is the news editor for TheSweetScience.com.
SPONSORED HEADLINES
MORE BOXING HEADLINES
MOST SENT STORIES ON ESPN.COM
EDITORS' PICKS
Watch Mayweather train for his fight against Maidana.
ESPN3: 5:15 ET

Broner and Matthysse are fighting, but not each other.
Rankings »

Cruiserweight titlist Marco Huck's stock is on the rise.
Scorecard »