Siriporn beats Miyano, boosts parole chances
Updated:
April 3, 2007, 10:18 AM ET
Reuters
BANGKOK, Thailand -- Thai inmate Samson Sor Siriporn boosted her chances of freedom by beating Japan's Ayaka Miyano to win the vacant women's WBC light flyweight title at the notorious "Bangkok Hilton" prison on Tuesday.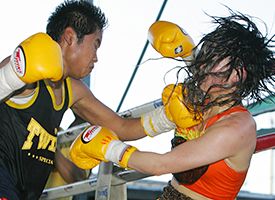 PORNCHAI KITTIWONGSAKUL/AFP/Getty ImagesSamson Sor Siriporn (left) kept Ayaka Miyano on the ropes to win their title bout at the infamous "Bangkok Hilton" prison.
Under the gaze of dozens of prison guards, Siriporn, a convicted drug dealer, battled through the unforgiving Thai heat to score a unanimous victory on points and kick-start parole proceedings for her early release.
"I've been in jail for a long time now, I hope this will see me released early," said Siriporn, flanked by guards and surrounded by photographers. "When I'm free I'll carry on fighting. I want to fight all over the world."
Fighting in a makeshift ring in the grounds of the infamous Klong Prem prison with the Thai crowd chanting "fight, fight," Siriporn was on the attack from the start and repeatedly forced Miyano on to the ropes with a barrage of punches.
The intense afternoon heat took its toll on Miyano, who twice fell to the canvas as a result of Siriporn's relentless attacks.
Siriporn's sparring partners also watched the fight, while transvestites in high heels and skimpy outfits were allowed out of their cells to parade around the ring with placards at the beginning of each round.
Siriporn fended off a Miyano comeback in the penultimate round to outpoint her opponent 97-93, 98-92, 100-91 and become the first prisoner to win a world boxing title.
"I'm so happy with the way I performed today," she said. "I'm very proud."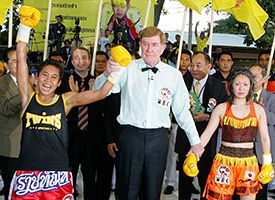 AP Photo/Sakchai LalitThe victory gave Siriporn more than the light flyweight title -- it gave her a better chance of being paroled from the prison were the bout was staged.
Siriporn, 24, was jailed seven years ago for selling methamphetamine pills and took up boxing to pass the time and to protect herself from violent inmates.
Thai corrections department chief Natti Jitsawang said Siriporn's criminal days were over and her victory would likely see her freed three years early.
"We will start the process for her parole immediately," Natti told reporters just moments after the fight.
"I think it's very likely she will be released as a result of this victory, maybe in a couple of months. We gave her a chance to show us her talent, and she has done that.
He added: "She is a changed woman, and now she has the chance to be free and fight around the world."
SPONSORED HEADLINES
MORE BOXING HEADLINES
MOST SENT STORIES ON ESPN.COM