Commentary
Not all fights have to be for a title
Interim this, emeritus that. Thomas Hauser writes it wasn't the titles that made Madison Square Garden the place to be on Saturday night, it was the fighters themselves and the efforts they displayed that did.
Originally Published:
October 9, 2007
By
Thomas Hauser
| Special to ESPN.com
The thrill of heavyweights is in the way they punch. The blows come in slow motion in comparison to those of smaller fighters. Fans in the nosebleed seats can follow their arc. And they land hard.
On Oct. 6, Don King promoted a night of boxing at Madison Square Garden. When it was over, the crowd had seen three pretty good heavyweight fights. King initially built his card around a matchup between WBC heavyweight champion Oleg Maskaev and Samuel Peter. Maskaev won his belt with a victory over Hasim Rahman in August 2006 and has ducked all credible challengers since then. The most notable things about his record are (1) Rahman is the only world-class heavyweight that he has beaten (Sinan Samil Sam is not a world-class heavyweight); and (2) he has been knocked out five times. But that didn't stop Dennis Rappaport (Maskaev's promoter) from proclaiming, "Oleg's story is Cinderella meets "High Hopes"; it shows fairy tales can come true when you wish upon a star."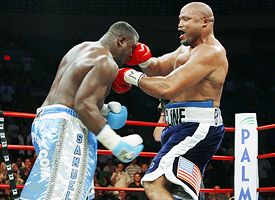 Ed Mulholland/FightWireImages.comJameel McCline, right, almost made good on his fourth crack at a heavyweight title.
Unfortunately, in an unfairy-tale-like twist, Cinderella turned into a pumpkin before dancing at the ball with Samuel Peter. On Sept. 21, it was announced that Maskaev was suffering from a herniated disc. Thereafter, the WBC named Peter as its "interim champion" and decreed that Jameel McCline was a worthy challenger. By Sept. 26, Maskaev-Peter had morphed into Peter-McCline. King had a hard time selling the fight. Neither Peter nor McCline has much of a following in New York. The show was competing with Manny Pacquiao-Marco Antonio Barrera II for media attention. The baseball playoffs are in full swing. And LSU was defending its No. 1 ranking against Florida on national television on primetime. There was a small media blip in support of the card when Madison Square Garden announced that it was retiring the ring it had used since 1925. After 82 years, it had become increasingly difficult and expensive to maintain the structure and set it up for fights. MSG senior vice president Joel Fisher called the retirement a "bittersweet" moment and noted that the old ring had played host to more championship fights than any other in boxing history. But he prophesied the start of a new era when a virgin 20-by-20-foot ring (the old one was 18-feet-3-inches squared inside the ropes) was pressed into service on Oct. 6. The Garden was virtually empty at 7 p.m. when the first heavyweight matchup of note (Kali Meehan against DaVarryl Williamson) began. Both men can punch a bit, and each has a questionable chin. Beyond that, Meehan has the disturbing habit of announcing his punches. He winds up as if to say, "I'm drawing my arm back now … Get ready … Here it comes." That enabled Williamson to build a lead through five rounds. Then, 2 minutes, 59 seconds into Round 6, both guys threw right hands at the same time and Meehan's landed. Williamson collapsed in a heap, struggled to his feet at the count of nine-and-a-half, and staggered back to his corner on spaghetti legs. Inexplicably, referee Earl Brown didn't stop the bout, but the ring doctor did. By the time Andrew Golota and Kevin McBride entered the ring, the crowd (which was generously announced as 7,102) had increased in size and was buzzing a bit. Both fighters have seen better days, but their downward curves are intersecting in a way that made for an entertaining brawl. McBride went after Golota at the opening bell and wobbled him several times. Golota is not known for coming back from adversity. But McBride was only in shape to fight one round, which is to be expected when a fighter likes beer and reports to training camp at 320 pounds before working his way down to 288. Thereafter, the two men pounded away at each other with Golota getting the better of the action. McBride fought courageously. But by Round 6, he was badly cut around both eyes, had lost all semblance of form, was being pounded, and resembled a badly-wounded mountain. At the 2:42 mark, referee Arthur Mercante Jr. stopped the action.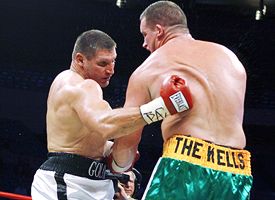 Ed Mulholland/FightWireImages.comAndrew Golota, left, and Kevin McBride put on a good scrap -- for whichever title it was they fought for.
The final heavyweight confrontation saw Peter defending his interim belt against McCline. Peter was a heavy favorite. After all, McCline had been afforded three previous title opportunities (against Wladimir Klitschko, Chris Byrd, and Nikolay Valuev) and had come up empty each time. But in boxing, once the bell for Round 1 rings, yesterday doesn't count. Peter was the aggressor in Round 1 and for all but the final second of Round 2. McCline is a well-sculpted 6-feet-6-inches and 266 pounds. But he looked anxiety-ridden and almost fragile as Peter chased him around the ring. Then, just before the bell ended the second stanza, McCline rammed his shoulder into Peter in the manner of a tight end blocking a linebacker and followed with a right uppercut that put the interim champion down for the first time in his career. It appeared to be a flash knockdown, and Peter had been so dominant up until that point that two of the three judges only gave the challenger credit for a 10-9 round. Not so in Round 3. Early on, another right uppercut staggered Peter and an overhand right deposited him on the canvas. Peter rose but was badly hurt. McCline pummeled him some more and floored him again. Now Peter was in trouble big-time. He didn't know how to hold on; his only defense was his chin (which was starting to look like Waterford crystal); and there were 57 seconds left in the round. But McCline couldn't finish the job and seemed as tired as Peter by the end of the stanza. When the bell for Round 4 sounded, the challenger went into retreat, gasping for air while the champion advanced (although Peter was more cautious than before). By Round 7, McCline was moving like it was Round 12, and a fatigued Peter was pushing his punches rather than snapping them. He kept coming, though, while McCline was in survival mode. McCline landed when he let his hands go, but he only let them go when he had to in order to keep Peter from getting in too close. Meanwhile, the WBC now has three heavyweight "champions": Regular (Maskaev), interim (Peter), and emeritus (Vitali Klitschko). And of course, Wladimir Klitschko, Sultan Ibragimov, and Ruslan Chagaev also hold heavyweight "championship" belts. One can draw an analogy between the breakup of the Soviet Union into 15 smaller nations (some powerful and some not) and the fragmentation of the heavyweight crown. But no matter how one views the situation, it's an embarrassment to boxing. The idiocy inherent in trumpeting bogus "title" fights is obvious. The proliferation of belts today deprives boxing of recognizable champions and has the effect of devaluing matchups that don't have some sort of title denomination attached to them. Not every football, baseball and basketball game is a playoff contest. Most aren't. But fans still buy tickets and turn on their television sets to watch midseason games in those sports. The lesson of Oct. 6 is simple. Few spectators cared that Peter-McCline was for an interim WBC title; that Golota-McBride was for an IBF North American belt, or that Meehan-Williamson was for an NABO bauble. What mattered was that, in an age when some heavyweight "title-fight" participants seem to show up for the money without making an all-out effort to win (e.g., Shannon Briggs and Lamon Brewster in their most recent outings), three entertaining heavyweight fights were contested. And three fighters who were in trouble came back from adversity to triumph. So forget the belts and stop paying the exorbitant sanctioning fees that are prerequisites to fighting for them.
Thomas Hauser is the lead writer for Secondsout.com. His most recent collection of boxing columns -- "The Greatest Sport of All" -- has been published by the University of Arkansas Press. He can be reached by e-mail at thauser@rcn.com.
SPONSORED HEADLINES
MORE BOXING HEADLINES
MOST SENT STORIES ON ESPN.COM