Commentary
Valero game for PacMan fight
Junior lightweight contender Edwin "El Dinamita" Valero was in town to check out his friend Marco Antonio Barrera, as well as possible future opponent and Barrera conqueror Manny Pacquiao.
Undefeated Venezuelan Edwin Valero is one of the most bizarre cases you'll find in the already strange world of boxing. While on his way up the ranks two years ago and with Golden Boy Promotions by his side, he was suspended by the New York State Athletic Commission after they detected a brain injury that he sustained in a motorcycle accident years before.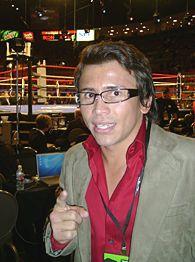 Espn DeportesEdwin Valero is ready to mix it up with Manny Pacquiao.
The suspension is definitive, at least in New York, because the commission argues that if he's allowed to fight, his health could be in danger. Curiously, other experts believe the contrary. Since the suspension, he's been allowed to fight in Argentina, Panama, Venezuela, France and Japan. On Dec. 15 he'll be fighting in Cancun, Mexico, where he'll defend his WBA junior lightweight title for the third time. Valero (22-0, 22 KOs) was in Las Vegas to witness the battle between Manny Pacquiao and Marco Antonio Barrera. He checked in for an exclusive interview with ESPNdeportes.com.
Sebastián Contursi:
Why did you come to Las Vegas?
Edwin Valero:
I came to see Pacquiao, who I want to fight as soon as possible. And of course I came to show my support of Barrera, who I helped train in Guadalajara last month. It always feels good to be in a city like Las Vegas, where I'd obviously like to fight one day.
SB:
Is it true you're still suspended in the United States?
EV:
It's true. The funny thing is that I'm allowed to fight everywhere else the world. More precisely, it's Dr. Barry Jordan of the New York State Athletic Commission who won't allow me to fight here. I spoke today with Dr. Ignacio Madrazo, who performed surgery on Barrera at the time, inserting a titanium plate in his head. I'm in a similar situation, but I'm not allowed to fight.
SB:
Do you still hope to fight here?
EV:
As days go by, my expectations decrease. I think in my case there are several political issues intertwined with boxing. But the truth is all the doctors and surgeons who take a look at me say I'm in perfect condition. But if they don't give me my license in the U.S., we'll just have to make the big fight some place else, like Cancun or China.
SB:
That's right. You're fighting in Cancun on Dec. 15. Do you know who your opponent will be?
EV:
Not yet. It could be Carlos Hernandez now that Mexicans Fernando Trejo and Jorge Solis have been discarded. My promoter, Akihiko Honda, is working on that matter right now.
SB:
Have you already started training?
EV:
Yes, I started preparing for the fight in Tokyo, Japan. Then I spent two weeks helping Barrera, because we share the same trainer [Sendai Tanaka]. Now I'm returning to Tokyo.
SB:
Some weeks ago it was published that your face had been disfigured during a fight at a bar in Venezuela. Evidently, that wasn't true.
EV:
You see, it's fake. Everyone asks me the same thing. But I have to say that it's all because some Venezuelan newspapers don't like me and make up stories to set me up. The truth is I was at a club with my wife and when we left I was attacked by strangers. They took my cell phone and beat me up, cutting my forehead. They cut me, but that's it.
Edwin Valero
• Age: 25 • Division: Junior lightweight • Record: 22-0 (22 KOs)
SB:
It's also been said that you're having trouble making the 130-pound mark and that you're thinking of going to 135 pounds. Is that true?
EV:
I'm having trouble making 130 pounds. But it's also true that if I have to make the sacrifice, I'll make it. I could be going to lightweight next year though, because one has to always be looking for bigger purses. This career's short and I have to take advantage of it.
SB:
In that sense, do you think it's possible to confront Pacquiao or Juan Manuel Marquez, to mention some of the great figures in your weight class?
EV:
One of the possibilities could be to measure myself against the winner of the battle between Juan Manuel Marquez and Ricardo Juarez, who will fight on Nov. 3. But first on my list is Manny Pacquiao. I definitively want to fight him. I think it's a fight everyone wants to see.
SB:
How do you imagine a fight with Pacquiao playing out?
EV:
Well, he's only beaten right-handers. Never a left-handed boxer like me. Also, he's never been really hit. He won't exchange punches with me. If he did, it'd be a bloody combat. Either way, I can beat him with my hunger and talent. Another important thing is that Pacquiao gets distracted.
SB:
How's your relationship with Venezuelan President Hugo Chavez? Are you still friends?
EV:
Well, it's not like we're friends, we've talked a couple of times. I support his political ideas a lot. But I'm not his friend. Chavez is a very busy man. But his government helps me out when I need it. For example, we've created the Fundacion Deportiva Edwin Valero [The Edwin Valero Sports Foundation] that helps Venezuelan athletes in need and the government has helps us a lot. We're continually working to help people in need.
Sebastián Contursi writes for ESPNdeportes.com.
MOST SENT STORIES ON ESPN.COM